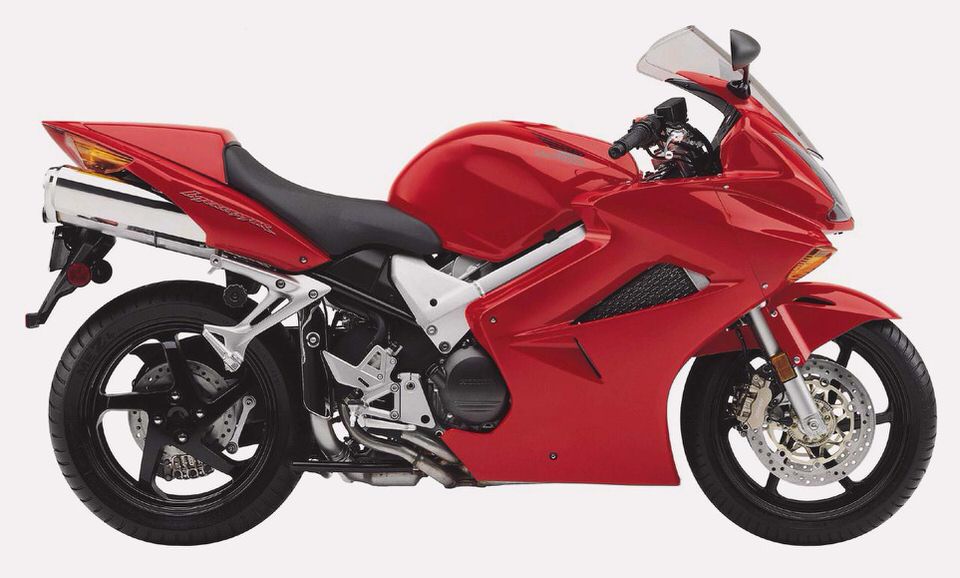 Honda VFR 800 Fi
Wonder why the bike has gained so much popularity? Some say that the VFR 800 Fi has all you need for all round motorcycle. Well, look at the facts about production and the tens of thousands units shifted year after year.
The design has gone through 15 years of refinement to satisfy you!
Ok, let's try this one…
Riding position? They definitely got that right. Very natural with the seat of perfect shape and density. Very comfortable for both rider and pillion. Importantly, the footpegs aren't too high for the pillion as it was the case with CBR 1100 Black Bird.
21 litres tank gives you a lot of miles before your next petrol station. Going long distance you are most likely to stop for a drink or snack rather than refuel.
This is an object lesson on 'How to Build a Motorcycle'. Very reliable and versatile, ready for anything, whether it is commuting, touring or sport riding. Track day? Not a problem, your face will surely smile.
The bike will definitely surprise you on its capabilities. At the end, this is the very fine engineering on two wheels.
The V-four engine delivers beautifully from middle range. In the low range it lacks some power when you compare it to other 955cc-plus motorcycles. So you need to change down two gears to have the same drive.
In effect, you will drive the engine 30% harder but on VFR it does not take the extra 30% effort to do it.
Above 6500rpm it's like sitting on a little turbine. The sound is magnificent and it'll be even better with a louder silencer. Ok, if we talk about improvements, the higher windscreen will be a bonus too.
Steering is precise and nimble, the clutch, gearbox are light and very responsive. This machine will satisfy an experienced rider as well as a newbie since it handles so well. The suspension is rather soft but the damping controls it so the feel from the tires is exceptional.
Finish is superb, typical for Honda, very tidy and in perfect working order. Design to last forever with no difference felt after 40,000 miles.
VFR 800 Fi seems to be the perfectly balanced bike ready for anything and from sport touring motorcycles it would be the number one. If you were to weight the running costs against what you get out of it you would know the answer. I think Honda VFR 800 Fi had reached the perfection before the V-Tec version.
I guess I'm not alone in this opinion. The later versions seemed to go towards sport rather than touring machine. Very beautiful but the seat is only comfortable for the rider.
In 2001 until 2005 the V-Tec suffered the 'hiccup' at the transition from two to four valve operation which annoyed many owners. Only in 2005 this was improved by employing many other electronic gismos but it took them just too long.#xa0;
As for the luggage it will easily accommodate large cases as in the example shown in hard luggage section .
All in all the VFR 800 Fi reeks of quality. The bike is so refined that not many out there can match.
Do you own or have you ever owned Honda VFR 800 Fi?
Honda Fury Special Edition Controversy? News
Honda trx450r manual
Bob Logue Motorsports Honda Museum
Honda Vision 110 New Honda Motorbikes – P&H Motorcycles
Karizma ZMR Bike – Prices, Reviews, Photos, Mileage, Features & Specifications