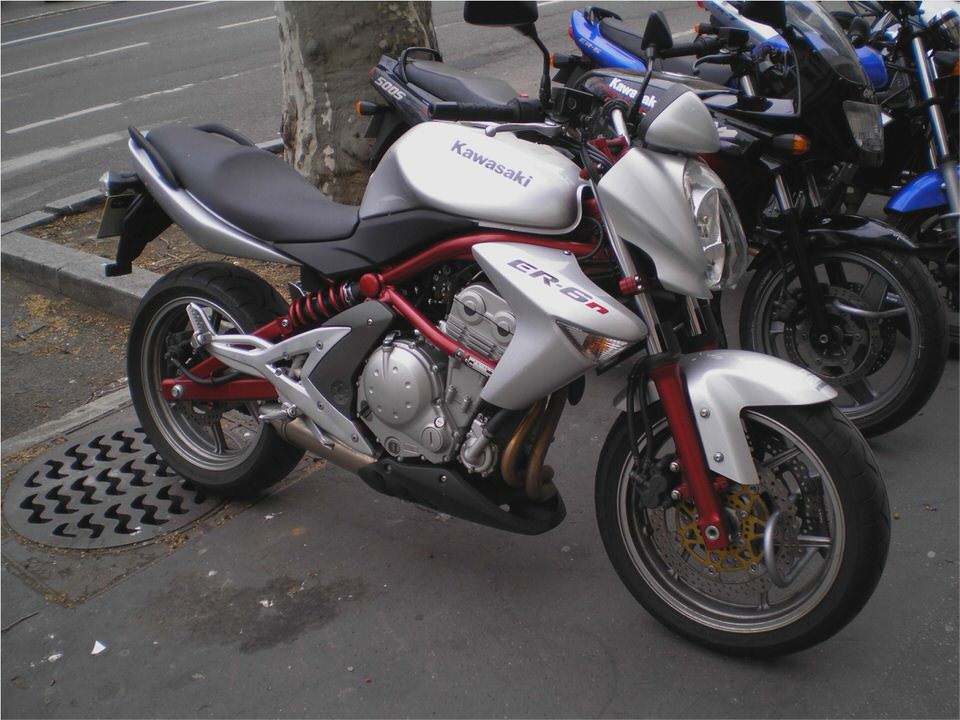 Five 2010 Kawasaki Motorcycles Under $8,000: KLR650, Versys, ER-6n, Ninja 650R, KLX250S
2010 Kawasaki Ninja 650R
Kawasaki' s flagship bikes such as the Concours 14. ZX-10R and Voyager top many a wish list, but when it comes to parting with hard-earned dollars, many riders hunt farther down the food chain. Kawasaki highlighted the core of its 2010 lineup during the Tour d'Idyllwild, a two-day street/dual-sport ride.
For the street ride, Team Green rolled out three bikes that share the same 649cc liquid-cooled, DOHC, four-valve, parallel-twin engine: Ninja 650R. ER-6n and Versys. These bikes have plenty of power—our 2009 ER-6n test bike put 64.4 horsepower and 43.8 lb-ft of torque to the rear wheel—to propel roughly 450 pounds (wet) down any road.
Departing Kawasaki's U.S. headquarters in Irvine, California, I saddled up on a Ninja 650R ($7,099), which was updated in 2009 (see Rider . March 2010). Though sporty in appearance, the riding position and seat are humane. Light and narrow between the knees, handling is nimble, predictable and stable from parking lot to blue-light speeds. Thanks to perfect primary balance and a balancer shaft, the engine's linear, vibe-free power is like drawn butter.
Based on an average of 45.5 mpg during our last test, the 4.1-gallon tank will take you 186 miles between fill-ups. Available in Metallic Island Blue, Candy Lime Green and Ebony.
After lunch, I hopped on the smaller ER-6n ($6,699; available in Metallic Flat Spark Black only). Its 29.7-inch seat height is 1.4 inches lower than the Ninja's. That makes the ER-6n ideal for newer/shorter riders, but it felt cramped for my 6-foot-plus frame.
With less rake and trail than the Ninja or Versys, the ER-6n steers more quickly, but it's never twitchy. The digital fuel injection with dual 38mm Keihin throttle bodies provides flawless fueling on all three models.
2010 Kawasaki ER-6n
The Versys ($7,599; available in Metallic Spark Black only), which I've nicknamed The Gazelle due to its tall 33.1-inch seat height, is a bike you need to ride to fully appreciate. Prior to the Tour d'Idyllwild, I spent two days caning one on the Streets of Willow Springs at Reg Pridmore's CLASS School (www.classrides.com). Tuned for more low-to-midrange grunt, the Versys snaps out of corners.
For 2010, it got sharper styling with a stacked dual headlight, more sculpted bodywork, and new mirrors, turn signals, radiator shrouds, frame/ engine covers, fenders, grab rails, LED taillight and muffler. It also got a three-position adjustable windscreen, plus rubber engine mounts and softer footpegs for less felt vibration.
With roughly an inch more suspension travel front and rear and 0.9-gallon more fuel capacity than its siblings, as well as an upright seating position and plush seat, it lends itself more to any-road sport touring. Consistent with their price points, braking performance and suspension compliance on all three bikes are adequate, not exceptional.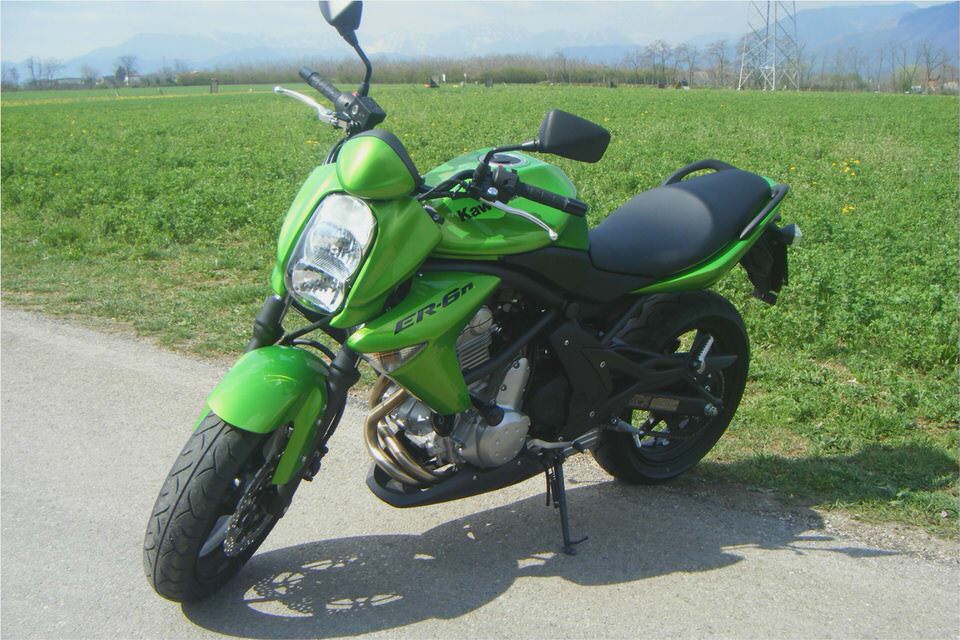 Day 2 began in Idyllwild, a cozy, artsy town at 5,300 feet in the Mount San Jacinto Wilderness. For the fire roads just outside of town, Kawasaki queued up its venerable KLR650 and the smaller, lighter KLX250S, which hold the number 1 and number 2 spots, respectively, as the top-selling dual-sport motorcycles in America.
2010 Kawasaki Vulan 1700 Voyager
After a 21-year run, the KLR650 ($5,999) underwent its first major redesign in 2008 ( Rider . July 2007). Still powered by a 651cc, liquid-cooled, DOHC, four-valve, dual-counterbalanced, carbureted engine, it received a laundry list of long-overdue internal improvements. Likewise, suspension and brakes were beefed up, handling, styling and rider comfort were improved.
If you can get past the 35-inch seat height, the KLR is incredibly easy to ride. It will embarrass many sport riders in the curves and tackle technical terrain like a mountain goat. The street-biased semi-knobby tires are squirrely in the dirt, but they stick like glue on pavement.
With 6.1 gallons of fuel capacity and a claimed 55 mpg, you can go deep into the boonies before worrying about gas. The excess oil consumption issue that affected some of the '08 production was addressed last year, too.
If your bias is more trail than street, then the KLX250S ($5,299) is the perfect bike. It trades comfort for lightness and maneuverability. At 298 pounds fully gassed (claimed), it weighs 134 pounds less than the KLR650, thanks in part to its 2.0-gallon fuel capacity (rated for 70 mpg). The liquid-cooled, DOHC, counterbalanced, four-valve single provides user-friendly power, especially when traction is limited.
The KLX's knobbies bite well, and its long-travel, adjustable suspension and 21-inch front wheel handle rocks and ruts easily. Available in Lime Green or Ebony.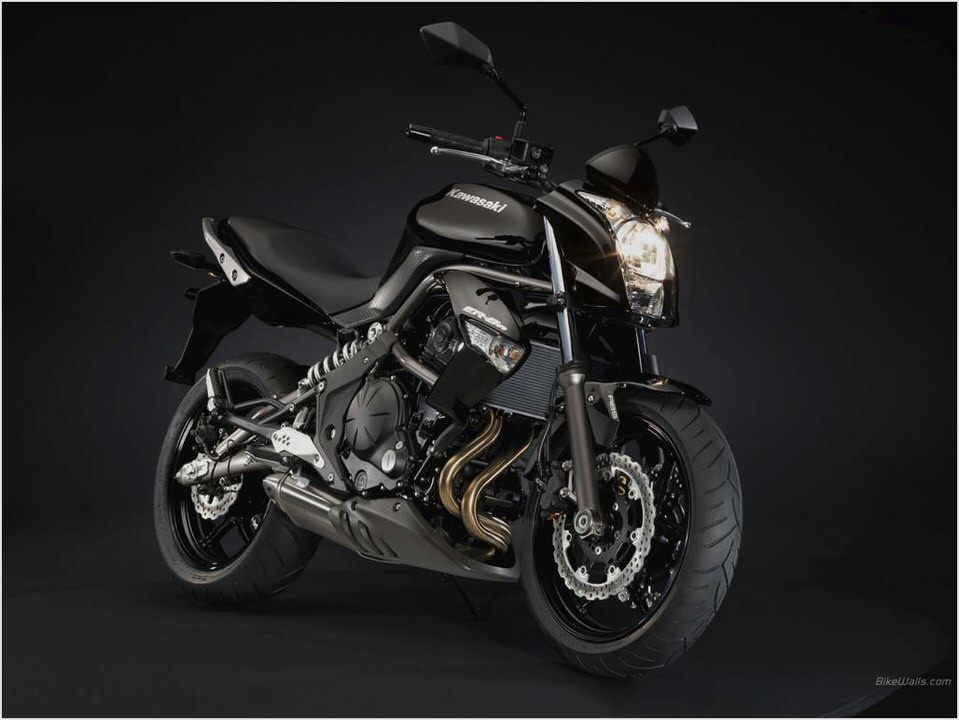 2009 Kawasaki Vulcan 1700 Cruisers First Ride – Motorcycle USA
2008 Kawasaki Vulcan 2000 Classic LT Riding Impression
2012 Kawasaki Teryx4 750 4×4 Preview
1974 Kawasaki 650 W-3
2014 Kawasaki KX85 and KX100 – Features – Vital MX