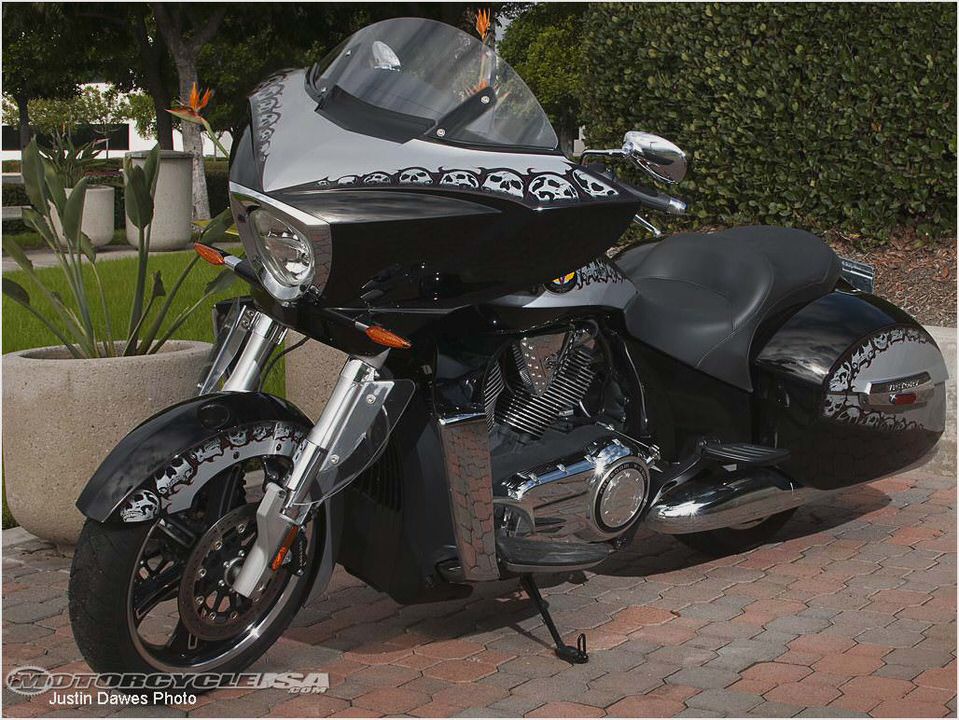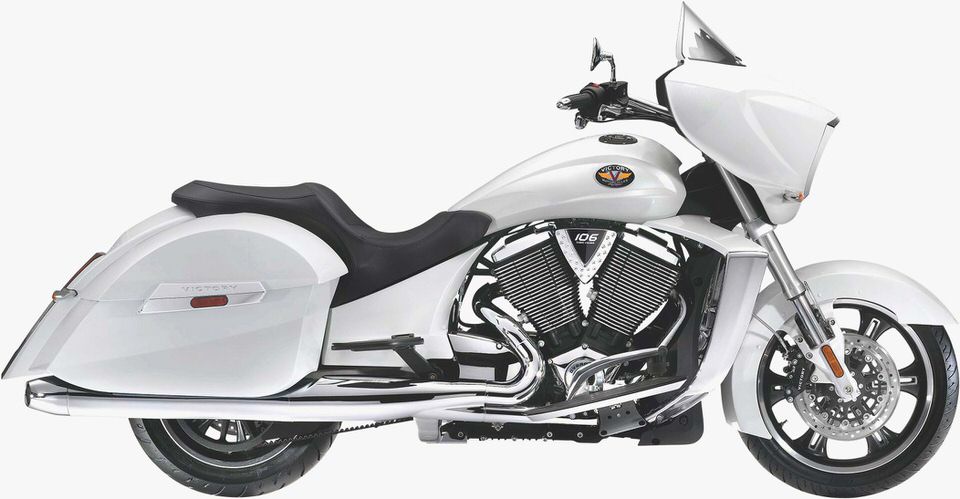 Specifications:
Introduction
Victory presents the Cross Roads and Cross Country as being part of the same project and the fact is that they really are, but people aren't going to buy both bikes, so it is better to try and individualize them a bit. So if you've read our 2010 Victory Cross Roads review. you'll notice the Cross Country model features a veritable touring fairing instead of just the protective windshield. But the fact is that this bike has plenty more to brag about than just that.
For instance, it features cruise control, a dual-speaker audio system and an MP3 connector. This indicates that the Victory Cross Country is a much better recommendation for those long rides from coast to coast, without us being even needed to mention the bike comes with passenger floorboards, a spacious seat (which is also the lowest in its class) and adjustable bars.
This bike's 4.7 inches of suspension travel and the 21 gallons of cargo capacity, ensured only by the sidebags, also recommend it for the open road. In fact, this bike comes with a very low center of gravity and seat height (26.25 inches) and this means it won't turn into a nightmare when it comes to slow speed maneuvering around the parking lot for example. Certainly an advantage will be the fact that it is built to go fast and safe around corners in an attempt to receive better recommendations than the competition already gets.
92-hp fuel injected V-twin engine
Now that's a tough battle to start and the fact is that Victory doesn't just rely on great handling achieved with ingenious and already known engineering tweaks, but on a new generation Freedom engine powering the Cross Country and also found on the Cross Roads. The 106ci (1,731cc) 4-stroke 50 V-Twin unit uses a single overhead camshaft to open and close each cylinder's four valves, it is fed by an electronic fuel injection system using 45mm throttle bodies and breaths out through a split dual exhaust with crossover.
All this translates in 92 hp and 109 ft-lbs of torque. Not only that is impressive for the category, but how Victory engineers managed to keep the engine lively all across the rev range and not just above idle.
Competition
Virtually everything that Victory thinks about when creating a brand new bike such as the Cross Country is competition. Indeed, people have stopped calling them "the other American motorcycle manufacturer" and it seems that Victory is aware of the long ride in front on them. That is why you'll see them working their way in the collective mentality and comparing their products with those of Harley's along the way.
In this case, the 2010 Harley-Davidson FLHX Street Glide is very good bike to try beating.
To begin with, the HD motorcycle is powered by the famous 96ci (1584cc) air-cooled, Twin Cam engine featuring pushrod-operated, overhead valves with hydraulic, self-adjusting lifters; two valves per cylinder. Electronic Sequential Port Fuel Injection also feeds HD's engine, which is coupled to a six-speed cruise drive transmission.
The Road Glide, like all other Harley bikes, offers riders a unique sound and feel, something that cannot be replaced by a slightly lower seat (considering the fact that the Street Glide's seat is only 26.30 inches from the ground) and more cargo capacity (the Street Glide only offers 16.9 gallons of cargo capacity). Also, the bike comes with a 40-watt, two-speaker Advanced Audio System by Harman/Kardon wCD/MP3 player, optional ABS and electronic cruise control. The starting price for solid colors is $18,999, for two-tones it is $19,479 and for custom colors it is $19,899.
Exterior
We're not gonna go ahead and say the 2010 Victory Cross Country looks better than a 2010 Harley-Davidson Street Glide, but we'll simply have to say that it looks rather interesting. Victory designers are no strangers to smooth flowing lines and ergonomics, so if we wouldn't know this thing is actually built for the road, we would have simply said it belongs at a modern art exposition or something (take notice that not all the stuff there is pretty).
The Cross Country is characterized by a large front fairing and a small windscreen. Both these pieces have the purpose of keeping wind away from the rider's head, chest and arms. The central point is the headlight (also used on the Cross Roads). This features a unique shape and it is nicely contoured in order to stand out.
The bike is rather imposing and the massive front wheel and fender are both practical and big.
Looking at this bike, it is clear that it hasn't got much to do with the original American touring motorcycle frenzy, but it looks like an arrow shot into the future. Everything is there with a purpose and somehow it doesn't manage to look so strange either. The only thing that looks classic on it is the V-Twin engine.
Everything else (the wheels, gas tanks, seat, rear fender with the LED taillight and signal lights as well as the spacious sidecases) is as modern as possible. So are the solid (Solid Black, Solid Midnight Cherry) and multiple (Black Graphite with Extreme Skulls) colors available.
Press Reviews
With the Cross Country's Freedom 106, Victory wanted a broad, flat torque curve with good midrange. And midrange is not a problem for the 1731cc engine. Its torque curve is flat and horsepower is climbing, so its midrange is solid. But in lower gears, the engine didn't give much below 3000 rpm, which surprised us seeing how this lack of power down low hadn't materialized in other versions of the Freedom 106 we've tested. motorcycle-usa
Victory's 106-cubic-inch Freedom mill still delivers adequate power and a barrelful of torque-certainly enough to pass just about anything that slows you down. motorcyclistonline
With no downtubes, the aluminum frame lets the Cross bikes carry Victory's usual 106-cubic-inch 50-degree V-Twin nice and low, and the seats on the new bikes are likewise a mere 26.2 inches from the pavement. cycleworld
Cornering clearance is ample and I never wished for more in the Hill Country, and steering is low effort and quick enough that you can have quite a bit of fun in the corners, even on the Country with its fork-mounted, electronics-laden fairing. ridermagazine
"A potential drawback with the fairing depending on rider height is the amount of buffeting we experienced from around 70-75 mph and up. Depending on conditions, buffeting can be prominent." motorcycle
Price
The US MSRP for a 2010 Victory Cross Country starts at $17,999, exactly $1 grand less than for a Road Glide painted in a solid color. That is no reason for a HD fan to change brand, but it is a clear advantage for Victory in the fight for supremacy on the open road.
Conclusion
If there's one certain thing that Victory shows with the launch of the all-new Cross Country model, given the fact that the Cross Roads only would have simply been enough, is the fact that they've learned to offer diversity and so gain popularity on such a competitive market. We're expecting more of this from the Polaris Industries brand.
SPECIFICATIONS
Engine and Transmission
Engine Type: 4-stroke 50 V-Twin
Cooling Type: Air / Oil
Displacement: 106 ci / 1,731 cc
Bore x Stroke: 101 x 108 mm
Compression Ratio: 9.4:1
Valve Train: Single overhead camshafts with 4 valves per cylinder, self-adjusting cam chains, hydraulic lifters
Fuel System: Electronic Fuel Injection with dual 45mm throttle body
Fuel Capacity: 5.8 gal / 22 ltr
Exhaust: Split dual exhaust with crossover
Oil Capacity: 5.0 qts / 4.75 ltr
Charging System: 50 amps max output
Battery: 12 volts / 18 amp hours
Primary Drive: Gear drive with torque compensator
Clutch: Wet, multi-plate
Transmission: 6-speed constant mesh
Final Drive: Carbon Fiber Reinforced Belt
Chassis and Dimensions
Front Suspension: Inverted cartridge telescopic fork, 43 mm diameter, 5.1 in 130 mm travel
Rear Suspension: Single, mono-tube gas, cast aluminum with constant rate linkage, 4.7 in/120 mm travel, air adjustable spring
Front Brake: Dual 300mm floating rotor with 4-piston caliper
Rear Brake: 300mm floating rotor with 2-piston caliper
Front Wheel: 18 x 3.0 in
Rear Wheel: 16 x 5.0 in
Front Tire: 130/70R18 Dunlop Elite 3
Rear Tire: 180/60R16 Dunlop Elite 3
Length: 104.4 in / 2,652 mm
Wheelbase: 65.7 in / 1,670 mm
Seat Height: 26.25 in / 667 mm
Ground Clearance: 5.8 in / 148 mm
Rake/Trail: 29.0 / 5.6 in / 142 mm
Dry Weight: 765 lbs / 347 kg
GVWR: 1,360 lbs / 618 kg
Other
Solid Colors: Solid Black, Solid Midnight Cherry
Multiple Colors: Black Graphite with Extreme Skulls
Features Benefits
106-Cubic-Inch Freedom V-Twin
This 106ci/1731cc engine produces 92 HP and 109 ft-lbs of torque, which is ample power for acceleration on-demand and highway cruising with one or two riders and cargo.
92 Horsepower and 109 Foot Pounds of Torque
There's excellent throttle response, great acceleration, impressive torque and all the power needed to make good time on the open road with one or two riders aboard.
6 Speed Overdrive Transmission
There's smooth shifting through the greats, and in 6th – which is a true overdrive – the RPMs drop for smooth, efficient highway cruising. Plus, there's still power for passing without downshifting.
580 Pounds of Load Capacity – Best in Class
With one or two riders and a full load of touring cargo the Cross Country is ready to roll. It has the cargo space, adjustable suspension and Freedom Engine power for memorable 2-up touring.
21 Gallons of Cargo Capacity – Best in Class
The roomy, twin side storage units are weatherproof and feature strong, durable glass-filled nylon construction, have hinged lids with a lockable latch that can be operated with one hand.
4.7 Inches of Suspension Travel – Best in Class
The class-leading rear suspension features an air shock and coil spring. It is easy to adjust the air pressure to suit the passenger/cargo load and maintain the superb ride.
Cruise Control
The automotive-style Cruise Control is easy to operate and allows a rider to relax the throttle hand during extended highway cruising. It is easy to activate and to disengage.
Dual-Speaker Audio System
Enjoy the premium audio for the integrated auto system that feeds sound through two top-quality fairing-mounted speakers. With accessories, it is easy to play and MP3 device through the audio system.
MP3 Connector
Music from an MP3 device can be fed through the integrated audio system. With an accessory extension cable, the MP3 device can operate from the right saddlebag during riding.
Passenger Floorboards
The passenger enjoys the comfort and security of floorboard-style footrests that provide a well-positioned spot for feet during memorable days in the saddle.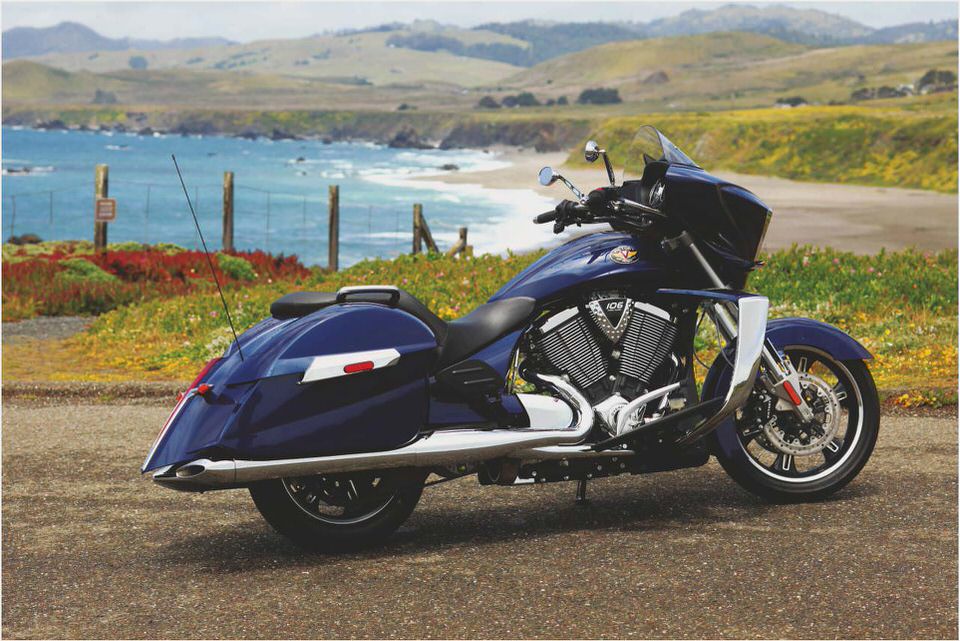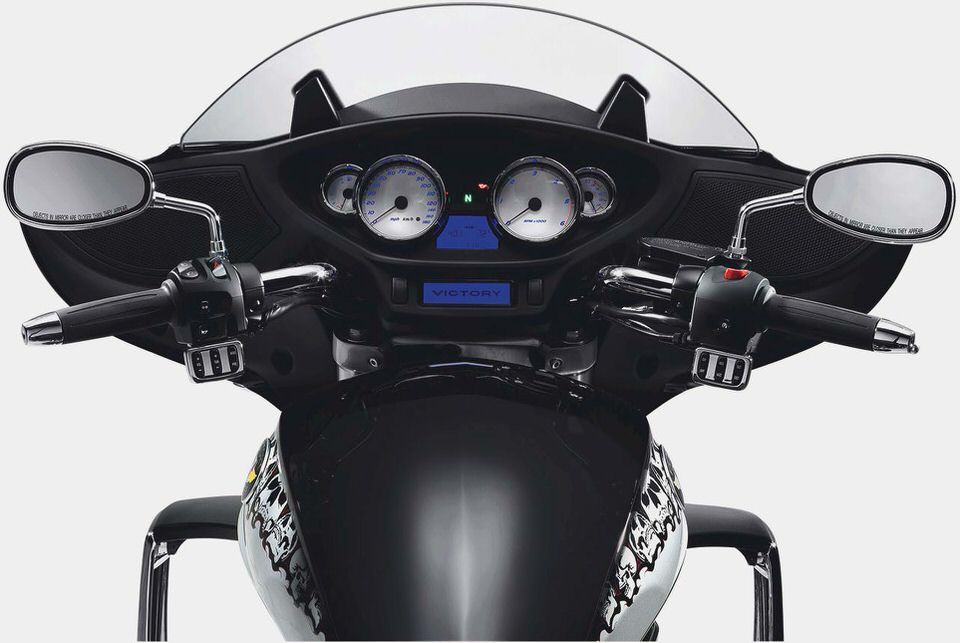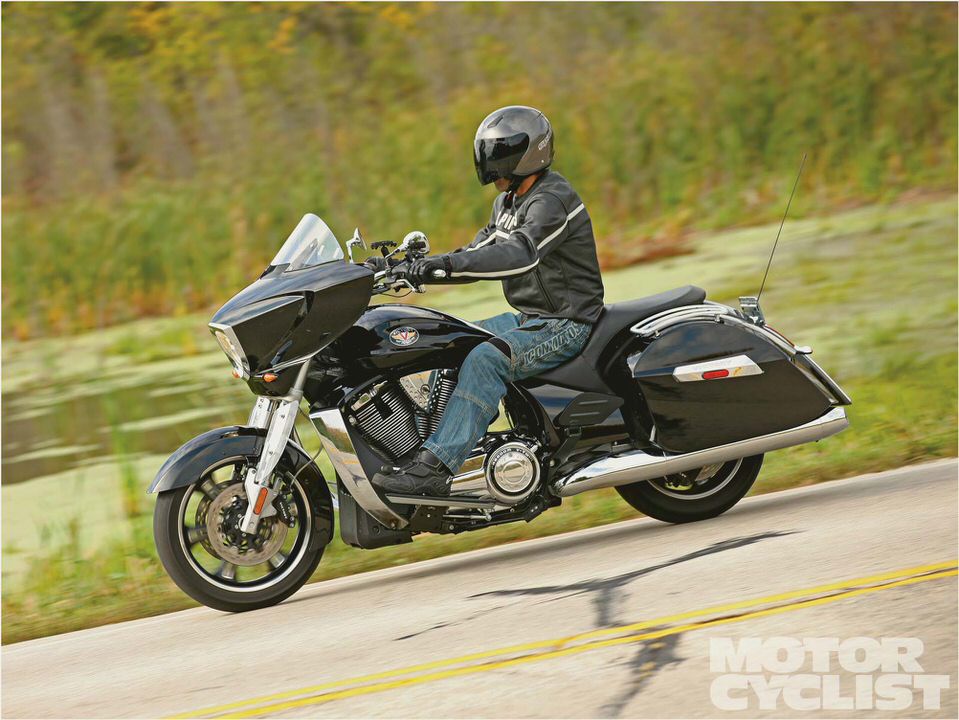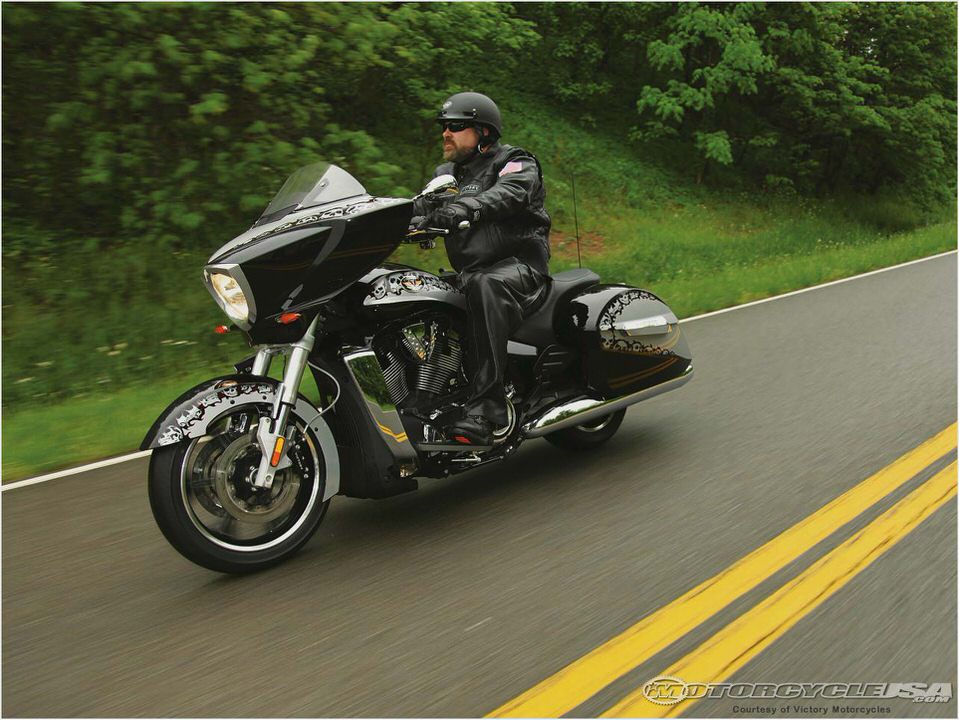 2012 Victory Cross Country Tour Road Test Rider Magazine
Victory High-Ball
Victory Motorcycles
Suzuki Boulevard M109R LTD. vs. Victory Hammer S – Motorcyclist Magazine
Victory Cross Country Victory Motorcycle Accessories