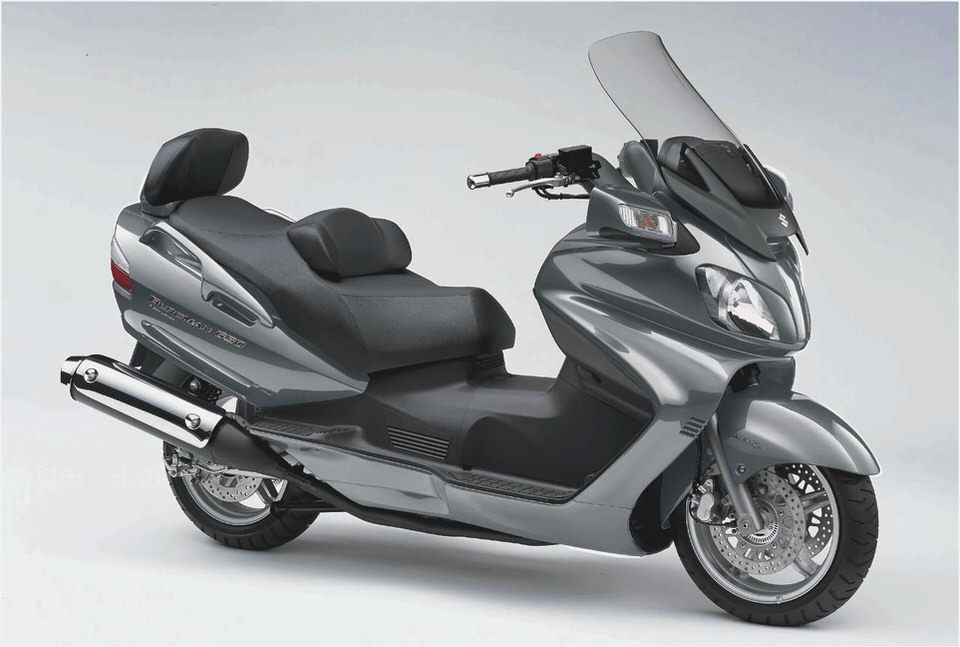 2011 Suzuki Burgman 650 Comparison
Jump in the cockpit of the largest scoot in our lineup in the 2011 Suzuki Burgman 650 – Scooter Shootout Video .
There are few scooters on the market that better fit the Maxi Scooter moniker than the 2011 Suzuki Burgman 650 Executive. This is as big as scooters get. In fact, with a 638cc engine and 626-pound wet weight, it's a stretch to consider the Burgman a scooter in the true sense of the word.
Then again, none of the machines in this shootout share much in common with a 'traditional' pass-through scoot, so we decided to roll with it or in this case float with it, as that's exactly what it feels like to pilot Suzuki's big bomber.
When you are looking to propel a two-wheeler in excess of 600 pounds, be it a scooter or not, it's no easy task. But with a scooter that becomes even harder, as it must make enough power to get up and going but still be able to run a clutch-less CVT transmission, and not some massively heavy car unit; something relatively light. To achieve this it gets the Suzuki Electronic Continuously Variable Transmission.
This design relieves some of the stress through various electronic aids, taking strain off of the internal clutch. As an added bonus, it allows the rider the option of selecting a manual mode to 'shift' gears via a toggle switch on the left handlebar.
The Suzuki Electronic Continuously Variable Transmission allowed the rider to manually change gears through a toggle switch.
I'll admit that I scoffed at it upon first sight, chalking the SECV up to some gimmick Suzuki employed to make the machine seem more 'fancy' and worth the 10K price tag. But truth be told the manual mode works far superior to just letting the CVT work, as in fully auto mode it has a hard time finding the right gear and feeling as if it's continuously slipping the clutch.
This is especially problematic when maintaining throttle mid-corner not an ideal place to lack throttle control. It shifts quite quickly as well, grabbing the next gear as fast, if not faster than most of the sportscars which feature this floppy-paddle gearbox. I'm not talking supercars here, but it definitely does it smoother and faster than my previous BMW M3, so that's saying something.
Creating the Burgman propulsion is a 638cc Parallel Twin. The dual-overhead-cam engine features a bore and stroke measuring 75.5 x 71.4mm. Fuel injection is standard, and while the scooters would not fit on our dyno, when it comes to acceleration numbers the Suzuki gets 0 to 60 mph roughly half a second faster than the 135-pound lighter Yamaha (8.28 sec vs 8.83 sec) and hits a top speed of 115 mph on our gps.
There's no question the Burgman engine is the horsepower king of this group, though added weight equals more inertia, which is much tougher to slow down. Even so, it's 60 to 0 mph braking distance was a respectable 153 feet, only six longer than the Yamaha and, believe it or not, some eight feet shorter than the Kymco, a machine that weights 104 pounds less.
But while the technological wizardry and sheer numbers posted by the Suzuki are quite impressive, what truly matters is real-world capabilities, and for some of the smaller riders in our testing posse, a 600-plus pound machine, no matter how well built and designed, was less than ideal.
Despite its size the 2011 Suzuki Burgman 650 Executive had some of the best acceleration and braking of the group.
"The Suzuki Burgman may have been my least favorite scooter of the day," says Ross, who is a petite but very adept rider. "It was much larger than the rest of the scooters and it felt much heavier. The handling on the Burgman was very soft and kept pogo-sticking a bit in the long sweeping corners of Ortega. Where the Burgman made up for its shortcomings was in fast straight lines; clearly this scooter was meant to be a freeway commuter. It definitely has the juice and size to take on the busy Los Angeles freeways, and that's no easy task, but I would be concerned about its handling capabilities, especially in cramped metro areas and the other typically tight confines where having a scooter becomes advantageous."
Another area hard to ignore with the Suzuki is it's price. Though a well-spec'd Yamaha is somewhat hefty already at $8590, the Burgman is barely a shade under 10K at $9899. Add in taxes and you are well over the 10-grand mark, some even approaching 11K.
Not to mention that the 37.4 mpg is the least economical of the bunch, and is actually down on what many small-to-moderate sized motorcycles make.
With the dust settled on our massive scooter shootout, the two bikes left standing were the Yamaha and Suzuki, but both for very different reasons. This is why, what it really comes down to in a comparison like this is value: Does the Suzuki provide $1500 more worth of features and amenities than the Yamaha? Associate Editor Dawes seems to think so, as MotoUSA's man-of-many-talents puts a premium on the cloud-like ride, leisurely prowess and sheer straight-line speed of the Burg-meister.
With its cloud-like ride and strong engine performance, the Suzuki 650 Burgman proved a favorite for one of our testers.
"If I had to cross the continent on a scooter this would be the one. The wind protection and creature comforts are insane and that's why this is my top pick," remarks Justin. "Although the handling and clutch action were not as good as the TMAX, for me a scooter isn't really about performance as much as usability if a want to tear ass all over town I'll ride some kind of sport-derived motorcycle. When I want to take it easy going to the market the Burgman is perfect."
But one out of four isn't a majority, so while we all love that heavenly freeway ride, Suzuki's 2011 Burgman 650 Executive ranks only the second-best in our first-ever maxi scooter shootout.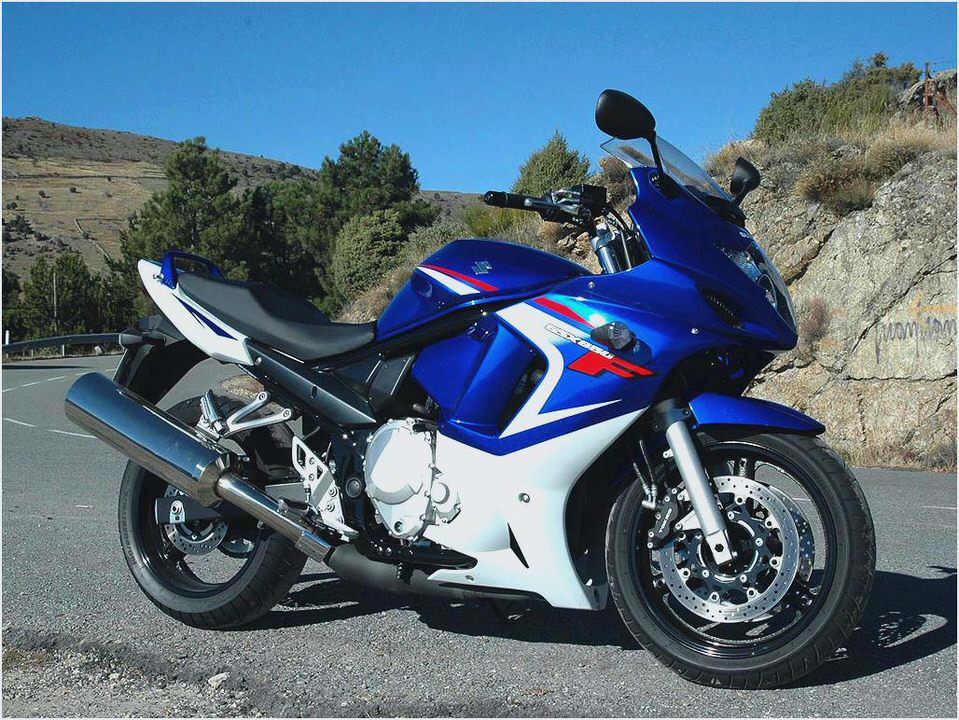 Days of spend, spend, spend over for motorsport which thrived on racy…
About Suzuki Bikes eHow
2012 Suzuki RM-Z 250 and 450 Motor Performance – First Test – Dirt Rider…
70 Degress Of Two Stroke Fun : 1997 Suzuki RGV 250 SP VJ23 Rare SportBikes…
Drive – Suzuki Grand Vitara Review