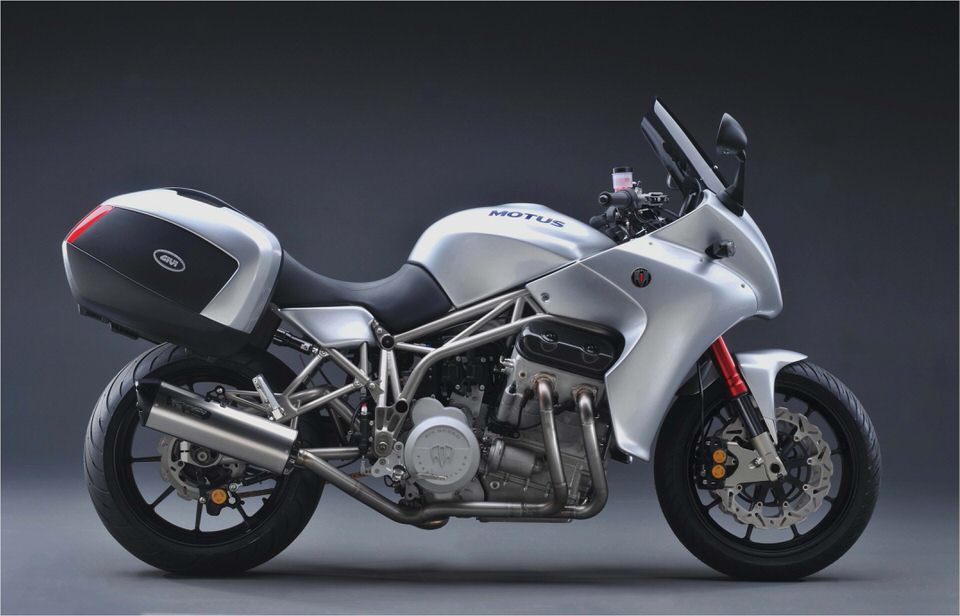 America's sport-tourer
The base-model MST, shown here in silver with the optional top box fitted, will use more mainstream suspension, braking components and wheels, to keep the price at a more affordable level.
The base-model MST, shown here in silver with the optional top box fitted, will use more m
Fate seemed to conspire against me. I'd flown to Los Angeles to test a pair of work-in-progress Motus sport-touring prototypes-the MST base model and the premium MST-R-only to arrive just in time for the ominous-sounding Carmageddon. News reports were forecasting traffic jams of epic proportion, caused by the weekend-long closure of the San Diego Freeway through the Sepulveda Pass to demolish an outdated bridge.
I needn't have worried: With most locals afraid to leave home, Carmageddon was a total non-event. I easily clocked more than 200 miles on everything from tight canyons to high-speed, Pacific Coast Highway sweepers to traffic-choked city streets-capped with a Sunday-morning visit to the fabled Rock Store on Mulholland Highway to gauge public reaction to the first four-cylinder streetbike built in America since World War II.
One thing is certain: The Motus draws attention, thanks to what is perhaps the most unique engine note in modern-day motorcycling. Powered by a 100-cubic-inch (1645cc), liquid-cooled, pushrod V4 built by Katech, a legendary Detroit auto-engineering firm, the so-called KMV4 sounds like half a NASCAR V8. One report from the twin Two Brothers Racing carbon-fiber exhaust cans brings bike nuts running.
The KMV4 Baby Block is the literal and figurative heart of the MST, a clever mix of proven ideas and new technology that defines the attitude and character of this all-American machine. What's more American than a pushrod V-motor? asks Lee Conn, who, along with designer Brian Case, founded Motus. A high-displacement pushrod engine could be hugely reliable, overbuilt and understressed, so it could last a long time.
Katech, known for work on GM's many championship-winning endurance-racing cars, designed an exceedingly compact V4 that looks familiar to anyone who's ever studied a small-block Chevy.
A single, roller-bearing camshaft, chain-driven off the crank, sits deep in the valley between the cylinders, with steel pushrods operating two stainless-steel valves per cylinder. The engine bolts to a six-speed gearbox designed by Pratt Miller-another tier-one GM partner in the Detroit area. The powertrain is positioned longitudinally in the frame, like a Honda ST1300, and tilted 15 degrees forward for knee clearance.
Case designed the steel-trellis chassis, fabricated from 4130 chromoly tubes, and tied to a tubular swingarm that acts on a progressive-rate rocker-arm linkage. Reasonably aggressive steering geometry and a claimed 52/48 percent forward weight bias seem to emphasize sport over touring .
Climb aboard and you encounter a remarkably natural riding stance. Standover height is accessible at 31 inches, with a 32-inch option for taller riders. The seat, made for Motus by Sargent in Florida, gives good bum support, though the pad would benefit from additional softness, or perhaps a gel insert.
Low-set footpegs and flat clip-ons deliver an upright, comfortable riding position that can be further tailored by adjusting the bars forward or back a full 5 inches, along with 15 degrees of angle adjustment. Footpeg position is fixed, but the toepieces on the shift lever and brake pedal can be adjusted. The windscreen is manually adjustable between four positions, raising a maximum of 3 inches.
The middle settings create a cocoon of still air at 85 mph, with zero buffeting despite what looks to be a narrow bit of Plexiglas. Optional screens will be offered, too.
I was reminded during start-up that riding a still-green prototype demands one make allowances for a work still in progress. The Magneti Marelli ECU's cold-start mapping hasn't been optimized yet, so it required some finesse to coax the V4 to life. Blipping the throttle in neutral produces a slight torque reaction, as the lengthwise crank rocks the bike to the side, but this disappears the instant you select a gear.
Twin counter-rotating balance shafts incorporated into the gearbox cancel this torque reaction completely out.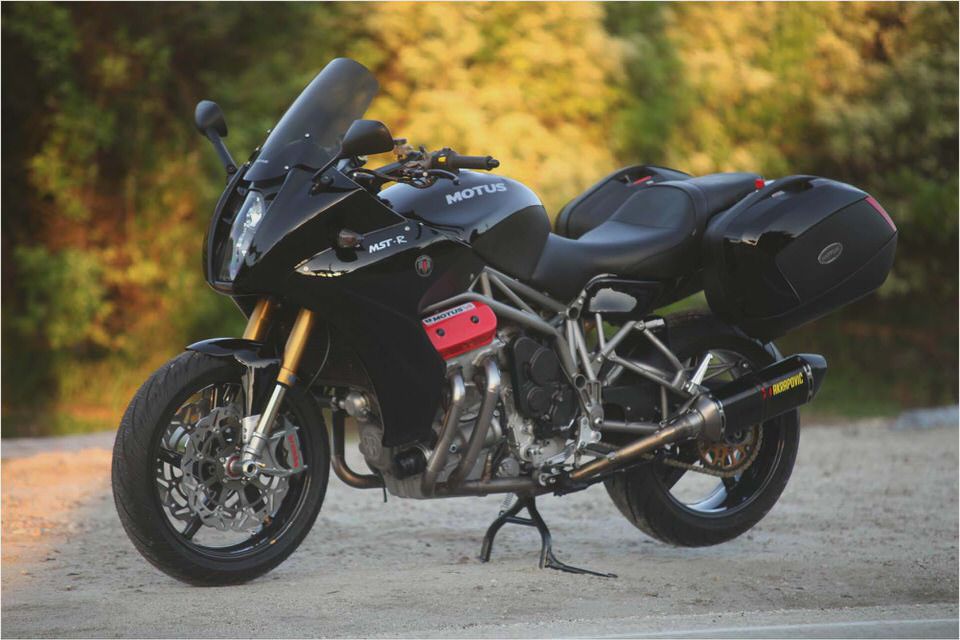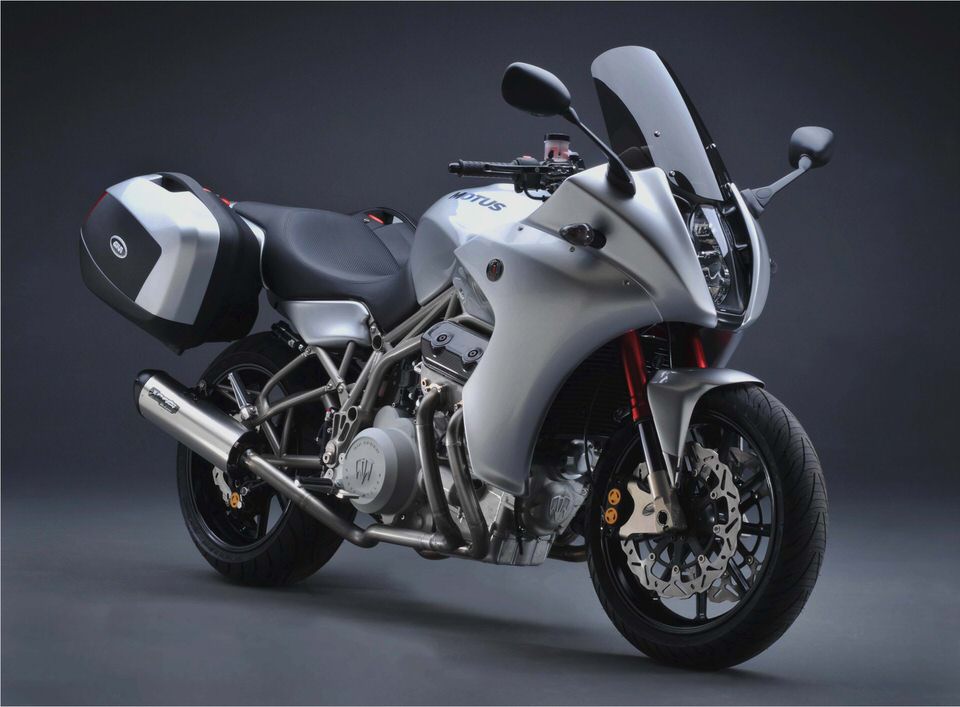 A smooth-running engine is a prerequisite for sport touring, and the Motus doesn't disappoint. With a 90-degree cylinder angle providing perfect primary balance, and those twin counterbalancers dulling secondary vibration, there's absolutely no buzzing below 7000 rpm, and only a slight tingle through the footpegs above that mark. With the rev limit set at 7800 rpm, this is hardly an issue.
The KMV4's happy spot lies between 3000 and 6500 rpm, where you surf the serious waves of torque flowing from the half-a-V8. A little heat emanates from the engine at rest, though you don't notice this much at speed.
(Left to right) Brian Case and Lee Conn pose with the two Motus prototypes at the L.A. Calendar Motorcycle Show in Long Beach, California, where the Motus made its West Coast debut.
(Left to right) Brian Case and Lee Conn pose with the two Motus prototypes at the L.A. Cal
The KMV4 is the first production four-stroke motorcycle engine equipped with GDI (gasoline direct injection). A single injector sits beneath the butterfly of each Katech-made 40mm throttle body, with carbon rails squirting fuel below the valves and directly into the combustion chamber. Direct injection delivers a very finely atomized, cooler fuel mixture that is said to increase power, improve fuel economy and reduce emissions.
Though a proven technology on the automotive side, the GDI system fitted to the Motus still needs some refinement. Fueling is fine under hard acceleration, but it's too abrupt off closed throttle, as I found many times midway through fast sweepers in the Santa Monica Mountains. Hopefully, this is just a question of fine-tuning the fuel-injection map.
The transmission is obviously still a pre-production component, as well. Shift action, though precise, is harsh, and the clutch is unacceptably stiff, quickly cramping your left hand in heavy traffic. The gear ratios are well chosen, however.
The extremely torquey engine allows an ultra-long first gear, followed by three evenly spaced ratios, and then an overdrive fifth and sixth for supremely relaxed high-speed cruising-the engine only turns 4000 rpm in top gear at 75 mph. The gauge cluster incorporates a shift light, but we'd also like to see a gear indicator-the V4 is so torquey, and roll-on acceleration so stout, that it's difficult to keep track of which gear you're in!
They say: Throttle control for the soul.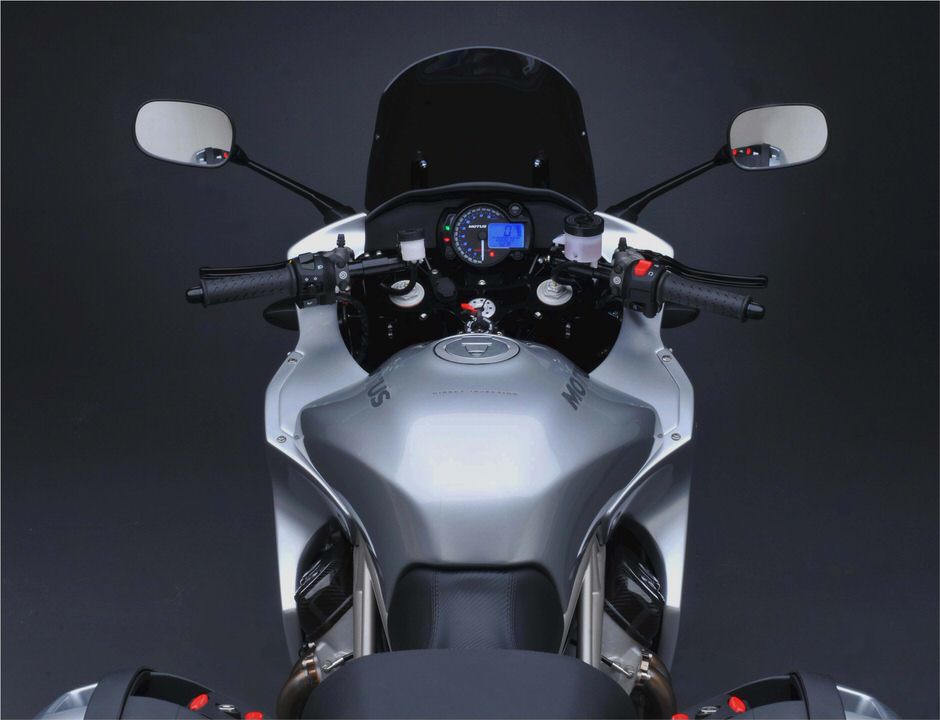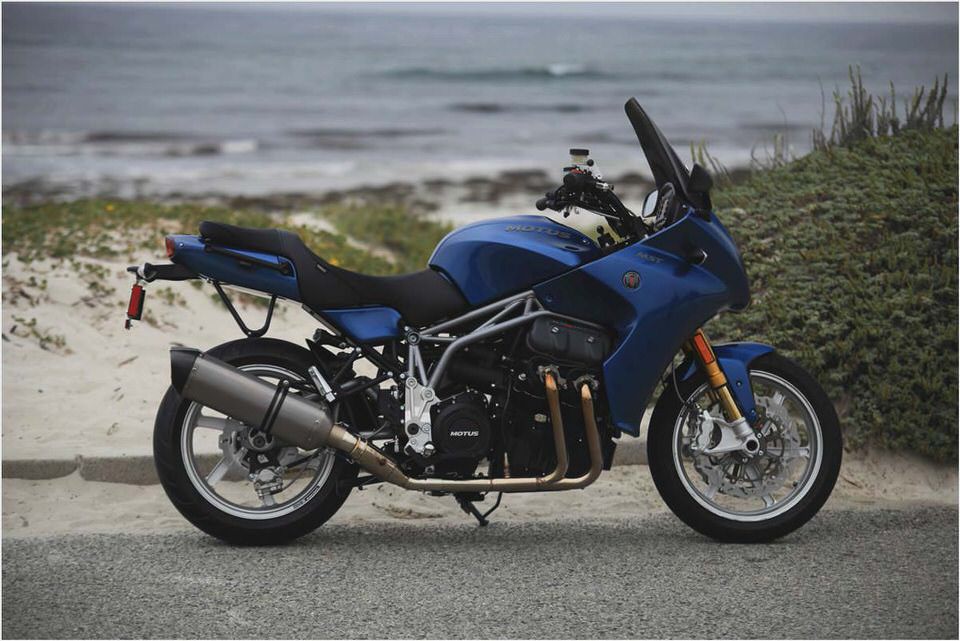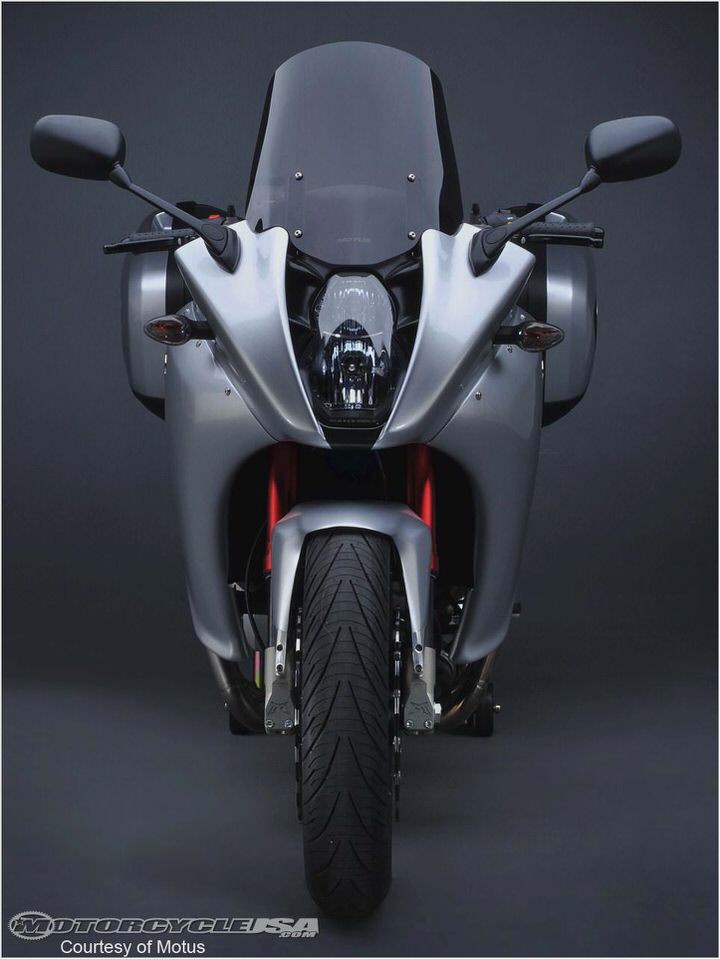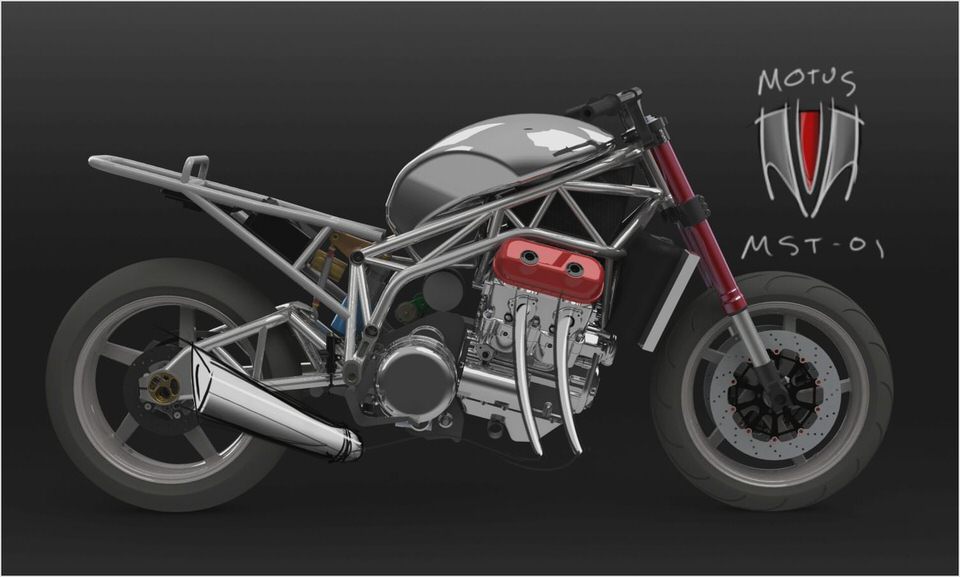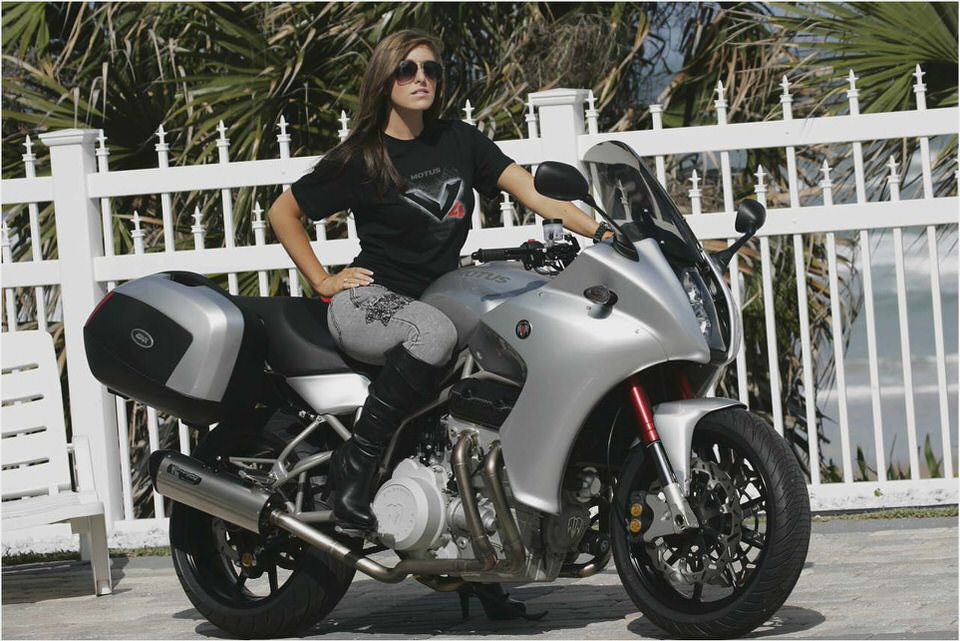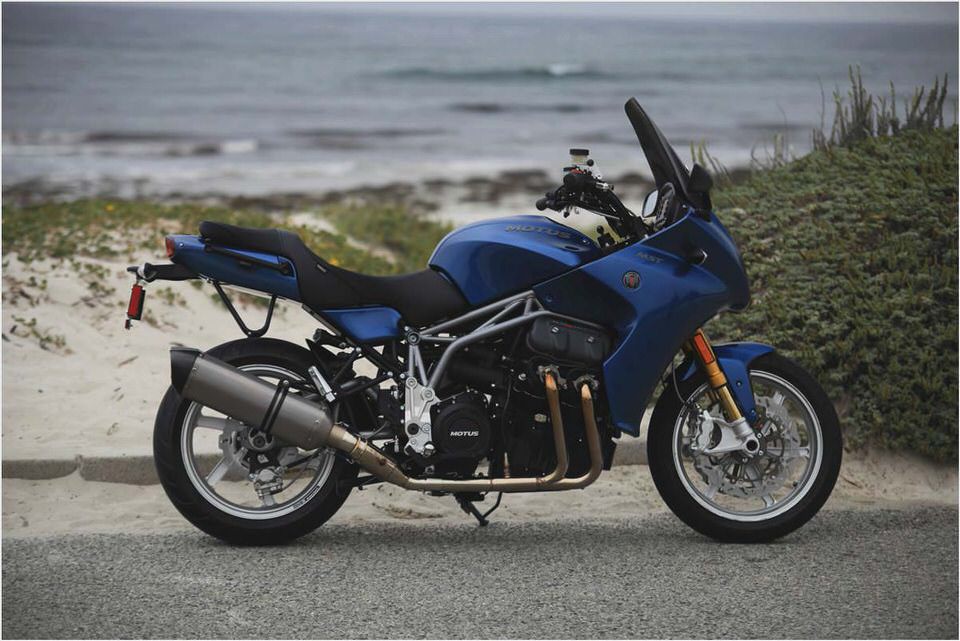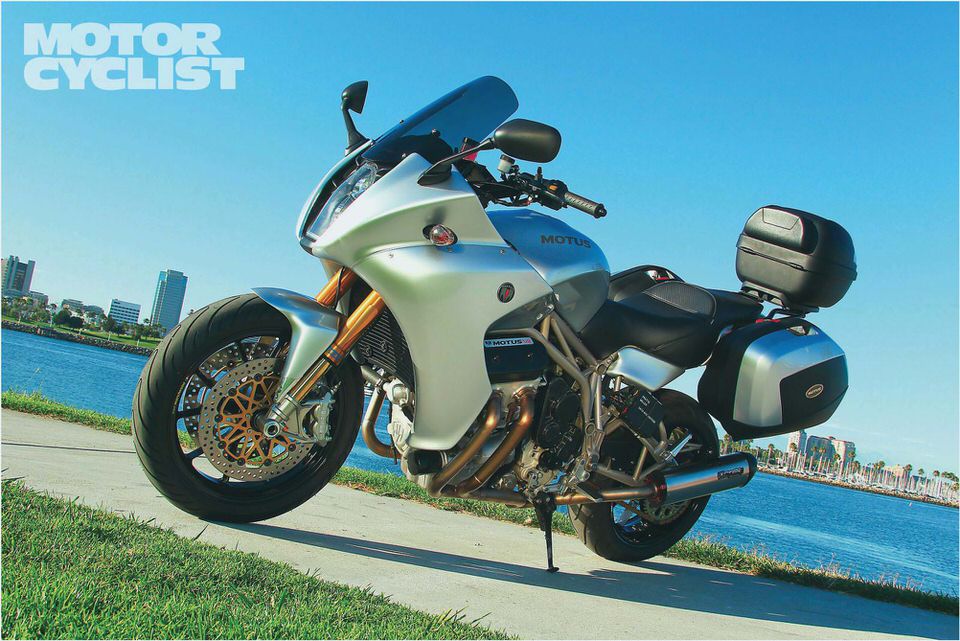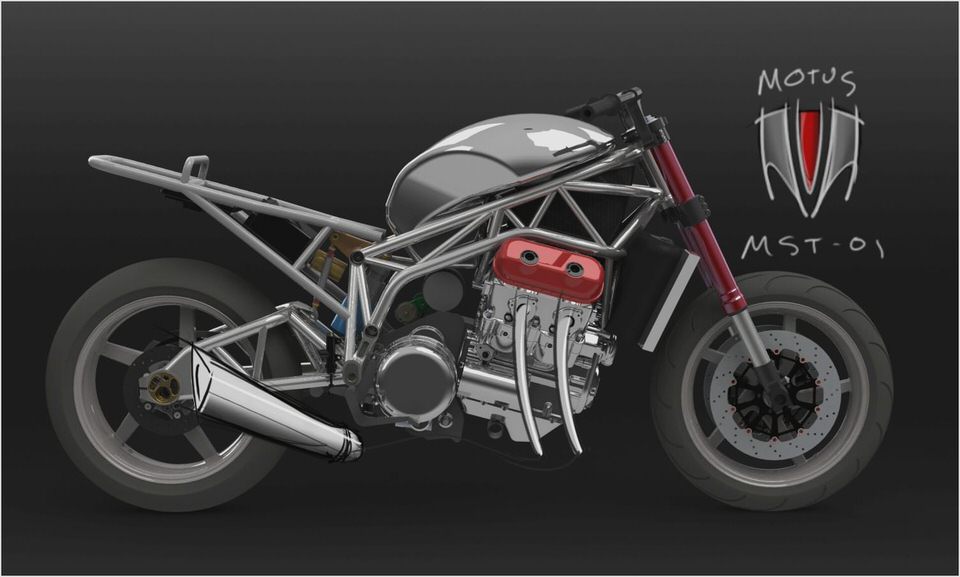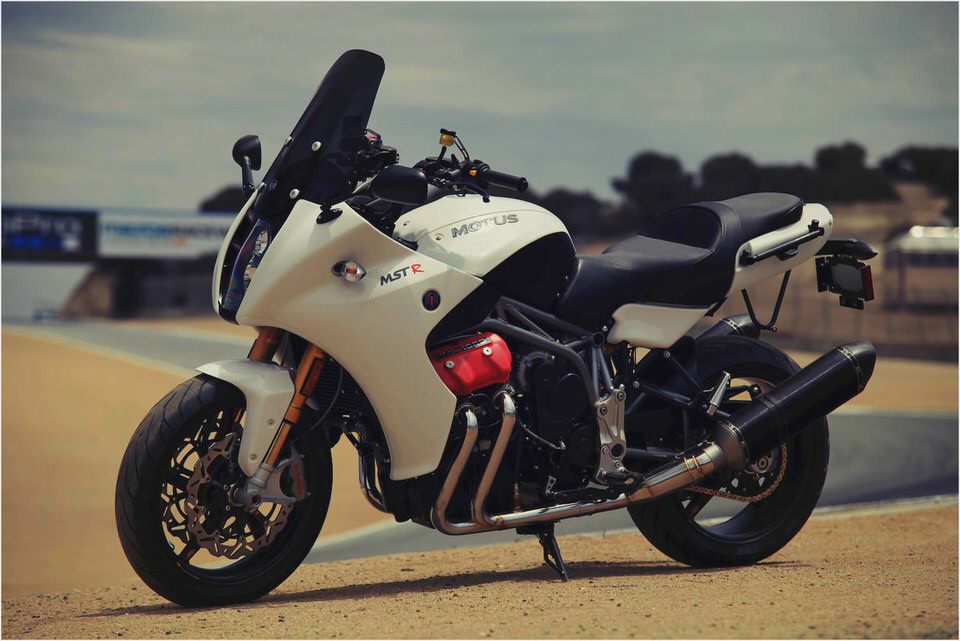 2014 Motus MST and MST-R- First Look Review- Photos- Pricing
2014 Motus MST and MSTR Revealed News
A Bike Worth Buying Just for the Engine Autopia Wired.com
Motus Motorcycles: Looking for 25 to 30 high-caliber dealerships Dealernews
Motus Motorcycles The American V4 Sportbike