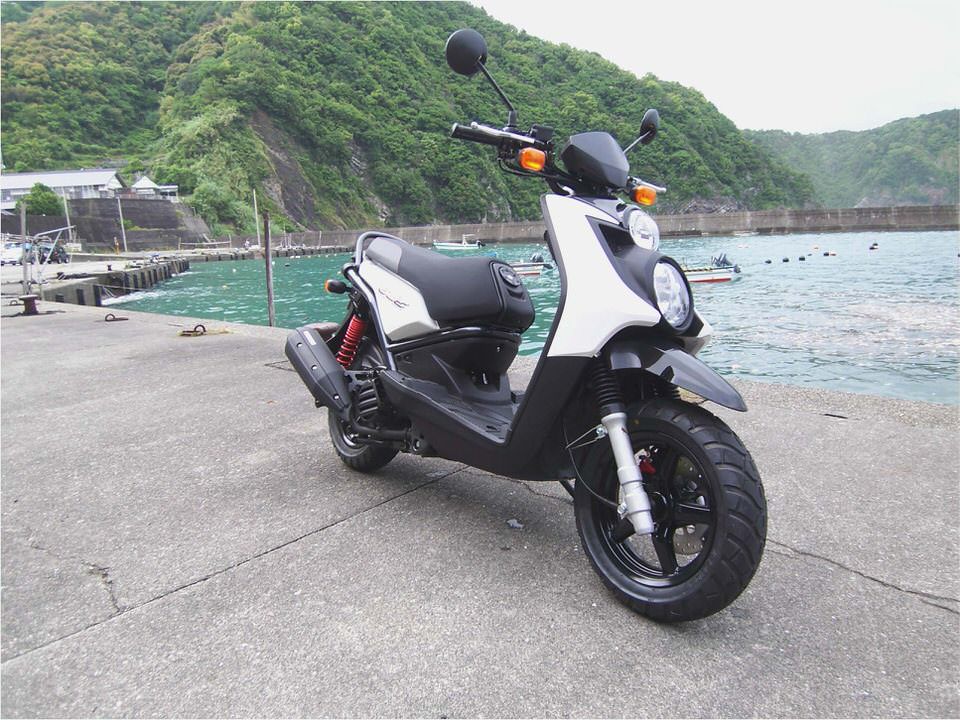 2012 Yamaha BWs 50
2012 Yamaha BWs 50
2012 Yamaha BWs 50
– 2012 Yamaha BWs 50
2012 Yamaha BWs 50 Review
Reliable, fuel efficient, uncompllicated fun.
The all new 2012 Yamaha BWs50 has arrived! Four stroke, stylish and ready for fun in the sun. Easy to use power with incredible fuel economy. Just twist the throttle and you're off!
There's nothing more fun than twisting the throttle of a scooter and cruising the streets. Canada's best selling scooter is back and better than ever!
2012 BW's 50 has arrived chock full of features that won't disappoint. With a new 49cc, 4-stroke, fuel injected engine and CVT automatic transmission; this scooter is not only runs cleaner but rides smoother. The exterior has been restyled, providing riders with plenty of room and comfort. Whether it's under the seat, in the dash or a handy hook, the BW's 50 has ample storage for all of your gear.
With fuel prices at an all time high, scooters really do make a lot of sense!
2012 Yamaha BWs 50 Features and Benefits
ALL NEW FOR 2012
Tough, yet sporty 4-stroke 49cc scooter makes going places fun, even commuting to work or school.
Fuel injection provides smooth, seamless power – and nearly instantaneous starts.
Sharp new styling and twin headlights update the original –tough, off-road- image of the BWs 50.
Fat tires give BWs 50 that -go anywhere- look.
Open and roomy ride for two atop the BWs 50-s stepped seat, along with lots of locking storage underneath it, with added conveniences like an inner pocket and fold-out hook.
ENGINE
49cc, liquid-cooled, SOHC, 3-valve, fuel injected, 4-stroke engine produces peppy, easy to use power with incredible fuel economy. The concept of this environmentally friendly engine is solid performance with low emissions and excellent fuel economy.
Fuel consumption of approximately 55 kilometres per litre or 158 miles per gallon (imp.). Your actual consumption may vary.
Fast, dependable electric starting.
The lightweight aluminum cylinder features a ceramic composite coating which is applied directly to the aluminum, eliminating the need for a heavy iron sleeve. The ceramic coating insures faster, more uniform heat dissipation, reduced friction and a longer service life.
Three valve cylinder head design utilizes two intake valves and one exhaust valve. The dual intake valves allow for the efficient flow of fuel and air into the engine for both excellent fuel economy and good power output. Compression ratio is 12:1
Special carbon cutter valve design removes any carbon build-up on the valve stems to keep the engine operating at maximum efficiency, especially important when the unit is being ridden at slow speeds in stop go traffic.
Roller rocker arms are used to actuate the valves. These specially designed rocker arms not only reduce friction for increased power, but also reduce mechanical noise for a quiet, enjoyable ride.
Lightweight aluminum piston and carburized connecting rod provide excellent performance with great durability.
Liquid-cooling is used to maintain stable engine temperatures even during stop and go riding. Liquid-cooling allows for a higher state of tune for increased engine performance, while also reducing mechanical engine noise. The radiator and cooling fan are positioned longitually in the frame on the right hand side.
19mm Mikuni throttle body fuel injection system provides excellent fuel economy, fast, easy starting and low emissions. Other benefits of fuel injection include choke-free starting, automatic idle adjustment and crisp clean throttle response.
The fuel system has been designed to accept E10 fuel (10% ethanol fuels). The BWs 50 uses regular gasoline.
16 bit ECU controls the fuel injection process.
Easy access, paper-type air filter is used. The airbox is specially designed to reduce intake noise.
Fully automatic CVT transmission (CVT = constantly variable transmission) ensures easy twist-the-throttle-and-go operation. There is no clutch lever or gear shifting involved – the transmission is fully automatic.
Maintenance-free T.C.I. ignition system with 3-D mapping provides a precise, high-voltage spark for fast, sure starts and crisp engine performance at all rpms.
Air induction System (AIS) is used to further reduce harmful exhaust emissions. The AIS system injects fresh air into the exhaust to ensure complete fuel combustion, thereby reducing both hydrocarbons (HC) and carbon monoxide (CO) emissions. It also helps to maximize the function of the catalytic converters.
Environmentally responsible exhaust system produces a very quiet exhaust note. The muffler contains dual honeycomb-style catalytic converters to further reduce exhaust emissions.
CHASSIS / SUSPENSION
Rugged, large diameter, step-through under bone steel frame provides excellent durability and makes getting on and off the unit very easy.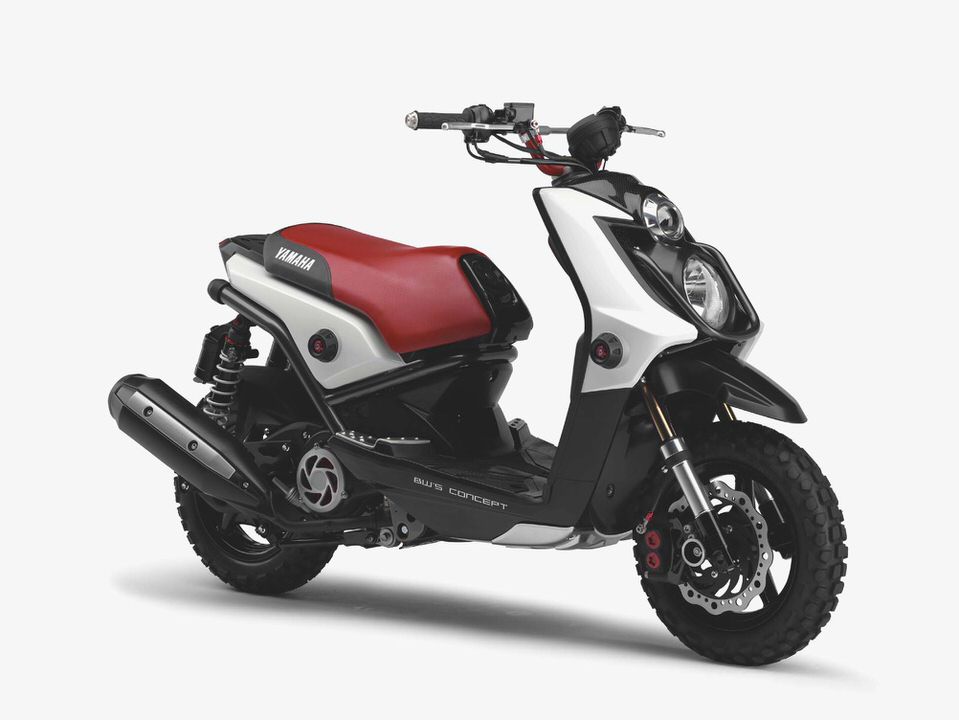 Wheelbase, centre of gravity, weight distribution and tire design, have all been engineered to provide light, agile handling and great manoeuvrability.
Wide floorboards and front leg cowl enhance rider comfort and provide good splash and wind protection.
26mm telescopic front fork provides 58mm (2.3) of wheel travel. Rubber fork boots help protect and extend the service life of the fork seals. Large diameter outer fork tubes offer a beefy / rugged image.
Single shock unit swingarm rear suspension with 56mm (2.2) of wheel travel provides good ride quality.
Lightweight, rugged 5-spoke aluminum mag wheels are fitted with wide, aggressive 120/90-10 tires. These wheels tires are well suited for rough, pot holed urban roadways. They also provide lots of grip and help create the BW's unmistakably fun look.
Hydraulic front disc brake with single piston caliper and stylish 180mm wave style rotor combine with the rear drum brake to provide serious stopping power.
Both front and rear brakes are hand-operated like on a bicycle – making riding simple and fun.
Instrumentation includes a speedometer, odometer and fuel gauge. There are also warning lights for coolant temperature, high beam, turn signals and an engine warning light.
Spacious 23 litre, lockable under seat storage can hold selected full-face helmets or other items like a backpack, lap top computer, rain suit etc.
Plush dual seat provides excellent comfort for either solo or two-up outings (yes, the BWs 50 has been designed to carry a passenger).
4.5 litre fuel tank is accessed via a panel on the foot tunnel. This location keeps the centre of gravity low for easy handling and minimizes mess if some fuel gets accidentally spilled.
Multifunction, 3 in 1 main key switch combines the ignition, fork lock and under seat storage compartment lock into one convenient switch. This switch also features an anti-theft shutter that can be closed to prevent someone from tampering or attempting to force the ignition switch.
Dual 35 watt halogen headlights provide excellent illumination and rider visibility as well as enhancing the BW's tough yet sporty styling.
DETAILS
Rugged rear cargo rack adds additional carry space and doubles as a passenger grab bar too.
Handy front mounted storage pocket is perfect for small items like a cell phone or wallet.
Front mounted folding hook for additional carrying convenience. perfect for bags handbags
Stylish clear turn signal lenses
Extra long rear fender extension reduces road splash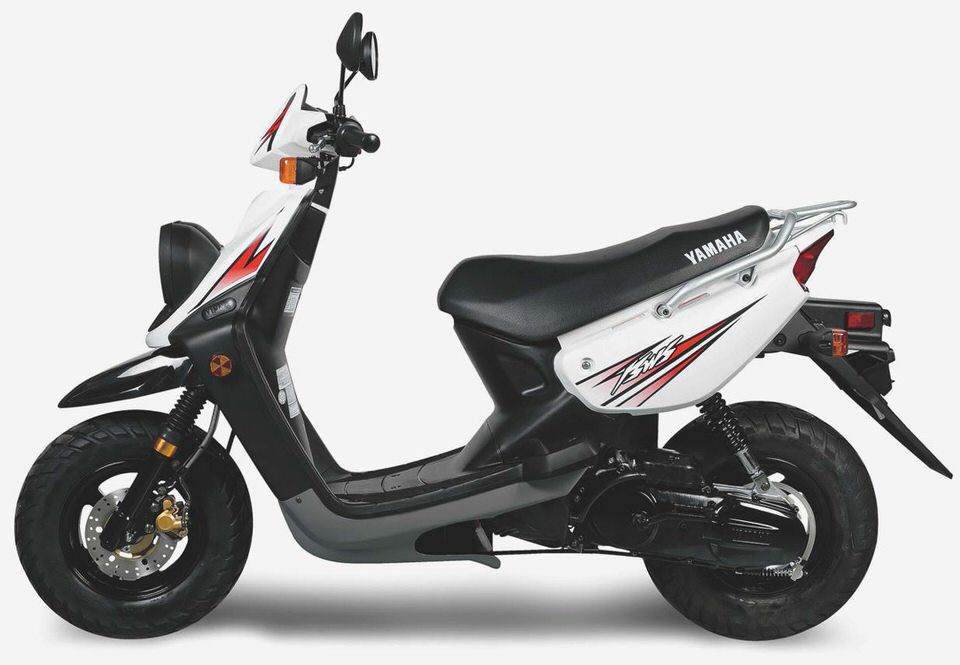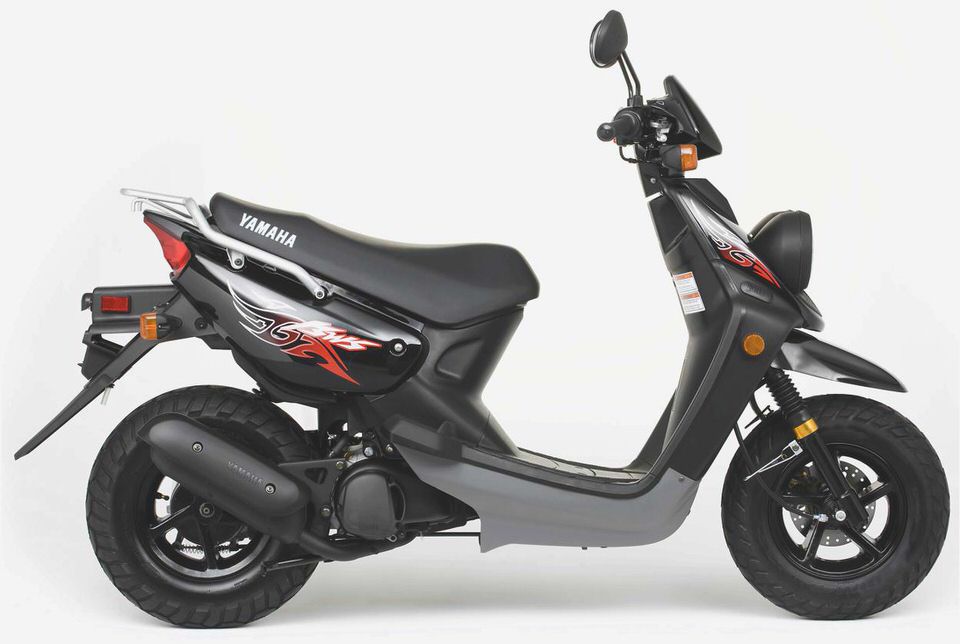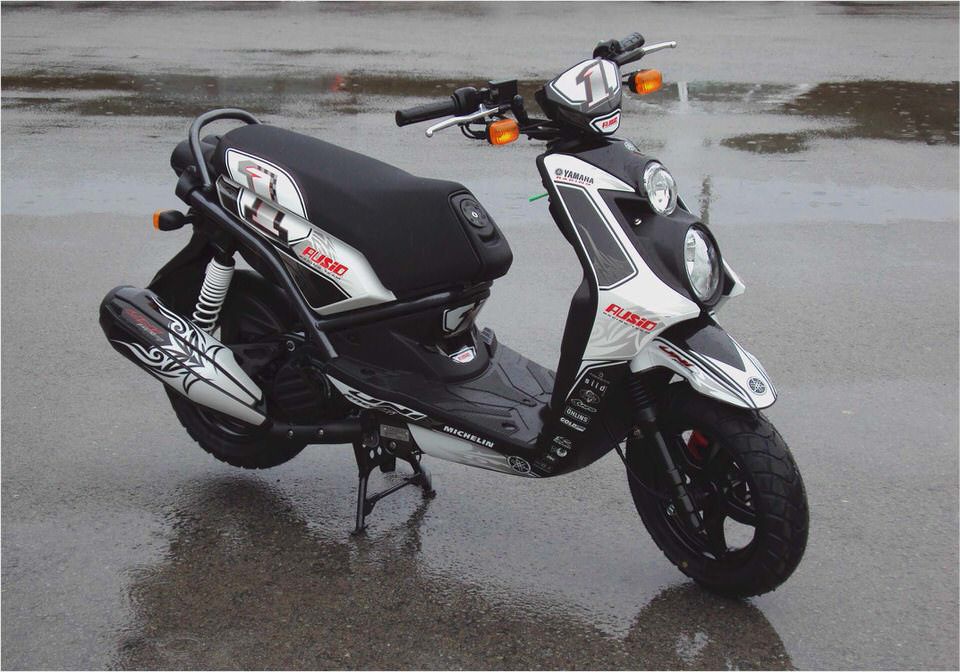 Snap – Yamaha FZ16 Midnight Special – Bharath Autos – Automobile News Updates
10 Days with a Yamaha TX650 – Classic Japanese Motorcycles – Motorcycle Classics
Zuma125
Yamaha Scooter Performance eHow
Dynojet KIT Stage 1 Yamaha XJR 1200 1300 SP 1995 2001 eBay