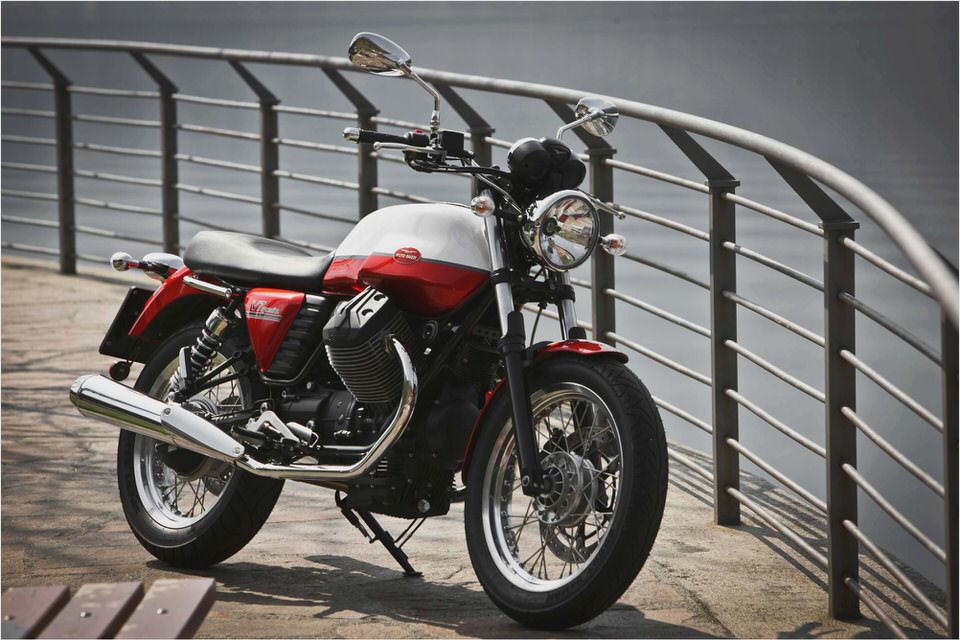 Free Download
2013 Moto Guzzi V7 Special Review
2013 Moto Guzzi V7 Special motorbike with new features 750cc. 90 ° V – twin engine which is more powerful and remain faithful to the characteristics of the Moto Guzzi tradition. that touring on a motorcycle at its purest should be nothing but fun. equipped with spoked wheels with aluminum rims. Moto Guzzi V7 design that has guided the whole family V7. technical innovation always intended to return the gripping real pleasure to motorists. metal tanks brilliantly in true Moto Guzzi tradition.
The V7 Special EICMA 2013 provides a variety of on board. which could take the role further when it comes to bags and glass accessories that complement the overall design of the V7 Special EICMA 2013.
2013 Moto Guzzi V7 Special  Pictures
  2013 Moto Guzzi V7 Special 2013 Moto Guzzi V7 Special 2013 Moto Guzzi V7 Special 2013 Moto Guzzi V7 Special 2013 Moto Guzzi V7 Special
2013 Moto Guzzi V7 Special which was first released in 1967. it was a success and with success comes admiration around the world for Moto Guzzi brands. Forty years later the young memories Moto Guzzi V7 designers set about designing. the results derived motorcycle V7 original style but with all the modern technology that the legendary ancestor could never be. V7roda aluminum allows for weight reduction in the front and rear. translating into greater agility on the road and cruising through turns. With graphic design. special attention has been paid to detail in motorcycles. including two-tone paint that harkens back to the V7 models that inspired it all .
2013 Moto Guzzi V7 Special Specification :
Type 90 ° V – twin 4 – stroke
Capacity of 744 cc
Maximum power of 37 kW ( 50HP ) at 6200 rpm
Ft maximum torque of 42.7 pounds. / 58Nm at 5000 rpm
Fuel system Weber – Marelli electronic fuel injection .
Exhaust system Three – way catalytic converter with Lambda probe two
TRANSMISSION
5 speed gearbox with final drive Cardan
Forced circulation lubrication with lobe pump – capacity circuit. 1.78 Kg
The end of the trip CA.R.C. Compact Reactive Shaft drive
Single- plate dry clutch with flexible coupling
CHASSIS / SUSPENSION / BRAKES
Double- cradle frame in ALS steel tubular frame with removable rear subframe
Front suspension telescopic hydraulic fork with 40 mm enclosure
Rear suspension Die cast light alloy swing arm with 2 adjustable spring preload shock absorbers
Brembo brake system
Front brake Ø 320 mm stainless steel discs. Brembo 4 piston calipers with differentiated
Rear brake 260 mm stainless steel disc. Brembo double piston floating caliper
Spoked wheels polished aluminum rims
Front wheel 18 ". 100/90
Rear wheel 17 ". 130/80
86 inch length – 2184mm
Maximum width of 31.5 inches – 800mm
Height 43.8 inches – 1112mm
Saddle height 31.6 inches ( 30.7 opt entry. ) – 805 mm ( 780 mm opt. )
Curb hefty £ 395-179 kg
Fuel tank capacity of 5.8 gallons – 22 liters
2013 Moto Guzzi V7 Special Price. Special Model
2013 Moto Guzzi California 1400 Touring Rear Right Side Angle View AstraOne.com…
Moto Guzzi V7 Classic Streetbike Surgery – Motorcyclist Magazine
Moto Guzzi V7 Racer – Cycle Torque Magazine
Moto Guzzi 1000 S
First Ride: 2004 Moto Guzzi Nevada Classic 750 – Road Tests: First Rides…