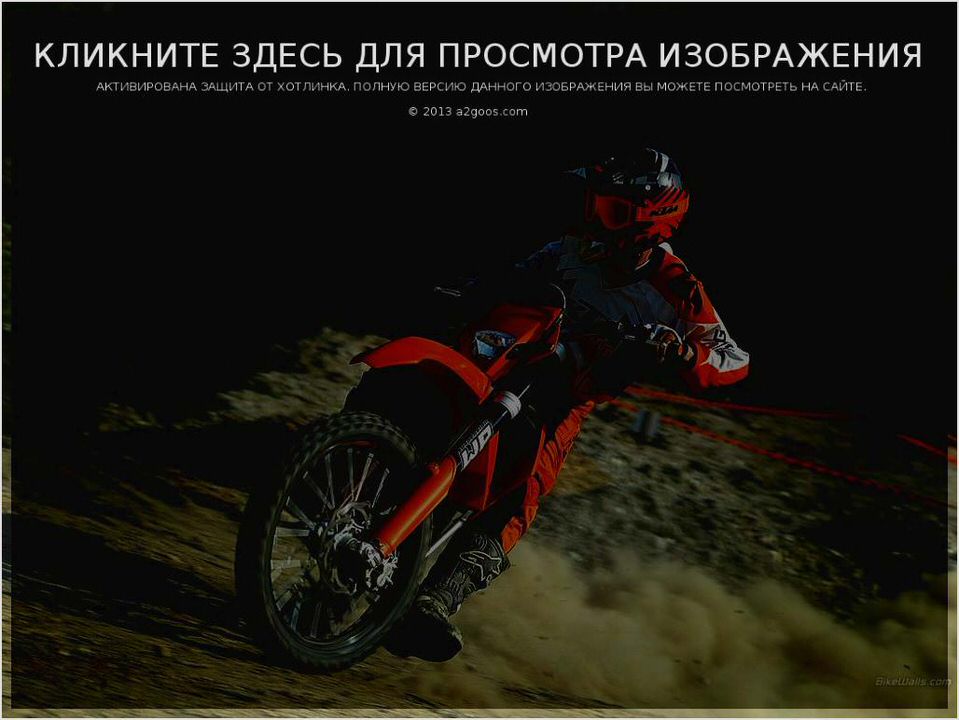 Living with a 2003 KTM 450 EXC
June 2003
True story: When I was nine I knew I was having a little Mamod steam traction engine from Santa. Fast-forward 32 years, Christmas Eve 2002, I shamelessly admit feeling the very same excitement when I picked up my new 450 EXC from KTM HQ in Brackley. Having enjoyed living with my Duke II over the past 18 months, I badgered KTM and TWO to replace her with the 450 EXC after drooling over one during press day at last year's NEC show.
Road legal, very capable off road and electric start for when you're absolutely shagged from riding all day and upside down in a bog. My kind of bike. First job was a gentle run-in, so it was off to Rugeley in Staffs with KTM's Ady Smith – the 2001 Brtish Supermoto champ – where he runs his enduro school.
I only rode for half a day, with Ady barely in sight, but it was enough time to realise my steed was a bit overgeared and the standard fit road-biased knobblies didn't have the best grip in the woods. Ady agreed and told me to change the 45-tooth rear sprocket for the 50-tooth item (supplied) and to get some Michelin S12s (the best in his opinion) fitted.
I've finished running her in on the road (106mph top speed) so its time to make the changes, go to Scotland and see if I can get anywhere near John Crawford on his 450 Honda. Watch this space! So far it's been impossible to wipe the massive grin from my mug, however it is overgeared for both on and off road use (easy to remedy with sprockets supplied), and the gearlever came loose.
September 2003
One big item that has been missing in my life since I jumped southbound over Hadrian's Wall three years ago to live in Leicestershire is an easily accessible top MX track.
Well, my intense praying has finally proved successful as TDB Yamaha British Superbiker Paul Young has now set up the Mallory Park Moto Cross Centre (tel 0709 965316) at, you've guessed it, Mallory Park. The original idea
was to build a track to use for personal training but Paul and associate Bob Ingles quickly realised using it as a commercial venture might prove fruitful. It's open to the public every Sunday and you can even hire brand new Suzuki 125 and 250 RMs at a very reasonable rate. The track is graded regularly and there are jet washers available so it really is a complete facility.
Previously used to thunder round in tanks on corporate days, the big off road area to the left of the start/finish straight has been redesigned and two purpose built MX tracks have been JCB'd into the landscape. It's been designed by road racers so there are no massive scary jumps but a good balance of second and third gear bermed corners with one fast straight. If you're quick, and I'm not, you'll lap in around one minute and thirty seconds on the adult's track.
If you're shite, and I'm not, you can be a hero on the shorter kids track.
My last big outing with the EXC was with twelve mates in the Scottish forests near Crawfordjohn (and yes, John Crawford was there) just off the M74. Surprisingly for Scotland it was a wet day and we had a pretty boggy experience with John and me prising our 450 thumpers out of marshes all day. Initially it was funny but when the novelty wore off we just kept telling ourselves that it was all good training.
Meanwhile the other guys on the less powerful but lighter two strokes were skimming past grinning. The good bit was blitzing up the big hill climbs and being fastest along the gravel firebreak roads. The day traumatised JC so much he actually traded his Honda CRF450 soon after for a new 200SX KTM.
Poof. Colin McRae had a go on my 450EXC but also bought a 200SX soon after. Another poof. Am I the only man left here?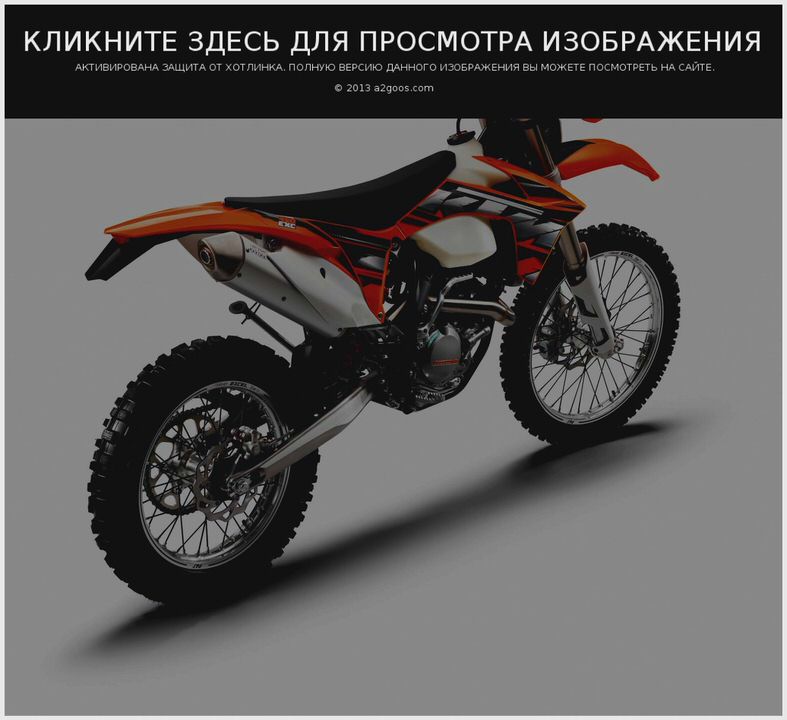 So, back to Mallory and a dry, hard, dusty track with a few manageable jumps and one sensible table top thrown in that even I can clear. Hawk Kawasaki BSB star Glen Richards showed up on his CRF450 as did Ten Kate Honda's Chris Vermeulen, although Chris didn't ride due to a hand injury. I wasn't too disappointed that Chris remained a spectator as it would only have been another bike to rooster me off the turns. Glen was doing full tank stints on his Honda, which involves some serious fitness.
Oh, how it's nice to be retired and lazy.
I mentioned in my last EXC report that I was going to gear down five teeth by fitting a 50-tooth rear sprocket. This done I then changed the 15t gearbox sprocket to a 14t, as the gearing was still too high. Well, even after this I find the gearing is still too flaming long and 90mph plus is still possible in sixth.
Although Youngy's track is mainly tight and twisty with good berms there is a fast straight I was still only getting up to fourth gear and first was just too tall for some corners. More sprockets are a must to get the gearing just right.
Although the Michelin S12s I fitted work good I'd still like the front end of my EXC to be more planted, as holding on after a few hours riding becomes a major challenge. I jumped on one of Youngy's DRZs at lunchtime and found the front feeling nicer, although you do tend to sit further forward and more over the tank on the Suzuki. I've had advice from a few sources on set-up but have so far failed to get comfortable.
My next stop will be picking the brains of KTM's Ady Smith, although I realise I'll never find the perfect set-up as we're talking enduro bike here and not a full-blooded crosser.
So, a top day was had at Mallory with my long-termer. The strong motor never missed a thunderous beat all day and the generous fuel tank let me ride constantly for over an hour (at my steady pace) without refuelling. The fully street legal EXC is of course more suited for green laning than fast circuit crossing. I want the best of both worlds as I'm still a tiny bit competitive and I'm getting my arse kicked
on tracks with my mates both in Scotland and at Mallory. I'd never part with the 450EXC, so top of my wish list would be a stable mate in the shape of, say, a nice 250cc four stroke crosser. Rumour has it KTM has one on the way. Best find my phone book and look under K.
I'm off to do some Green Laning soon in Derbyshire – so watch this space.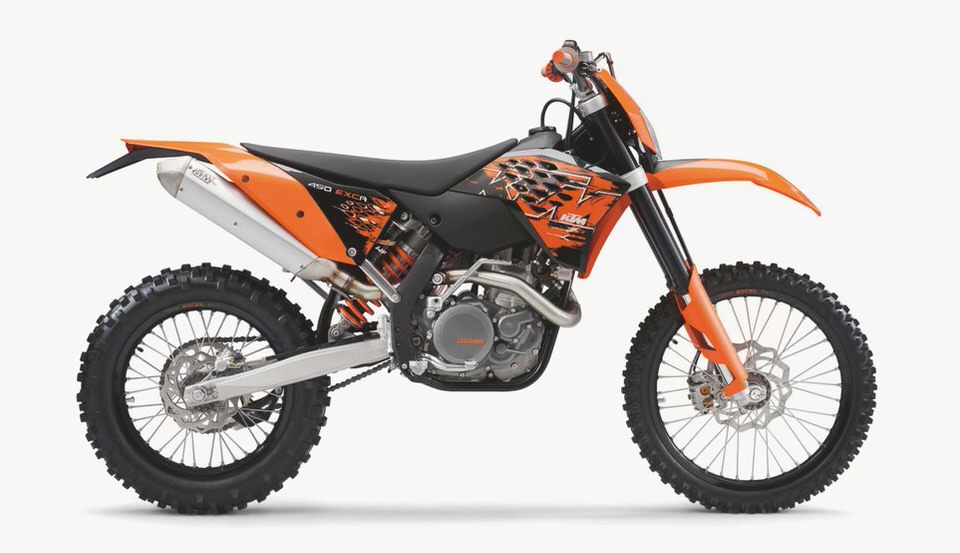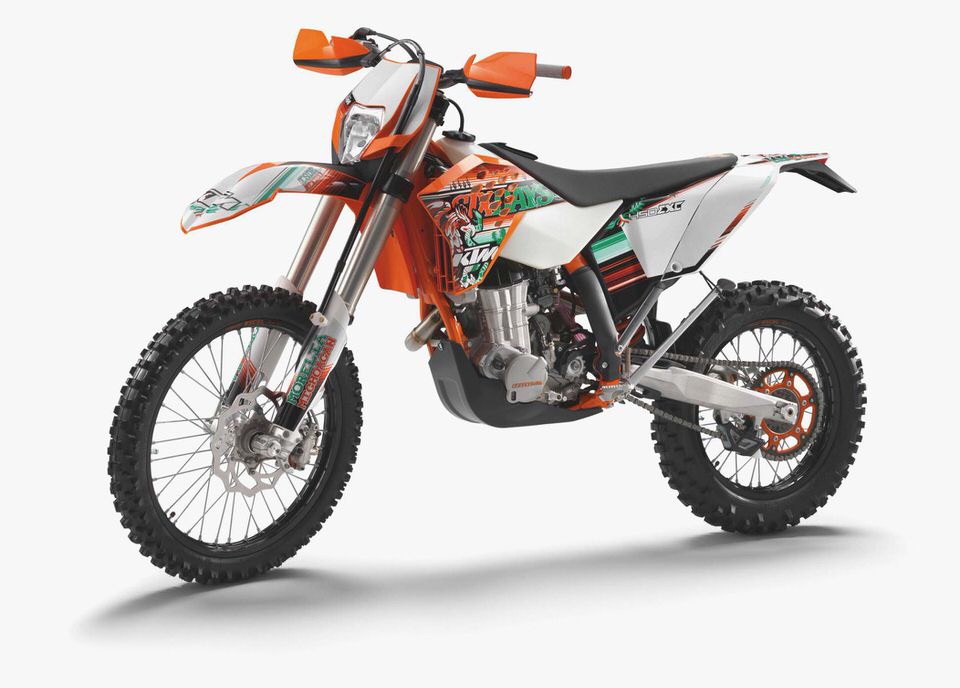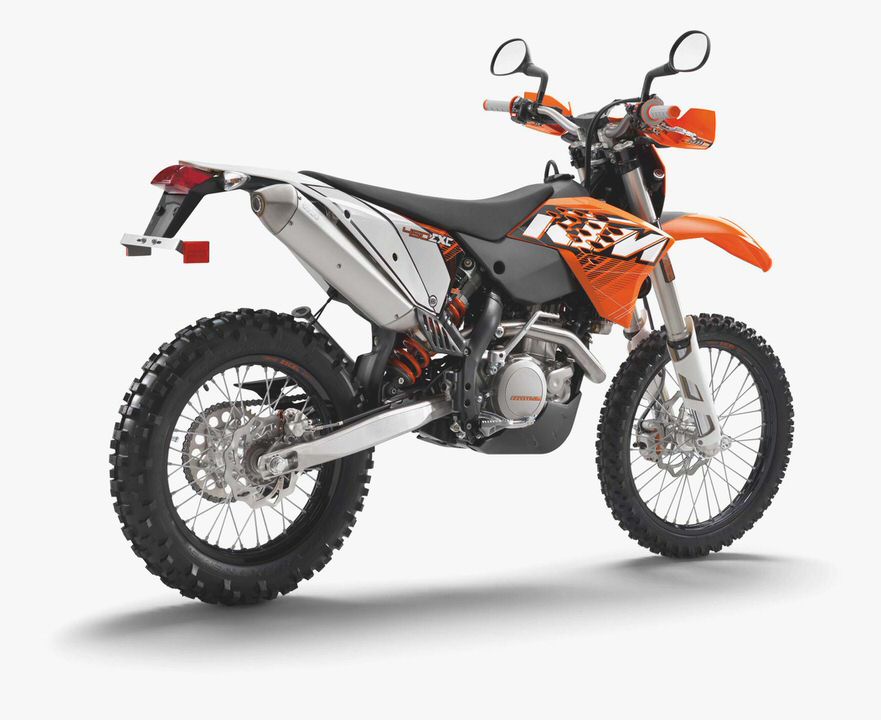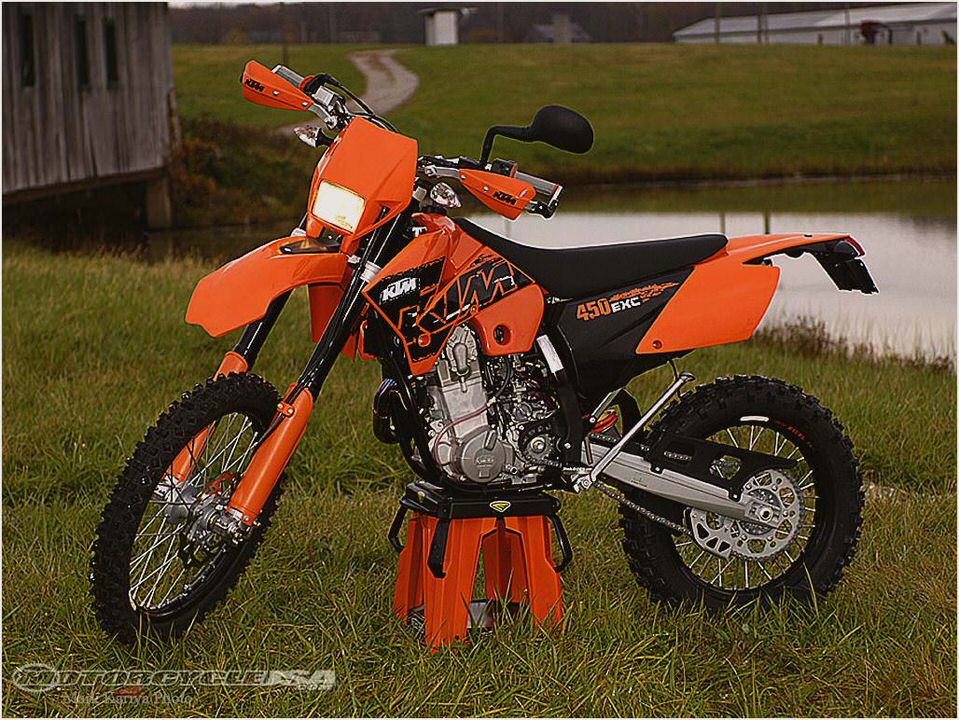 First Impression: 2012 KTM XC-W Lineup – Dirt Rider Magazine
KTM new motorcycles
Farkles for my 2009 KTM 530 EXC myktm
Red Bull KTM Motorcycle Factory Racing riders MXGP Qatar
Ktm Lc2 125