2013 Triumph Rocket III Roadster
2013 Triumph Rocket III Roadster
2013 Triumph Rocket III Roadster Review
2013 Triumph Rocket III Roadster
THE ROCKET III. IT OUT-MUSCLES. IT OUT-RIDES. (NO WONDER IT-S AN ICON.)
The Rocket III Roadster has turned heads and taken on all comers. And beat them. Now the iconic 2.3 litre engine has increased power and torque through the first three gears to give this, the world-s largest production bike, an even meaner attitude.
So pity the poor bloke who tries to out-muscle you.
Then, there-s the Rocket III Touring. Bikers who enjoy seeing every inch of the country know that the Rocket III Touring devours the miles with style and a unique character that belies its size. Its huge torque and tuned suspension help deliver an unforgettable ride without compromising on comfort.
2.3 litres of pure unadulterated muscle. A hefty 221Nm of torque. And a brooding presence that simply demands respect. The Rocket III is one of those bikes that comes along once in a lifetime. Monstrous levels of torque come as standard with the turbine-like triple cylinder engine.
So too does a roar like that of some primal beast every time you twist the throttle. With ABS as standard, muscular streetfighter looks and finished in black or matte black, The Roadster III packs the ultimate punch and delivery a riding experience like no other.
Rocket III Roadster. For when too much is never enough.
Rear Brakes: Single 316mm disc, Brembo 2-piston floating caliper, ABS
Instruments: Analogue speedometer featuring LCD odometer, trip information, clock and analogue tachometer featuring fuel level indicator, gear position indicator
2013 Triumph Rocket III Roadster Key Features
ENGINE
At the heart of the Rocket III Touring and Roadster is Triumph-s iconic 2,294cc triple. For The Rocket III Touring, the engine delivers a mighty 150 ft.lbs of torque through the low maintenance shaft drive system at just 2500rpm, making overtaking in any gear safe and effortless, even when fully laden with passenger and luggage. Triumph has also endowed the Rocket III Touring with its advanced anti-lock braking system, offering additional security for riders whatever the conditions.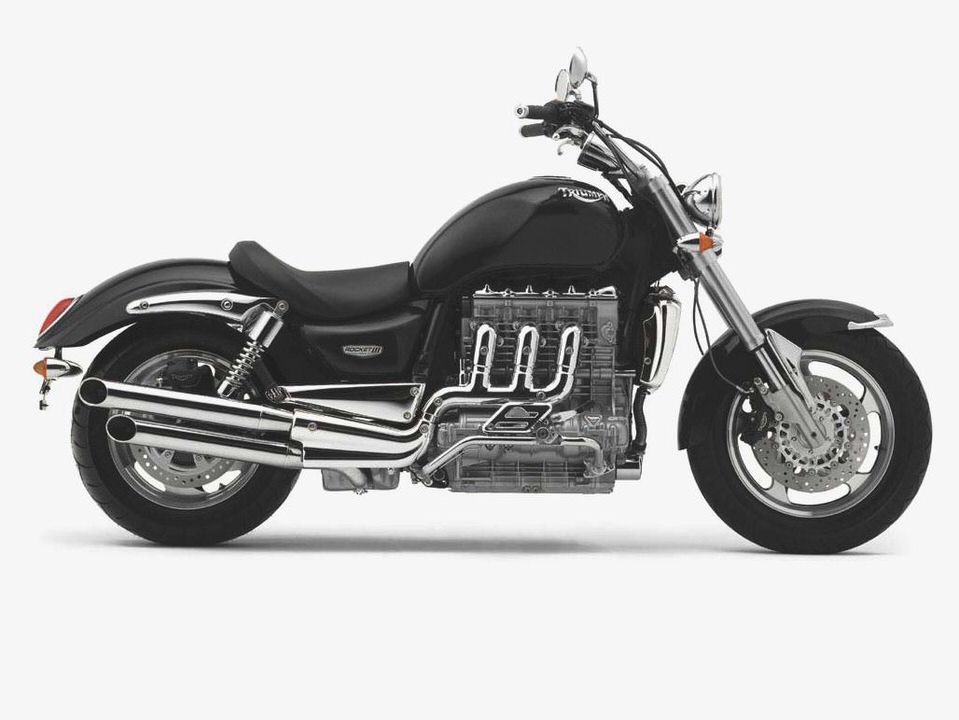 Triumph-s Rocket III Roadster truly is a unique motorcycle with massive presence and a legendary powerplant delivering a 163 ft.lbs wallop of torque at just 2750rpm, the Rocket III Roadster delivers a riding experience unmatched by anything else on two wheels.
CHASSIS
The Rocket III Touring-s chassis has been developed specifically for its intended purpose and helps deliver a surprisingly nimble ride, thanks to the low centre of gravity, 16- wheels and 180 section rear tyre. Rider and passenger comfort is paramount with the Rocket III Touring. The well-appointed seat is constructed using two separate layers of cushioning of different densities, with the pillion also benefiting from an additional gel layer for supreme comfort and -day long- capability.
The ergonomics of the Rocket III Roadster ensures that it delivers a completely different riding experience to any other Rocket IIIs and one that is easier to hustle through the corners. With a plush seat for both rider and pillion, and comfortable and controllable rear suspension, the Rocket III Roadster is capable of covering long distances with aplomb.
BRAKES
The Rocket III Touring and Rocket III Roadster both feature a sophisticated anti-lock braking system that makes 100 calculations each second to deliver maximum performance.
FEATURES
With the Rocket III Touring comfort and practicality are enhanced with the standard fitment of quick release screen and 36-litre panniers.The high specification continues with the adoption of an analogue fuel gauge and LCD clock and trip computer, all mounted alongside the speedometer in the stylish tank mounted chrome nacelle. Teardrop shaped rider and passenger footboards are also a standard feature, while a long list of optional accessories allows riders to create the Rocket III Touring they want.
The Rocket III Roadster sports Triumph-s trademark twin headlights to make this imposing motorcycle even more striking, while the components carefully balance black and chrome to create an aggressive stripped down look.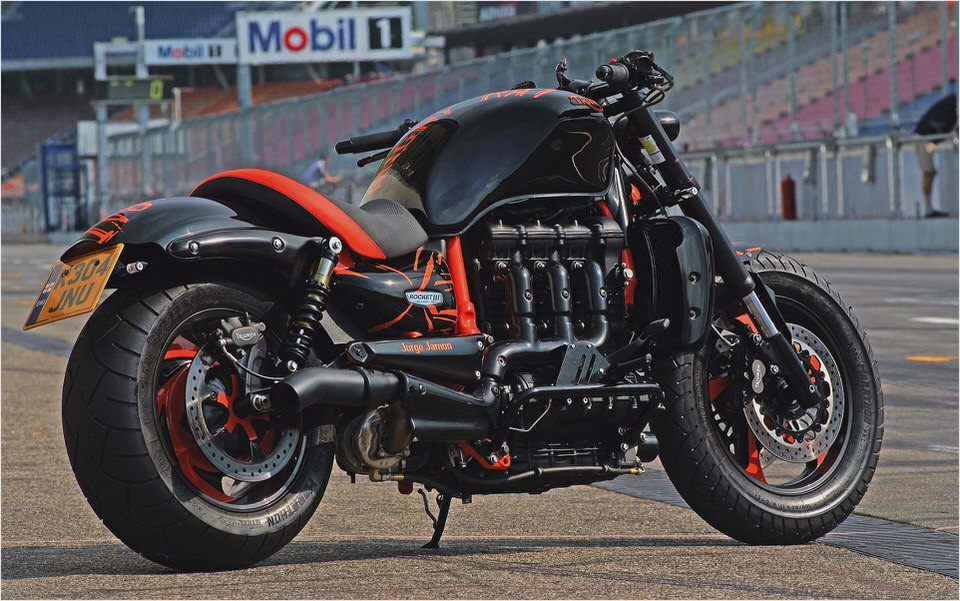 Triumph America: A Love Story No Baffles
2011 Triumph Daytona 675R First Ride – Motorcycle USA
2000 Triumph Sprint RS –
2011 Triumph Tiger 800 Road Test Rider Magazine Triumph Reviews
Triumph Tiger 800 & Tiger 800XC First Look – Motorcycle USA