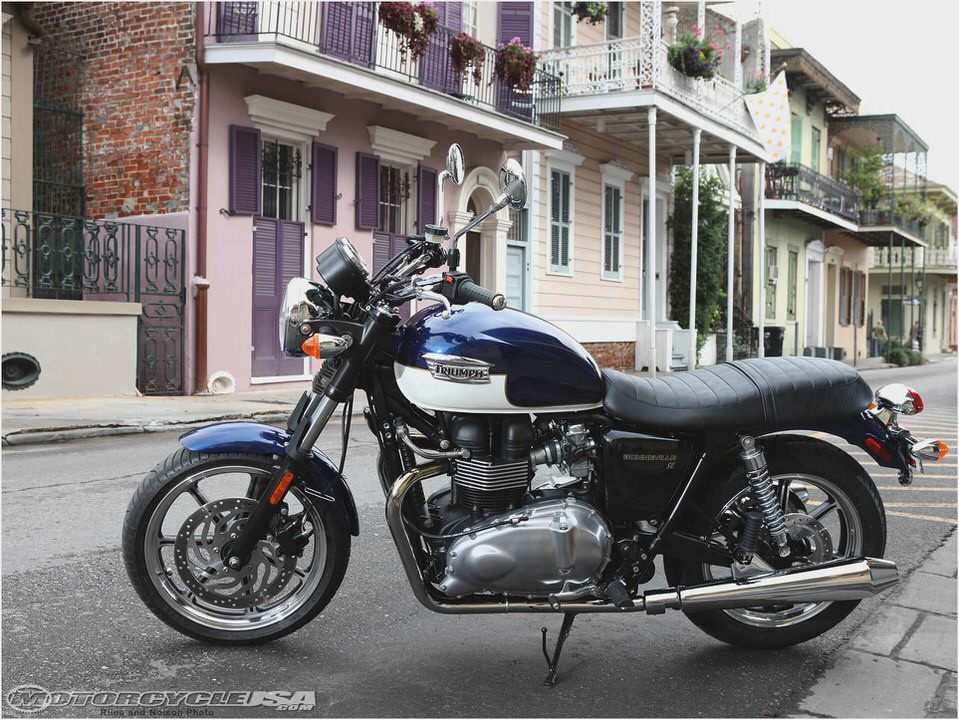 Specifications:
year: 2010 make: Triumph Model: Bonneville price: $7,699 Engine: Air-cooled, DOHC, parallel-twin, 360 degree firing interval Transmission: 5-speed Horsepower @ RPM: 66bhp @ 7,500 rpm Torque @ RPM: 50ft.lbf @ 5,800 rpm Energy: Multipoint sequential electronic fuel injection with SAI Displacement: 865 L Top Speed: 110 mph
Filed under:
Posted on 02.26.2010 11:56 by Maxx Biker
Triumph revamps the 2010 Bonneville lineup for the model's 50th anniversary and we dare saying from the very beginning that it is their best one yet. The facts backing this affirmation up consist in both the presence of a fuel injection system for the legendary powerplant as well as that of three different models apart from the T100 one.
continue reading
Introduction
Since 2009, the Triumph Bonneville entered a new era of performance, style and nostalgia by diversifying their range in a way that was as desired as it was anticipated.
Their classic model is the Bonneville T100 so this features spoked wheels, 'peashooter' style exhaust silencers, two-tone paint as well as chromed engine covers and black instrument surrounds in a wonderful attempt of retaining the original Bonneville look.
The 2010 Bonneville gets a pair of 17" cast wheels, Thruxton-like exhaust and short style fenders to enhance the sporty look. Also, the riding position is slightly different due to a lowered and narrowed seat, but this modern interpretation of the Bonneville still retains the classy lines and distinctive features that made this name famous.
Apparently, the 2010 Bonneville SE looks simply like a two-tone painted standard model, but it's really more of it than just that. Apart from the New Bonneville, the SE features matching speedometer and tachometer set, chromed Triumph tank badge and a more modern overall appearance.
66-bhp fuel injected parallel twin engine
The central piece of all these bikes is Triumph's unmatched 865cc, air-cooled, DOHC, parallel-twin, 360 degree firing interval engine which is fed through a multipoint sequential electronic fuel injection system. Triumph was needed to design the fuel-injection system in order for the bike to meet stricter and stricter environmental regulations so they retain the same riding feel by tuning the motor to develop 66bhp at 7,500 rpm and 50ft.lb at 5,800 rpm, which is as close as possible to the previous model year's performances.
In what concerns dimensions, the bikes are also slightly different. The Bonneville and SE models are both shorter and a little bit wider than the T100 model and feature a 27 degree/106mm rake and trail instead of the Classic model's 28 degree/110mm. The Bonneville gets rid of the 3.5 gallons tank and upgrades to its sibling's 4.2 gallons unit
Very often, the Bonneville name says it all and it's all because of the great heritage that this model provided Triumph and the entire motorcycle industry with.
Although the Hinckley-based motorcycle manufacturer introduced the first Bonneville back in 1959, it was the 1960 Bonneville T120 that caught the big wave for Triumph mostly thanks to the classic blue and grey colour scheme, blade style mudguard and integrated headlamp/instrument nacelle. And these, together with an authenticity plague on the front yoke, are precisely the aspects that set the 1960 Anniversary Edition apart from the Bonneville T100.
History
As for 2009, the Bonneville showed that aging is in Triumph's benefit as the innovative minds behind the name are constantly working to develop new technologies through which past is made present again.
Competition
Meanwhile, Harley-Davidson lusts at a piece of Bonneville's pie and offers three specific models from their Sportster family so that they'll satisfy their tastes. The Harley-Davidson Sportster 883 Low, 883 Custom and Iron 883 are all slightly different interpretations of virtually the same idea despite the chopperesque look. They're all built around the 883cc, air-cooled, Evolution V-twin engine that is capable of as much as 55 ft.lbs of torque from as low as 3,500 rpm thanks to the electronic sequential port fuel injection.
None of the three Harleys weighs less than 548 lbs so the Bonnevilles should be more agile thanks to their more than 70 lbs lighter weight. With prices starting in the range of $8K, the Harleys can be quite tempting for the potential Bonneville model.
Exterior
Ever since the Bonneville was launched 51 years ago, the whole deal about it was the unique design as well as riding feel and as we all know, these two are strong related. Amazing refinements and a comfortable seating position made the Bonneville THE bike to ride in the 1960s, especially is you lived in England.
Modern days bring modern requirements and the bike keeps on going strong even though it looks pretty much like it did back in its glory days. Yes, we're referring to the 2010 Triumph Bonneville T100, the current model that retains the original classic lines. Everything about this motorcycle looks just right starting with the standard spoked wheels, the fenders, which are wrapped around the tires as well as the retro exhaust and the two-tone color schemes available for the 2010 model year: an all-new Black paintjob and the old Forest Green/New England White, Jet Black/Fusion White color schemes.
The 2010 Triumph Bonneville T100 Anniversary Edition features the 1960s unique two-tone Meriden Blue/Caspian Blue combination with hand-painted pinstripes.
Also a result of modern requirements, the 2010 Triumph Bonneville is what we like to call a modern retro. This is the kind of bike that replaces the standard spoked wheels with 17" cast wheels wrapped in sharpened fairings and featuring megaphone style silencers. The mechanical parts are matte black painted while the colors available for it are Jet Black and Fusion White.
The 2010 Triumph Bonneville SE undergoes pretty much the same transformation if we take the T100 model as base; only that this bike features polished alloy engine covers, while the engine remains blacked out. The color schemes available for the Special Edition model are Jet Black and Pacific Blue/Fusion White.
Looking at the big picture here, Triumph uses every occasion that it gets in order to remain on top of riders preferences and the four 2010 Bonneville models are simply built for that specific purpose.
Press Reviews
My heart is 865cc of pure parallel twin gold that puts out, oh, about 67hp at 7,500 rpm, and 51lb ft at 5,800. No I'm not into drag racing or spinning my rear tire (even if it is only 3.5" wide) exiting a corner or any of those wheelie shenanigans. webbikeworld
While I wouldn't be chasing down any sport bikes through the canyons, I felt confident enough in the bike's single rotors310mm in front, 255mm at the rearto twist the throttle hard between turns. For such a mild-mannered bike with purely upright ergonomics, it handles sportingly enough and has reasonable ground clearance. So, it's a total blast, even if it isn't totally fast. motorcyclingmag
The power is quite easy to control, again ideal for the entry-level crowd. With a respectable lower end, we found ourselves parking the throttle in the upper half of the revs between 4000rpm and the 7000rpm redline to take advantage of some top end zip. motorcycle-usa
The engine spools up in a remarkably linear pattern, precisely what many new riders need. But even if you're a salty vet like me, a smooth engine and predictable throttle response are always appreciated. motorcycle
"Our only complaints are of the rear suspension, which delivered rather sudden jolts to the spine over sharp bumps, and perhaps the slightly overly sensitive steering at very high speed. The latter is undoubtedly born of high lever power in the long handlebars, transmitted by one's own efforts to hang on against the wind." popularmechanics
Price
Triumph faces the American competition with a great marketing strategy standing in front of the 2010 upgraded classic, standard and SE models. So the MSRP for the 2010 T100 model starts at $8,799, while the Limited Edition model adds $200 onto that. The one for the Bonneville starts at $7,699 and the Special Edition comes with an $8,399 price tag for the single color and at $8,599 for the two-tone paintjob.
Conclusion
It's really hard to abstain ourselves from saying that Triumph is actually rewriting history with the new Bonneville models, because that's precisely what they are doing. The 2010 modern interpretations of a piece of history are sure to catch on to the public and remain part of the Bonneville lineup a long time from now.
SPECIFICATIONS
Engine and Transmission
Type: Air-cooled, DOHC, parallel-twin, 360 degree firing interval
Capacity: 865cc
Bore/Stroke: 90 x 68 mm
Compression Ratio: 9.2:1
Fuel System: Multipoint sequential electronic fuel injection with SAI
Final Drive: X ring chain
Clutch: Wet, multi-plate
Gearbox: 5-speed
Performance (measured at crankshaft to 95/1/EC)
Chassis and Dimensions
Frame: Tubular steel cradle
Swingarm: Twin-sided, tubular steel
Front Wheel: Cast aluminum alloy, 7-spoke, 17 x 3.0 inch
Rear Wheel: Cast aluminum alloy, 7-spoke, 17 x 3.5 inch
Front Tyre: 100/70 R17
Rear Tyre: 130/80 R17
Front Suspension: Kayaba 41mm forks, 120mm travel
Rear Suspension: Kayaba chromed spring twin shocks with adjustable preload, 100mm rear wheel travel
Front Brakes: Single 310mm disc, Nissin 2 piston floating caliper
Rear Brakes: Single 255mm disc, Nissin 2 piston floating caliper
Length: 83.2in
Width (Handlebars): 31.1in
Height: 44.5in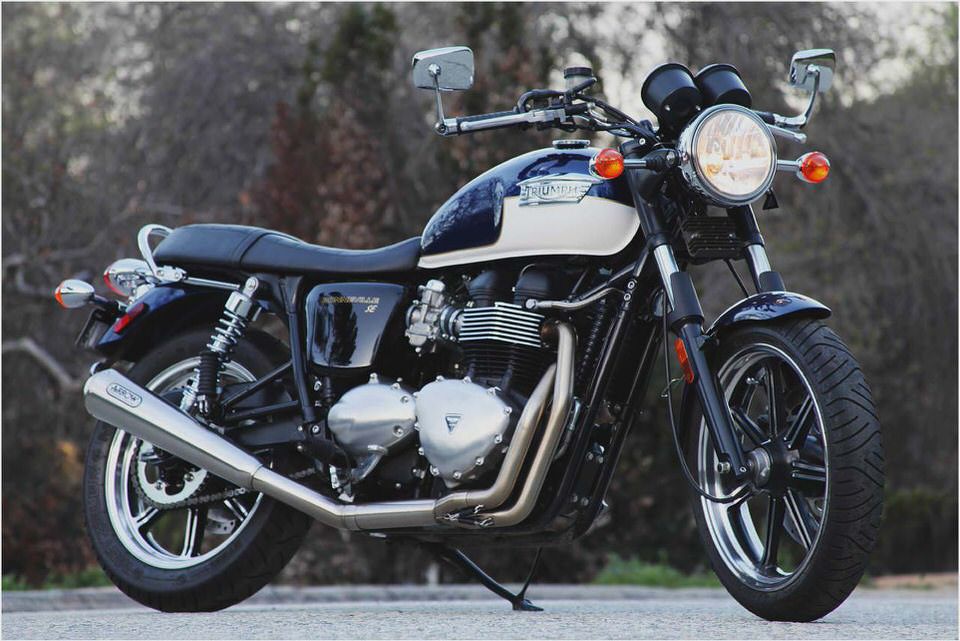 Seat Height: 29.1in
Wheelbase: 58.6in
Rake/Trail: 27 degree/106mm
Wet Weight: 495lbs
Fuel Tank Capacity: 4.2 US gal
Features Benefits
2010 Triumph Bonneville and Bonneville SE
Engine
The New Bonneville/Bonneville SE features a fuel injection system designed for clean running and to meet Euro 3 legislation. The retro styling remains uncompromised though, as the fuel injectors are cleverly concealed by throttle bodies designed to look like traditional carbs. Polished alloy side covers come as standard on the Bonneville SE.
Wheels
The New Bonneville/Bonneville SE sports stylish new lightweight 17" cast alloy wheels for 2010, creating an all new look and improving the bike's agility and low speed handling characteristics.
Exhaust System
Stylish megaphone exhausts mimic those sported by the raciest bikes in the 1970s.
Brakes
The braking set-up of single front 310mm disc and 255mm rear, both worked on by powerful twin-piston calipers, offers sensitivity, control and ample stopping power.
Seat
The 2010 Bonneville's/Bonneville SE's comfortable seat is 1.3 in lower than on previous models. Combined with a revised riding position, the Bonneville SE provides a more relaxed and accessible ride than ever before.
Chassis
The New Bonneville's/Bonneville SE's low seat height (29.1inches) and low center of gravity make it a manageable motorcycle that all riders ranging from those with little experience to those with lots can appreciate. The tubular steel double cradle frame is incredibly strong while offering light and precise handling.
2010 Triumph Bonneville T100
Engine
The T100's full-blooded and responsive 865cc parallel twin-cylinder engine delivers throaty acceleration, amplified by the mellow backbeat from its twin peashooter exhaust pipes. Maximum power of 68PS (66bhp) arrives at 7500rpm, with peak torque of 69Nm (50ft.lbf) delivered at 5800rpm.
Fueling
The T100 features a fuel injection system designed for clean running and to meet Euro 3 legislation. The retro styling remains uncompromised though, as the fuel injectors are cleverly concealed by throttle bodies designed to look like traditional carbs.
Exhaust System
A pair of chromed stainless peashooter-style silencers handle the exhaust gases and enhance the traditional appearance of the bike.
Fuel Tank
The T100 features a classically styled dual coloured tank, with hand painted coach lines, rubber knee pads and '60's inspired chromed tank badges.
Brakes
The braking set-up of single front 310mm disc and 255mm rear, both worked on by powerful twin-piston calipers offers sensitivity, control and ample stopping power.
Chassis
The chassis a tubular steel frame, 41mm telescopic forks and chromed twin rear shocks offers secure road-holding, effortless steering and easy-going manners, just as you would expect of a bike derived from Bonneville heritage. It's topped by a generous seat, with plenty of room for two.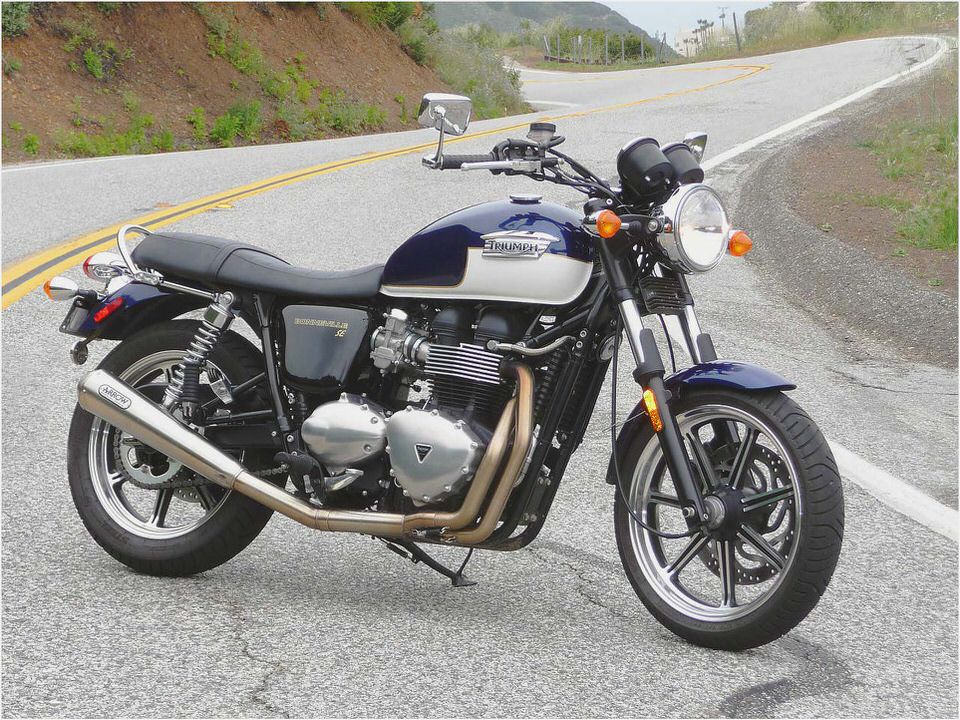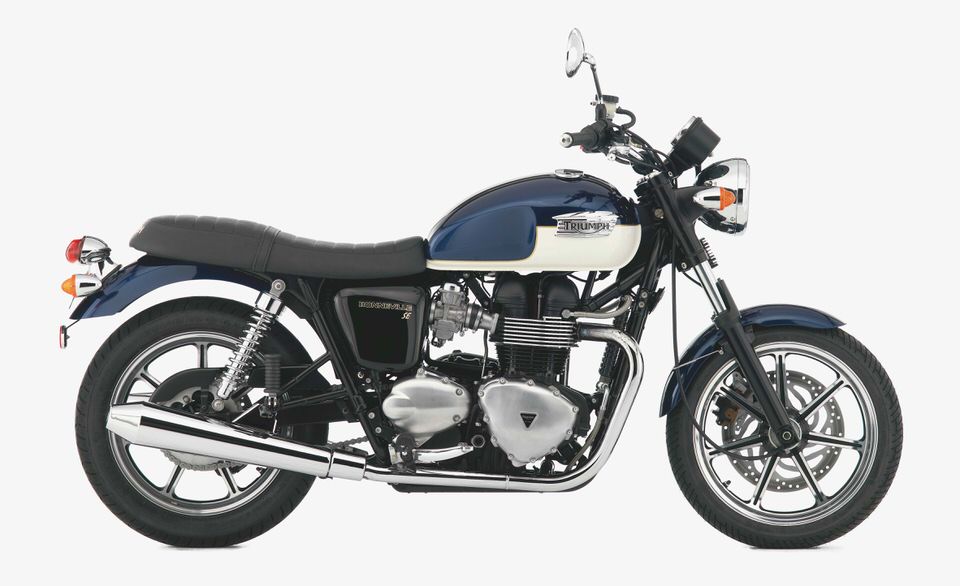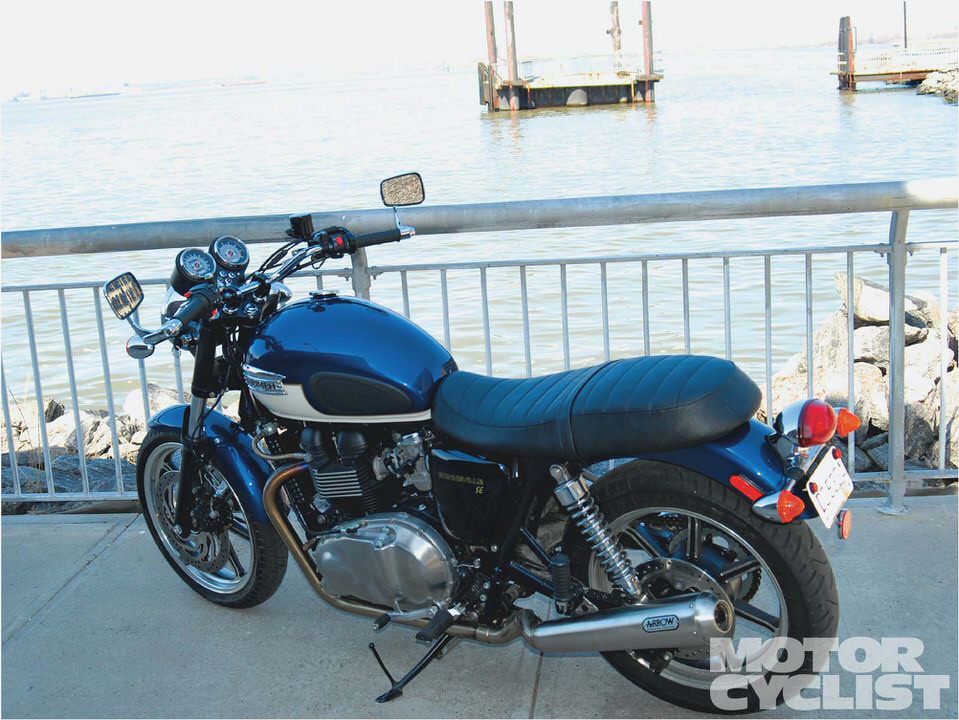 2003 Triumph Rocket III concept, prototype, spy shots
Triumph Street Triple – webBikeWorld
OneWheelDrive.Net 2002 Triumph Sprint ST 955i
MD First Ride: 2007 Triumph Bonneville T100 …
2010 Triumph Speed Triple motorcycle review @ Top Speed