2014 Ural Solo sT Review
When it comes to newly pressed Russian -made motorcycles imported to the United States. there's Ural and then there's Ural. Renown for its rugged line of sidecar models. specifically the 2WD Gear -Up and Patrol . Ural also manufactures the lesser-known Solo sT. Sans sidecar, the Solo sT is the only two-wheel counterpart to the variety of three -wheelers in Ural's 2014 model lineup .
2011 Ural Gear-Up Sidecar Review [Video]
Having sold a total of just 18 Solo's last year, the sT is an anomaly, to say the least. Minimal Solo sales figures are in part due to Ural's focus on the company's sidecar models and the unconventional portion of the market they've cornered, but also because Solo sT's aren't found on dealer showroom floors. They exist, but only in a limbo state of pre-order status.
While this may be off-putting to some, it allows each Solo sT model to be customized according to the bike 's a la carte menu of options. Turn around time, according to Ural, from initial order to having one under your bum, is an average of 45 to 60 days.
Fuel injection headlines the upgrades to the 2014 Solo sT. The closed loop system utilizes dual ECUs that allow the Solo to continue running if one ECU should fail. Complementing the EFI is a redesigned airbox and revised cam profiles.
New to all 2014 Ural models is electronic fuel injection developed for Ural by ElectroJet, Inc. Hardly ground-breaking technology. but considering Urals are one of the few, if only, 749cc motorcycles manufactured with a functioning kickstarter, EFI is a technological moon landing.
To paraphrase Ural president, Ilya Khait, EFI advances Ural from 1950's technology to that of the 1980s. Ural claims EFI, in conjunction with a redesigned airbox with twice the volume of the old one, and a new lower-profile cam with shorter durations, have conspired to increase torque to 42 ft-lb at 4300 rpm from the 38 ft-lb at 4600 rpm of last year's carbureted model. Just as important is the air-cooled, opposed-Twin reaches 90 % of maximum torque as low as 2300 rpm.
Riding the Solo sT reveals that there certainly exists ample low-end grunt to propel the sT out of a corner while in second gear with revs hovering just above idle. However, off-to-on throttle inputs from a stop or while in motion are met with a significant hesitation followed by a harsh engine response. Smooth throttle and clutch control dissipates the problem, but some fine-tuning of the EFI is in order before skeptical Ural enthusiasts will accept EFI over the proven carburetion.
I also experienced some popping during my day aboard the Solo, but no backfiring or anything more substantial. Jason Rae, Ural's VP of RD, says he is working closely with counterparts at ElectroJet to perfect the system. In fact, the day I spoke with Rae (after my ride ) he had just received a calibration update from ElectroJet to smooth off-idle transition.
EFI-model Ural owners can easily update their bike's to the latest algorithm by visiting their local dealer.
The Solo sT pictured here is a hybrid 2014/2015 model. The tires and seat are not standard '14 fare. Unseen are prototype triple clamps that decrease rake for quicker steering compared to the sidecar models.
Note the new spin-on oil filter front and center on the redesigned engine cover.
In the handling department the Solo sT performs to the parameters of its design. which is as a standard motorcycle with traditional values. Seating position is a comfortable, 1970's UJM rider triangle. Cornering clearance doesn't exceed the grip of the tires, and the 18-inch wheels convey stability rather than quickness in transitioning.
The Marzocchi fork and dual Sachs shocks do a wonderful job of maintaining a balance of comfort and control.
Running errands around town or tooling through the local countryside, the Solo sT is in its element. And it's certainly capable of longer trips, depending on the will of its owner. But don't expect to run down many bikes on a canyon road – it's out of its element when ridden aggressively.
A new headlight nacelle with a fuel light graces the front of all new Urals, as does a new wiring harness with weather-tight connectors. Replacing the old-school friction steering damper is a new, 16 -position hydraulic unit.
In addition to the 2014 Solo sT's EFI upgrade is a redesigned front engine cover featuring a spin-on oil filter, replacing the previous model's internal, sump-style filter. The more convenient arrangement is also available as a retrofit kit for older Ural models. Rae says that a residual benefit of the spin-on filter is the cooling nature of its placement, which has slightly decreased engine operating temperatures.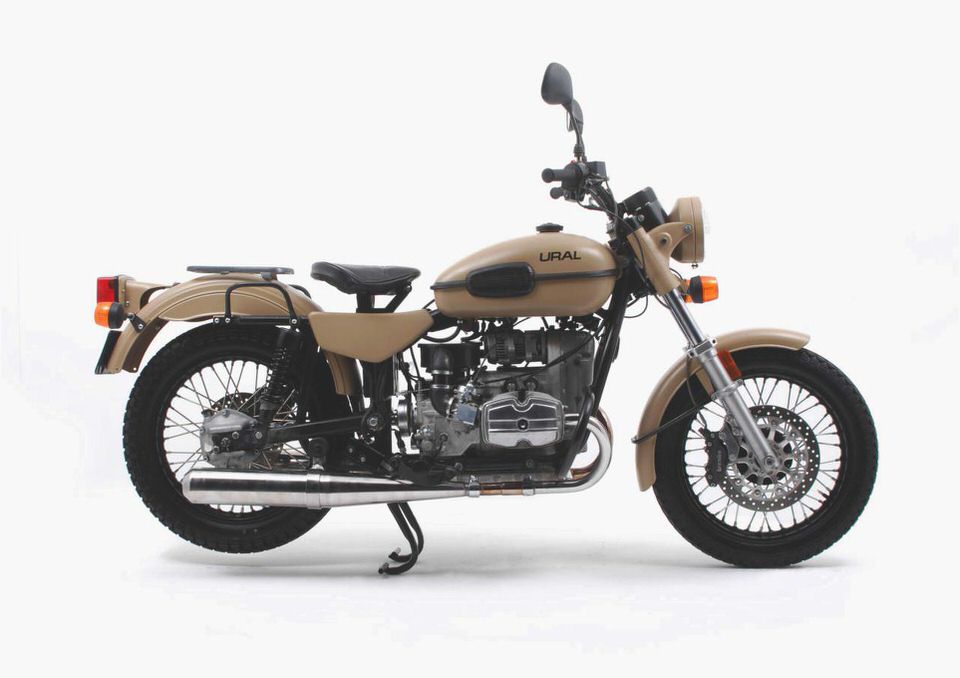 Sheldon's Ural Sportsman week one at the North American Russian Motorcycle…
Driving a Sidecar – Motorcyclist magazine Page 2
2012 Ural T Review
URal Ural in Media
BIKES FOR THE MEMORY OF THE SPANISH. – moto honda motorcycles motorcycle puch