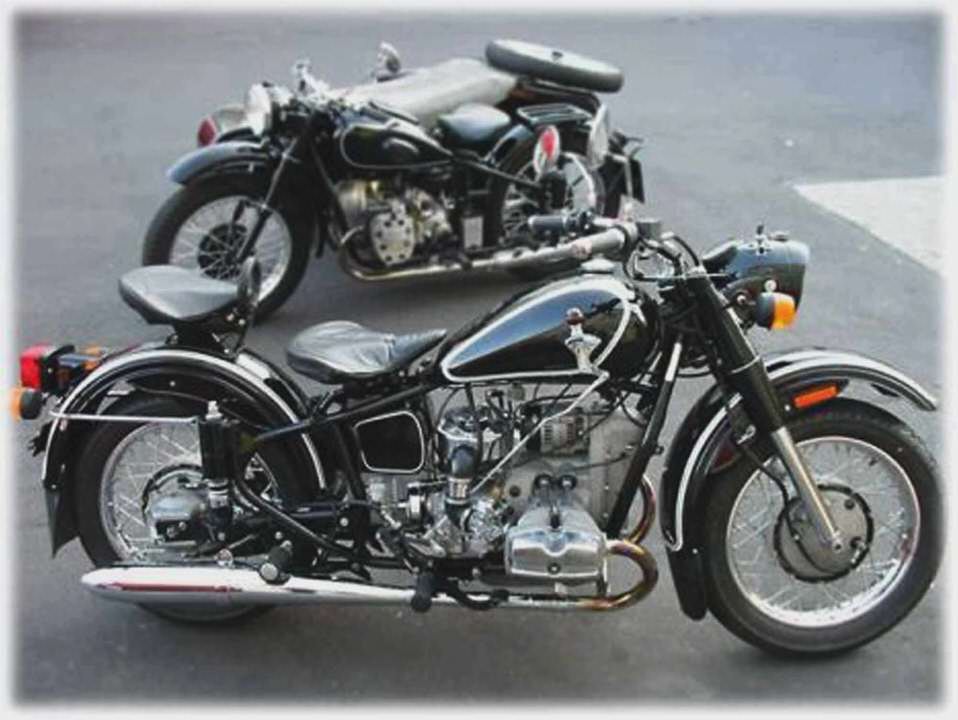 Ural Retro Solo
However hard you think you've looked to find your dream classic bike, Mick Barker has looked further. And taken a big risk. Here is an updated version of Mick's tale.
Buying a Bullet from the dealer in Chennai was a bit of a no-brainer. Various business trips to India had re-kindled the lust for a bike after more than 20 years, and the Enfields were so reminiscent of my old heavyweight Ajay 16MS. So a deal was done on the spot following a chance diversion past the dealer by the three wheeler auto-rickshaw driver, and subsequently the whole challenging rigmarole of customs and import and all the rest was duly learned, gone through and just about survived.
What a palaver.
However, my lean-burn single was a dream to ride, and I loved the interest and attention it received. I should have been happy. But I had been brought up on a Bonnie with E3134 cams. In a 5TA frame.
The Bullet was too sweet for me. So what to get next?
2006 Ural Retro Solo
Well, the next option, given that I really didn't want anything as commonplace as a Milwaukee Harley – fine bikes from a fine city, and fine beer brewers though the citizens are – my taste for a challenge meant something much more obscure, such as a Ural.
You know the story, there are a few versions, but it hinges around the Russians getting the 1938 model BMW design, taking it away, and building their own modified version by the tens of thousands for the war effort.
From there the story is pretty similar to that of the Enfield. The factory kept making what it knew how to make, year after year after year, with incremental design improvements rather than a brand new model every two years. So a relatively recent Ural would still be a living museum piece, but with a bit more grunt.
I wanted one.
I found a 650, one of the very last of the old design, built in 2001 just before the factory collapsed post-perestroika, resulting in the need for an American financed rescue package. This machine, really one of the last of the old school Urals, was built with the finesse that I would have expected of a Ukrainian designed and built tractor ( with apologies to the Ukrainians). Throw metal at it. Bend it. Weld it.
Build it. Rugged in the extreme, but from questionable metals and with appalling detail finishing. 'What's primer?' is just one of many questions they just forgot to ask.
2006 Ural Retro Solo
But I loved her, despite her rapid aging over a few years to the patina of a 30 year old machine. The weird sideways kickstart. The gear change so slow, so clunky, soooo noisy!
The confusion in the eyes of onlookers, and the oh-so retro looks. Oh and yes, everything you have ever read or heard about the equally rugged, do-everything toolkit supplied is also perfectly true.
Ongoing interest in the Ural started a new string of thought. The factory by this time had been 'saved' by American entrepreneurs and was making big strides in improving build quality, component spec, etc, and also attracting buyers in the North American market, targeting the bike there as very cool 'go anywhere' transport for the outdoor man. But someone there also suggested a small run of premium-build bikes to meet the growing demand for retro styled products.
The result was the Retro, a bike styled and built in the image of the M72 and R63
2006 Ural Retro Solo
Well I saw and I wanted. I positively lusted. But could I buy one? No sir! None in the UK for sale, and probably no more than three or four in the country, if that. None expected ever at the dealers.
Some expected at the dealers on the continent, but when? Well, who knows?
So I turned to the States and eBay. and there was one for auction.
Did I bid? No I didn't, terrified by Euro-three emission controls and importing something I couldn't register, so I watched it fail to meet its reserve. Then, suddenly feeling irrationally brave I got in touch with the vendor (why oh why?).
We swapped a lot of details and information and we agreed a price. The vendor agreed to put it back on eBay with a 'buy it now' price, at 5:00am so that I could buy it there and then.
Which I did, only to find an automatic bid in the States from someone else, who also didn't bid the first time, which pipped me at the post. We both pleaded with the buyer saying it was pre-sold but eBay rules were eBay rules. The bike was not mine, she was not going to be mine, the other buyer was going to have her, and I was distraught.
So I started looking where everyone says you should look anyway, on the bulletin boards, and one contact led to another and there, amazingly, was another one for sale. 1700 kms over two years, and one owner. 'Firm' price. So I said I would buy it, much to the hilarity and disquiet of the rest of the bulletin board hacks who decided I was an internet scam.
But did 'Tom' want to sell his Californian bike to me in Scotland? Did he heck; it all sounded like far too much hassle. To someone down the road who would press the mighty dollars in his hand and drive away – yes. Scotland, no, not going to do that!
But the old silver tongue and the offer of help, i.e. doorstep pick up, payment before shipment etc. finally did their trick, and the bike was going to be mine.
Other 'Retro' bikes on eBay :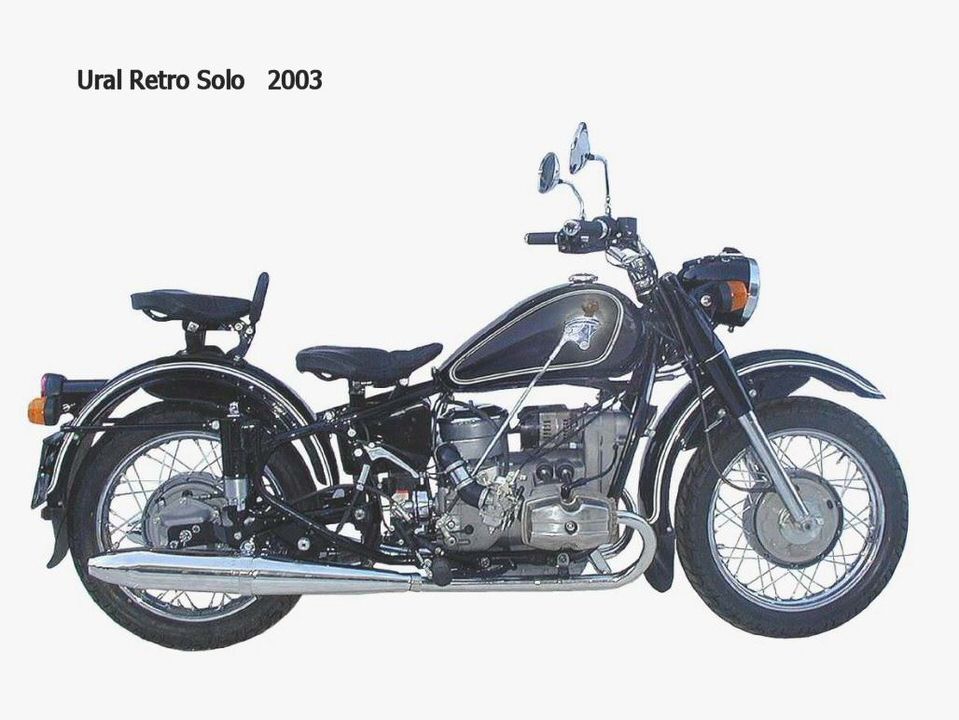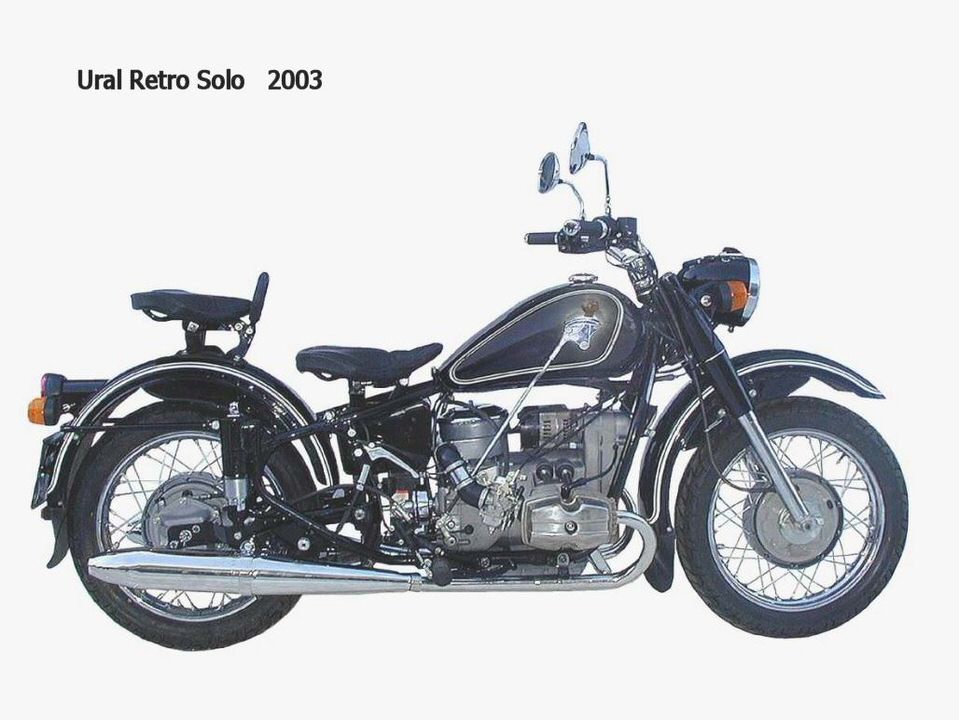 So what do you do when you have agreed to buy a bike in California and you need it shipped to Scotland? Apart from panic.
First the bank, making arrangements to make a transfer to the US in Dollars. Then you need a shipper. And boy did I check the net, and many, many shipping options, before I eventually found 'California Connection' based in Derbyshire who import ex-California bikes and cars to Ashbourne (from where they sell many of them no doubt).
We'll bring it in no problem, they said, in a container.
So there then followed my biggest ever trust in human nature in my life. Pay a man I didn't know thousands of dollars for a bike I hadn't seen, on the other side of the world. Pay some folks in the Peak District I had never met to truck it to the port in LA, ship it to the UK and lorry it to Ashbourne. And then pay someone else to ship it to Scotland.
What was I doing? And what would I get at the end of that lot?
What I got was exactly what had been promised by everyone, and hats off to them all. Thanks all round. The bike arrived in Scotland, gleaming black and in pristine condition, one day when I was out at work. And you know what?
She started on the button when I got home.
So let me get technical, an overhead valve, external pushrod tunnel, 749cc boxer twin, descended from an OHV 1938 BMW R66. Upgraded with electronic ignition and CV carbs from Keihin. She may now have an electric leg, but the chrome shiny one kickstart is still there. 'Ski' at Triquest, the San Jose Ural dealer, was paid on trust to prep her, and he did a great job of returning her to normal (49 State specification), removing the tortuous arrangement of tubes and valves that passes for emission controls just in California. A very helpful man.
The frame is beautifully powder-coated smooth black. The tin-ware is all primered, smooth and immaculately pinstriped. She stops smartly thanks to an Italian Brembo disc at the front, and at the back, wait for it, is an hydraulic drum, courtesy of a Lada car, itself a derivative of an Italian Fiat design.
2006 Ural Retro Solo
She is heavy, ponderous even, but she is shaft drive, has a wooden gear knob to put her into reverse (I still have to get the knack of reversing) and she sailed through the SMTA test. Well almost. American lights. No front sidelights, damn, I thought I had everything covered so there you go.
But all fixed.
And finally, if you want something to wonder at, there was no problem insuring her.
'We'll just treat her like an Aprilia Pegaso' they said, I laughed, bonkers, but then she does have Italian forks, brakes and switchgear, all packaged and delivered via the Ural mountains and California of course…
Thanks to David Angel from F2 motorcycles for the updated and corrected info.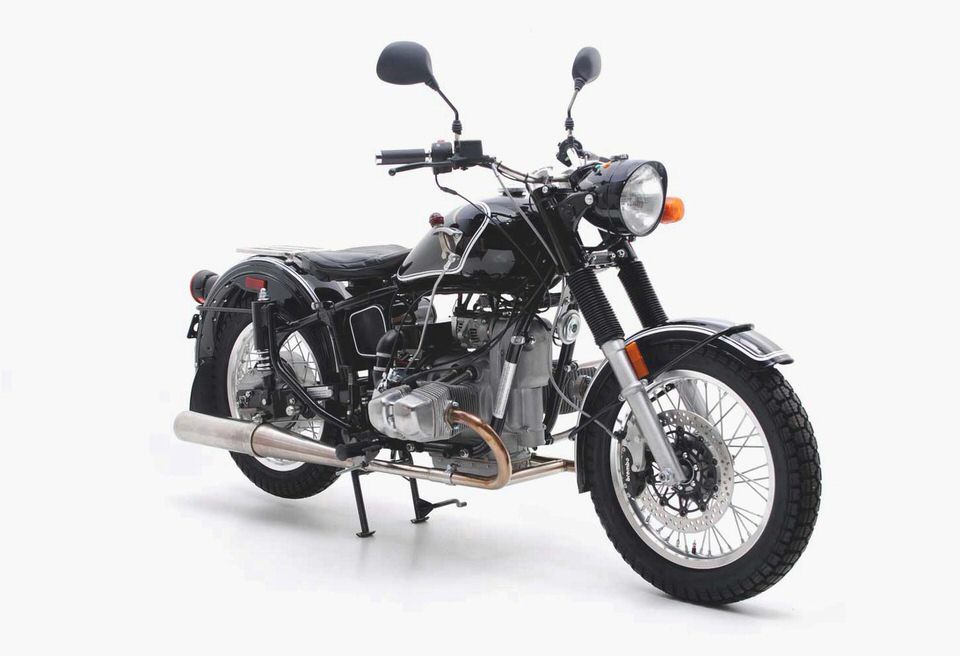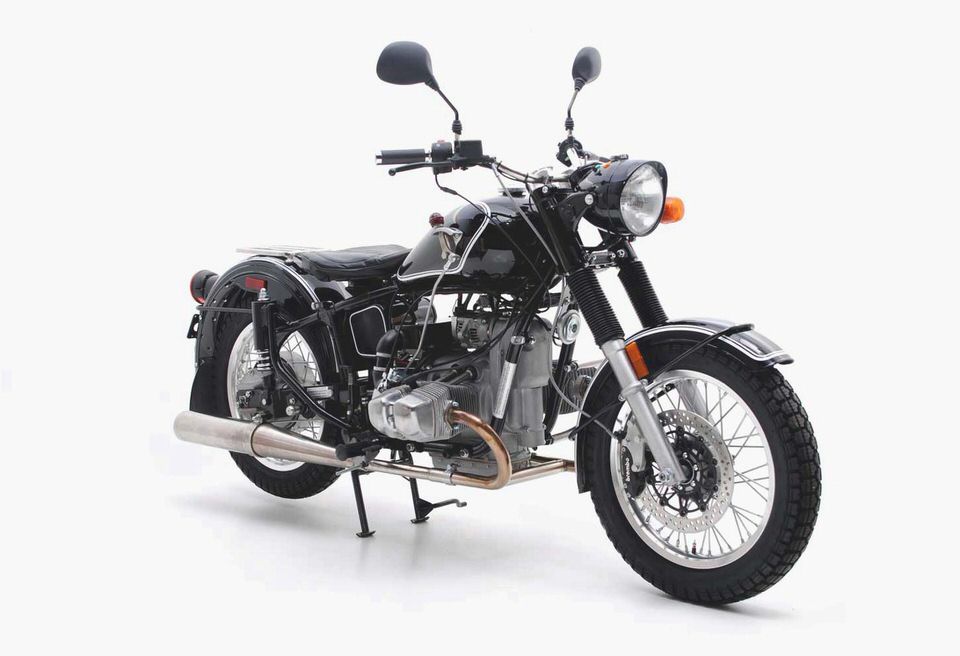 Sidecars & Snow: A Mountain Ride with Ural Motorcycles Gear Patrol
Ural Patrol onthreewheels
Ural Patrol T Sidecar at Cyril Huze Post – Custom Motorcycle News
Ural Cross Outfit – Classic Motorcycle Profile – RealClassic.co.uk
Getting a handle on sidecars – The Globe and Mail