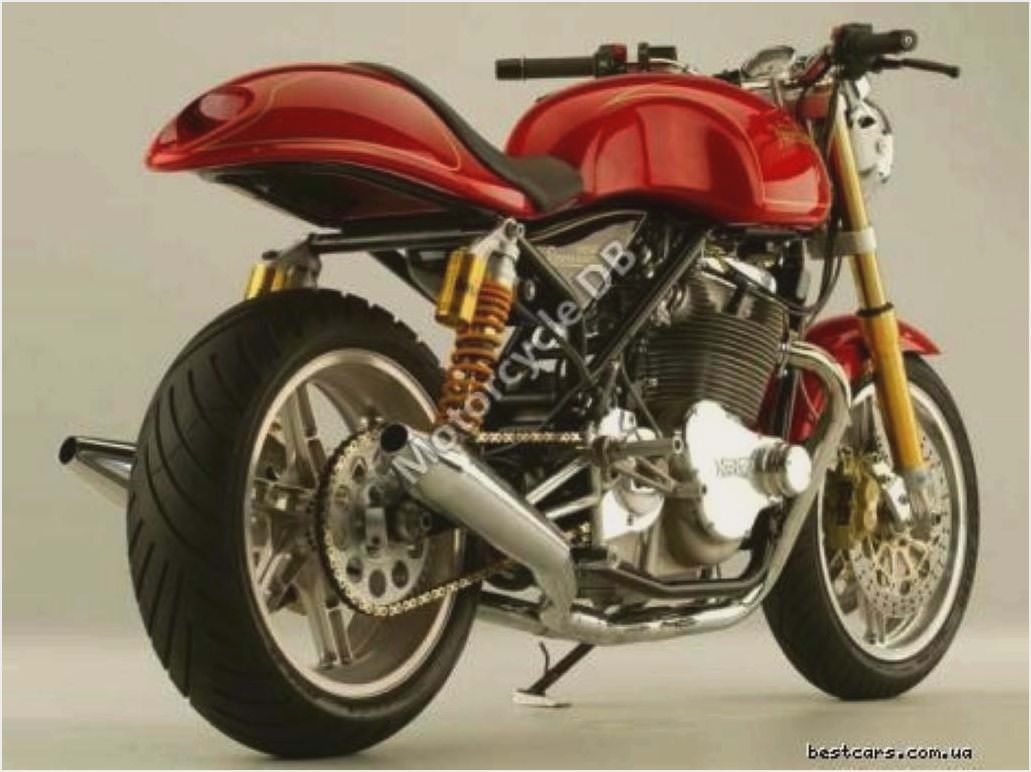 While we were doing the first prototype C652 International, intentionally trying to build in references to earlier Norton designs, the logical next step was to do the same basic machine with a modern design. The (re)-designer of the International, Adam White, did a couple of drawings how he saw a modern variation. In 1999 we were approached by the management of Norton Motorcycles International, Inc. (NMI), the setup that was to produce the Norton V8 Dementis (or so we called it).
The Nemesis was but two ZX7R Kawasaki top halves planted on a common crankcase by Al Melling. As opposed to certain sheep farmers in Australia who finished similar projects in their sheepsheds within a few months, MCD, Mellings firm, drained investors of millions of Pounds for many years, starting out as March Motorcycles and ending up with NMI, but never with a working motorcycle.
NMI management by then had lost faith in MCD ever to come up with a working, production-ready motorcycle, and desperately needed something to show their investors for their money. A contract was drawn up giving us just over 4 months to come up with a rideable prototype for them.
It now escapes us why Adam White/Factory Design did not get the job to do the styling. He was probably busy on other projects. Another designer we knew- and, incidently, a man who had done some drawings to try and improve that hash of a design, the bodywork of the V8 Dementis, was called in, John Keogh .
John came up with ideas we liked and the prototype rolling chassis was fabricated and shipped off to England to get the design done in clay and, later, in glass fibre.
We still think the design is a milestone in motorcycle design. It was an uncompromizingly modern and radical design that, to our amazement, practically everybody fell for who saw it- Norton traditionalists, young motorcyclists, even the ladies. By the time it was finished and ready to ride- only 120 days after we got the job- NMI was already bankrupt, so we ended up with the sole prototype.
Corners were cut due to the time restraints. There was to be a dual seat, with the pillion having an optional cover. Time did not allow for a B surface to take the seat. so only the A surface exists and the seat pad was glued to it.
The exhaust just sort of happened, but was never tested or developed for noise and performance. Therefore, while the bike now sounds similar to a Manx Norton on open mega, performance is not quite at the level of the better C652 Internationals. Front wheel to rear wheel is slightly offset because we used the wheels off an MZ Scorpion without bothering to line the wheels up.
This makes for a slightly peculiar ride but many a motorcyclist would probably not even notice it.
Later there was talk with the then management of CCM about CCM producing the bike. However, this came to nothing after CCM landed a contract with Suzuki for engines for their own models and they decided to concentrate on those. Not much later, they were bankrupt.
Adam White/Factory Design, ca.1998
1970 Norton Commando 750 Short-Stroke Production Racer Classic…
1971 Norton Commando Cafe Racer for Sale Classic Sport Bikes…
Cafe Racer : Cool Customized Domi Racer Motorcycles Gallery Collection…
Classic Cafe Racer: 1974 Norton John Player 850 Commando Rare SportBikes…
Clubman Racing Accessories – Featherbed Cafe