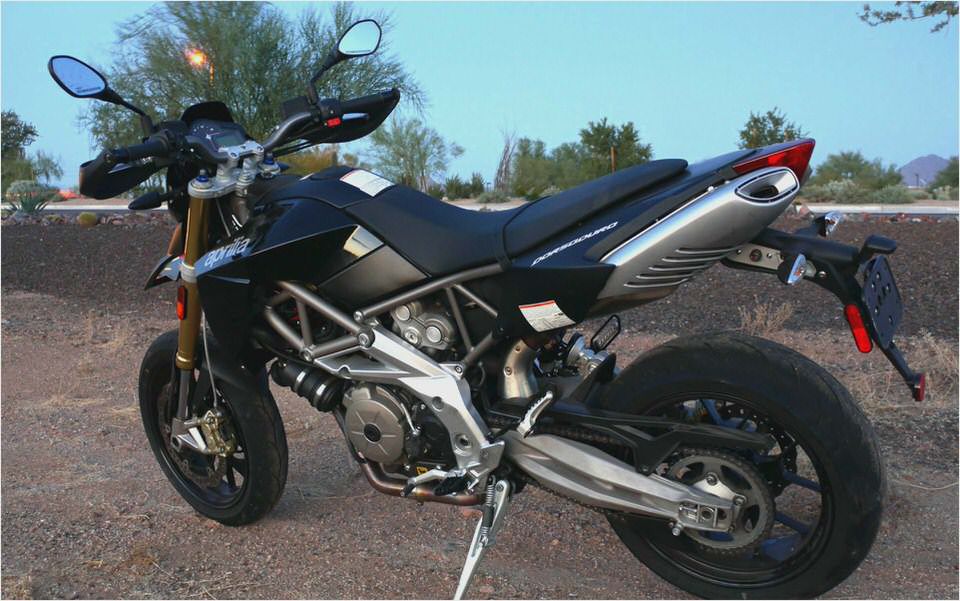 Aprilia Dorsoduro Review – Hypermotard Killer?
8/8/2008 3:13 PM
2008 Aprilia Dorsoduro Review
Supermoto Style Done Just Right
story by Yossef Schvetz, Photograph by Piaggio, Created Jul. 31, 2008
Here's a tip for Aprilia's sales floor managers: If a potential Dorsoduro buyer walks into your dealership, blindfold him and seat him on the Dorsoduro, start the engine and let him play with the throttle. Another sale – done.
It's been a long, long time since an engine's sound got me so horny, provoking uncontrollable spasms in my annular muscles down there and unhealthy tension in my branded knickers. In our PC/castrated- exhaust era, we've seemingly forgotten just how important the aural appeal of a bike really is. Need more?
The Dorso's sound could be likened to a good mix of industrial techno grind with Uzi sub-machine gun at full chat undertones, and it perfectly depicts this little mean machine's attitude: Nervous, raring to go, craves for your inputs at any given moment and responds to them with infantile enthusiasm.
The visual side of this multimedia experience doesn't lag behind. This is Miguel Galuzzi's first full project at Aprilia, and it's not hard to see that the guy burned the midnight oil, sketching and modeling foams deep into the night. I am downright tented to define the Dorsoduro as his finest creation ever, and that's quite a compliment considering that Galuzzi penned the original Ducati Monster.
It's not easy to find other scoots that have such a precise and well-defined vision, such an array of well-distilled and exciting forms. In my eyes, the Dorsoduro can take a well-deserved pole position in the "moto design" starting grid, sharing the front row with other luminaries such as the Hypermotard and the last version of KTM's 990 supermoto. As we'll see, it's addressed at quite a different type of rider, but that's for later.
So then, former Aprilia president Ivano Beggio isn't around anymore, and Piaggio, the big Italian two-wheeled mama holds the reins. But still, this bike really captures the pioneering spirit of Aprilia, being daring, original, high-techy and, as noted, the design could burn holes through walls. Just a mid-sized supermoto, and yet Aprilia put its best engineering resources into this one, and the result is quite original in that sense.
It's easy to start from the cycle side of things, as the frame borrows heavily from the last small Twins family, the SXV/RXV 450-550 twins. Not a bad bloodline, as the smaller V-Twins have conquered already a world supermoto championship or two. Just like in those, the front part of the frame is steel tube trellis affair that meet cast ally members midway above the mill's V center.
It's cool-looking even if it reminds a me a bit of the MV F4's solution, not a bad inspiration source after all.
The engine's just as high tech. Not yet another Big Twin but a 750 and that's already a sign that something is different. Unlike the last crop of 1000cc-plus Twins that need to sacrifice the perfect balance 90-degree angle in order to keep bulk in check (see Buell, KTM, Morini), by being smaller, Aprilia's Twin has that magic number between its jugs.
No wonder that on the saddle this engine felt really smooth. A stacked gear-shaft layout keeps the mill's length in check in order to maximize swingarm length.
But the real gem is the full fly-by-wire throttle that fully controls the butterfly valves in the throttle bodies according to the inputs from the rider's right hand. Aprilia has been among the first manufacturers to play with ride-by-wire in its MotoGP contender, the RS3 CUBE 990. Although Yamaha has beaten Aprilia in the race for a production system with its R6, it's interesting that the guys from Noale still went for such a system in a non-all-out performance tool like the Dorsoduro.
By gaining total command from the engine, Aprilia didn't have much trouble in adding three different power settings. A rider can toggle between Rain, Standard and Sport. Guess where I left it most of the time….
The most interesting bit of spec about this new engine is not the impressive 92 claimed horsepower, a healthy output that should put Ducati's Hypermotard 1100 under some pressure. It's actually the fact that a peak torque of 60 lb./ft is achieved at a lowly 4500 rpm, smack in the middle of the powerband! Aprilia wisely chose to go for friendly and available torque rather than record numbers.
If with such a mild state of tune this little V is capable of 92 hp at 8750 rpm, then with some simple hot-rodding, it should be able to rev up to 12K and deliver 600SS numbers. Don't be surprised if super sporty middleweight shows up in Aprilia's line up sooner than later.
With such a lush tech spec, it's not surprising to find in the Dorsoduro other nice features like "Wave" brake discs, radial calipers, a double taper handlebar, and fully adjustable suspension.
Off we set, following a riding guide sent by Piaggio. The guy knows how to gas it, and after warming up for a few miles on the good old Tuono, I'm all set to swing a leg over the Dorso'. A few minutes into the ride and I'm all smiles.
The long and flat saddle let's you place your bottom wherever you see fit – for tall and spindly guys like me, that's already a very good start. Gas it now and my cheeks are splitting from so much grinning, the aforementioned soundtrack puts me in real attack mode. Down for first, feather the light clutch and the Dorso drives on with authority, second, third, gears glide in perfectly, fourth, fifth gear, I'm keeping it pinned now, trying to keep our mad guide in my sights.
As expected, the engine is less stellar in the higher reaches of the rev counter. But the fun part comes soon enough. Throw the Dorsoduro into a good bend, and it thrives, flick it good into a tight hairpin and it shines. This thing reacts so happily to steering inputs that I find the 410-lb claimed dry weight, hard to believe.
The bike feels like the spec sheet is a good 60 lbs off the mark.
'Down for first, feather the light clutch and the Dorso drives on with authority, second, third, gears glide in perfectly, fourth, fifth gear, I'm keeping it pinned now, trying to keep our mad guide in my sights.'
Bendy bits are over? That's so sad, and yet roll the throttle on and the drive-by-wire system will find pretty good drive regardless of rpm. Okay, the oomph level down low might not be comparable to the atomic drive of the Morini 1200 or Ducati's HM1100, but just because of that, the Dorsoduro actually helps you by not being so violent in its power delivery.
So I said early on that the Dorso is a different animal, and this is exactly the point. Less brutal than a HM1100 or KTM 990, less intimidating while on the limit, much more friendly than those two hairy beasts. You do end up riding it smoother and faster, a boon if you are not VDB (Thierry van den Bosch, Aprilia's hard-riding supermoto star).
The Dorsoduro might lack the immense rigidity of the HM1100's bombproof frame, a rigidity that makes Duc's Hypermotard a very demanding thing to ride. But exactly for that reason (Aprilia claims to have intentionally designed some flex into the frame), the Dunlop Qualifiers have an easier time finding traction. The little slides and blurbs while cornering hard fool you into feeling that you are some sort of supermoto god.
And I am not!
Chill out for some minutes and you'll find that there's another side to this "Hard Back" thing (Dorsoduro in Italian) and that you don't have to be in interception mode all of the time. Trotting along I discover that the engine is real smooth, the throttle response is simply sweet and that the hard-looking, off-road inspired seat is actually very comfortable.
Or to put it in another way, this scoot is far from being a narrow focus racer in disguise – it's actually quite an all-rounder. I could see myself riding one to work on a steady basis.
And that's exactly the quality that I've been missing in all the supermotos I've tested so far. I have never fallen in love with supermoto Singles – too little creature comfort, too vibey, too narrow-focused, either as 450s or big 600-650cc Singles (although I've yet to ride KTM's new 690). Big, liter-size supermotos have not convinced me either so far.
They might be exciting rides, but on a long-term basis I found them too demanding, too crazy to live with, as one such specimen almost shortened my life when it landed on me (ended up with just three broken ribs… ). And here, all of the sudden, out of nowhere, another approach to the SM theme and Aprilia's "mid-size SM" just feels so right.
Wot? No complaints whatsoever? Sorry, in my short test ride I haven't been able to find much to bitch about. While standing at a stoplight after a run, it was a very hot day and there was plenty of heat blowing out from the engine bay, enough to turn my left you-know-what into an omelet.
Not really a problem, as most of us have two rounded jewels. Other than that, I heard some colleagues saying that the ride-by-wire response is a tad too aseptic.
But to find out for sure I'll need to have a Dorso' for a long-term test. I promise to be a good boy and will take the thing to the nearest supermoto track only once a week.
MOΛΩN ΛABÉ –
Aprilia RSV4 Factory India, Variant, Price, Review, Details
Aprilia classic 50:
Davey Durelle Takes First Place with the Aprilia SXV 5.5 for the Second…
Test Aprilia SR 50Di Tech Motors TV
Aprilia Atlantic 300 Scooter News and Reviews Scootersales