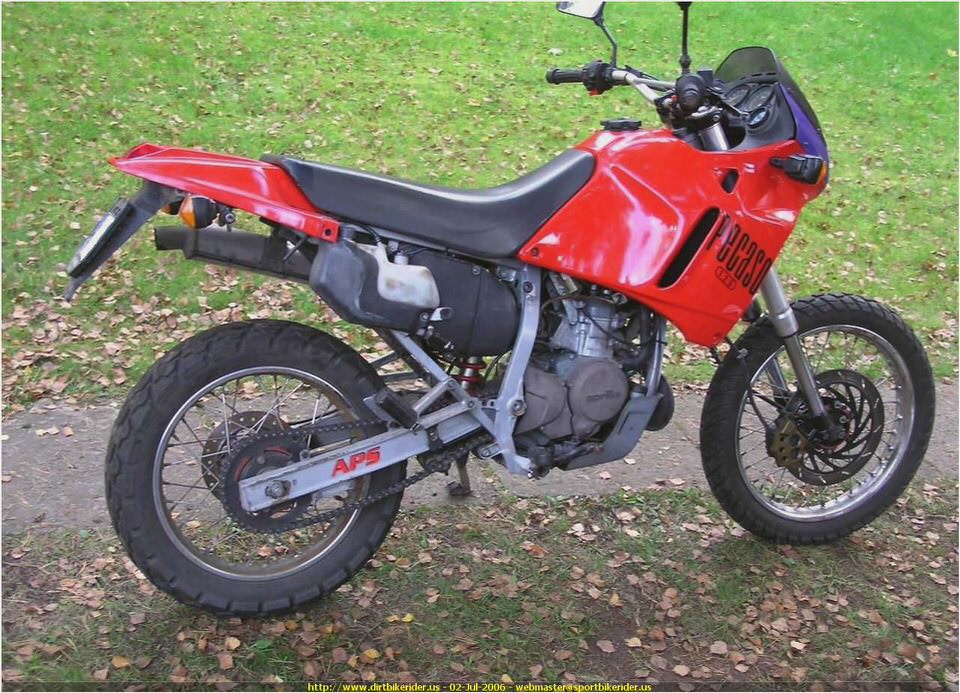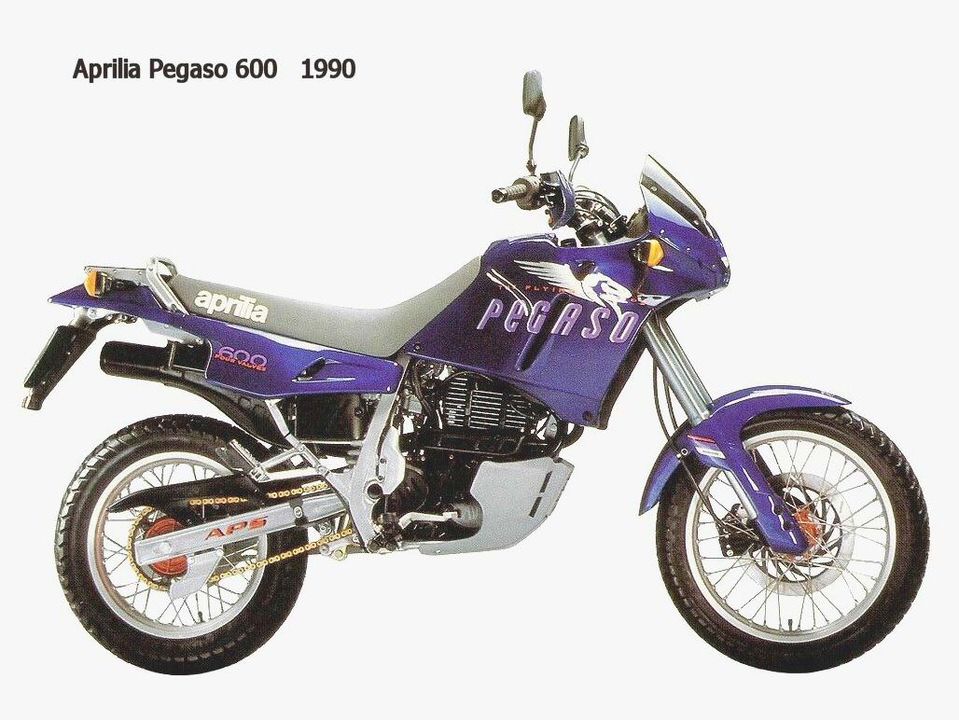 Aprilia Pegaso 600
FACT: IF IT'S AN Aprilia. it's gorgeous — gorgeous and probably daubed in the united colours of Benetton and Wolverhampton Wanderers. The Pegaso is an Aprilia all right, but with a difference.
It sits in Italy's most flamboyantly styled line-up unembellished by lurid paint and gaudy graphics; it is massively restrained and subdued selling itself with no more than intrinsic gorgeousness. One look tells you it's in a very different market to the Futura, says Steve Reynolds of Aprilia Moto UK. The Pegaso is aimed at riders who've been through a few bikes.
Free from having to attract color crazed teenagers, a deep metallic raspberry finish is punctuated only by distinctly undaring splashes of silver on the bars, steel tubed frame, placcy bash plate and filler cap. Admittedly the word Aprilia appears at least 15 times on the Pegaso's saucy bodywork and the 'Flying Mythos' bit across the dummy tank cum frame-mounted fairing goes to show that people will fiddle. Otherwise Italy's challenge to Japan's nominator is acutely elegant in all the right places, businesslike where it matters.
It debuted at the NEC show with a downbeat single headlight inserted for prior twin beams (Italy has had Pegasos for 18 months) and a non-homologated plastic fuel tank which is earmarked for replacement on the first batch of 40 bikes to be imported. It was permanently obscured by smitten admirers, fuelling Aprilia Moto UK's mushrooming confidence in the bike.
All this restrained class surrounds a Tuareg-proven, four-valve, air-cooled Rotax thumper. Austrian by birth, it's a real rough diamond; several pops, bangs and tingles less refined than the Japanese middleweight trailies but equally quick (ic good tor l00mph) in the thumper-puncher tradition.
The factory claims an unexciting 361b.It ot max' torque but a very competitive 46bhp at 7,000rpm, one blip more than the Dominator, the same as Suzuki's DR650 and only a whisker off Kawasaki 's and Yamaha 's liquid-cooled singles. Giving away over 80cc to that lot, the Pegaso's quota of grunt may fill short of the class average but it fights back into contention by redlining late (7500rpm) and weighing-in light (148kg compared to the Suzuki's 170).
Although the engine runs a dry sump its deeply finned barrel and head fairly pack out their alloted space in the frame, dominating the heart of the Pegaso, flying in the face of its delicate design. It's harsh — running a compression ratio ot 9.4:1 (compared to the nominator's 8.3:1) and revving high like it could slot straight into a Sound of Singles racer. Its camshaft is belt driven (maintenance free until replaced at 18,000km); a large oil-cooler sits behind the fairing's right hand grill. waiting for revs.
This aggressive nature has to be put into context and, relative to virtually everything else on the street, the Pegaso is just another big softie. Below 3000rpm its delivery is typically snatchy and confused then smooth and grunty as the beautiful tacho heads towards 4000rpm. This is where clutchless wheelies are born, where the 34mm DeH'Orto sorts itself out, where the countershaft balances the vibes perfectly where everything about the Pegaso feels soft and lazy.
It chuffs around town in a land of cotton wool and sweet shortshifts.
As the pace picks up, so do bar and peg borne tingles. Our Pegaso was 60km new and well tight to boot but with each passing meter loosening and smoothing its engine, the vibes moved further up the rev range until they only became intrusive at 6000rpm plus, blurring the antiglare mirrors which had previously just wobbled about. Power, meanwhile, had climbed straight and stepless tar more appetizingly than the marginally faster but slightly flaccid KLE500 twin.
As a pure road bike (and the Pcgaso is even less dirt orientated than the Tuareg) it is just quick enough for everything bar madness. It's easy to wish for more but more entails extra weight, another cylinder, maybe a desert tank, sledgehammer styling and suddenly its appeal is gone. The chassis, though, needs sorting before it can live happily with either that sporty engine or that LOOK!
I AM A BRILLIANT MOTORCYCLE styling.
Initially all is well. The seat is deep, long and comfortable. And high. One-foot-on-the-ground nerves are tempered by an immediately apparent lack of bulk.
Steering lock is ample, it only stalls occasionally and that horrible kickstart lurking by the gearshift can be ignored: the battery being strong and the start button true.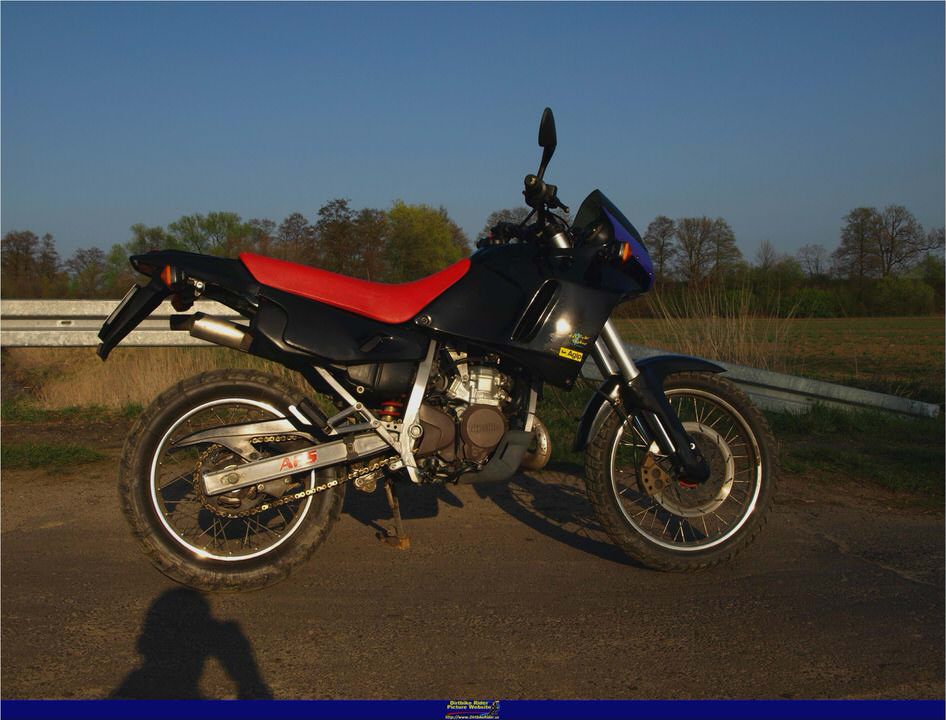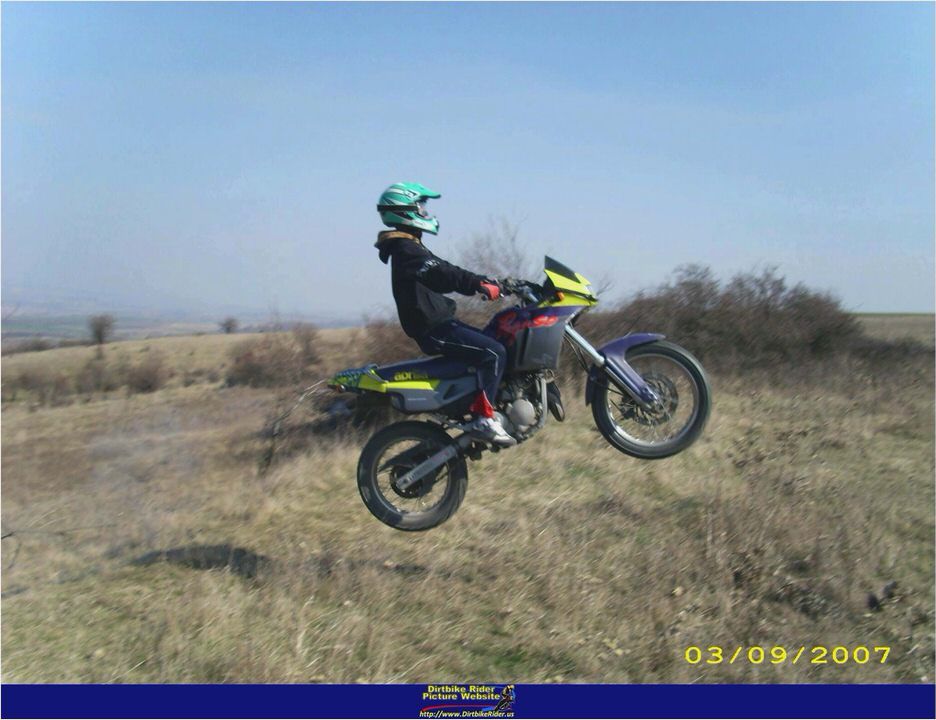 It gets better. The pegs sit you toward and the bars, the trailie equivalent of ace bars, are not much higher than your knees which in turn squeeze against the dummy tank. It feels dead mean, very racey and the screen deflects most of the airstream away from your chest.
Dial in 3000rpm, release the slightly jud-dery clutch, go laugh at some road decay and a few ZXR pilots. Eight inches of front and rear suspension-travel combines with very plush, non-adjustable forks and slightly firmer APS monoshock to make deep shag pile carpet out of the most catastrophic examples ot urban underspending.
As the Rotax lump begins to chuff harder, the chassis begins to puff. On slow turns there's no problem: the raked and slowish steering is chivvied along by those wide bars and the Pegaso drops in, the steering movement damped and controlled by knees. It squats down on its springs then bursts out in burps of satisfying shortshifts.
Faster stuff is lower on laughs and reveals a trailie chassis trying hard to be a roadster but not quite making it. The suspension simply fails to relay enough information — its inherent vagueness leaving me stone cold on wet tarmac, especially as the front wheel felt like it wanted to tuck in on a couple of left banders. Pirelli MT60s have a sticky reputation, and, regardless of the famine of information I experienced, grip was probably available.
1 still slowed down though.
Stiffer suspension is what's required. That the front 39mm upside-downers need more compression damping and stiffer springs is confirmed by excessive dive on the twin-pot Gremeca front caliper. The braking action is strong enough but 1 couldn't exploit the slotted disc's potential so great was the forks' reaction to even gentle braking.
For 90 per cent of the time, though, the Pegaso remains boss. It is rare, just 50 quid pricier than the Dominator and only when its pushed like a true roadbike do its limitations show, and even those could be lifted with some careful fettling. Italy is about to receive the 650 Pegaso with Aprilia's long awaited five-valve, liquid-cooled single and uprated suspension.
We won't get a sniff until '93 at the earliest, but it's some prospect.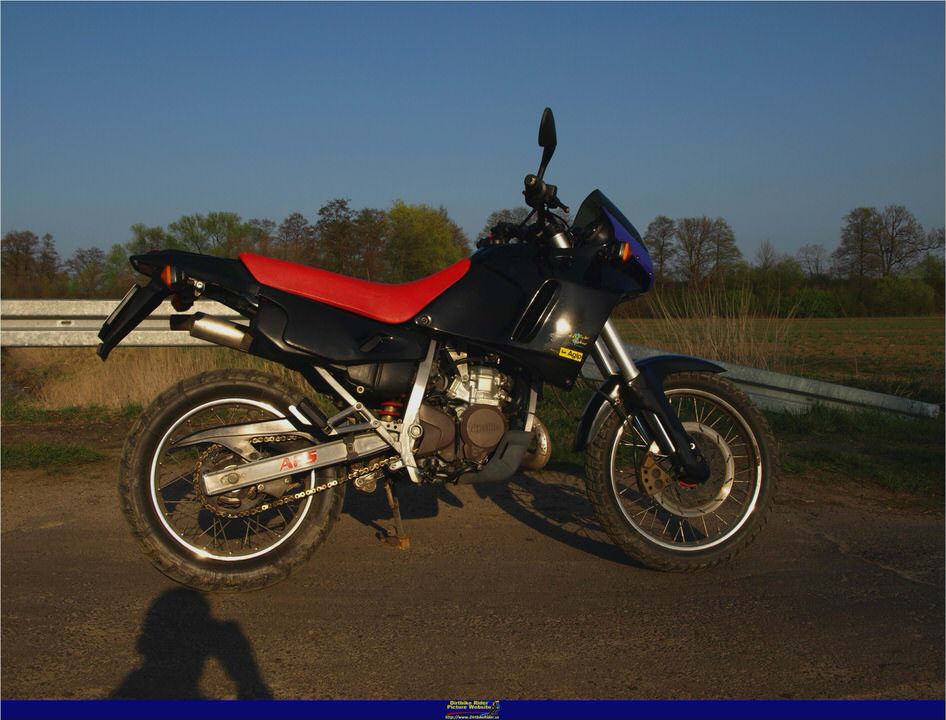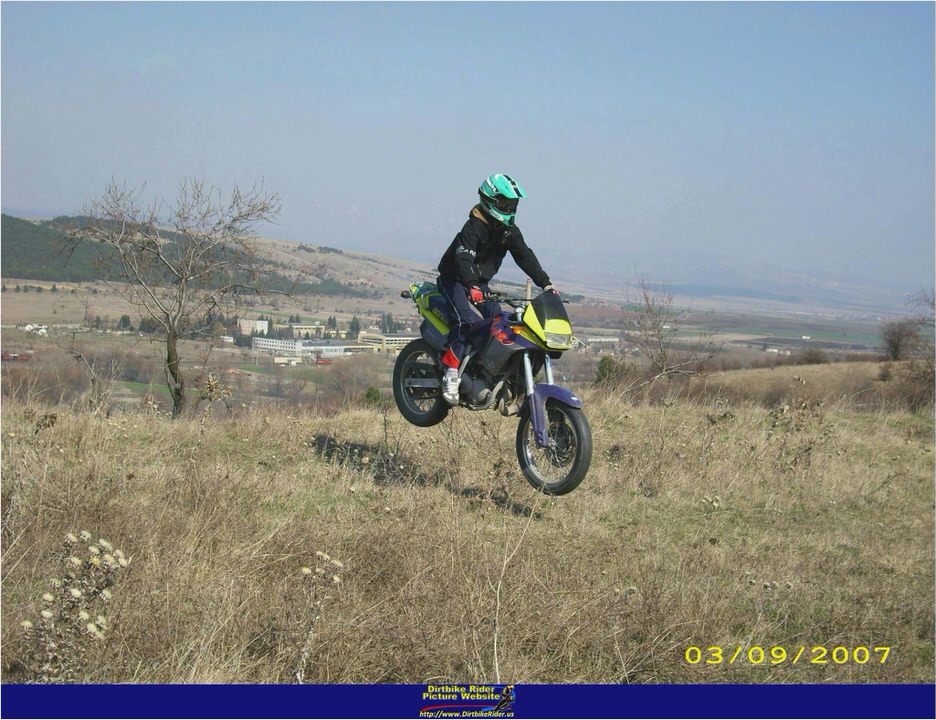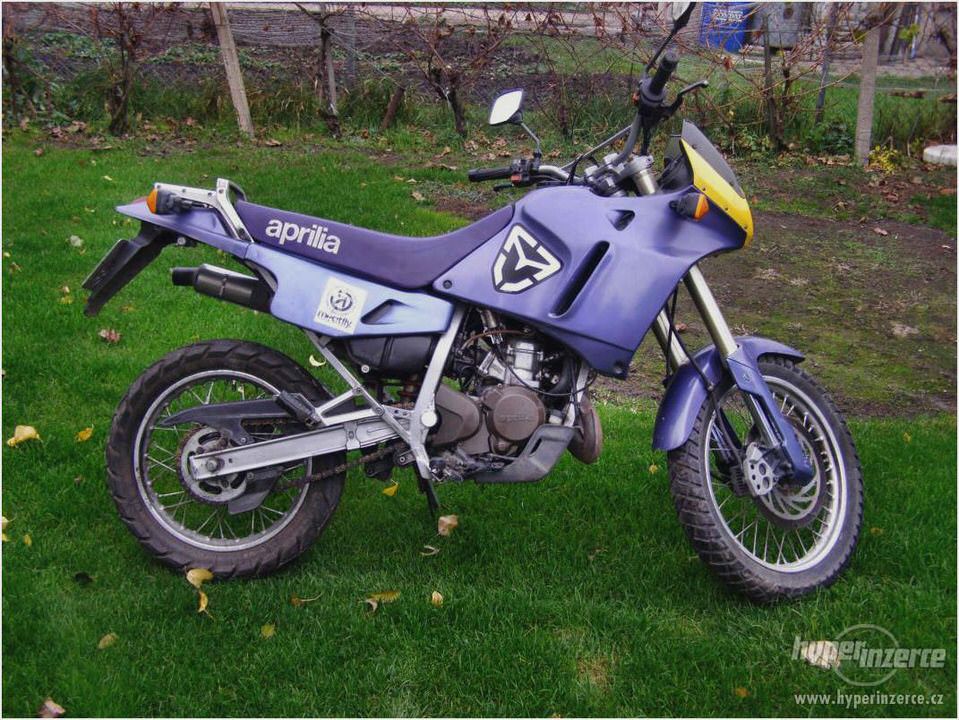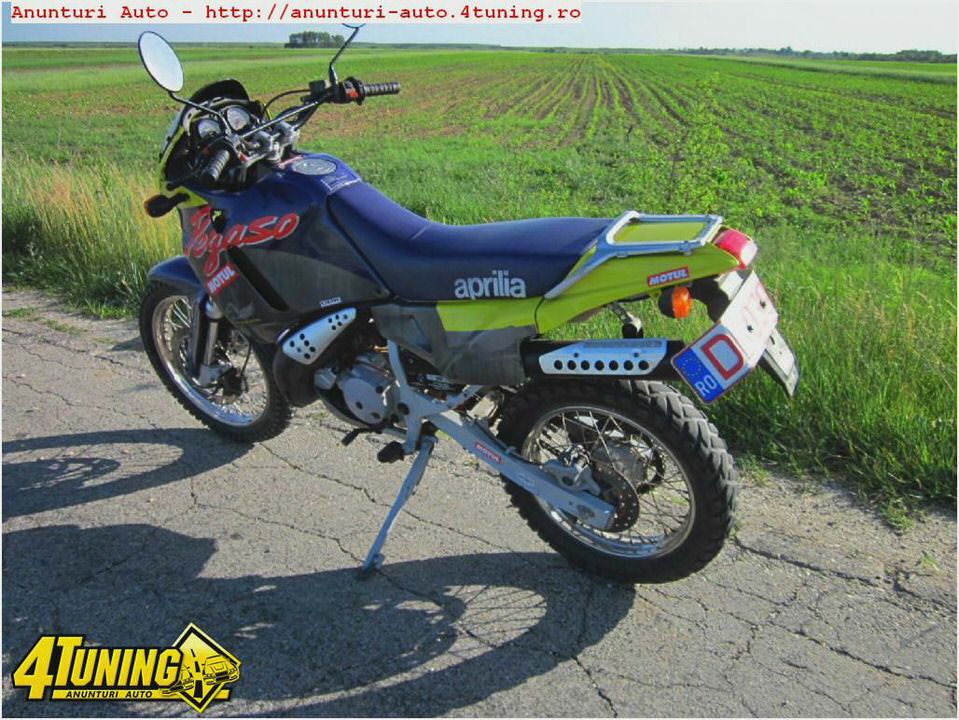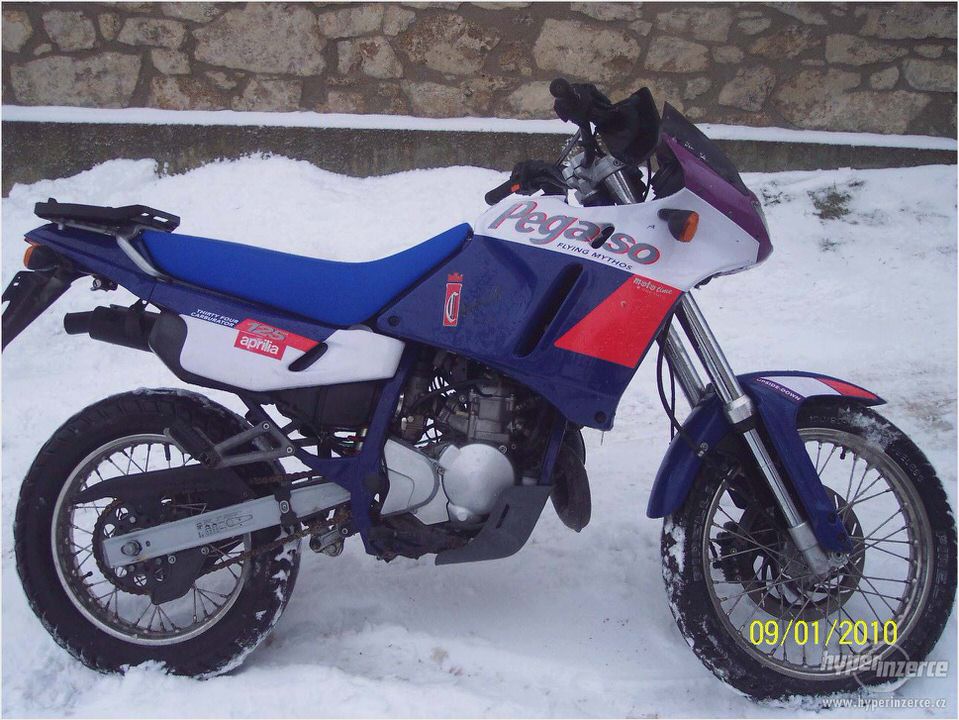 2013 Aprilia Motorcycle Classified – 2013 Aprilia Tuono V4-R APRC
Aprilia Tuono 1000 R M.Y.07 – Test Ride
MC Comparison: Electronically Enhanced Superbikes Aprilia RSV4 Factory…
2014 Aprilia SR50 Factory Review
2014 Victory Cross Country Ness Limited Edition Specs, Price and Picture…