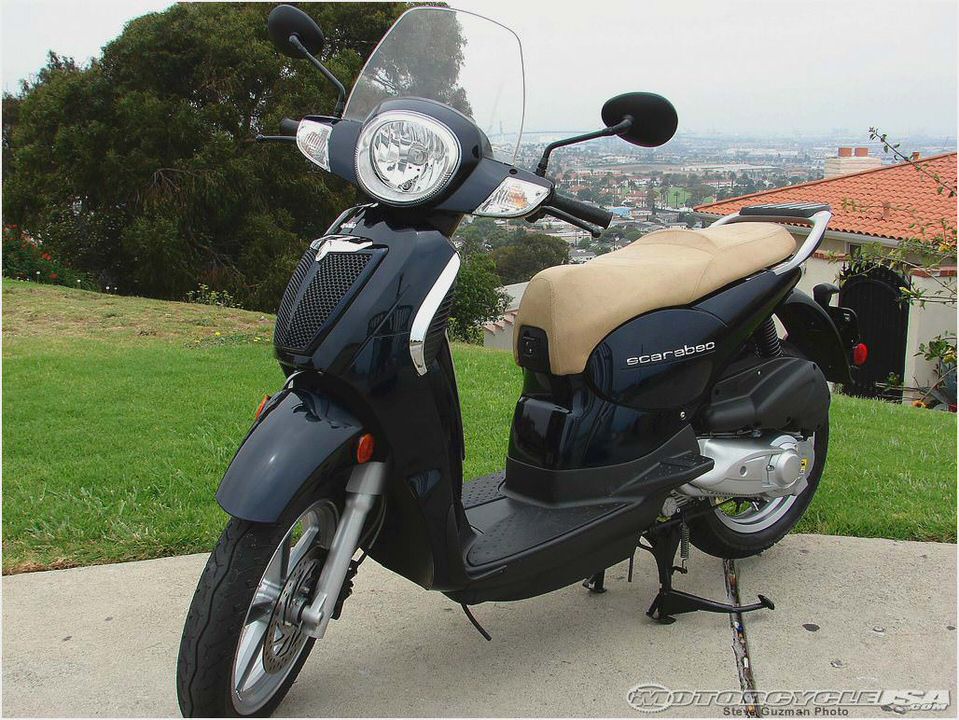 APRILIA SCARABEO SERIES – OWNER REVIEWS
1999 APRILIA SCARABEO 50 2T
Milage: 5000 – 10,000 Miles
Likes: 16" wheels, durability, appearance
Dislikes: Lack of storage (easily remedied)
Review: " I am the third owner of this spicy Italian. It has been through two college tours and is still reliable and actually looks good – albeit with a little patina. The components are still robust at 14 years old, which speaks well for original design and construction.
I bartered for it, but it appears these models will hold their value if you don't trash it.
This is not my daily driver. It can sit for weeks and will start without having to disassemble and fidget. If the battery drains the kickstart spools it up quickly.
The cold start (choke) lever is there when I need it. It is kept inside protected from the elements, that helps a lot.
Maintenance is relatively easy and parts are available online and not outrageou$. I consider my mechanical skills and resources slightly above average. The dealership is long since gone, but Indy shops will be able to work on this scoot.
I live in the older section of an urban area. The Scarabeo 50 2T handles the brick street imperfections readily, and feels safe even on damp streets. The 30 inch seat height gives better (safer) riding vision. The 6 inch ground clearance keeps it from bottoming out and provides options other daschund like scooters can not use.
If I get off the pavement it does rather well on softer surfaces. The brakes are good. The power is adequate for urban adventures. The fuel economy is great.
I fabricated and mounted a custom rack with an insulated topbox to solve the stowage/transport deficiency. It can fit two gallons of milk and a bag of groceries, safely behind me. My wife struggles to place it on the center stand and so she sticks with her Honda Spree instead. She could manage it well with a sidestand installed.
The locking glovebox is trick. Phone wallet easily stow in there. Almost every time I'm out on it I get positive comments and I think other scooters have wheel envy but won't admit it.
Don't you think envy is one of the most complex of emotions?
I have owned Sprees and Metropolitans and ridden Vespas and Ruckus units. The Aprilia Scarabeo 50 2T fits my needs as a fun reliable affordable durable economic urban intermittent errand/occasional cruiser internal combustion smile inducer. Ride one you may agree and get past that envy thing!"
2002 APRILIA SCARABEO 150
Milage: +30,000 Miles
Likes: Appearance, handling, reliability, economy, power
Dislikes: None
Review: " I purchased my 2002 Scarabeo 150 scooter new and proceeded to put 32,000 (yes, thirty two thousand) miles on it over 4 years commuting on San Francisco's highway 101 most days of the week. The bike is very well made with excellent fit and finish. My commute consisted of 17 miles each way of congested traffic running, on average, at about 55 mph.
The Scarabeo 150 proved highly stable at the higher speeds and still very maneuverable around town.
Power is sufficient for a single rider and is ok with two up riding at 60 mph. Around town with two passengers you can easily keep up with traffic.
Mileage was about 72 mpg with a single rider on those daily highway commutes, less with more city riding or with a passenger, but the fuel tank ensures you will not have to fill up frequently. When you do stop, be prepared for people to come up and ask what the bike is, how you like it, etc. as it is a sculpted Italian piece of art after all.
Reliability: I meticulously maintain my possessions and routinely washed the bike, waxed it twice a year, and housed it in my garage. I did all the routine service, used synthetic oil and only had a few problems during that time: the fuel tank breather hose broke at its plastic fitting – a straight forward repair. Not so easy for me, and a problem for the earlier models: a piece of the carburetor's metal slide broke off and got sucked inside the cylinder.
The bike dies when that happens but the mechanic was able to get it out of the cylinder, repair the carb and get the scooter up and running without too much down time. Other then that, the paint on the wheels and front forks failed after about 20,000 miles, but that is only cosmetic.
I foolishly sold it for a larger Piaggio BV 500, which, while reliable, was not nearly as well put together, and was poorly designed from a servicing standpoint. Luckily, 5 years later and after I sold the Piaggio BV 500 (only vehicle I ever sold without regret), I was able to track down the purchaser and bought the Scarabeo back. He'd had mechanical difficulty (damaged cam shaft bearings at 33,000 miles) and did not put anymore miles on after that.
It is now (Aug. 2013) at the San Francisco Aprilia dealer undergoing a mild restoration. After a complete body repaint, all new hoses, cables, tires and replacing anything else that is needed, plus a full service, it will be as new again ready for another 32,000+ miles.
And it will be even more rare that it was when I bought it. Considering the new Scarabeos from Aprilia, while good bikes, simply do not have the look or presence that these classics (too early?) do, this model will only continue to turn heads as its design ages gracefully. In truth, it was a classic the moment it touched our shores."
Return to the Aprilia Scarabeo main page.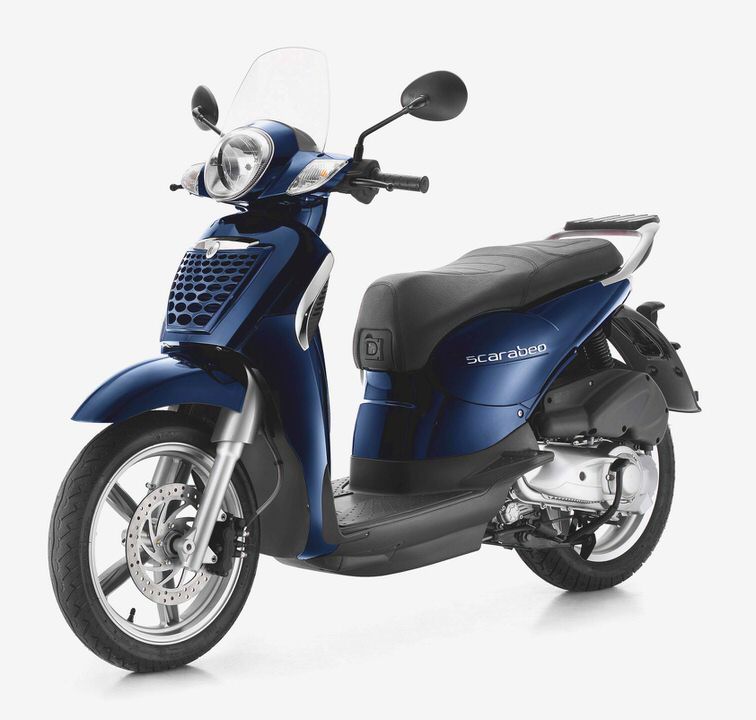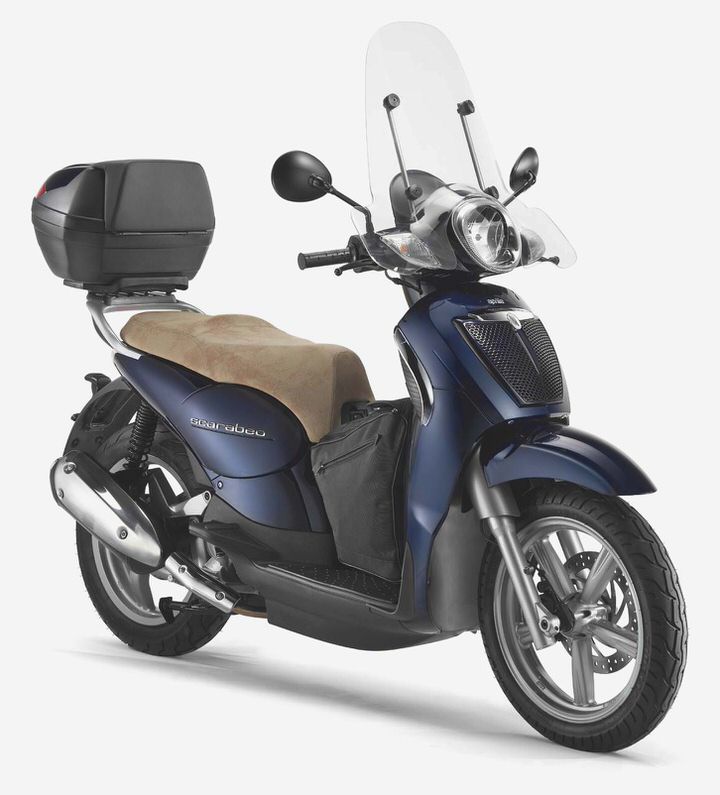 Aprilia Scarabeo 250 i.e. Review Scooter News and Reviews Scootersales
Details 2009 APRILIA Scarabeo 100 4T pictures Accident lawyers info in…
Aprilia RSV4 Factory versus 2009 Honda Fireblade – Road Tests: First Rides…
Aprilia Scooters
2006 Aprilia SR 50 R Factory