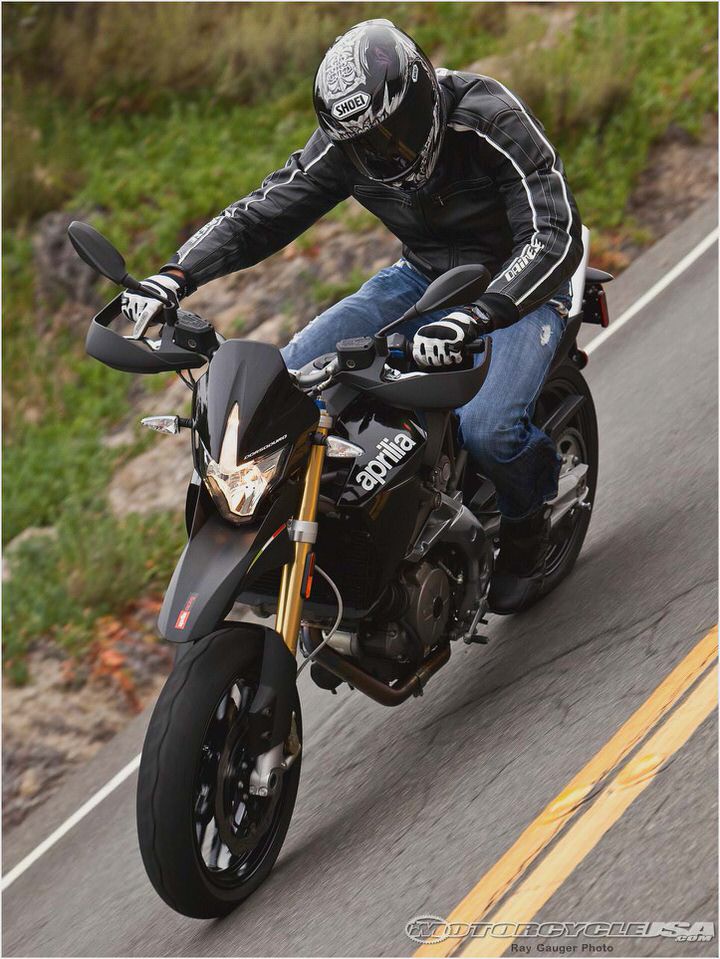 Thread: Aprilia SMV750 Dorsoduro Test Ride!!
Aprilia SMV750 Dorsoduro Test Ride!!
hi guys,
been dreaming for a new motorbike while i was on my way to china, and i have been looking around since i got back.
Potential contenders:
– KTM superduke 990
– KTM 990 SM-T or SM
– Aprilia Dorsoduro SMV750
– Aprilia Shiver 750
– Ducati Monster 1100 (new style)
– Ducati Hypermotard 1100
i guess you got the idea:
naked V-twin or supermotard V-twin, agressive, but needs to be a little bit practical. NO RACE BIKES anymore, never.
So i testdrove a Dorsoduro today, and that was the bike i thought would best capture what i needed, so i had high expectations.
Sound:
This bike had a 1/2 system Leovince with carbon cans, and catalysator delete, and it sounded really brilliant. I don't think i would ever miss the TL sound when riding the dorsoduro. It's a 90° V-twin, and you can hear and feel it.
Great!
Looks:
This is one of the prettiest bikes i have ever seen. Of course this is personal, but the details are really beautifully crafted, and nothing looks cheap.
Brakes:
I had heard of the front brake being too extreme for normal street riding, but i didn't feel it that way. I think the master cylinder has a smaller size than the one on my raptor, because initial braking felt softer, but when you pull a bit harder, the stopping power is there. Very good feel, and good power. nothing wrong with that setup! The forks don't dive all that much, even for a supermotard-setup with long legs.
Rear brake worked, what more is there to tell about it?
Suspension:
I am no riding god, so i cannot give you any technical shit. The ride felt good, somewhat on the hard side (but in a good way, it felt planted), but maybe that was because of the hard saddle.
The bike steered perfectly neutral, and very easily flicked from one side to another. Let's say on a par with the raptor. The bike does feel a tad lighter than the raptor when actually on the move.
No significant forkdive when on the brakes.
In general: very good IMO. My slow ass could do some trackdays on it, no problemo. Traveling would be good too.
Riding position:
Very relaxed, or very agressive. you choose. Very roomy seat, hard but comfortable. I think no problem for long highway blasts. Wind protection is OK, no problem at all at 120kph highway speed.
Sooo, untill now, a really perfect bike for me, everything works superdooper, and feels a bit more tight than my ageing raptor.
But then there's the engine:
engine:
dorsoduro: 750 L-twin, 92hp, around 80Nm torque at 4500 RPM
raptor: 996 L-twin, 105hp, 90NM torque at 7000 RPM
so all in all, not too big of a step back, and as i almost never go above 7000 rpm on my bike (except for track), i thought i could do with a little less power.
but i can't.
Maybe it was because the engine only had 500kms on it, and it had to be run in first, but it felt pretty gutless to be honest. I didn't go over 6000RPM because of the run-in period, but it felt like it was running out of steam already.
The initial kick you get at 4500RPM is great, but half a second later, the fun is over, and the power 'stalls'. big contrast to the TL engine which wants to go higher and higher, and constantly rushes you forward. I was really disappointed with this strange engine character, with peak torque coming very early, and then fading away.
I tried the T (touring) mapping, which makes the bike perfect for putting along in traffic at very low revs. The S (sport) mapping is a bit snatchy in town, difficult to use the bike's full potential with the engine lurching and doing things you don't want at low revs.
What a difference with the TL engine, which is 10 years old, and has a prehistoric 'Schneider 64' ECU on it, compared to the sophisticated dorsoduro engine management: the TL engine is superdocile in town, and runs superb smooth at low revs, on my particular bike even useable from tickover. Without a change in mapping, wind open the throttle, and you get a kick that very few bikes give.
The sophisticated motormanagement doesn't hide the fact that it is 'only' a 750cc twin, and i was wrong in believing that i would not miss the big bang of a thousand cc V-twin. I do. Very much so. it felt great riding the raptor home.
I think i'm gonna wait till the dorsoduro 1200 comes out, maybe that'll float my boat
Aprilia RSV4 Factory RSV 4 aprc se, price, for sale, specs, review, top…
Aprilia RSV 1000 Mille R-Aprili
Aprilia Sportcity 125 review, top speed, specs, for sale, parts, workshop manual
Aprilia Pegaso 650 Strada Motorcycle directory
Aprilia Mana 850GT and X First Look – Motorcycle USA