Bajaj Avenger 220: A Comprehensive Review
In the year 2001, Bajaj accompanied by Kawasaki launched the first ever cruiser bike of India named Eliminator. Rahul Bajaj, the whole and sole of Bajaj Automobiles at the inauguration ceremony complemented Eliminator, "Mercedes on two wheels". The launch created a massive furor in the Indian market.
As all good things come with a good package Kawasaki Eliminator was priced above 90K; and at that time it meant a lot to the people.
In the year 2003 Yamaha launched its first cruiser bike, under the name of Enticer, powered by 125CC engine. Keeping in mind Royal Enfield's Lightning 500CC was a big flop and Thunderbird 350CC too wasn't up to the mark. And, most importantly, they both didn't meet the requirements of being a cruiser.
So, Yamaha had all to cherish; with only Eliminator to compete, it took lesser efforts to fill the gap, but, still it failed to capitalize the market. On the other hand, the 175CC Eliminator was designed by Kawasaki and the bike was doing fairly good, when Bajaj put the hold to the production, and launched a new cruiser christened as Avenger !
In the summer of 2006, Bajaj launched its cooler, Bajaj Avenger 180. It was running on the same engine as Bajaj Pulsar 180 was running off, though with a fine tune up provided by Bajaj's engineers to meet the new requirements. Later in the year 2007, Bajaj again made few changes in the Avenger to top the people's choice list.
Avenger got an increase in the engine capacity, and, it now rides on 200CC engine.
As Bajaj's legacy speaks, it keeps on changing its product to be in vogue and in demand; both. Similar was the occasion with Bajaj Pulsar and same followed Bajaj Avenger. In the July 2010 Bajaj upgraded its cruiser, Avenger; with the newer and the better 220CC DTSi engine, borrowed by Pulsar 220.
Indeed the engine was tuned up and this time it was blessed with the oil cool technology.
Bajaj Avenger 220 is crafted with a lot of efforts passion and some state of the art old school style gives it a class apart. Bajaj Avenger 220 has a 219.89cc engine that generates the maximum power of 19.03PS @ 8400 rpm, providing the torque of 17.5Nm @ 7000 rpm, which means a hassle free drive in higher gear and in low speed. To make it simpler, no more frequent gear shifts.
The digital twin spark ignition better known as DTSi; it's a patent of Bajaj Automobiles that provides efficient combustion, which leads to additional power and torque. To cool down this massive 4 stroke, single cylinder engine; Bajaj blessed this beast with a bigger Oil Cooler. The oil cooler now has 4 chambers whereas the predecessor has 3. Oil cooler helps ensure the cooling of the bike with minimum power loss under extreme conditions.
Apart from DTSi engine, Bajaj Avenger 220 has got some technological advancement too, the ExhausTec as Bajaj calls it, where TEC is known as Torque Expansion Chamber. This is a device in exhaust system of a DTSi engine that helps in scavenging process. Scavenging is throwing out the exhausted or burnt gases, and pulling in the fresh mix of air and fuel for combustion.
Bajaj Avenger 220's, 4 valve engine has 2 intake valves and 2 exhaust valves. It takes more quantity of air and fuel mix, and the later 2 valves helps throwing burnt gases out. This improvement helps engine to breathe; and thus, generating tremendous power in comparison of 2 valve engines.
With Bajaj's another patent technology called TRICS III (Throttle Responsive Ignition Control System); which quickly adapts ignition timing for the changing riding conditions, it manages power and torque according to the speed, and puts no pressure on engine, and, makes ride real easy. It is governed by another patented technology of Bajaj, called intelligent CDI (Capacitor Discharge Ignition); it has a microprocessor which continuously senses the different levels of speed and load on engine and responds by altering ignition timing.
Together they provide optimum ignition timings for any engine rpm, seamlessly. The complete combustion gives maximum power, better fuel efficiency and a lesser engine noise and vibration.
Justifying a true cruiser Bajaj Avenger 220 has a height of 900mm, rider seat's height is 450mm, and length is 1650mm with a ground clearance of 165mm. The lower ground clearance offers a lower center of gravity which provides a better stability on any terrain. The ergonomic triangle of handlebar-foot pegs-seat is perfectly designed which makes a relaxed laid back riding position. The large and pulled back handlebar makes sure that the rider doesn't need to stretch arms.
The lightweight aluminum foot pegs are placed correctly to adjust the rider of any height. The rider never feel any fatigue while riding this monster as the Bajaj Avenger 220's low saddle seat gives enough support to the back and feels like riding a bike while sitting on a couch. Bajaj Avenger 220 comes with 260mm front disc brakes and 130mm rear drum brakes.
Braking is fair but it would have been more efficient if it has got discs at both the ends.
Bajaj Avenger 220 comes with 5-speed transmission, it hikes 0-60 Km/h in just 4.5 seconds and 100 Km/h mark in under 16 seconds. Cruising on top speed is a good experience, as it easily reaches its top of 120 Km/h; bike is well balanced and well stuck to ground. Bajaj Avenger 220 has a fuel economy of 35-40 Km/liter in mixed conditions; which is fairly good seeing it's potential.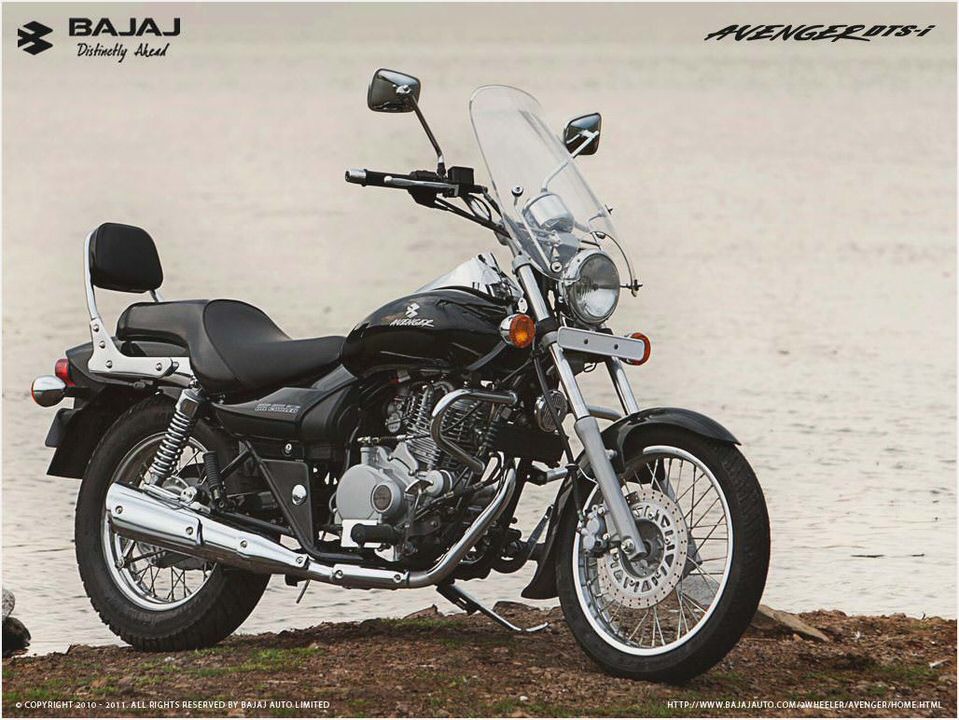 The front telescopic fork and rear hydraulic suspension make the ride real smooth. The pillion rider also enjoys the ride, as the double cushioned seat with the backrest does wonder. But, on a long run pillion rider feels a bit uncomfortable as the seat is not wide enough, and feels like wearing a thong.
Backrest, apart from adding a look and support to lower back, adds safety for pillion. Taking a U-turn is also a drawback, as Bajaj Avenger 220 is not a street bike; but, does well in comparison of its predecessor. The Battery boasts out of 12v, which is enough to satisfy the hunger of 30w of horn and a massive 60/55w headlamp.
The moment Bajaj Avenger 220's engine roars the headlamp switches its power orientation and move to DC; results in uniform lighting in any speed, and of course a longer battery life.
Bajaj Avenger 220 is one of the most gorgeous bikes that are rolling out on the roads. The low slung commuter has all to impress, with a low, long and wide aerodynamic 14 liter fuel tank which adds all muscle to the bike. The fuel tank has a chrome finish which complements the looks and settles different indicators, such as fuel and battery.
Battery indicator plays a crucial role, as the Bajaj Avenger 220 comes in electric start option only; no kick has been provided by Bajaj, and at times seems to be a flaw. Bajaj Avenger 220 has gone miles ahead in creating the style statement in comparison with any other bike in India. With the royal masculine features, Bajaj Avenger 220 definitely made its way from the blue blood lineage.
Bajaj Avenger 220 comes in three different colors, Midnight Black, Cocktail Wine Red and Plasma Blue. And when these colors blend with its chrome finishing it looks charismatic. Bajaj Avenger 220 offers an optional windshield as well.
The windshield works well on highways as it takes on the air blows, but, creates a mess in city traffic as it obstructs rider's view to see any hole or pit on the roads.
Tyres provided with Bajaj Avenger 220 are tube type, the front tyre is 90/90 x17" and the rear one is 130/90 x15". The bulky rear tyre provides a nice grip and the rectangular swing arm gives more stability to take some sharp edgy turns. Bajaj Avenger 220 is priced at Rs. 76,385 (Ex-showroom, Delhi), and with the given price range Bajaj should have provided tubeless tyres.
The all spoke chrome finished tyres enhances the magnetic effect of the bike and drive the rider to go longer. The elegant bike along with classic retro style has everything except a few of flaws, which Bajaj knows very well, and as well as we know Bajaj, they might get altered in the next avatar of Avenger, till then "Feel like God" with Bajaj Avenger 220.
I shared a story about all time favorite scooters in India. Bajaj Era is one of them.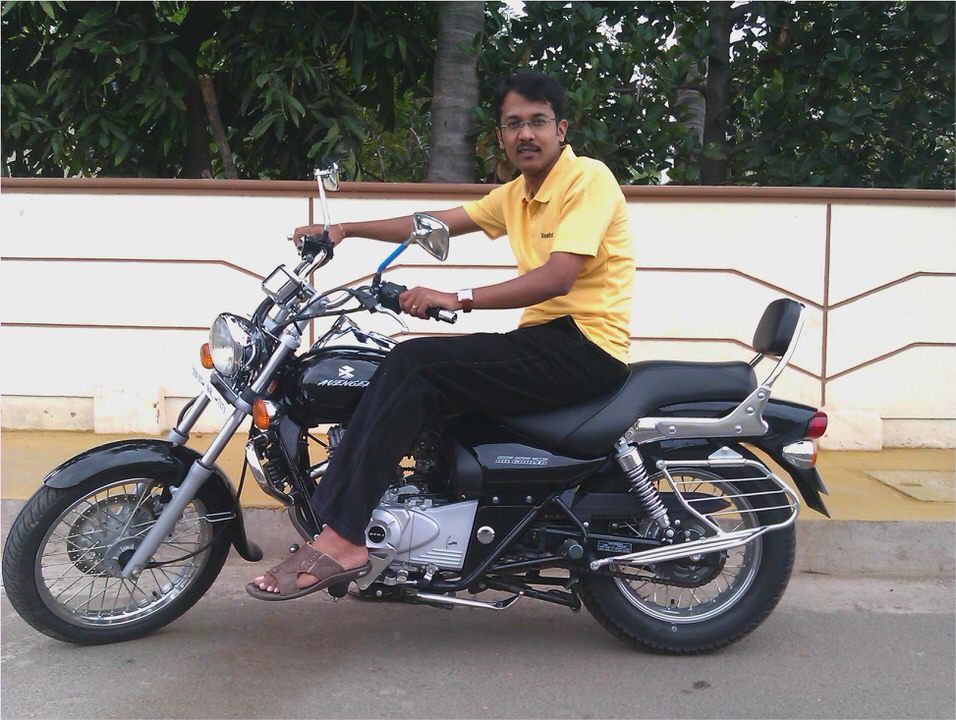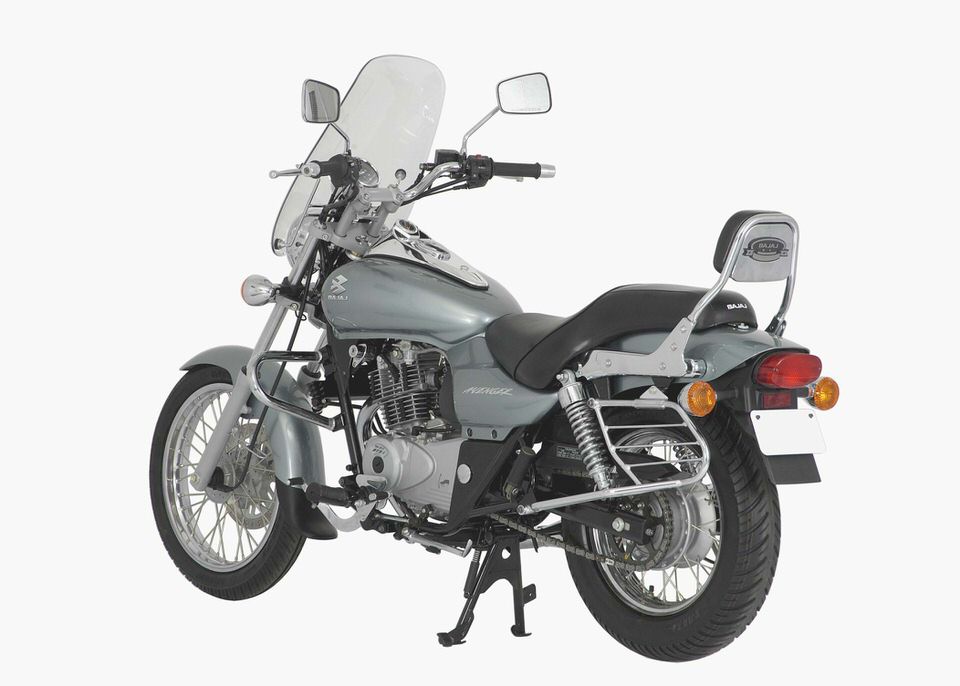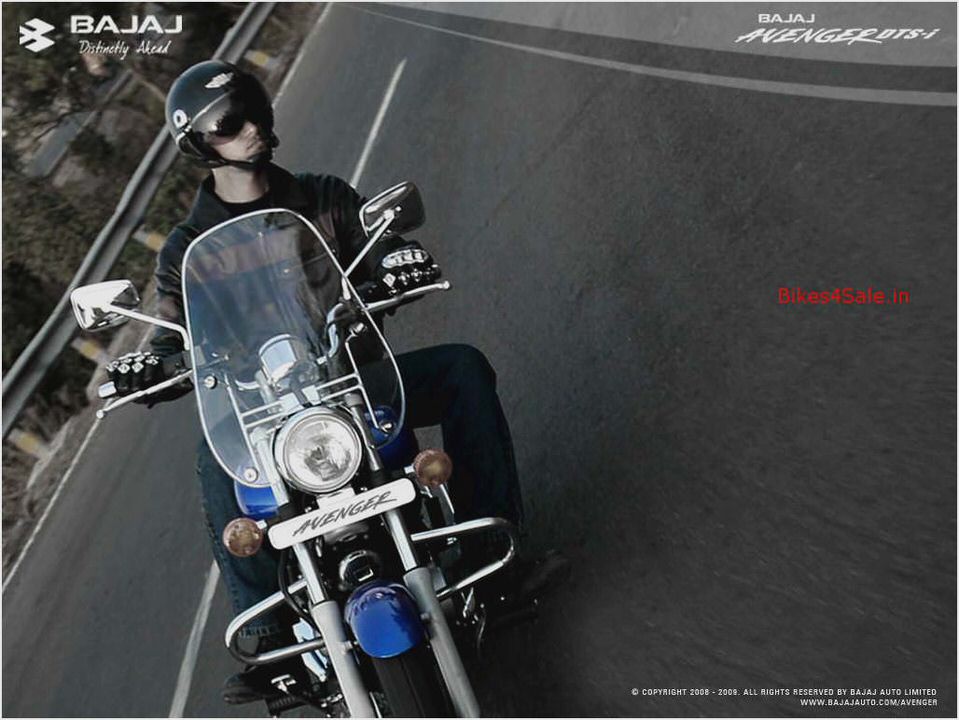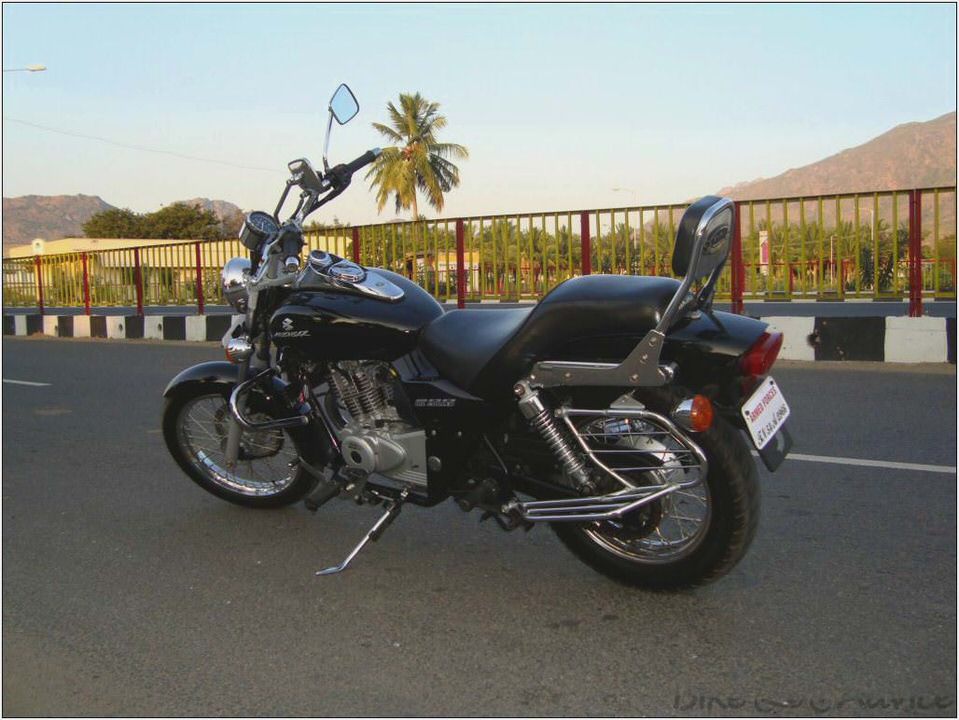 Bajaj Kristal Bajaj Kristal Price India Bajaj Kristal Reviews Bike…
Modern Vespa : New to me 1980 Bajaj Chetak
Bajaj Pulsar 150 Mileage Reviews
The Hindu : Kawasaki Bajaj Eliminator
Pulsar 220 Headlamp