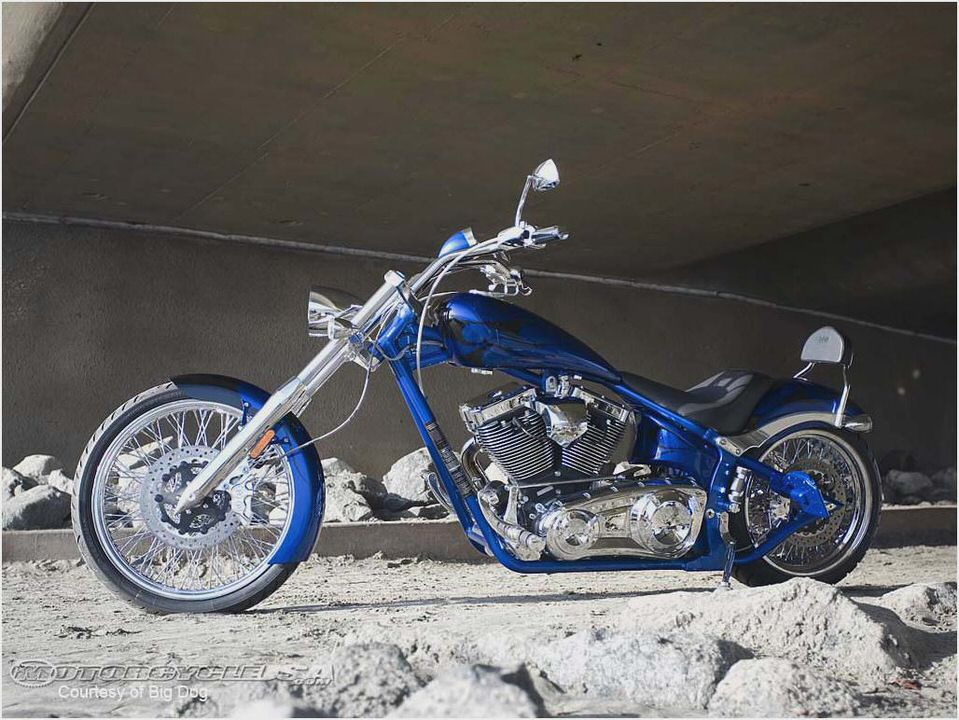 Your message has been sent!
In the Company's 2007 five bike line-up, four are crowned with 300 series rear tires and its flagship, the Bulldog, is reintroduced with EFI.
Big Dog Motorcycles, the leader in the high style cruiser niche and number 2 American V-Twin motorcycle manufacturer, unveiled its complete 2007 model line and made another giant leap forward in the premium motorcycle industry with fatter tires, new styling features, and new technologies.
"Big Dog Motorcycles created the benchmark by which other custom manufacturers are judged," commented Nick Messer, company president. "As the competition continues its crusade to catch up, we continue to set new, higher standards in terms of design and performance."
The entire 2007 line of two chopper-style motorcycles and three pro-street cruisers have all of the styling cues that clearly identify them as the work of Big Dog Motorcycles engineers: •
Aggressive Lines
Gleaming Chrome and Polished Aluminum
Radical Frame Rakes and Stretches
NEW Curved Downtubes
AND-Continuing a long Big Dog Motorcycles tradition- MASSIVE rear tires.
Four models – The Bulldog, K-9, Mastiff, and the Pitbull are marked with full foot-wide 300 series rear tires, while the Chopper has its own significant 250.
Pushing the envelope was not limited to style. Each model is armed with a potent 117 cubic inch V-Twin engine (1916cc) and refined Baker 6-speed transmission.
The engine, in most models, is fed by a Super G carburetor; the Bulldog is now electronically fuel injected for better performance, improved throttle response, increased torque, easier starting, and cleaner emissions.
The award-winning BDM Balance Drive System, with it's exclusive clutch, primary, and transmission enhances the bike's balance, agility, and lean angles, resulting in a motorcycle as comfortable devouring canyons as it is cruising down the boulevard.
The 2007 line also offers braking performance and other features to match. Two-piece full floating rotors and four-piston calipers give the rider unrivaled braking control, feel, and confidence. Other standard components include:
• a hidden oil tank
• rear mounted kickstand
• stretched one piece tank
• steel fenders
• speedometer with integrated LED tachometer
• custom-designed polished aluminum wheels
• Innovative Electronics
Chopper Line
Two custom-style motorcycles are available for 2007: the Chopper and its big brother, the K-9.
Big Dog Motorcycles' Chopper serves well as the 665- pound anchor to the company's ever-evolving chopper line. With it's hidden shock suspension and 250 fat rear tire integrated in a neo-retro chopper-style package, it is no wonder this bike is the industry's best all around Chopper. Its bold specifications: • 3" backbone stretch
• 8 ½ foot long profile
"With the Chopper, we proved Big Dog Motorcycles could offer a radical, fat-tire bike with stand out looks yet still be extremely manageable. Someone who is ready to step out of the mass market and step up to a chopper style cruiser should certainly be on this bike," said Messer.
More boldly styled, the K-9 has:
• 4" backbone stretch
• 8" Downtube stretch
• 12" over standard fork length.
• 9 foot long profile
These massive lines are given a more aggressive appearance with a low seating position, 39 degree frame rake with 3 degree trees, and a 300 series rear tire! The 700 pound K-9 equally balances its rebellion design with awesome ride quality and hidden shock suspension.
"With dramatic frame geometry and stretch, precise handling, and impressively smooth riding, the 2007 K-9 is positioned to draw an entirely different rider than the Chopper buyer: one who actively seeks the ultimate chopper experience," Messer continued.
PRO-STREET LINE
For 2007, Big Dog Motorcycles extends its ProStreet line to include the all-new redesigned Bulldog. The Bulldog joins the stalwart Pitbull and the new, beefier Mastiff to make an unprecedented trio of long, low, bikes. While they each sport a noticeably fat 300 series rear tire, it is there that the similarity ends.
Big Dog Motorcycles' premier bike, the Bulldog, confidently takes its place at the top of the line with big gains in unique design features and performance enhancements.
Named V-Twin Bike of the Year in 2005, the Bulldog is back after a full year of engineering to make it even better.
With an electronically fuel injected engine for more impressive performance, the Bulldog is also visually stunning with: • Diamond Heads diamond-cut engine cylinders
• Pointed inverted front forks
• Three dimensional sculpted aluminum wheels
• Curved Downtubes
This bike is long, low, and mean.
The redesigned Mastiff is stretched out long and low and shares the same frame as the Bulldog. Its unique design qualities include: • 6" backbone stretch
• 2" over standard fork length
• 8 ½' long stance
• 39 degree frame rake
• Curved downtubes
Add this frame geometry to it's 117 cubic inch engine, 6- speed transmission, and hidden shock suspension, and you have a bike that is remarkable not only for weekend boulevard riding, but is also a very athletic cruiser through mountain curves.
Sharing a family resemblance to the Mastiff and Bulldog, the 2007 Pitbull exudes a taut, powerful appearance and attitude but remains true to it's long standing identity as a wide tire, radical rigid.
From his massively fat back side capped with a short, low rear fender to its big 21 inch front tire and thick 1 ½ inch frame, the 650 pound Pitbull is cool in every respect.
Pitbull styling cues include:
• 117 cubic inch engine
• Low ground clearance and seat height
• Over 8 ½' long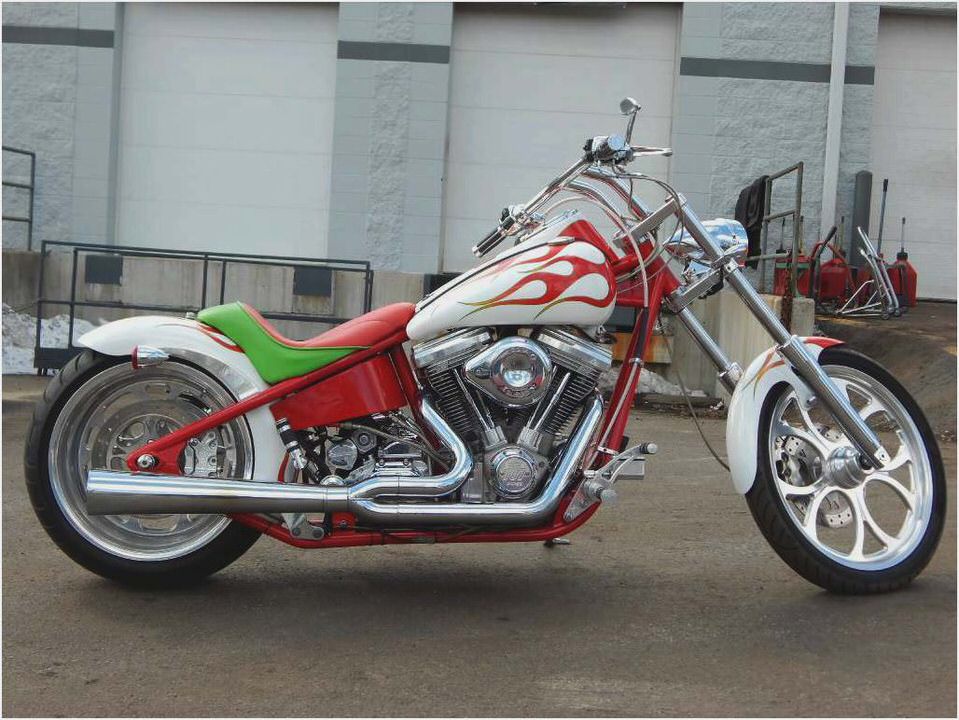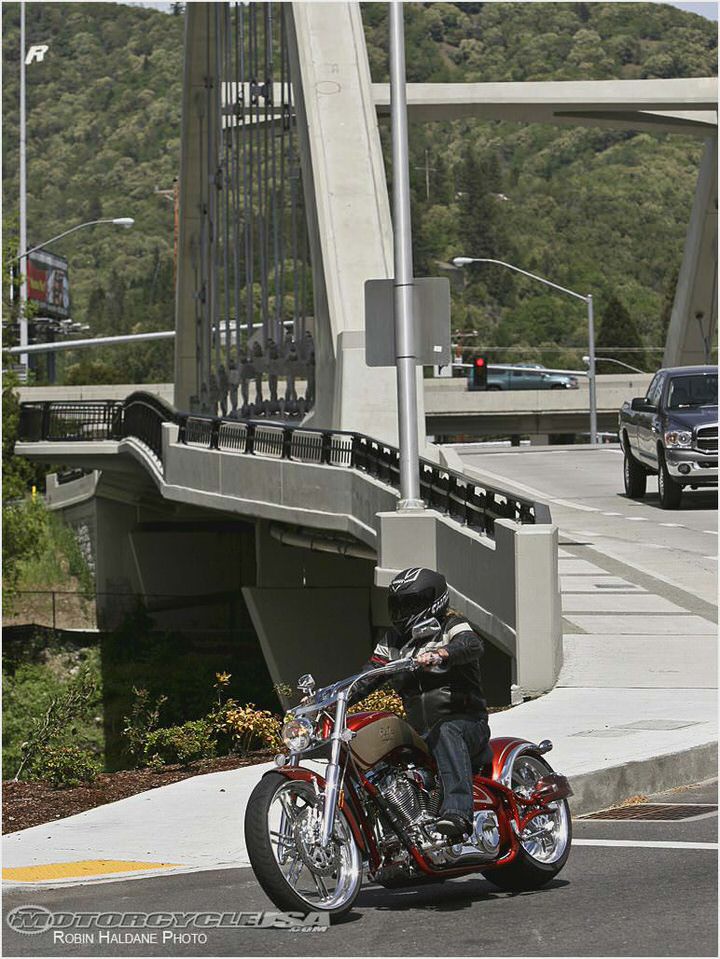 • 6" backbone stretch
• 39 degree frame rake
"The Pitbull brings a whole different attitude to the line: Rigid, radical, and fat. It's a true boulevard bike that will appeal to the rider who values bold design and shredding performance over anything else," Messer continued.
Regarding the complete 2007 line-up, Messer stated, "Our five models make up a unique strategy for the custom cruiser market. Each appeals to different types of customers, those with different attitudes, tastes, and riding demands, without forcing anyone to compromise on style or performance. "
Complete specifications for each model are listed here on this site under each models name. You can also check out www.bigdogmotorcycles.com or visit an authorized dealer.
Big Dog Motorcycles 2007 Bulldog Redefines the Pro-Street Custom Cruiser
After a full year of engineering, the long, low Bulldog is back with distinctive style features and electronic fuel injection
Big Dog Motorcycle announced that its award winning Bulldog, named 2005 V-Twin Bike of the Year and one of ROBB Report magazine's 2005 Best Bikes, receives improved performance and style details for 2007.
Most notably, the new Bulldog – with style refinements such as a massive 300 series rear tire and curved downtubes- is the company's first motorcycle to adopt electronic fuel injection.
"After the 2005 Bulldog won the industry's top award, it was a tough decision to take it out of the 2006 line-up," explained Nick Messer, President, Big Dog Motorcycles. "But we knew, with more engineering, we could make it even cooler. On the new Bulldog, we integrated sleek styling with more performance features and style refinements, and in turn, reinvented the pro-street custom cruiser."
"The new generation Bulldog is second to none," Messer continued.
Performance Amplified with EFI
The Bulldog's potency is born out of a heart-pounding 117 cubic inch engine ( 1,916 cc), a power plant common to all 2007 models. Exclusive to the Bulldog, however, is the custom V-Twin industry's most advanced electronic fuel injection system.
Monitoring both engine cylinders, the Bulldog's closed-loop EFI system constantly checks air temperature, engine temperature and speed, manifold vacuum, and- unlike the open-looped systems prevalent in the motorcycle community- uses an additional sensor to compare the amount of oxygen in the exhaust with the amount in the outside air. It instantly responds and delivers the precise fuel mixture to the engine under all riding and weather conditions.
The end result is better performance, improved throttle response, increased torque, easier starting, and cleaner emissions.
Baker 6
Working in perfect harmony with the fuel injected engine, the refined Baker 6-speed transmission brings the motorcycle up to speed without hesitation. The transmission is part of the company's BDM Balance Drive System, an award-winning drive train that gives the bike superior balance, agility, and lean angles- so even the most challenging curves are managed with ease.
Making the Best Even Better
Apart from it's amazing performance and riding dynamics, the aggressively styled, exceedingly nimble 8 ½ foot long, 700 pound Bulldog also shows head-turning superiority in it's looks.
Its frame geometry of a 6 inch backbone stretch, 39 degree frame rake, and extended fork length give the motorcycle its long, low stance. Its striking pro-street profile is emphasized with dual curved downtubes and a massively fat 300 series rear tire-the first of its size for a top of the line bike.
The company adds more flash with Diamond Heads diamond-cut engine cylinders; pointed inverted front forks; and three-dimensional sculpted aluminum wheels.
"Big Dog Motorcycles' renowned attention to detail has never been more clear than on the new Bulldog," Messer said. "Add the new performance features, and the bike is at the pinnacle of our engineering capabilities. The industry- and the neighbors- will certainly take notice."
Riders can customize their Bulldog with nearly seventy graphic options and a selection of vibrant base colors. Big dog also has availability to an extensive line of aftermarket accessories and performance upgrades. These include:
• Integrated air ride suspension
• Big Radius or Mean Mother exhaust systems
• Sissy bar and passenger seating
• Made-to-order custom seats
2007 BULLDOG-Spec Sheet
Electronic Fuel injection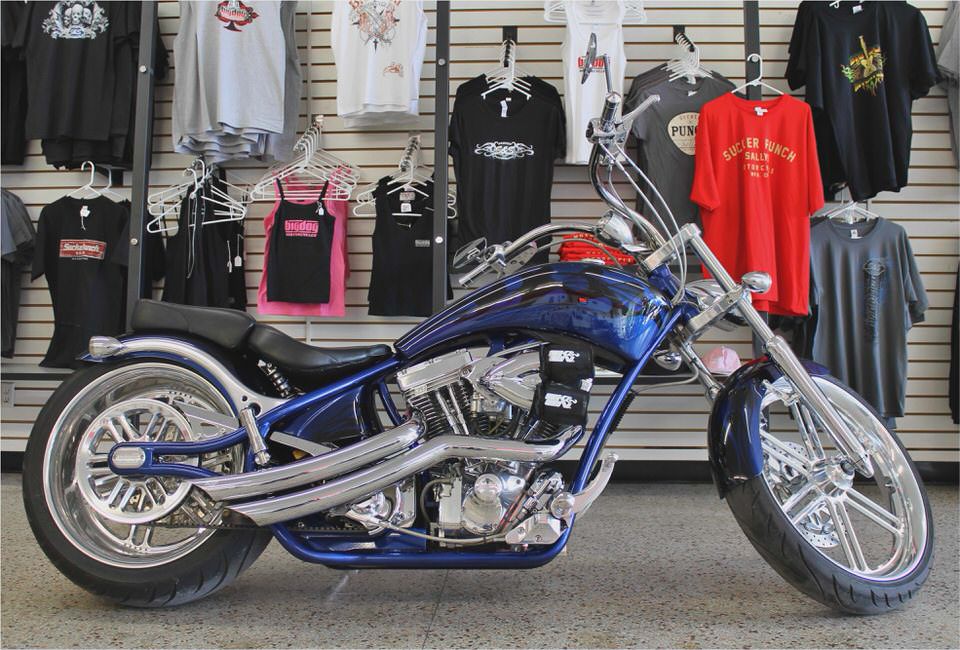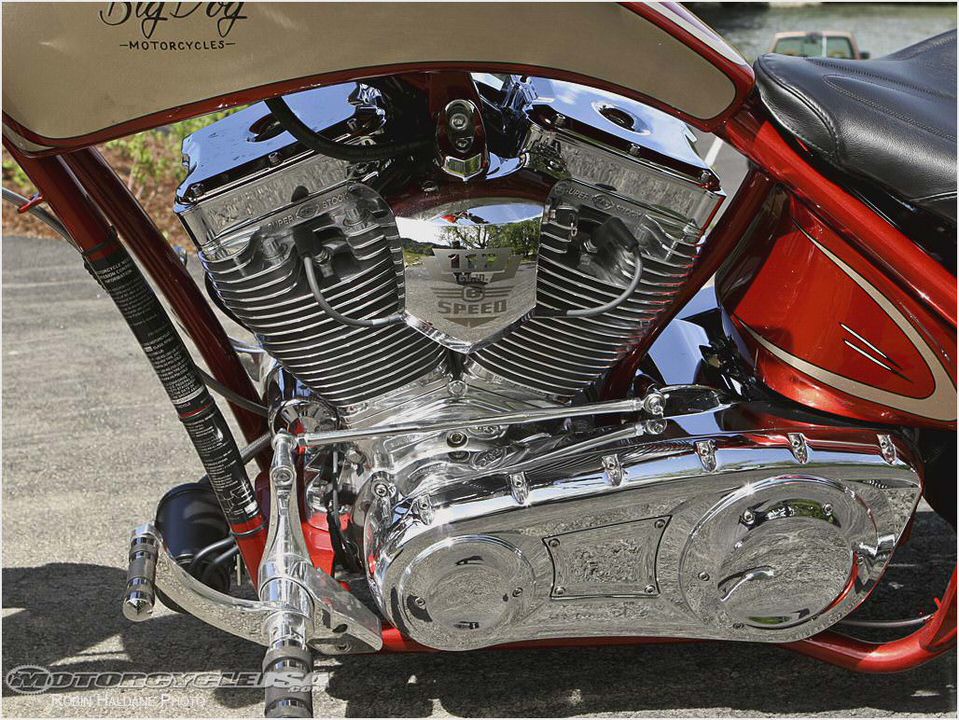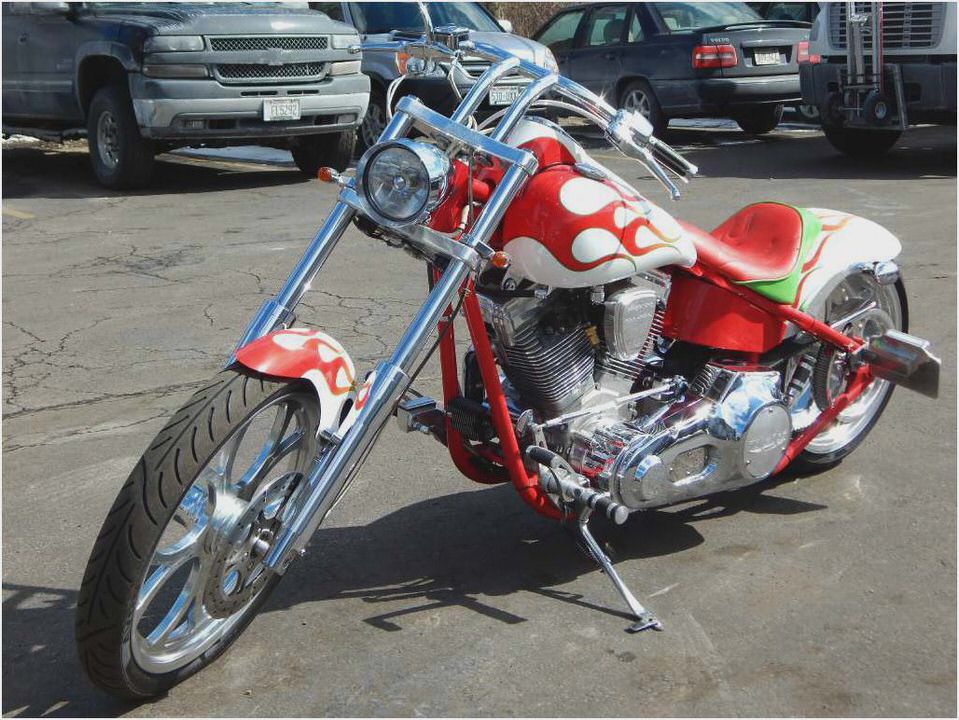 Used 2010 Big Dog K-9 – Reviews, Prices and Specs at Motorcyclist Magazine
Big Dog Motorcycle Parts & Accessories — Bike Part Locator
Big Dog Motorcycles Custom Motorcycle Fender
Native American Indian Names for Your Dog, Horse, Wolf, or Other Pet
Suzuki Parts – Motorcycle Parts