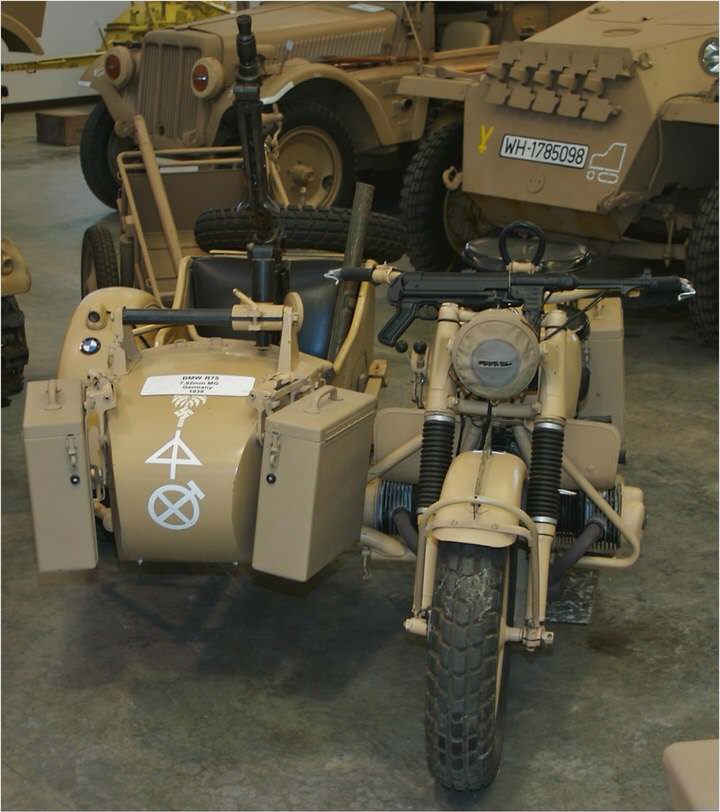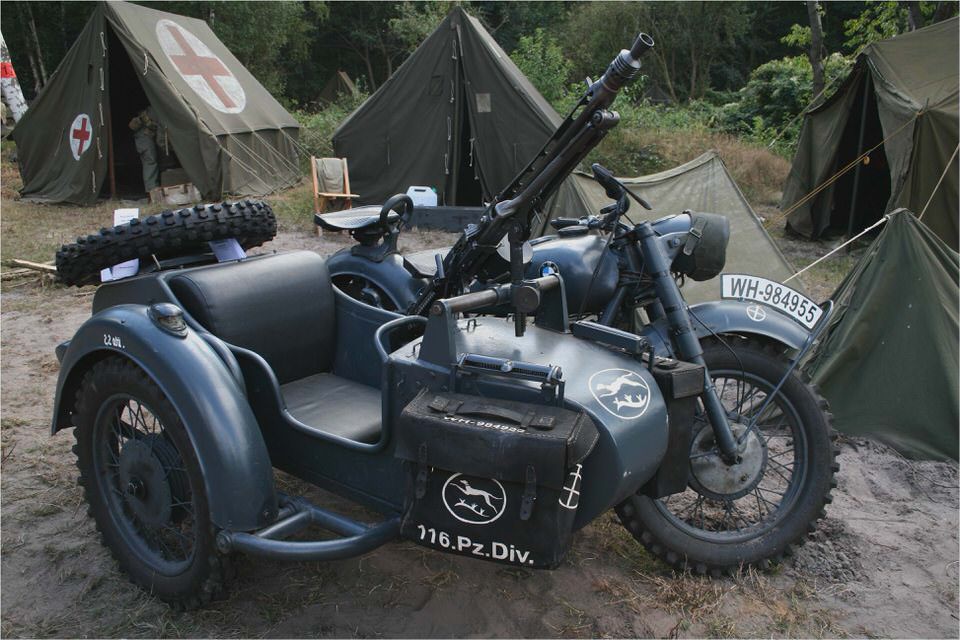 BMW R75 Wolfgang Ochendal
The development of the BMW-R75
Back in the Thirties, many European Armies began to improve mobility of their infantry by employing sidecar-motorcycles. In 1935 the German Army started their drafting program and motorcycle troops were established. Their goal was to bring three fully equipped soldiers up to the front line in very short time.
In the first year of World War II civilian motorcycles were (confiscated) painted army-grey and military equipped. Due to the great variety of models, many vehicles failed after short time on duty as spare part availability felt short of demand. Employment off-roads and/or extreme climatic conditions were just too much to cope for many of the civilian-type motorcycles.
In November of 1937 negotiations took place between OKH (= High Commend Army) and the industry (BMW and Zündapp) on the subject of
"heavy off-road motorcycle-sidecar rigs for army use"
Following specifications were fixed for the new to develop vehicle:
the VOLKSWAGEN tire-size 4,50 x 16 had to be used
front and rear mudguards had to have ample clearance, enough to be fitted with sliding-chains
tank to hold gasoline for a minimum of 350 km driving distance
top speed under full load to reach 95 km/h – sustained speed 80 km/h at "Autobahn"condition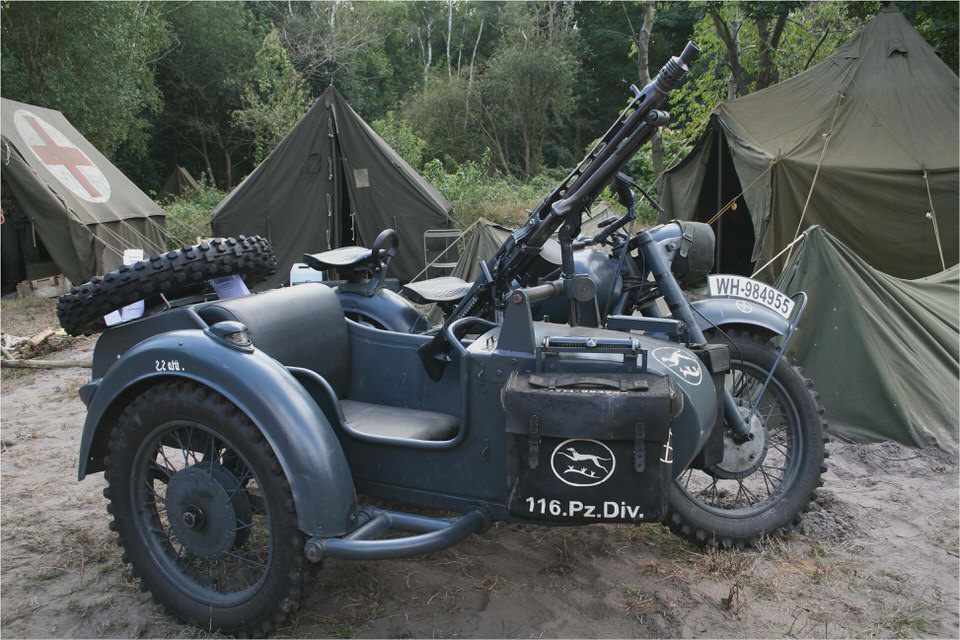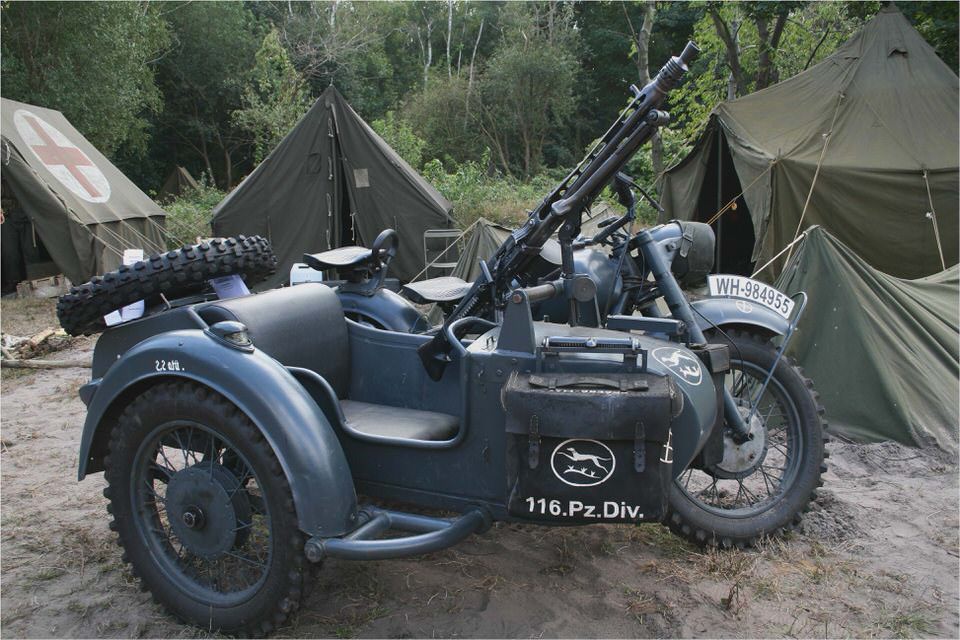 minimum ground clearance to be 150 mm
total pay-load 500 kilograms, of which 250 Kg (rider, co-rider, bags) for the motorcycle, and 250 Kg pay-load for the side-car.
As in 1939 the German-Army-Administration requested a report of developmental stage, BMW could already present a practical proposal. A sidecar prototype of 1934, designed for winter driving under extreme conditions, using a driven sidecar wheel, caught the attention of the army experts. Years of experimental research made this system ready for production.
This proven technique was an essential feature for the BMW technicians, in addition to the telescopic front fork developed a few years before. Compared to former leaf-spring design, its response in off-road driving was quicker and softer. The frame consisted of a detachable tube construction.
In spring of 1941 a bike of powerful appearance was ready to be moved to the front lines. It combined excellent
manoeuverability in addition to all other well known BMW handling features.
Due to encasement of all moveable parts, including telescopic-fork and universal drive shaft the bike kept insensitive and reliable under all driving conditions. Even moving with the troops at marching speed for hours, water-crossings, steep hills climbing, or high-speed driving on the "AUTOBAHN" did not effect operationall reliability.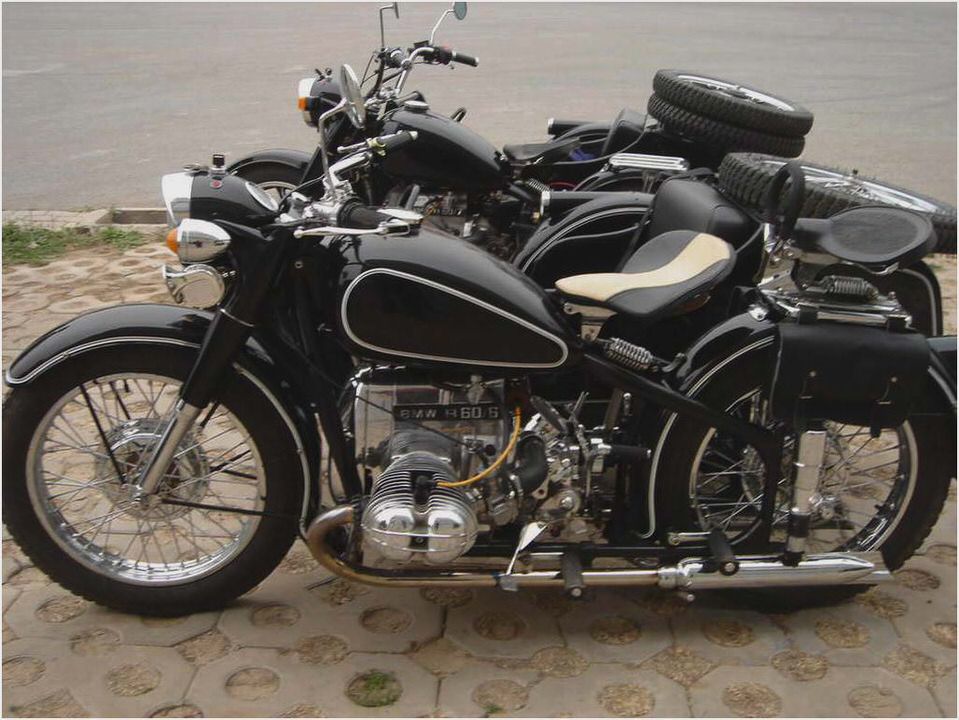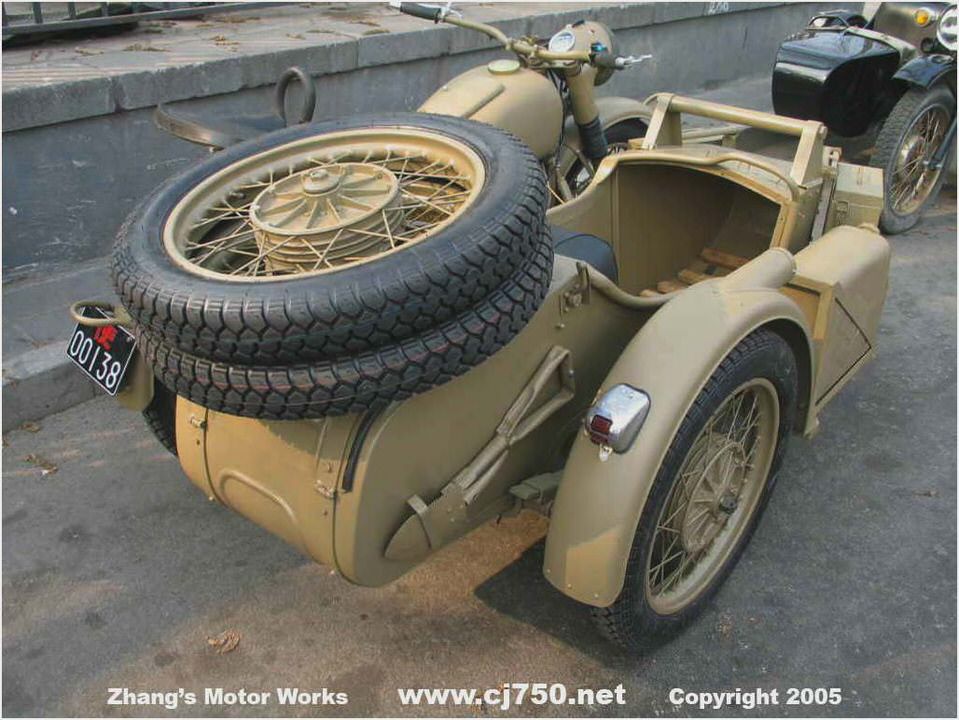 BMW R1200C brought to you by MadaboutMotorcycles
2009 BMW K1300GT Review –
2011 BMW R1200R motorcycle specifications and expected price DWS Motor
Racing in the Sidecar World Championship with S1000RR Power BMW Motorcycle…
Restoring a 1973 BMW R75/5 Motorcycle Watch the big ape break things!…