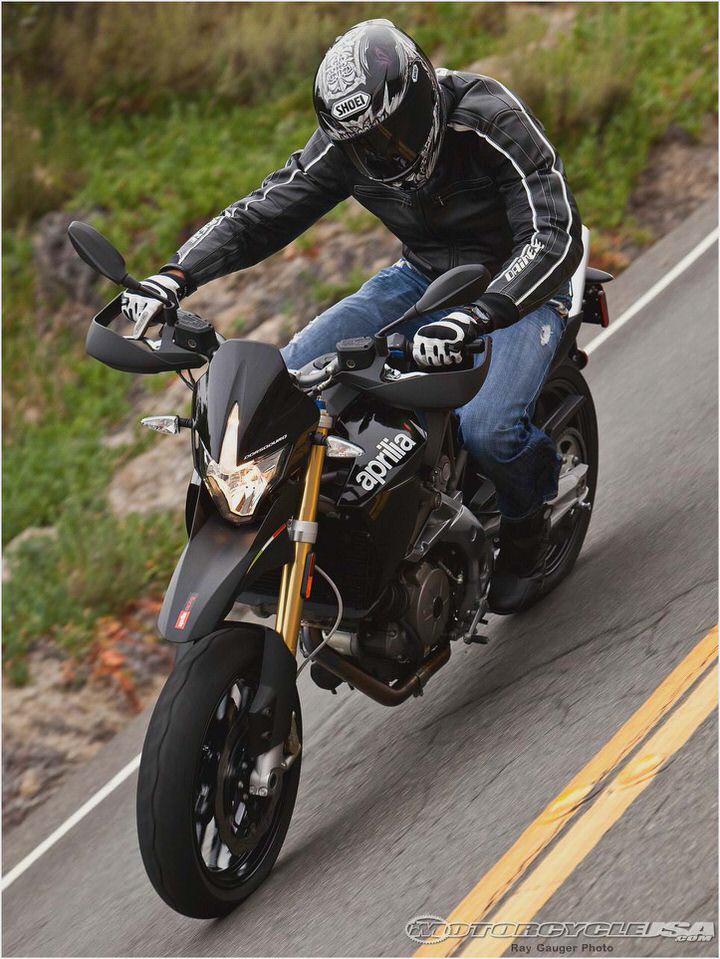 Review: Aprilia Dorsoduro 750 is a bike with multiple personalities
Aprilia Dorsoduro 750 Click above for high-res image gallery
We were more than a little excited to throw a leg over the new Aprilia Dorsoduro right after unloading it from the back of our trailer. After all, the last time we rode a supermoto bike from the Italian motorcycle manufacturer (SXV 550) we had a blast backing the bike into corners and lofting the front wheel at will. Plus, the Dorsoduro certainly has plenty of streetfighter attitude when painted up in our tester's all-black color scheme.
As such, we wasted little time firing up the V-twin engine, getting ourselves familiar with the controls and layout and setting out for a quick ride through the 'hood. Unfortunately, our excitement quickly turned into disbelief. The Dorsoduro literally tried to leap out from under us at every opportunity, and the throttle seemingly little more than an on/off switch was impossibly twitchy and difficult to modulate, almost as if we mistakenly filled the tank with Red Bull instead of 91-octane.
In other words, first impressions weren't particularly positive. Fortunately, we had a couple of weeks to get it all sorted out, and our opinion of the machine slowly changed. How so?
Click past the break to find out.
Gallery: Review: Aprilia Dorsoduro 750
Photos copyright 2009 Jeremy Korzeniewski / Weblogs, Inc.
Full power, all the time, completely undiluted. That's what we all want, right? Generally speaking, the answer is clearly Yes. Surprisingly, though, that's not necessarily the case with the Aprilia Dorsoduro.
You see, the sneaky engineers at the Italian company equipped this big-bore supermoto with a trio of engine maps that completely change the character of the bike with the flick of a thumb. As you might expect, we immediately dialed up the maximum setting, which unsurprisingly is called Sport. That designation is. an understatement, and the cause of our initial discontentment with the bike. Flick the switch again and you get the Touring setting.
What a difference a button makes. But before we get stuck in with driving impressions, let's take a quick walkaround.
The Dorsoduro isn't exactly what we'd call pretty; purposeful is a more apt description. Up front sits a sinister headlamp with tight, sharp bends and creases. Just below is a dirtbike-style high-mounted fender that should prove more than capable of keeping mud and muck off the rider's visor.
Move your eyes back a bit and you're met with a nicely integrated radiator that sits just forward of the liquid-cooled V-twin powerplant. The top of the bike is dominated by solid black plastic bodywork that leads to a stepless seat offering plenty of grip for the rider and actually proved significantly more comfortable than it would appear. Shorter riders may take issue with the 34.2-inch seat height, however.
Perhaps the most memorable styling feature of the Dorsoduro are its twin, high-mounted rear mufflers, which exit directly aft of the seat, forming a rear fender of sorts that takes the place of the expected plastic dirtbike unit. Bisecting the two pipes is a small and sharp triangular tail lamp, and all in all, each bit of the bike's bodywork is attractive and functional, but as a whole the bike lacks the style of competing machinery from the likes of Ducati and KTM.
The hard bits, though, are without fault. We love seeing the powerplant sitting front-and-center between the two-part composite chassis, made up of two aluminum plates that bolt to the engine and the beefy upper tubular steel trellis frame. It's very attractive in a purely functional kind of way.
Suspension bits include a 43 millimeter upside down fork that's adjustable for spring preload and rebound damping. Out back, a single side-mounted shock pivots directly on the swingarm with no linkage and is also adjustable in spring preload and rebound damping. Travel front and rear totals 6.3 inches, which is plenty to tackle anything you're likely to encounter in tough urban surroundings.
Braking duties are ably handled by 320 mm wave discs clamped down by four-piston radial calipers up front along with 240 mm wave rotor and single-piston caliper at the rear. The wheels are aluminum, measuring 3.5 inches wide up front with a 120/70 ZR17 tire and six-inches out back with a 180/55 ZR17 donut. Weight is listed at just a bit over 400 pounds dry, and we have no reason to doubt that figure.
As mentioned previously, there are three separate engine maps to choose from: Rain, Touring and Sport. It never rained here in sunny Phoenix while we had the bike (Monsoon? What monsoon?), and once we found the Touring setting our opinion of the powerplant went from '90s-era 500cc two-stroke GP monster to modern-day 800cc MotoGP scalpel.
We did use the Sport mode a few more times, and it makes sense when viewed as a part-time mode for attacking the twisties or for track duty. Otherwise, our suggestion is to leave the bike in Touring and forget it.
The liquid-cooled 90-degree V-twin is a gem. Quick revving, powerful and compact, this might be the ideal powerplant for a streetbike (when kept in Touring mode, of course) and every one of its claimed 92 horsepower shows up in full force when called upon in anger. Wheelies are but a flick of the wrist away in either of the first two gears.
There's 60 pound-feet of torque at 4,500 RPM, which means there's all kinds of power available at typical street speeds and pulling away from a dead stop is a breeze. Power falls off a bit at higher revs, but there's still plenty of grunt to leave traffic in your wake when cruising steadily on the highway. Clutch action is light and the six-speed gearbox was pretty much without fault.
We foresee great things to come from this family of powerplants, which can also be found in the standard-style Shiver, and rumor has it that the V-twin is set to get a bump in displacement to 1200cc in due time.
Handling is exactly as you'd expect from a large supermoto-style machine. Whether you choose to ride foot-out, Russian folk-style or knee-down, quickstepping through tight bends, you'll find a well-mannered and orderly dance partner in the Dorsoduro. Grip from both ends is impressive, though it's easy to break traction out back.
Changing direction takes place almost telepathically, but the flipside is a slightly busy ride at high speeds and plenty of straight-line corrections over undulating pavement — exactly as it should be on this kind of machine. Hitting the throttle when exiting turns is great fun, and the engine makes all kinds of beautiful Italian music — a deep contralto at low revs that slowly builds to a high-pitched glass-shattering soprano nearing redline.
We traveled with a couple of riders from time to time and could never hear their bikes over the Dorsoduro. We suggest you carry a stash of ear plugs under the seat if you're planning a full day's ride.
As you might imagine, long stretches on the freeway aren't nearly as enjoyable. While the seating position is completely rational and comfortable, there's no wind protection to speak of and you'll eventually find yourself squirming in the thin saddle. The frequent steering corrections also come into play on long, boring interstate travel.
Regardless, if you want a streetbike that can both rail through the morning commute with a banshee-screeching wail (Sport mode, naturally) and reliably carry you a few hundred miles to a far-away destination (that'll be Touring, thank you very much), Aprilia offers a full range of accessories, including fitted luggage.
All good things must come to an end, and so the Dorsoduro had to be handed back over to Aprilia. Our initial misgivings over the character of the bike's maniacal powerplant turned out to be completely unfounded. First impressions, as it turns out, are not always accurate.
And finally, the issue of dollars and sense comes into play. At its $9,599 asking price, this Italian is a downright bargain in its class of hooligan-style big-bore supermoto motorcycles, and we look forward to finding out what pleasant surprises Aprilia has in store for the 2010 model year.
Gallery: Review: Aprilia Dorsoduro 750
Photos copyright 2009 Jeremy Korzeniewski / Weblogs, Inc.
2011 Aprilia Tuono V4R APRC Review – Ultimate MotorCycling
Aprilia ETV1000 – CycleChaos
Aprilia France: The Tuono V4R disappears Motorcycles
Aprilia RS125-11 Motorrad Schwarz 2011 DIY Reviews!
2011 Aprilia Mana GT ABS Rider Magazine Road Test