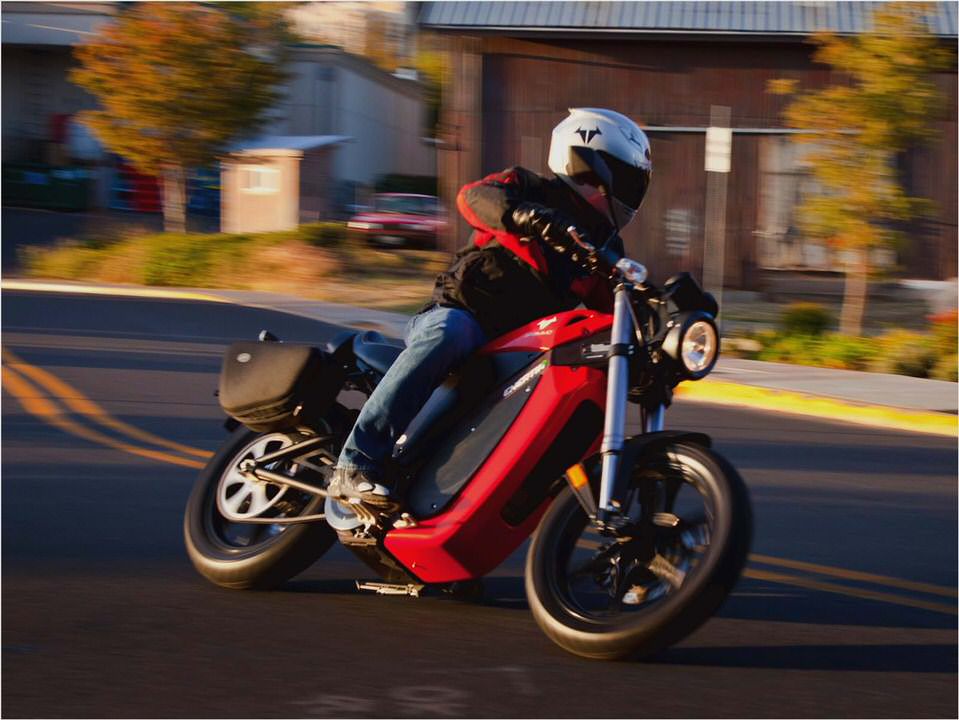 Brammo Tells Us More About Empulse e-Bike
I'm starting to fall in love (or at least very strong like) with electric motorcycles, and 2012 may be memorable as the year the e-moto came into its own. You read about the 2012 Zero S — the first production electric motorcycle with a genuine 100-mile-plus range, but you may have wondered about the Brammo we tested with it. The Enertia hasn't recieved a major update since 2009, eons in e-bike terms.
Well, you may have been following the saga of the Brammo Empulse. It broke cover in July 2010, as a cafe-racer-styled naked sportbike with dual disc brakes, inverted fork, alloy twin-spar frame and 100 mph top speed made possible by a trick liquid-cooled electric motor. Three versions, with six, eight and 10 kilowatt-hour batteries, would go on sale to the public in 2011.
So what happened? Focus groups. Where the Enertia is aimed at "aspirational" riders looking for a first bike, the Empulse is aimed at you, the serious enthusiast. And what a gearhead wants is the ability to shift gears and work that clutch, to feel the power going to the wheel. "Shifting is a big part of it," said Brammo CEO Craig "Brammo" Bramscher in a video interview, "if you grab for the clutch and it's not there, something's not feeling right." So the quest for a gearbox began.
Developing a gearbox that can stand up to the demands of an electric motor can be difficult — Tesla had a hell of a time — and in the end, a six-speed unit was chosen over a two-speed one. Two speeds is all you really need to be able to select between smoky burnouts or eye-watering top speeds when it comes to an electric motor, but Bramscher says "with the 6-speed gearbox, you can really make it feel familiar." But the premium components — like the Marzocchi Fork, Marchesini wheels and radial-mount Brembo brake calipers — will go on the production Empulse.
Another big change from the prototype is the lack of optional battery sizes. Only one size, a 10 kWh, will be offered. A modular battery design just didn't work, and anyway, after riding the bike — a lot — Brammo decided it just needed a full 10 kWh battery.
That gives riders the potential of going over 50 miles at sustained freeway speeds, or well over 100 in an urban test cycle. Normal charge time is 8 hours, but using a quick-charger — or a public charging station, as the Empulse is equipped with a J1772-compatible charge port — cuts the time to 3.5 hours, or 5 miles of range for every 10 minutes of charging.
The bigger battery means the bike will probably be in the $14,000 range, but those customers seeking a lower-priced urban runabout can opt for the 8 kWh Enertia Plus. And yes, you can switch your deposit over.
On May 8th, two new models — dubbed the Empulse and Empulse R—will be shown to the press and deposit-holders in Los Angeles, with journalists getting demo units during the summer. The distinction between the two models is unclear, but we were shown a snapshot of the redesigned Empulse, and we think you'll like it: think a lighter, tidier-looking Suzuki SV650, with clean, simple bodywork and a standard tube handlebar instead of the racy-looking clipons of the prototype. Of course, hataz' gotta hate, so there will be no shortage of juvenile jeering and cries of "fugly" from those who don't like change, but I think a whole new generation will be turned on (heh, heh) by this bike, and I wouldn't be surprised to find it is named bike of the year by more than one publication.
Brammo Unveils Powerful New All-Electric Motorcycle QUEST
Cool gadgets – Brammo Enertia Plus- Release Date, Price and Review…
Enertia Electric Motorcycle by Brammo Motorsports
Enertia Range Doubles For 2011 With Enertia Plus PlugBike.com
Girl On A Motorcycle: Brammo