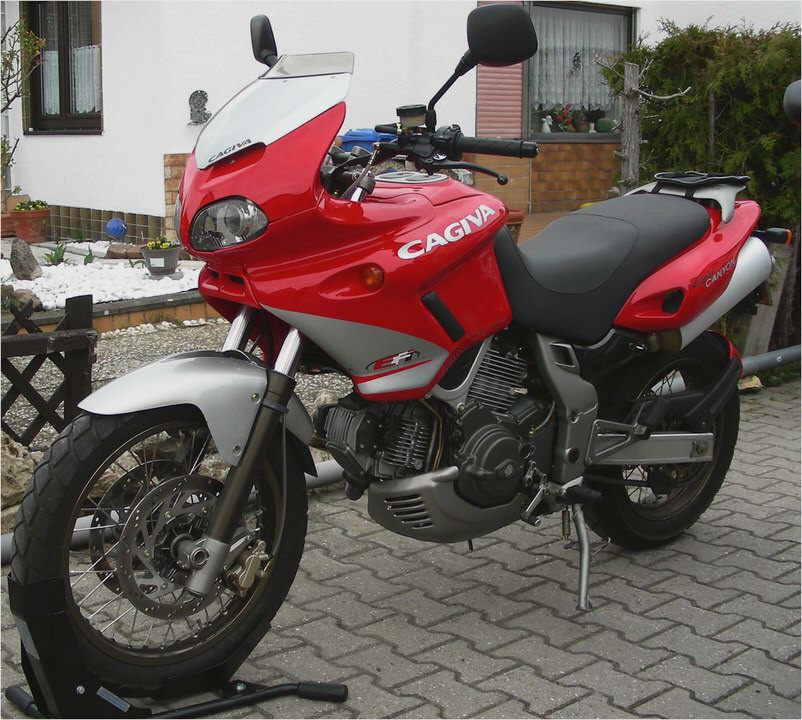 Two-Wheeled Sport-Ute, Italian Style
Where are all these Italian bikes coming from? Who left the screen door open and let all these Cagivas in here? Actually, they started arriving a couple years ago, and now Cagiva has 98 dealers scattered across the United States (also dealing in Husqvarna and MV Agusta) selling a range of scooters and interesting Italian transpo.
Top o' the line would be the Gran Canyon 900, powered by-you guessed it-Ducati's trusty 904. It's not the first time that motor's found its way into a sport-ute motorcycle; there was the Elefant and the 907 i.e. but the Gran Canyon feels like the most functional by far. While many bikes of this ilk-with the notable exception of BMW's GSes-wind up feeling all gangly and mushy when ridden hard, the Canyon has a nice, firm set of suspenders controlling its 6.7 inches of travel at either end: a Marzocchi fork with 45mm sliders up front, and a Sachs single shock out back.
Cagiva says the GC emphasizes the sport in sport-utility, and it's not just blowing hot PR. The thing scoots down twisty roads and doesn't become all discombobulated when you grab a few fingers of nice, firm Nissin calipers and 296mm discs while leaning into a corner. We didn't take the Canyon off pavement, but it feels like it wouldn't be so bad if you did, particularly with its near-knobbish MT80 Pirellis-19-inch front, 17-inch rear.
In fact, it feels like it would be pretty good. At 516 pounds all gassed up, the Cagiva undercuts BMW's latest GS by 70 pounds, and the Triumph Tiger by 34. And you sit farther forward over the Canyon's front wheel, too, which heightens your misplaced feeling of control.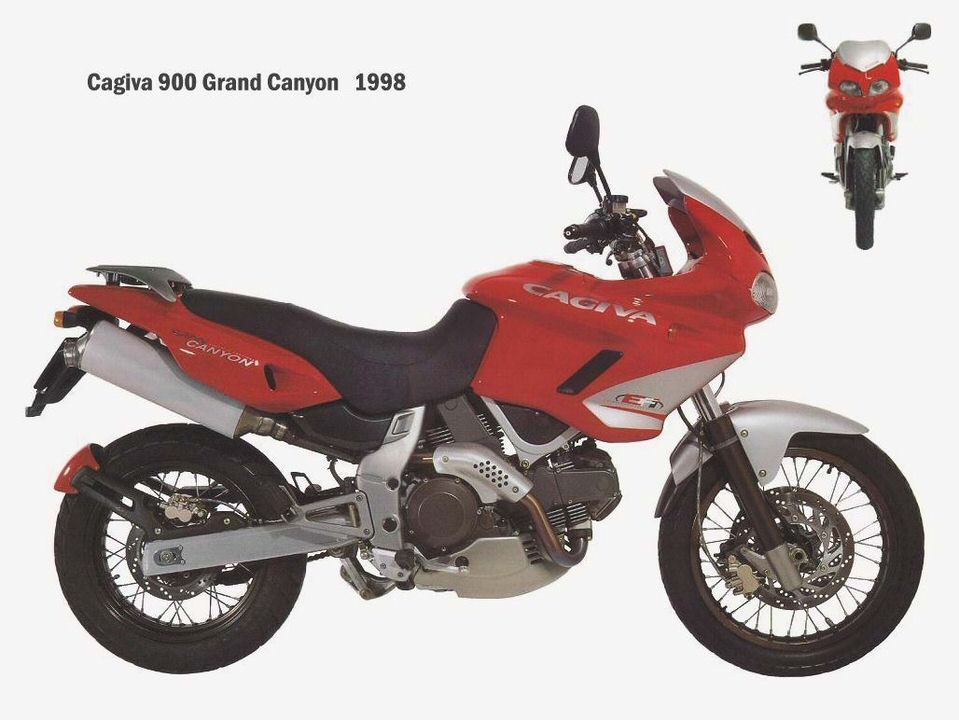 We're gathered here to praise that engine, of course, and in this application it's excellent yet again. Fuel-injected just like the Monster, and cranking out just about the same amount of horsepower, the Gran Canyon gives instantaneous throttle response and the sort of broad, flat torque curve that's ideal for this sort of bike.
At 33.5 inches, the seat's up there a ways, but once you manage to climb on you can sit there a long time checking out the nice cockpit and analog clock. Footpegs and handlebar ends are in places that make perfect sense. So of course something has to be nasty and that thing is the windscreen, which dumps blustery air right into your face shield above 75 mph or so; easily remedied, and once done the Gran Canyon 900 should be a fine long-distance runner.
Its plastic fuel tank holds 5.3 gallons-good for well over 200 miles-and Cagiva will sell you matching hard saddlebags and trunk (from the T model available in Europe) for $949.95. That's pricey, until you look at the price of the bike: $8995 is the cheapest deal you're going to find for a 904 Ducati-powered anything. Check www.cagiva usa.com for your closest dealer.
Cagiva Gran Canyon 900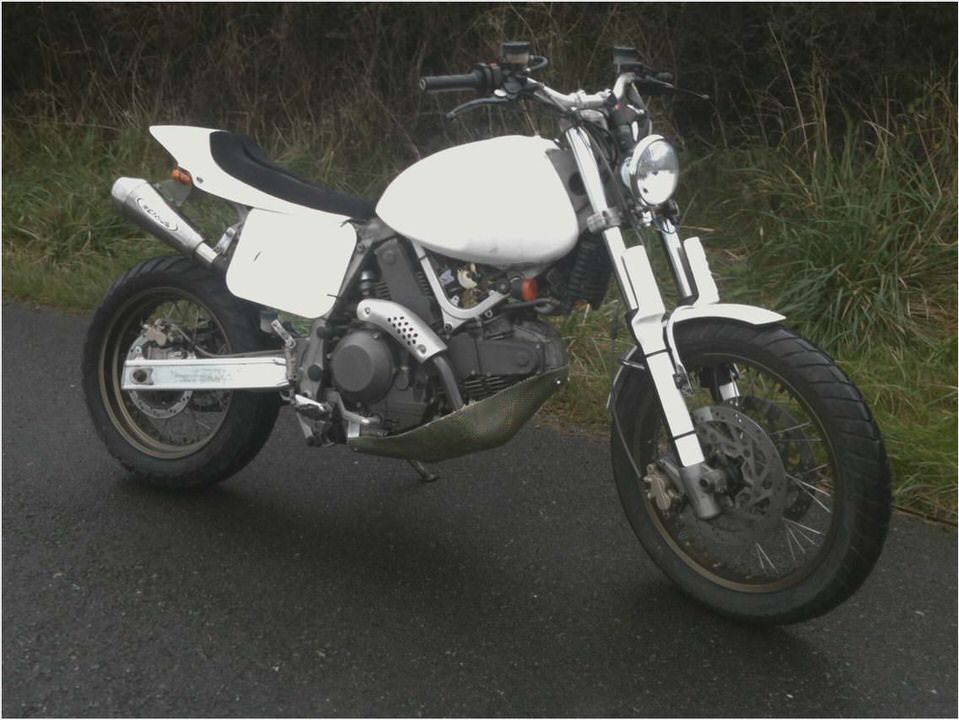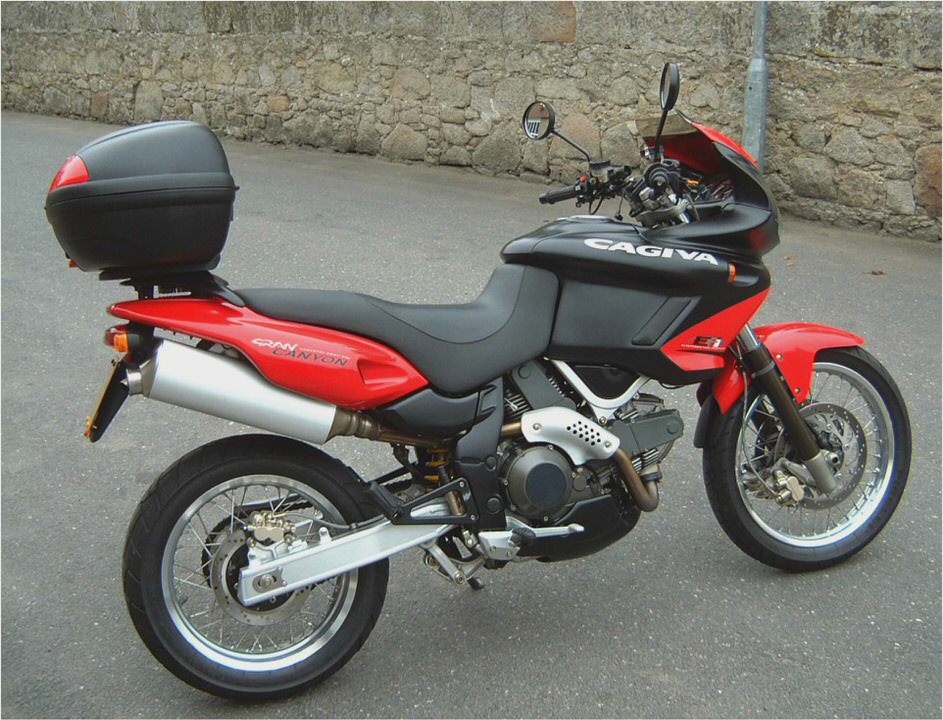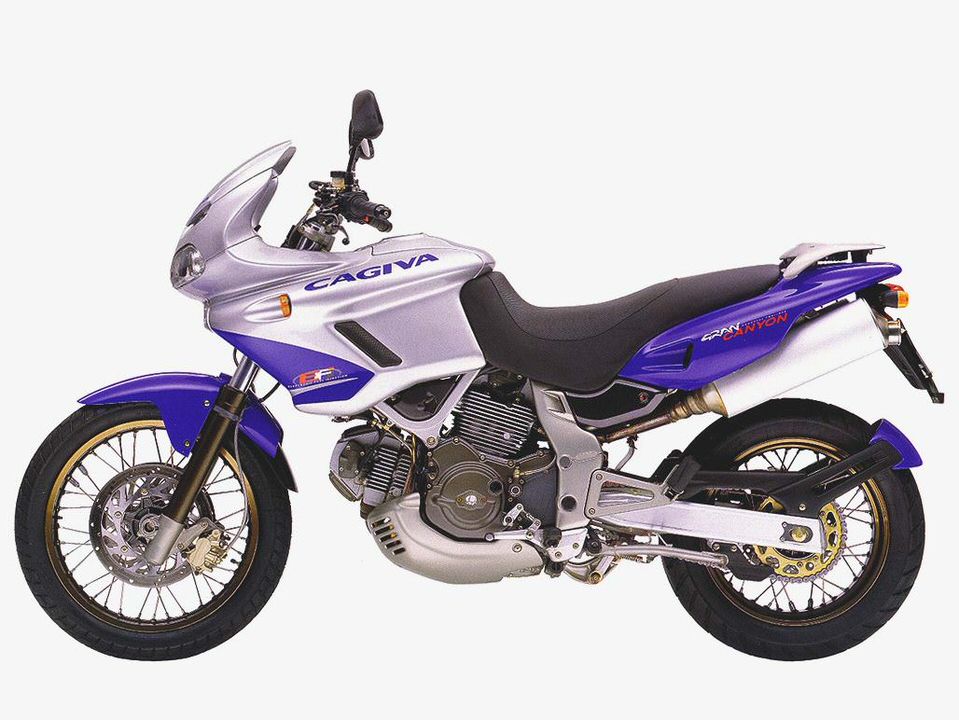 Cagiva 125 Freccia C12 R
Gavin Robertson
Under Construction
Ducati Alazzurra GT 350/650 Repair Manual