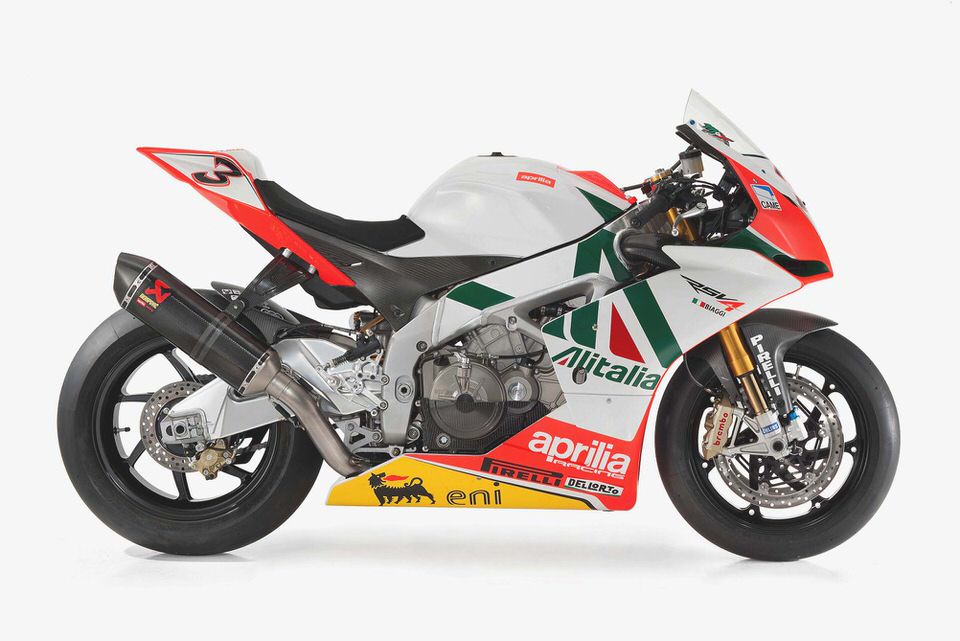 video Alitalia RS4V Walkround.mp4
Tenemos uns nueva hiperexclusiva APRILIA en el mercado, 50000€, al nivel de la DESMOSEDICI. pero sólo de carreras.
APRILIA RACING RSV4 BIAGGI REPLICA IS BORN
From the efforts of Aprilia Racing in World Superbike the RSV4 Biaggi Replica is born, the twin sister of the bike with which the Corsair competes and wins in the factory bike world championship. An exclusive object, a true race-ready bike into which the knowledge, technology and the research capability of the Noale Racing Division are condensed, the greatest and most advanced in Europe for motorcycle racing.
Gigi Dall'Igna, technical and sport manager of Aprilia Racing has signed this project: With the RSV4 Biaggi Replica we offer the sports enthusiast a motorcycle which is as close as you can get to the RSV4 that Max rides on the track in World Superbike. In this project, which was developed in parallel to our re-entry into SBK, we poured out all of our knowledge and years of experience on tracks all over the world. This is the bike which came out of it, conceived and developed within Aprilia Racing to offer unique sensations to the shrewd user.
Intended for a skilled audience, Aprilia Racing RSV4 Biaggi Replica is born to provide racing emotion even outside of the world of competitive sports, but it can be considered an excellent starting point to take on national Superbike Championships. There is always a possibility of continuous updates and enrichment thanks to the ample Aprilia Racing catalogue.
Aprilia Racing RSV4 Biaggi Replica develops 200 horses and weighs 175 kg in motion with an empty tank. The carbon fairing contributes to this result and is available both in the carbon look version and the attractive version in the Alitalia livery of the Official SBK Team. Aprilia Racing RSV4 Biaggi Replica was conceived exclusively for track use.
It can be used as an entry level for the SBK class in accordance with FIM regulations and is available from Aprilia Racing at a base price of 50,000 Euro.
Set-ups and outfits are adapted to the needs of the rider down to the minimum details right from delivery which takes places directly in Aprilia Racing.
The RSV4 Biaggi Replica's Aprilia V4 65° engine puts out the power of 200 horses (+20 compared to the street version) and 125 Nm (+10), absolute reference values which confirm the sporting quality of this engine. The bike maintains the four 48mm Weber-Marelli throttle bodies, activated by a ride by wire system, two injectors per cylinder and adjustable height intake ducts.
The Aprilia Racing digital APX on board computer permits management of the mapping and engine control via Ares software, while the wiring was significantly lightened. The Akrapovich 4-2-1 titanium sport exhaust contributes to the increase in performance with a single side silencer in carbon and titanium.
The extractable six gear transmission is combined with a multi-disk oil bath clutch with a mechanical anti-skipping system. The RSV4 Biaggi Replica has QuickShift assisted shifting which allows the gear to be selected without letting off the gas.
The Aprilia Racing RSV4 Biaggi Replica frame is an aluminium double rail with cast and pressed elements. There are many adjustments to adapt the rider to any racing need: headstock position and angle, engine height and swingarm pin height. Even the machined from solid foot pegs, like the conical handlebars are completely adjustable.
The suspensions section is no less. On the front we find an Ohlins fork with 43mm stanchions and Tin surface treatment, adjustable pre-charge, compression and extension. The internal cartridges are pressurised Ohlins Racing cartridges with dedicated calibration and the calliper mounting brackets are in forged aluminium with radial calliper mounts.
The front fork is assembled with a superior lightened Racing steering yoke.
On the double braced swingarm, made with a mixed technique of casting and plating, an Ohlins TTX36 mono-shock absorber operates, adjustable in spring pre-charge, offset, compression and extension with dedicated calibration. The suspensions operate via a progressive APS linkage.
The braking system uses Brembo technology with radial attachment single body callipers and sintered pads which operate on 320mm front floating disks. These have a lightened stainless steel braking surface and a flange in aluminium. Even the master cylinder is radial with woven metallic brake lines.
The radial Pirelli Diablo SBK tyres, 120/75 on the front and 190/65 on the rear, are wrapped around Marchesini forged magnesium alloy wheel rims with a seven spoke design and anti slip treatment.
Aprilia Racing has always been a key player in applied electronics technological research. The new RSV4, and specifically the Biaggi Replica version, continues the trend of a tradition built on excellence and firsts. The first to adopt the cable free Ride by wire gas control, Aprilia reaches a new level in electronic control of the bike with the RSV4.
The digital APX on board computer made by Aprilia Racing allows the use of advanced vehicle management strategies including: TCS traction control, QuickShift assisted shifting, Antibacklash system, engine brake and pit lane speed limiter. All of the parameters can be modified with the button panel on the handlebar or the dedicated Aprilia Racing Palm. The excellent strategy management from a racing point of view is possible thanks to a data acquisition system relative to the main engine and vehicle parameters, signals which are then managed by the ABM lite software.
APRILIA RACING RSV4 Biaggi Replica – TECHNICAL DATA
Engine: Aprilia longitudinal 65° V-4 cylinder, 4-stroke, liquid cooling system, double overhead camshafts (DOHC), four valves per cylinder
Bore x Stroke: 78 x 52.3 mm
Total displacement: 999.6 cc
Maximum power at the crank: + 20 HP (more than production bike)
Maximum torque at the crank: +10 Nm (more than production bike)
Fuel system: Sealed airbox pressurized by two front dynamic air intakes. Four Weber-Marelli 48-mm throttle bodies actuated by "ride by wire" system, two injectors per cylinder and variable length intake ducts controlled and customizable by ECU device.
Ignition: One spark plug per cylinder powered by "stick-coil"-type controlled by Aprilia Racing Engine ECU APX2. Possibility of customization of ignition and injection tables and engine management parameters via ARES software. Light weight racing wire harness and dashboard showing laptime as well as main engine information.
Vehicle Management: Presence of enhanced vehicle management strategies: QuickShift, TCS, AntiBacklash, Engine Braking, Distance Based, Gear Power Reduction, Speed Limiter for Box Entry. Possibility of fast parameters modification with Aprilia Racing Palm system and handlebar switches.
Data Management: Acquisition of engine and vehicle working parameters for optimized vehicle management and strategies. Acquisition Data Management via ABM Lite software. Starting: Electric.
Exhaust: Akrapovich titanium 4 into 2 into 1 with single lateral carbon-titanium silencer.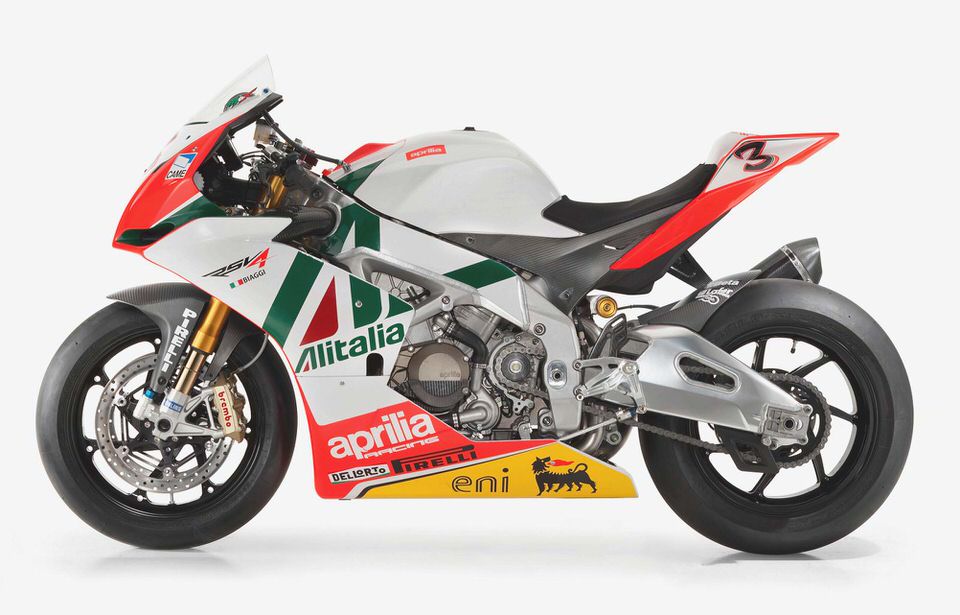 Generator: Flywheel mounted 420W alternator with rare earth magnets.
Lubrication: Wet sump lubrication system with oil radiator and two oil pumps (lubrication and cooling).
Gear box: 6-speed cassette type gearbox 1st: 39/15 (2.6) 2nd: 33/16 (2,063) 3rd: 34/20 (1.7) 4th: 32/22 (1,455) 5th: 34/26 (1,308) 6th: 33/27 (1,222) with "quick shift" sensor.
Clutch: Multi-disc wet, with mechanical slipper system.
Primary drive: Straight cut gears and integrated flexible coupling, drive ratio: 73/44 (1,659).
Final drive: Regina Racing drive chain with final drive ratio: 40/16 (2,5)
Frame: Twin-spar adjustable aluminum frame, with castings and pressings. Envisaged adjustments: • headstock position and rake • engine height • swingarm pin height. Adjustable racing footrest. Racing handlebar and mount with conical coupling. Öhlins adjustable steering dumper with dedicated damping stack.
Measure: wheelbase: 1440mm, steering angle: 24.5°, trial: 105mm, seat height 880mm.
Front suspension: Öhlins upside-down fork adjustable in spring preload, compression and rebound. 43-mm inner tubes (with Tin surface treatment) equiped with pressurized Ohlins Racing cartridges with dedicated damping stack and forged aluminum radial caliper mountings. Wheel travel: 120 mm with Racing upper triple clamp
Rear suspension: Twin sided aluminum swingarm; mixed low thickness and sheet casting technology. Öhlins Racing TTX36 shock adjustable in length, spring preload compression and rebound with dedicated damping stack. APS progressive linkages. Wheel travel: 120 mm
Brakes: Front: Dual floating disk with 320-mm diameter lightweight stainless steel rotor and 6 pin aluminum flange. Brembo monoblock radial callipers with 4 34-mm pistons and racing sintered pads. Radial pump and metal braided brake hose.
Rear: 220-mm diameter disc; Brembo caliper with two 32-mm pistons with racing sintered pads. Pump with integrated tank and metal braided hose.
Wheels: Marchesini 7 spokes Forged Magnesium rims with "anti slip" treatment. Front: 3.5"x16.5" Rear: 6.25"x16.5"
Tyres: Radial tubeless Pirelli Diablo SBK. Ant: 120/75 R 420, Post: 190/65 R 420 Weight: 175 kg (in riding condition with empty fuel tank). Weight distribution 52% front, 48% rear
Fuel tank: 17 liters capacity with racing fuel cap
Fairing, seat, rear cowl and engine protections: Carbon fiber fairing, single seat and rear cowl. Carbon-Kevlar engine protection.
Other parts: Footrest Racing Kit, Handlebars Racing Kit, ECU handheld setting device, bike stand and Aprilia Racing bike cover.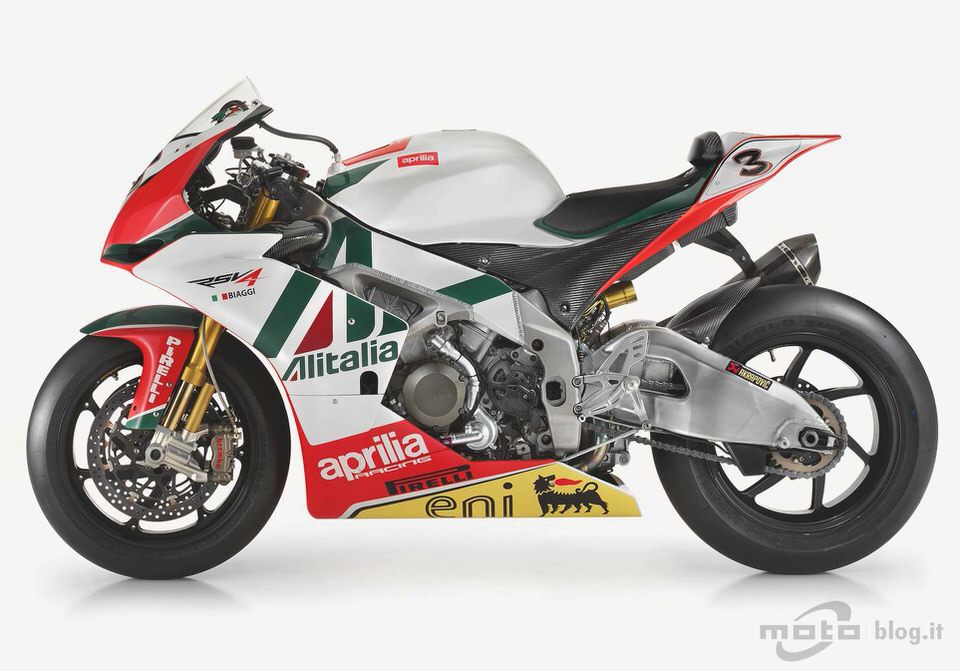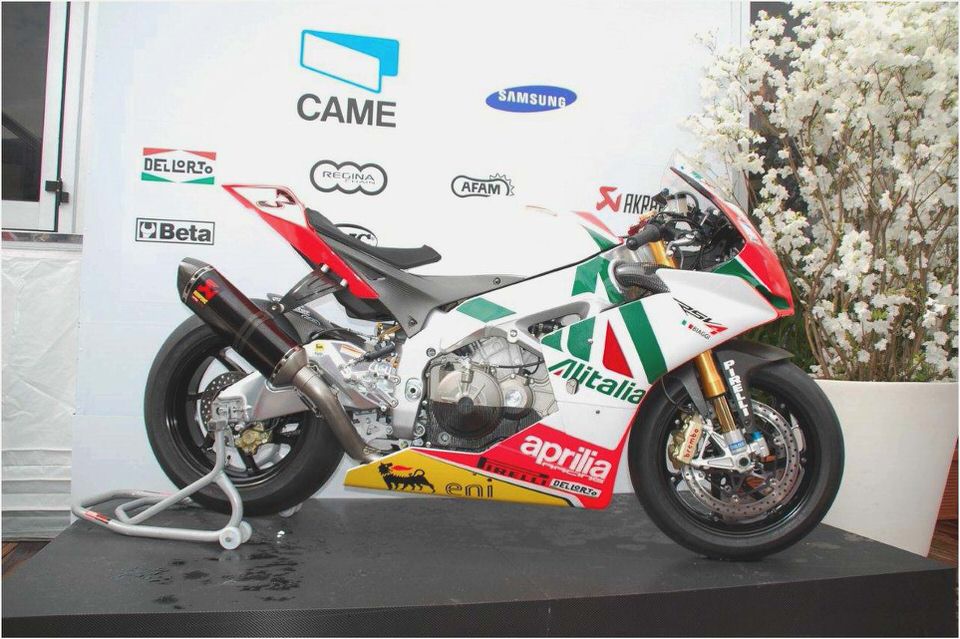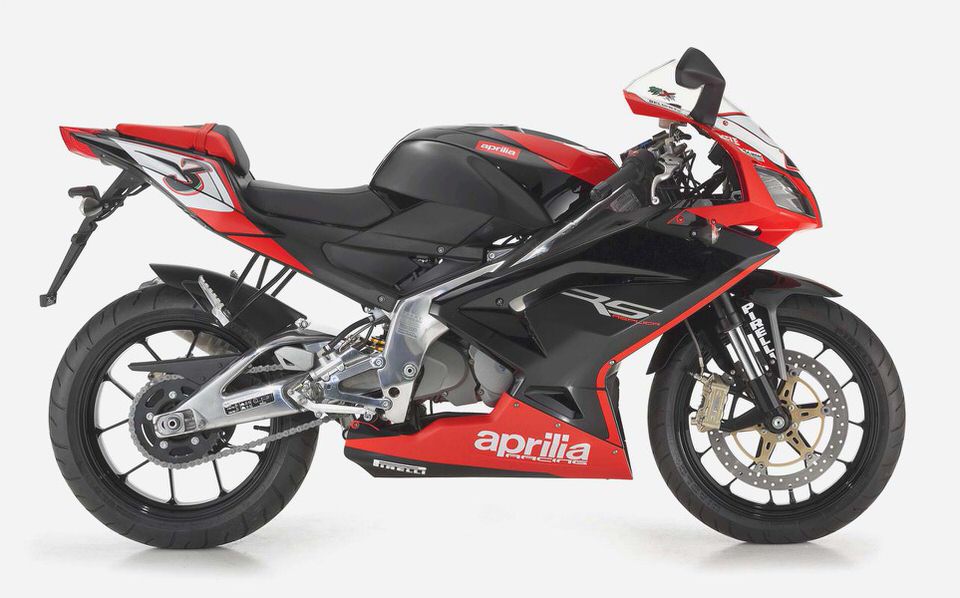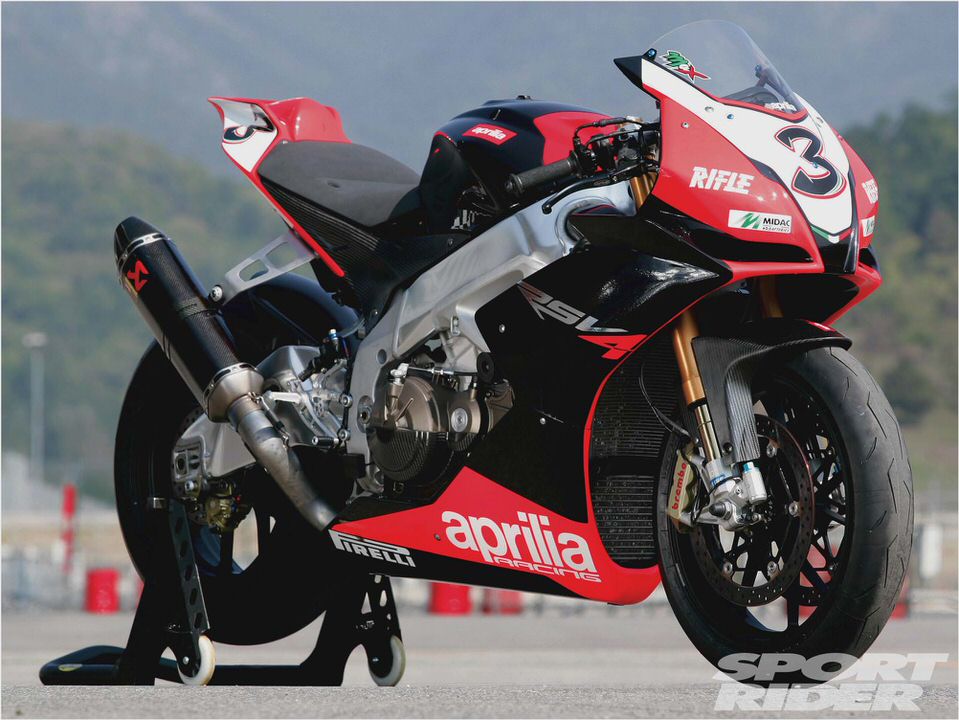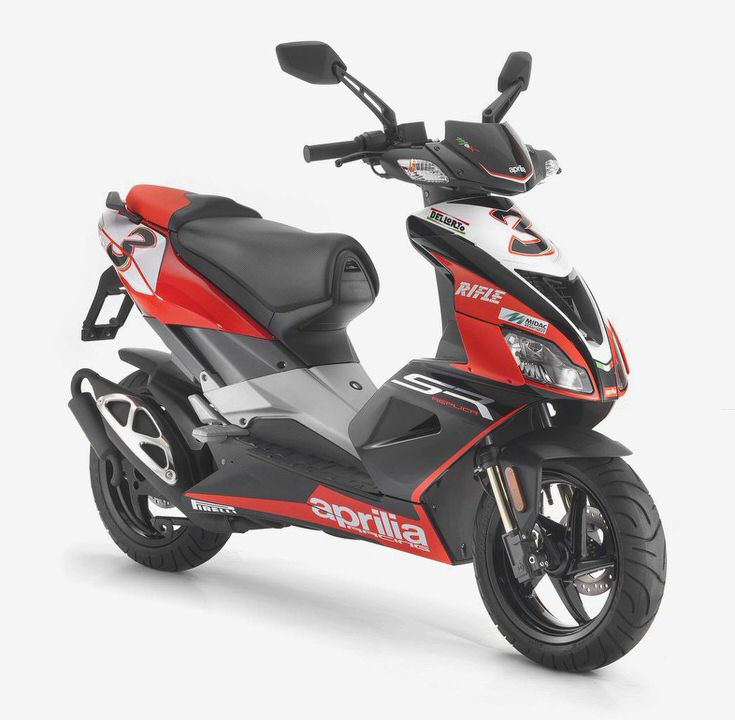 Frugal Fuelers: Aprilia SportCity 250 – First Look
Aprilia MX125 – CycleChaos
Aprilia Mana 850 GT ABS vs. Honda NT700V ABS- Comparison Tests
Replica Aprilia RSV4 Biaggi Motorcycles
Used Aprilia naked – road motorbike reviews, used Aprilia motorcycles…