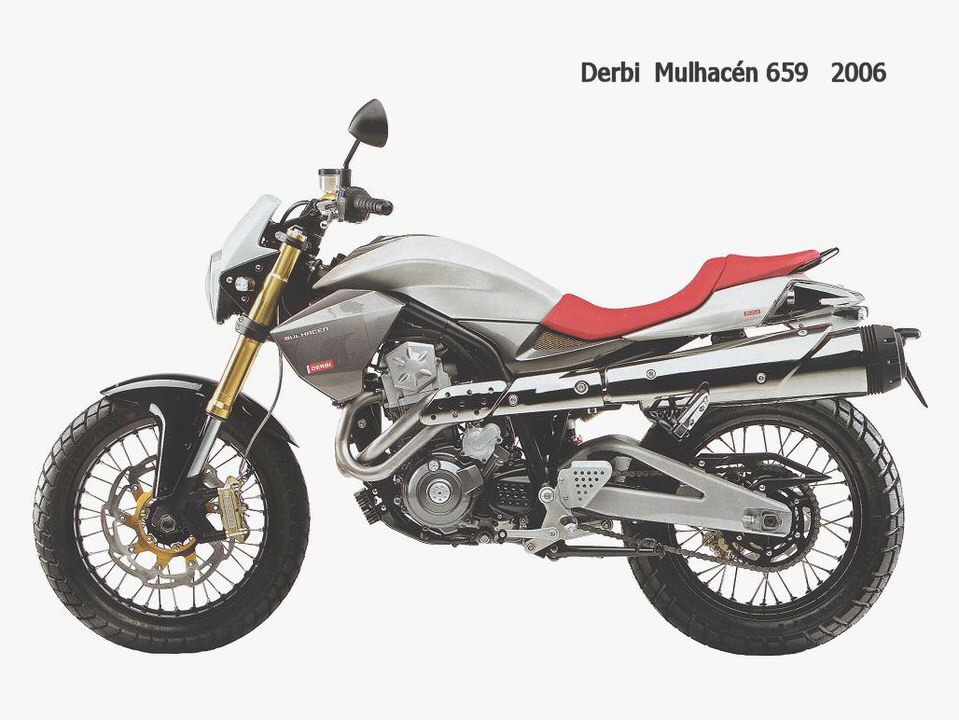 Derbi Mulhacen 659 (2007 – present)
"A Derbi Mull-who-son?" I queried. "It's pronounced Mull-hass-en," said Tim, clearing up how to say it properly. Cheers.
The Mulhacen is the result of a styling exercise gone public. Displayed at the 2004 Munich show the bike received a fantastic public reaction and won an award from the Motorcycle Design Association (MDA). This positive feedback was enough for Derbi to push it into production, turning their flat track fantasy into the largest-engined Derbi ever produced.
Eighteen-inch spoked wheels, fat tyres and a very Supertrapp-like exhaust all instantly connect you with the bike's flat track inspiration. The Derbi logo on the headlight cowl however has its roots firmly set in the Spanish scooter and 125cc market, but in all Derbi have got the styling nailed on the Mulhacen. Although that's achieved not without a few practical sacrifices.
Firstly the seat has more in common with a slice of chorizo than somewhere to sit while riding. Within half an hour numbness sets in and no amount of shuffling will remedy it. The pegs are nicely placed but your calf will get hot on the exhaust, unless you ride everywhere on the balls of your feet.
The digital clocks look tiny at first but you soon adjust to the size and layout. You can also select from eight different levels of backlight brightness to illuminate the dash with a clinical white glow
The riding experience is a mix of comedy wheelies, pointless skids and practical, funky motorcycling. The Derbi uses Yamaha's 660 engine. The fuelling is spot-on, really smooth, with injection re-mapped specifically for the Mulhacen.
There's bags of torque at the bottom of the rev range, but it does feel weak in the last 1000rpm, particularly in third, fourth and fifth gears.
Opening the throttle in first will have the front arcing up in a smooth controllable wheelie; no clutch abuse is required. Second gear is perfect for typical town speeds of 30-40mph, and just as well end up in third or fourth at these speeds the Derbi shudders and thuds away underneath you, refusing to accelerate until you change down a cog.
Out of town the Derbi isn't exactly slow. It will easily do over 100mph in top gear so don't be put off if your commute involves a bit of motorway.
The handling could be better, feeling harsh and vague where, say, a Kawasaki ER6-n is compliant and planted. The 43mm Marzocchi forks look great but they don't have any adjustment and seem to fall through their stroke too quickly, so struggle to relay positive feedback, particularly on the brakes. This is a shame as the Mulhacen uses a radial Brembo set-up, which is brilliant.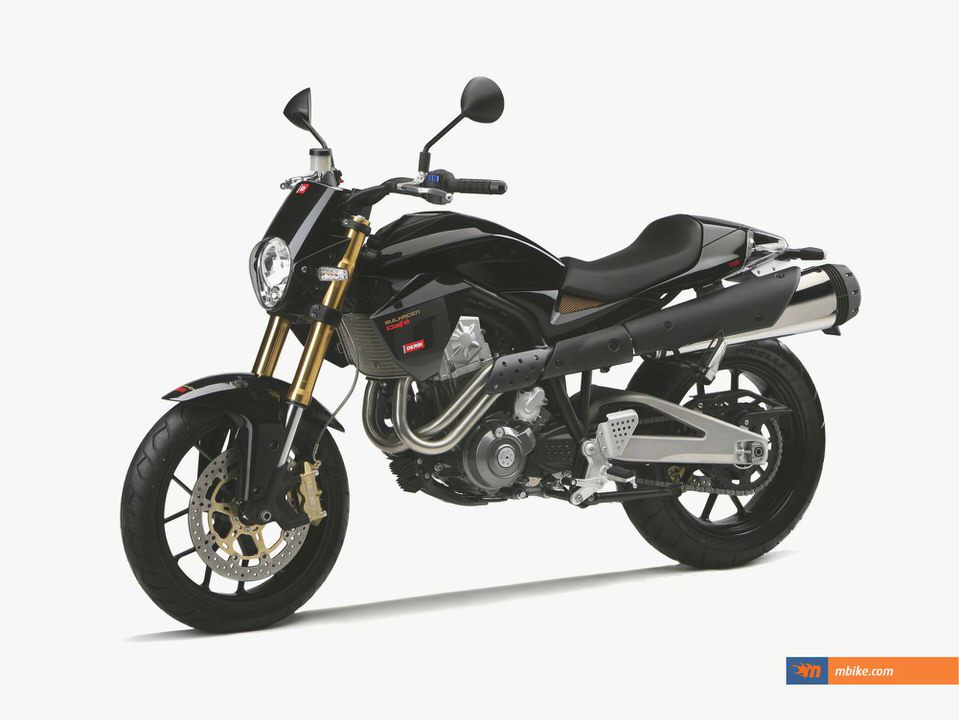 One finger is enough to do all your stopping and slowing, but if you really give them a squeeze the forks dive, you slide up that slice of chorizo and the front tyre locks and skips along the road. The Pirelli MT90 Scorpions probably aren't helping the cause. They're okay if you don't push too hard, but they don't take well to warming up, don't retain heat and aren't that good off-road either.
They are also noisy at anything over 50mph.
The rear shock is similarly on the harsh side when it comes to ride quality. It is though neatly placed, offset on the right-hand side of the swingarm where it helps to centralise weight by allowing the battery to go dead centre in the middle of the frame. More importantly for the type of buyer Derbi are targeting, it looks very cool.
And the fuel tank, which also looks very cool, is very tiny. The fuel light comes on after 86 miles and it will run out before you've done 100. But given the seat, that's no great hindrance.
More a relief.
The thing is, for all the Mulhacen's annoying quirks it's hard not to enjoy this bike. It looks great, is fun to ride both around town and out on faster roads, and you will definitely stand out from the crowd, wherever you ride. The ride quality may not be the best but it does handle and the suspension's shortcomings are more than made up for by the engine and brakes.
Plus, Derbi are offering a four-year warranty. If the phrase 'practical funkability' didn't exist before, it does now.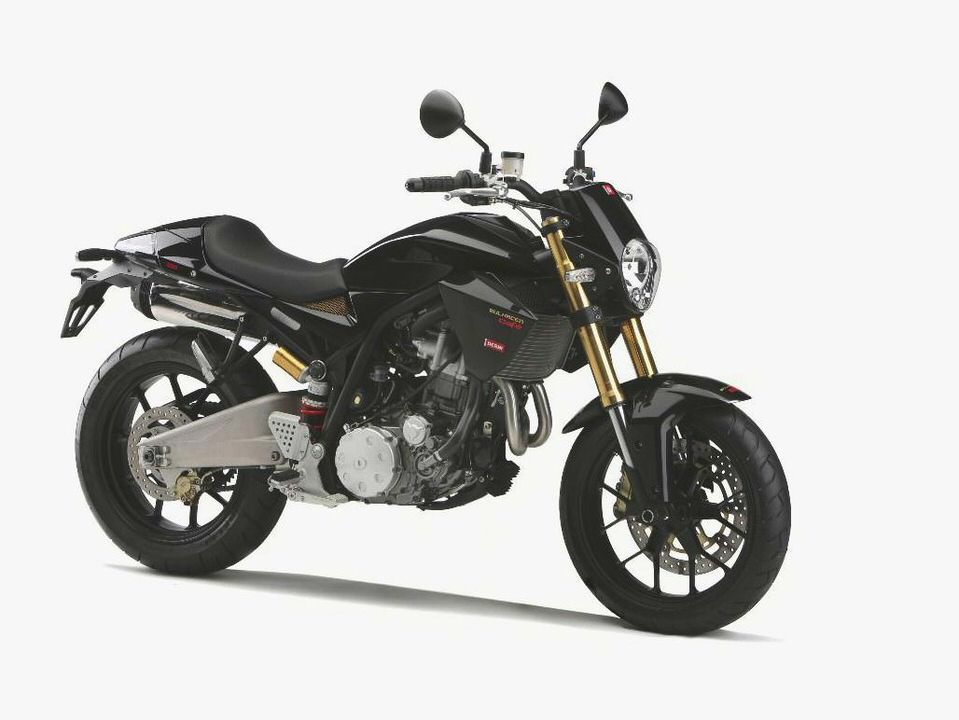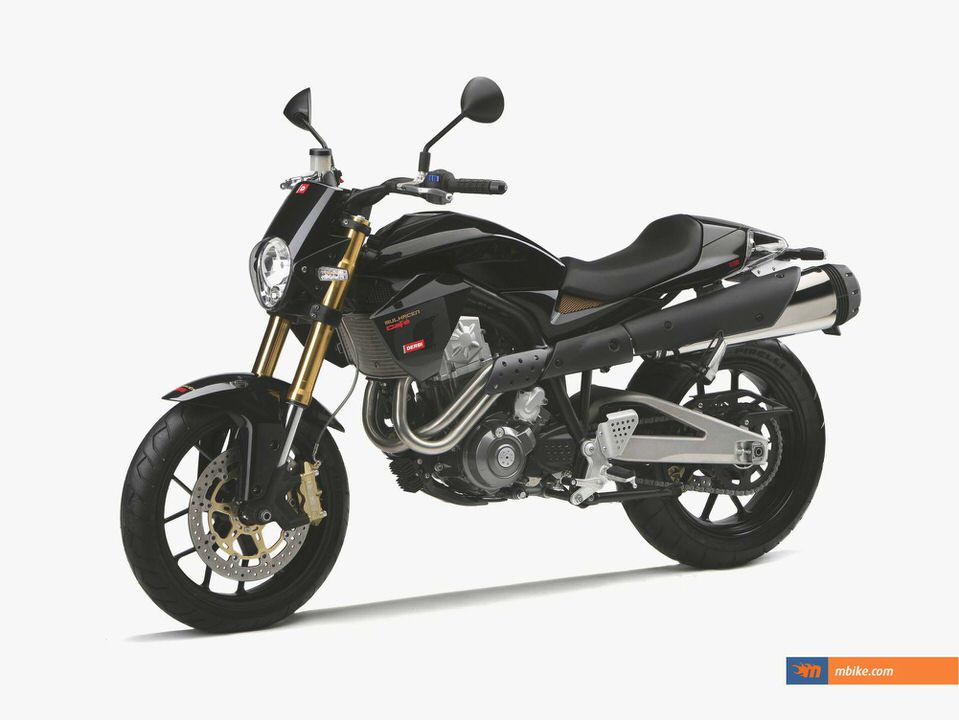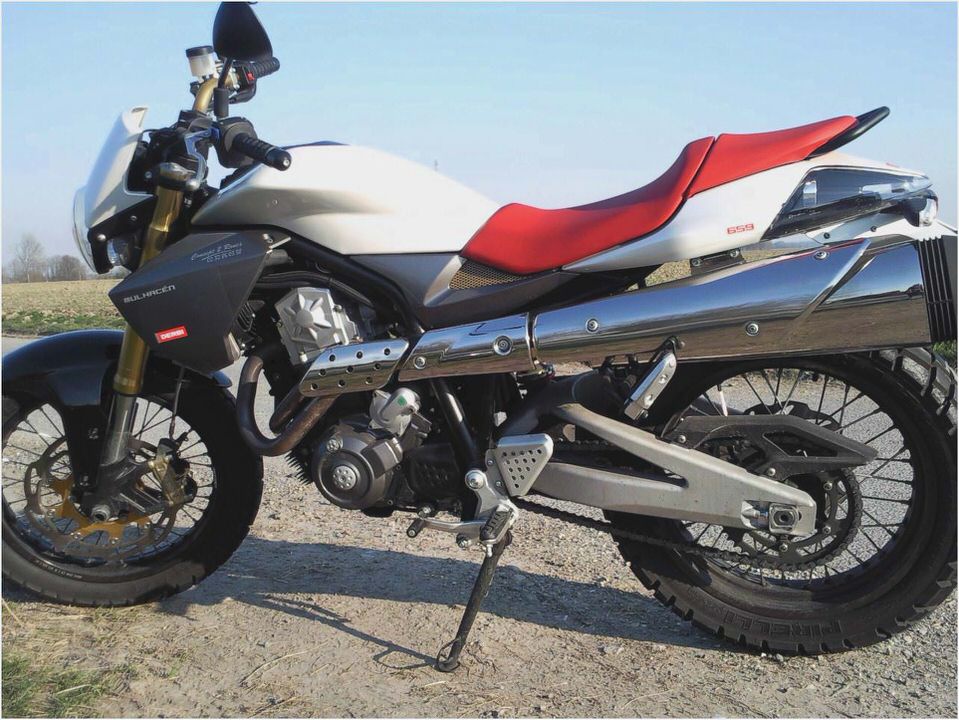 DERBI Mulhacen – The Thumper Cafe Scrambler
Derbi Mulhacen Cafe 659 Angel Nieto – Ultimate MotorCycling
Faster and Faster: Riding impression: Derbi Mulhacén Café 659 Angel Nieto LE
2013 Derbi Senda DRD X-Treme 50 SM motorcycle review @ Top Speed
Derbi Senda Baja 125 DIY Reviews!