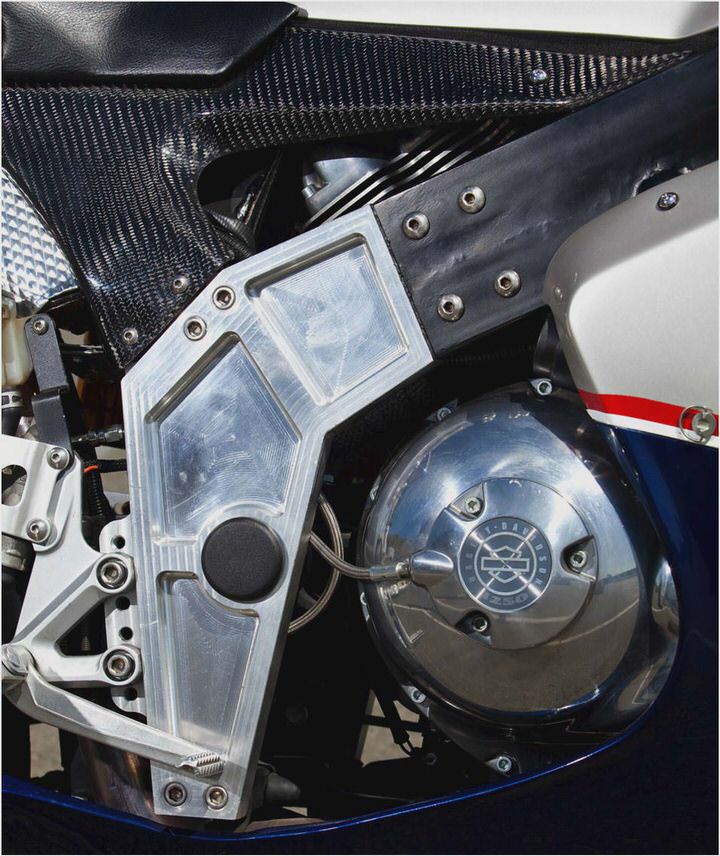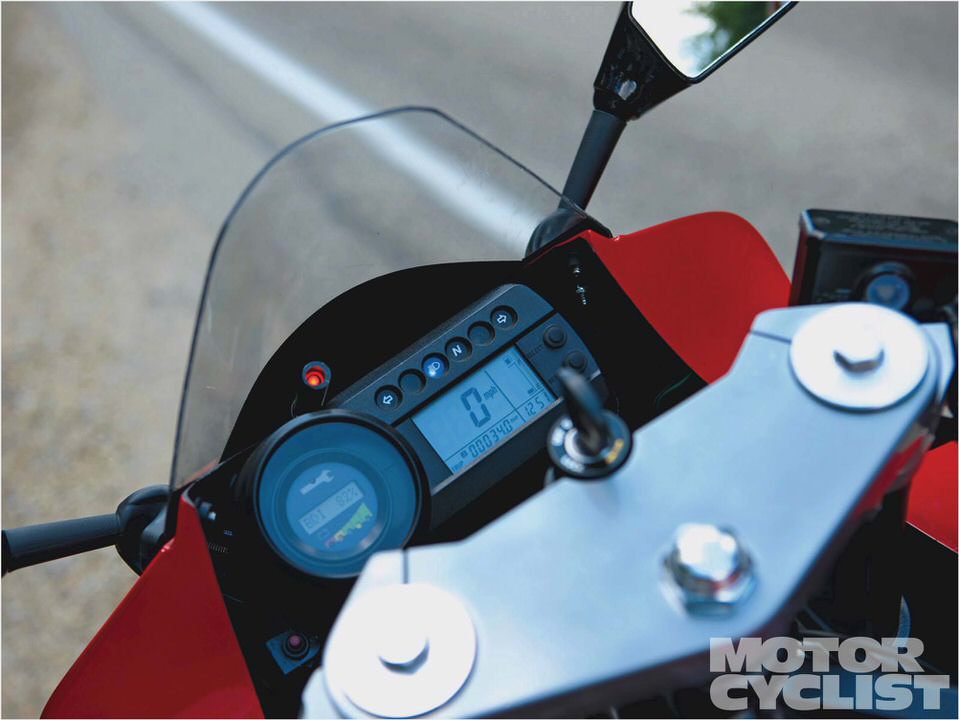 Walter Roehr electrifies his American motorcycle dream
We rode the eSuperbike in Wisconsin's Kettle Moraine State Forest, an hour north of Roehr's Gurnee, Illinois, headquarters. Even with a 500-plus-pound curb weight, acceleration is surprisingly strong-not far behind a modern 600cc supersport. Careful programming makes the claimed 200 lb.-ft. of torque useable, not overwhelming. Roehr painstakingly adjusts 90 parameters in the Curtis controller to tweak the relationship between throttle opening and power delivery.
Calibration is flawless. Power arrives the instant the throttle is cracked, then surges uninterrupted toward the claimed 135-mph top speed with the uniquely smooth, addictive forward thrust that only a direct-drive electric motor provides.
The basic Hyosung GT250R chassis has been upgraded with an Öhlins shock, stiffer fork springs and Brembo brakes. It handles like a regular sportbike.
The basic Hyosung GT250R chassis has been upgraded with an Öhlins shock, stiffer fork spri
Claimed range is 70-100 miles, depending on your wrist. Our brief, 15-mile test ride in mixed conditions-including a few full-throttle blasts to an indicated 120 mph-consumed 18 percent of available energy, lending credibility to this claim. Space constraints leave room for just two small, 5-amp chargers beneath the eSuperbike's fuel tank, so anticipate 8 hours to achieve a full charge.
The eSupersport's smaller battery pack allows a larger, 15-amp charger for a 4-hour recharge interval.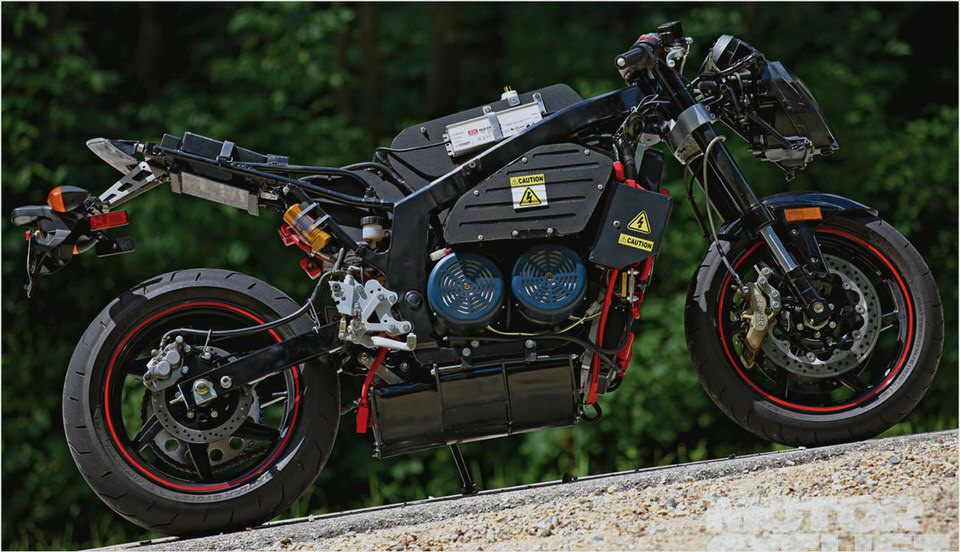 Upgraded with a fully adjustable Öhlins shock, re-sprung and re-valved Hyosung fork and Brembo four-piston brakes, the GT250R donor chassis is transformed. Copycat geometry means it steers like a conventional supersport, and the stiffer suspension handles the extra mass even over washboard pavement and rippled corner entries. The Brembo brakes are non-radial but provide adequate stopping power for even aggressive braking maneuvers.
Roehr also offers an eSuperbike RR version with an Öhlins inverted fork, Brembo radial-mount brakes and Marchesini forged wheels for $34,495.
With the Mission 1 and MotoCzysz e1pc still in prototype form, and the Brammo Empulse not available until next year, Roehr-who is already delivering bikes to dealers-has the first eSuperbike on the U.S. market. Last time, talking to dealers was like banging my head against a wall, he says. Now I've got dealers coming to me, and they've got customers lined up and waiting to see bikes.
EV (electric vehicle) dealers are dying for real product they can actually sell.
Potential e-bike buyers have remained cautiously optimistic, holding out for speeds and range more compatible with their needs and desires. Roehr's eSuperbike is the closest we've ridden yet, with credible performance, reasonable range and realistic pricing, given the current state of electric motorcycle technology. It's still not equivalent to an internal-combustion sportbike, but it is undeniably entertaining, and a giant step closer to the promise of a true eSuperbike.
Roehr eSuperbike Revealed
Roehr releases details on electric models
2011 Roehr eSuperSport 2014 2015 New Motorcycles,Classic,Price,Pictures…
2011 Roehr eSuperSport: Preview – Ultimate MotorCycling
Empulse Archives – Electric Vehicle Rider