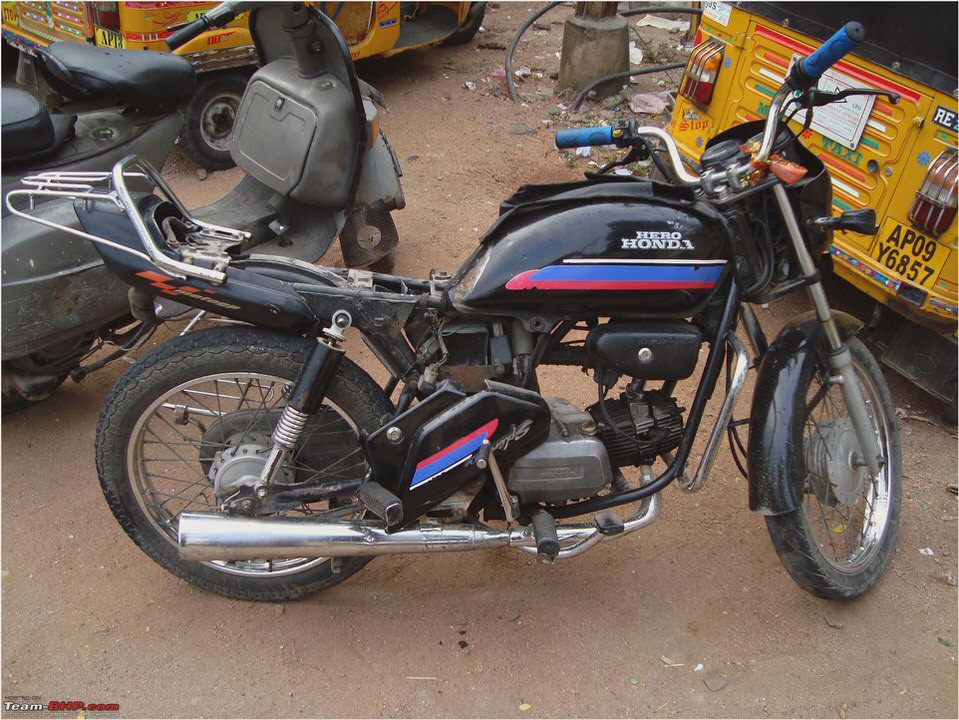 Hero Honda Splendor Pro Review
Favorite Features
Fuel Economy Best Value
The Design
Hero Honda Splendor Pro receives new vinyl, clear lens for indicators; silencer is now in matt black rather than in chrome. Speedometer is refreshed, for more comfortable ride Hero Honda updated rear shocks, and the engine receives APDV which stands for Advanced Pro Series Digital Variable, an ignition system. Hero Honda Slender Plus is not a sport ride, its looks very mature and simple when we compare it with Honda Twister.
Hero Honda Splendor Pro in India is among those bikes which looks better in spoke wheels rather than alloys.
Being settled in the commuter segment Splendor Plus looks honest and has a commuter friendly style. This is one of the reasons why the Splendor is the largest selling motorcycle in India. There is not much to be damaged even if the ride falls. Repairing and giving a finishing touch is always easy and pocket friendly; that's why we see so many of them on road. Splendor has simple fuel tank matching to it are basic looking side panels carrying a chrome writing, Splendor Plus.
Side panel doesn't continue to the rear. Instead the Rear tail panel is separated with the side panel with a division created by adjustable rear shock absorbers. The seat is flat and is functional the rear grab bar still is very useful for carrying luggage and also retains classic Splendor look.
To give the ride a fresh new look in the dash, Hero Honda added the speedometer with chrome finish that looks decent.
Hero Honda Splendor Pro Photo Gallery
Engine and Performance
Hero Honda calls the Splendor one of their greatest achievement. Splendor Pro receives a 97.2 cc engine. The engine is just perfect for the Splendor as the ride has to concentrate more on fuel efficiency and ride quality.
  The air cooled OHC engine generates 7.4 bhp when the engine runs at 8000rpm and highest torque level is achieved at just 5000 rpm. Most of the commuter bikes are made to generate max torque on low rpm as that they can easily go through heavy traffic. Gear ratios are sorted well and the rider has enough power on every gear.
With 97.2cc on displacement Splendor Pro does a top of 90kmph. Most of the Hero Honda Splendor Pro buyers need nothing more from the bike; they want it simple and real.
Splendor is a punch bag; no matter how hard you hit it, it never hits back in return. I have seen my friends going 600km on Splendor in a single day, now that's too much to get from a 100cc commuter bike.
Riding Impression
Most of the Indians should not have problem riding this commuter bike. The handle bar, placement of the footpeg and the seat, all together work to give a comfortable seating position. Its tall upraised handle bar keeps the rider up straight in natural seating position.
Foot rest comes rubbered and is comfortable.
Rider doesn't feel tired with continuous braking in traffic. The base model that is one with spokes and kick start is enough to keep you going through stressful traffic. Performance of the Hero Honda Splendor Pro is similar to Passion Pro as both of them receive the same engine.
The engine is smooth enough and performs as it has to for a 100cc commuter bike.
The suspension package both on the front and rear is simple yet comfortable. Splendor on highway unlike other 100cc bikes feels well mannered and heavy, adding confidence to the rider. Handling is just decent enough to be stable on highways and on corners; don't expect to rub your knee pad with the Splendor.
130mm drum brakes in the front and rear does all the stopping. The seating is a bit lower than the Passion Pro. This gives better control to the rider as he sits in the bike rather than on the bike.
Fuel Economy
Hero Honda claims that the Splendor Pro should run 65kmpl in city condition and 79 kmpl on highway. In mixed condition a rider should easily get 68kmpl.
The Bottom Line
There are many other makes in the 100cccommuter segment but none of them can beat the simplicity of Hero Honda Splendor Pro. Simplicity and practicality has made the Splendor to be the largest selling motorcycle in India. Hero Honda Splendor Pro price in India settles at Rs 48, 000 on road with optional alloys and self starter.
  Splendor Pro still lives on its simplicity that cues to its original model. Most of the commuters will be satisfied with Splendor Pro's performance in the 100cc category.
Civic Type R vs Clio 172: Foes Reunited – PistonHeads
Honda Studio E Concept – New-Cars.com
Honda May Launch 2011 VTR-250 In India
Honda Scooter Index Motor Scooter Guide
Honda DN-01