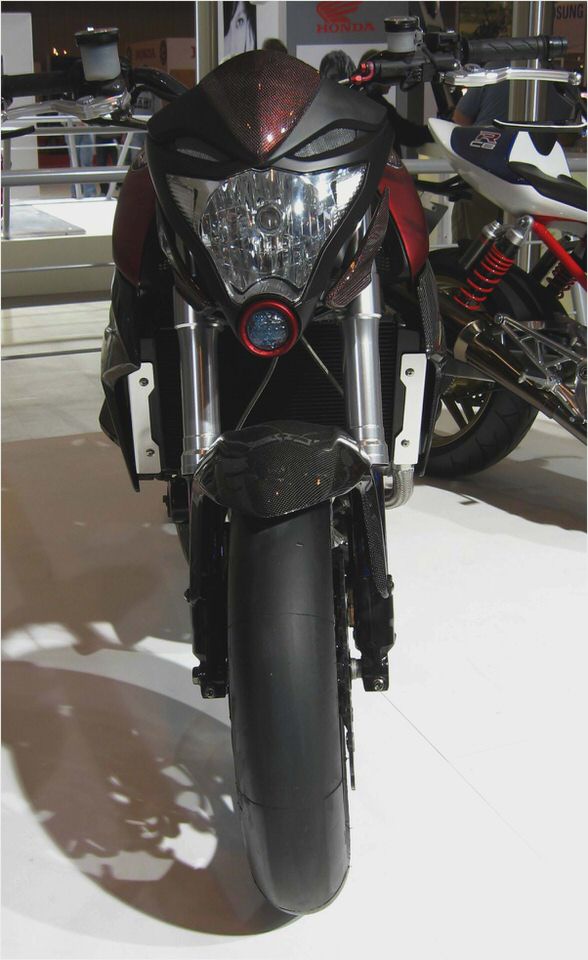 Honda CB1000R Test Ride
Riding Impression
In 2008 Honda brought a replacement for CB900F. The recipe was to get a meaner machine to the streets and the result was the Honda CB1000R . Overall theme of the new CB1000R remains same to the previous model but has been updated and refreshed on many places.
The engine is with tuned injection system and cylinder head that gives a meaningful ride on rpm as low as 3000. Over 3000rpm push starts building and on 5500rpm onwards till 11000rpm power keeps rushing.
Power of 125bhp is directed towards rear wheel using sensible gearing ratio.
The engine of the CB1000R gets into its angry mood at 10000rpm where it throws most of its power to the rear wheel. That much amount of power is transported with special hydraulic assisted clutch and six speed transmission. CB1000R is more furious accelerator than the 919 Fireblade, Honda's heroic machine. Brisk acceleration can be felt on first three gears which are short lived.
Transmission feels well weighted from top to bottom. To reach 110km/hr the engine spins at 4500rpm and that I did on first gear taking the needle to the limiter. Throughout my test run the bike was well within control and never felt wallowed.
The engine at high rpm creates exhausts notes that is melodious and is no where near to the notes on the mighty CBR. From 5500rpm to 10500 rpm the powerband is extremely smooth, making the CB1000R drivable on most of the Indian road traffic. Tacking the ride may become a little tricky for early riders on such a huge bike.
Front wheel is always ready to taste air even on low rpm.
On the open stretch I was tempted to open the throttle wide and the result was 0-60kmph in just 3.30 seconds and made a sprint of 160kmph in around 7 seconds. Honda CB1000R does a top of 230kmph.
The Details
This street package is held together with die cast aluminum alloy frame. In the front the Honda CB1000R in India receives inverted telescopic shocks and in the rear rests monoshock. Engine functions as stressed member of the chassis.
Throughout my ride there was no point when I had to complaint about discomfort. Riding position gave upright position. Stuffed with right amount of foam, saddle is inviting. CB1000R comes with straight handle bar making the ride a comfortable machine in city condition. The rear suspension is adjustable hence a rider can adjust accordingly.
The looks huge but is easy flickable in traffic and on high speed cornering it anchors while entering the corner. Its exceptional handling makes the ride a part of riders body. To halt a bike with so much of power it needs better brakes. In the front the Honda CB1000R in India receives 310mm disc with four piston caliper and in the rear CB1000R relies on 259mm disc.
In my braking test the CB1000R took just 1.8seconds and measured 15.6 meters to come to a still from 60kmph. CB1000R also displays reading in futuristic LCD instrument panel. The display is with blue backlight with three level adjustments for brightness.
The instrumentation looks damn good and functions better. The control panel is dominated with central mounted digital tachometer. Two LCD on the either side displays odometer, time trip mete, speed and engine temperature. The wide stretched handle bar wraps palm friendly grips which are comfortable for very frequent clutch and braking while in traffic.
The ride also features Honda's Ignition Security System, HISS, allowing the ride to start only with original Honda Key.
The CB1000R like its sportbike cousins cannot switch off its head light, hence riders can toggle between high and low beam.
Athletic looking fuel tank is with aircraft like fuel cap. The saddle is with a little step separating the rider from the passenger.
Another attention grabber on the ride is its four mating into one silencer, which is short and settles little beside completely exposed rear wheel. The Honda CB1000R in India is available in two color themes, black and metallic green. CB1000R is an upgraded version of the Honda's more successful Fireblade.
CB1000R satisfies fuel need through PGM-FI single fuel injection for every cylinder rather than dual injection on the Fireblade.
The Bottom Line
Honda CB1000R no doubt is an extreme machine, it has refined engine, muscular looks and is city friendly, but many wont see the price tag that friendly. Honda CB1000R price in India settles at Rs 11,13,266 approx which is much more than what Yamaha is taking for its FZ1, another adorable street bike.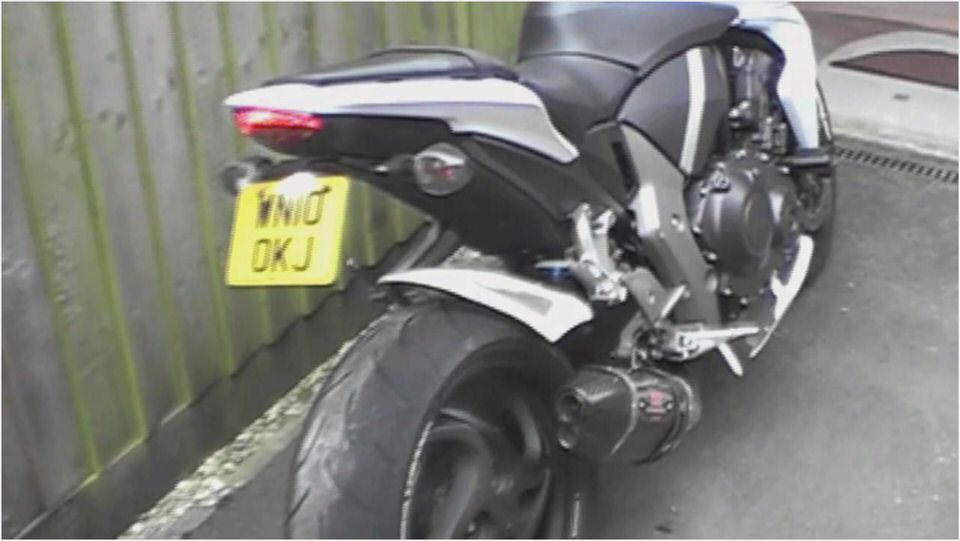 Honda CB1000R Specification
Starter: Electric
Clutch: Wet, multiplate with coil springs
Headlights: 12V, 55W x 1 (low) / 60W x 1 (high)
Clutch: Wet, multiplate with coil springs
Final Drive: #530 O-ring sealed chain
Frame Type: Mono-backbone; cast aluminium
Front Suspension: 43mm inverted HMAS cartridge-type telescopic fork with stepless preload, compression and rebound adjustment, 120mm cushion stroke
Rear Suspension: Monoshock with gas-charged HMAS damper featuring 10-step preload and step-less rebound
Front brake: 310 x 4.5mm dual hydraulic disc with four-piston (Combined three-piston) calipers, floating rotors (*ABS) and sintered metal pads
Rear Brake: 256 x 5mm hydraulic disc with dual-piston caliper (ABS) and sintered metal pads
Kerb weight: 217kg (F: 106kg; R: 111kg), 222kg (F: 108kg; R: 114kg)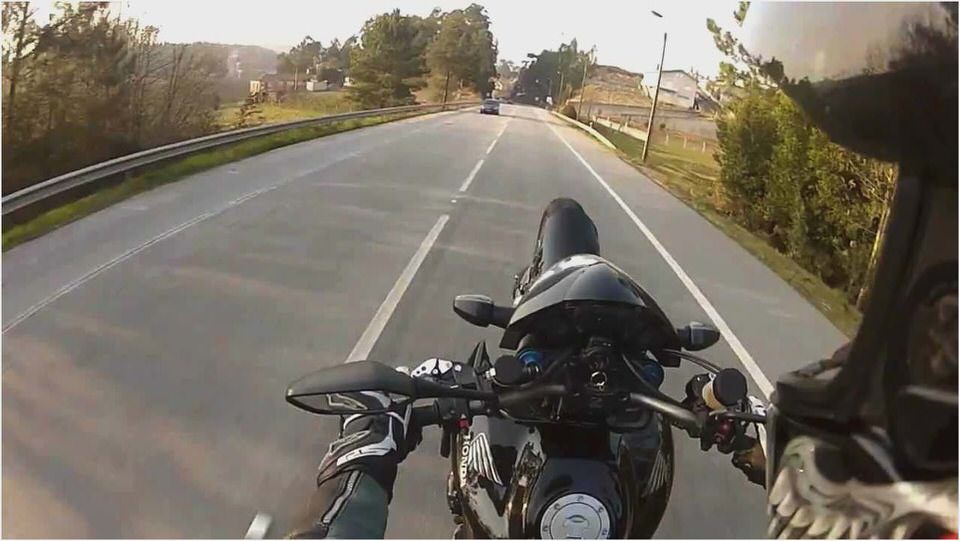 1998 Honda VFR Specifications eHow
2014 WGC Cadillac Championship Revised Blue Monster awaits epic battle…
VW T2 Camper Van Review
Honda SW-T600 ABS 2011 Scooters Mopeds
Supercross' Trey Canard samples Honda IndyCar simulator (VIDEO)…