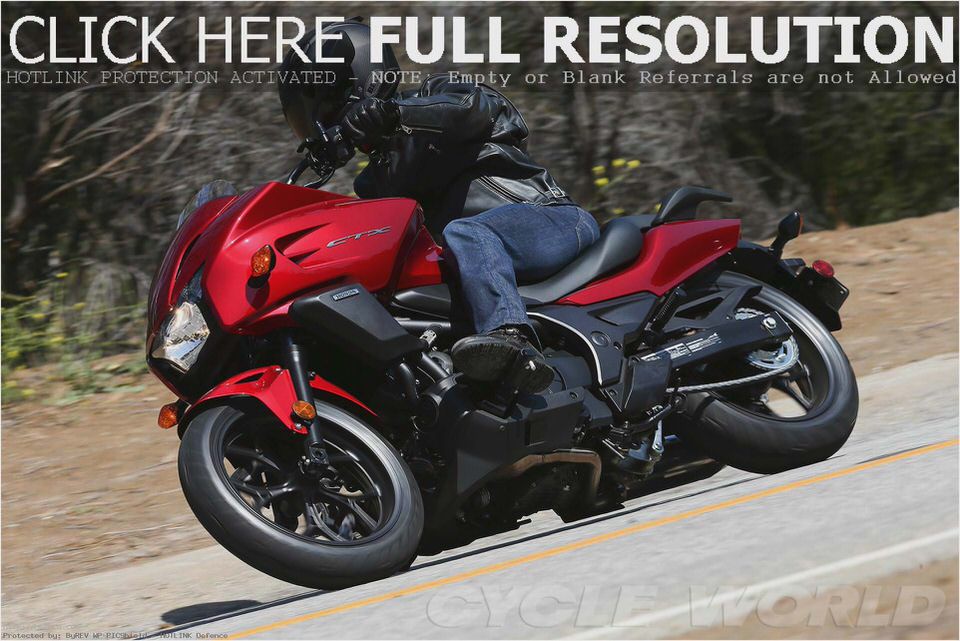 Honda CBR1000RR Gets Updated For 2012
The list of Honda models for 2012 keeps growing as a dozen new additions expand the upcoming season lineup. This latest release includes the substantially revamped CBR1000RR"the essential superbike"offering the perfect balance of power and handling designed to work together as one complete package. Sportbike aficionados will also be glad to see the CBR600RR in 2012, and riders partial to cruisers will have plenty to talk about.
Honda's line of V-twin cruisers includes eight different models: the Sabre-®, Stateline-®, Interstate™ and Fury, plus Honda's 750cc line of V-twins"the most popular metric cruisers in history"the Shadow Phantom-®, Shadow-® RS, Shadow Spirit and Shadow Aero-®. For sport touring fans, the highly regarded ST1300-® also returns in 2012.
Our broad range of street bikes demonstrates again why the Honda brand remains so popular with riding enthusiasts, said Powersports Press Manager Bill Savino. Whether they gravitate towards sport riding, cruising or touring, this latest model release offers riders distinctly different options, all with Honda's renowned dependability, quality and reliability.
More detailed information and images of Honda's model line can be found on www.powersports.honda.com or see your local Honda powersports dealer.
– CBR1000RR: The Essential Superbike
Honda's CBR1000RR is the essential superbike"the perfect balance of power and handling designed to work together as one complete package. The CBR900RR set the bar for liter-bike performance when it was introduced 20 years ago, and the new 2012 CBR1000RR sets that bar even higher. For 2012, the CBR1000RR boasts even better handling via a patented Balance-Free Rear Shock, Big Piston Fork and new wheels.
Add to that a 999.8cc engine pumping out huge midrange horsepower and torque for class-leading real-world muscle, and you have a high-performance package unmatched in its overall balance by the competition. In addition, new aggressive bodywork aids aerodynamic flow and high-speed handling, and new LCD instrumentation, including a lap timer, five-level shift indicator and more, redefine the pure essence of liter-class sportbikes. Availability: December 2011; MSRP: $13,800 (standard model), $14,800 (C-ABS model)
– CBR600RR: Leading the Way Among Middleweights
The CBR600RR melds a light and compact chassis with impeccable power delivery to create a balanced combination that remains a favorite among sport riders. In racing, no other 600cc machine has won more AMA and World Supersport championships than Honda's CBR600. Also available with Honda's unique Combined ABS for the pinnacle of sportbike braking performance, the CBR600RR continues to lead the way in the middleweight class. Availability: December 2011; MSRP: $11,540 (Black, standard model), $11,690 (Red, standard model), $12,540 (C-ABS model)
– Fury/Fury ABS: Chopper Essence, Honda Quality
The radical Fury appears to be something from the farthest fringes of the two-wheeled world. Yet it's a Honda, through and through. Here we have the rolling incarnation of the pure, undiluted chopper essence, a machine that simply looks right, sounds right and goes straight to the heart of radical enthusiasts.
Yet despite the extreme lines and head-turning looks, the Fury is a radical chopper that has all the functionality, quality and reliability built into every Honda. Availability: January 2012; MSRP: $13,390 (standard model), $14,390 (ABS model)
– Sabre: Pro-Street Style in a Classic Ride
Sometimes you just want to wear your aggression on your sleeve, and that's why the Sabre is ready to do your talking for you. The Sabre's muscular pro-street style provides a classic ride, with ergonomics to match. Add an impressive V-twin engine complete with Honda's sophisticated Programmed Fuel Injection, and you'll be rolling down the meanest streets with a bike that's as tough as it looks: the 2012 Sabre. Availability: January 2012; MSRP: $12,250 (standard model), $13,250 (ABS model)
– Stateline: Power and Style for Cruising
Featuring long, low lines that embody what cruising is all about, the Stateline blends two worlds of motorcycling style: traditional looks plus progressive elements. The deeply valanced fenders arc downward in classic retro style, yet the all-new rolling chassis and overall lines bring a fresh look to the class. Add to that the deep throaty rumble of a big V-twin engine and that classic big Vee power pulse, and you have a machine that's the perfect choice for cruising"anytime you want. Availability: January 2012; MSRP: $12,150 (standard model), $13,150 (ABS model)
– Interstate: High Style Plus Traveling Credentials
Sure it's fun to have a stylish ride, but it can be even better when high style merges with the ability to rack up big miles"and that's what the Interstate is all about. Check out those stylish hard leather bags that offer ample storage space and that big, traditional windscreen; we're talking all-day riding comfort and convenience that will carry you through that long, long getaway. Because when you're aboard one of the coolest rides around, sometimes you just don't want the ride to end. Availability: January 2012; MSRP: $13,240 (standard model), $14,240 (ABS model)
– Shadow Phantom: Minimalist Looks, Maximum Cool
The Shadow Phantom celebrates the joy of back-to-basics motorcycling by delivering a V-twin ride packing a uniquely clean and uncluttered appearance. Check out the minimalist look and extensive blackout treatment that bring your eyeballs back to that muscular V-twin engine featuring the convenience and sophistication of Programmed Fuel Injection. By staking out the low-profile approach to cool, the Shadow Phantom reinforces the idea that bling ain't everything in a cruiser. Availability: December 2011; MSRP: $8240
– Shadow RS: Because Classic Ideas Never Go Out of Style
The Honda Shadow RS serves as rolling proof that classic ideas never go out of style. By combining agile and responsive handling, V-twin power, clean, crisp lines and standard-style riding ergonomics, the RS is perfectly poised for whatever the journey may bring. The Shadow RS's higher footpegs enhance ground clearance, and its thoroughly modern liquid-cooled 745cc V-twin engine boasts Honda's sophisticated Programmed Fuel Injection to enhance your riding pleasure.
Climb aboard the Honda Shadow RS, and the open road is all yours. Availability: December 2011; MSRP: $8240
– Shadow Spirit 750 C2: Big-Bike Looks, Distinctive Styling
Here's a machine that's perfect for cruising city streets as well as exploring back-country roads"the Shadow Spirit 750 C2. Honda has brought together a big-bike look, distinctive street-rod styling and a muscular V-twin engine"now including the sophistication and metering precision of Programmed Fuel Injection. And it all comes wrapped up in a surprisingly affordable package. Availability: December 2011; MSRP: $8240 (Black), $8540 (Candy Orange Flame)
– Shadow Aero: A Proven Winner
As a proven favorite, the Shadow Aero serves as a most satisfying ride for a wide range of enthusiasts. Factor in the Shadow Aero's classic retro styling, low seat height, power-packed V-twin engine now with sophisticated Programmed Fuel Injection and fine handling"all at a price that's just right for today's budgets"and you understand why the Aero is so popular with riding enthusiasts. Availability: December 2011; MSRP: $8240 (Candy Dark Red, standard model), $8540 (Pearl Black/Silver, standard model), $9240 (ABS model)
– ST1300: The Favored Long-Haul Ride
Long-distance adventure is best experienced aboard a machine that's keenly in tune with your riding senses. For years, the Honda ST1300 has answered the call of the open road by setting the standard for power and handling in a package that's ideal for crisscrossing the USA or just enjoying a long weekend on the road. Equipped with a powerful 1261cc V-4 engine and Honda's sophisticated Programmed Fuel Injection, plus full-coverage bodywork, a three-way-adjustable rider's seat, a motor-driven adjustable windscreen, dual saddlebags and more, the ST1300 remains the choice of dedicated long-haul riders. Availability: December 2011; MSRP: TBD
– ST1300P ABS: Law-Enforcement Special
Law enforcement agencies can also experience what other Honda riders have known for years: Nothing matches Honda's legendary performance, quality and reliability. Availability: December 2011; MSRP: TBD
About Honda
American Honda Motor Co. Inc. is the sole distributor of Honda motorcycles, scooters, ATVs and MUVs in the US. American Honda's Motorcycle Division conducts the sales, marketing and operational activities for these products through authorized Honda dealers. For more information on Honda products, go to www.powersports.honda.com .
More, from another press release issued by Honda:
Whenever motorcyclists gather for a session of bench-racing, comments aimed toward big-bore sportbikes often carry a bit of arm's-length awe: these are potent, high-powered machines and not for the faint of heart. However, such tales have arguably helped build the reputation of Honda's CBR1000RR, a full-on sporting literbike that shatters class stereotypes with its surprisingly accommodating manners.
Thanks to its magnum-level performance along with a near-perfect blend of streetability, versatility, rider feel and balanced character, the CBR1000RR has for years held high the class standard for well-rounded capabilities. Of course, it helps greatly that the CBR1000RR is sized and weighs in alongside 600cc-class sportbikes, but that's a longstanding family trait.
It barely seems like the blink of an eye, but it was 20 years ago that Honda ushered in the modern era of big-displacement street-going sportbikes with the CBR900RR. Back in 1992, the concept of light makes right produced a lightweight and compact CBR900RR that quickly established its standing as a wonder in its time. The CBR900RR not only delivered big-time power in a middleweight-sized package that begat exemplary handling, it also provided a heretofore-unknown level of overall balance that gave the rider a direct, connected feel with the motorcycle.
The motoring press and sportbike enthusiasts alike lavished praises on this first iteration of what grew to become an ongoing series, and the accolades continued flowing as successive models advanced that basic concept, which was-and continues to be-so capable and rewarding. We now see these endearing and enduring qualities carry forward to this day, embodied in the 2012 CBR1000RR. In celebration of the 20th anniversary of the CBR-RR and in keeping with the original concept, the 2012 CBR1000RR continues to supply exemplary liter-class sportbike performance, pumping out huge midrange horsepower and torque for class-leading real-world muscle in a great-handling high-performance package unmatched by the competition in its overall balance.
Changes to the CBR1000RR for 2012 focus on sharpening what is arguably the most critical component in a motorcycle designed for sporting use: chassis performance. Granted, big-time horsepower always holds its own attractions and the CBR1000RR pours out huge quantities of horsepower and torque right in the midrange where literbike aficionados want it to be-after all, what's the point of having a peaky big-bore bike? However, it's the ultra-responsive middleweight-style handling that truly allows this large-displacement sportbike to shine.
Starting with a tried and proven four-piece Fine Die-Cast twin-spar aluminum frame, Honda's development team focused their efforts on incorporating innovative chassis components, specifically a new-concept rear shock, Big Piston Fork, plus new 12-spoke cast aluminum wheels that provide even more rigidity. In doing so, they were able to markedly expand the CBR1000RR's handling prowess and enhance its braking and traction characteristics.
In addition, newly designed bodywork following the layered fairing concept aids aerodynamic flow to create a large still-air pocket around the rider while also helping draw air through the cooling system. An integrated chin spoiler in the nose also reduces aerodynamic lift at speed, thereby improving handling, and the overall package lends a more aggressive appearance.
Newly refined EFI settings make the engine even more manageable, with smoother throttle response specifically at smaller throttle openings. New LCD instrumentation communicates everything from gear position to coolant temperature and speed. The cockpit display now incorporates a digital bar-type linear tachometer that offers four selectable modes for style of readout.
Other instrumentation includes gear position indicator, five-level shift indicator adjustable for sequence interval, clock/four-mode lap timer, coolant temperature, speedometer, trip meter/fuel efficiency/fuel consumption, low-fuel warning light and odometer/numerical tachometer. At the bottom of the display are lights for headlight high beam, neutral and turn signal functions. All in all, these changes make the rider/machine interface smoother and more rider friendly.
The main objectives in the further development of the CBR1000RR's suspension setup included: smoother suspension action, improved rider feel, and increased grip and traction. To achieve those goals, the 2012 CBR1000RR rear suspension system still features Honda's acclaimed single-shock Unit Pro-Link-® configuration, but now it introduces the first Balance-Free Rear Shock on a production motorcycle, an advancement developed in conjunction with world-leading suspension specialist Showa that has patent protection pending.
In place of the conventional single-tube shock configuration, the Balance-Free Rear Shock design incorporates a double-tube design featuring a damper case plus an internal cylinder. The damper piston does not feature any valves; instead, the damping force is generated as displaced oil passes through a separate damping component. In conventional rear shocks the damping force is generated in two places, the main and sub damping valves.
In the Balance-Free Rear Shock, however, this action is handled in one circuit, allowing pressure changes to be controlled more smoothly by a larger body of oil. The net result is more responsive damping and a smoother, better-controlled damping action, particularly during the transition from compression to rebound.
As a result, the Balance-Free Rear Shock delivers more consistent damping over the duration of a ride, track session or race, improved shock absorption and greater traction since contact is more consistently maintained between the rear tire and the road or track surface. In addition, the adjusters for compression and rebound damping settings are placed prominently on the top of the shock body for quick and easy access.
To complement the Balance-Free Rear Shock, the front suspension system now features an inverted 43mm telescopic fork incorporating Showa's Big Piston Fork technology. This new fork uses a unique construction with a larger damping volume to effectively reduce the hydraulic pressure generated as the fork legs compress and extend. The result is more precise action during the initial stroke and smoother damping action, which the rider perceives as improved handling, enhanced front-end feedback and a more solid feel during hard braking.
As before, CBR1000RR owners can also opt for Honda's advanced electronically controlled Combined ABS braking system, which offers the confidence of antilock braking while remaining so unobtrusive that it satisfies even the most committed sport riders. Updates to this system result in a modified front-brake effect better suited to sport riding: now when the rear brake pedal is actuated, there's less initial braking application from the front brake compared to the previous-generation setup, followed by more-progressive front-brake application as brake pedal pressure increases.
The CBR1000RR has stood alone as the top-selling liter-class sportbike in Europe for a number of years, a market filled with extremely discriminating sportbike riders who really give their bikes a thorough workout. The CBR1000RR remains exceedingly popular with this highly demanding crowd thanks to its inherent soundness-a purity of purpose, if you will, that continues to reward the most sophisticated sport riders. The 2012 CBR1000RR possesses an extreme versatility that makes the machine a genuine pleasure, whether it's time for a quick afternoon ride, a week's exploration down twisty roads or a weekend spent at the track.
Which is not to say the CBR1000RR isn't amazingly potent; witness the efforts of John McGuiness at the Isle of Man races in July 2011, where he set a new course record aboard the previous generation CBR1000RR. This awe-inspiring example of racing capabilities on the most extreme of road courses stands as bold testimony for a machine designed from the get-go with both a sound concept and strong execution-no need for the interventions of traction control or harsh-onset wheelie control used in other machines.
The CBR1000RR rewards riders who appreciate this machine's unparalleled feeling of transparent connectedness, and who prefer to rely on their own skills as a method of traction control. Time and time again in comparison tests the world over, the CBR1000RR posts laps times quicker than its competition equipped with electronic interventions, and the reason is simple: Fast laps on a track, like good times on the street, have more to do with a machine's overall balance and rideability than anything else. That's the secret to the CBR1000RR's long-time popularity.
In the end, the CBR1000RR imparts an uncanny connection between rider and motorcycle thanks to its extraordinary balance, all-around performance and remarkably integrated feel. For 2012, Honda's engineers have further honed and sharpened these characteristics, offering riders the opportunity to step up and open the next chapter to the motorcycle that's become a living legend among sportbikes.
Previous Article | Next Article
XL1000V Varadero – myBike
Talk:Honda Gold Wing – Wikipedia, the free encyclopedia
WABCO to sponsor Tata's T1 Prima Truck Racing CarDekho.com
Getting to Know the Honda PCX – Autos.Answers.com
2005 Honda TRX450R – ATV Rider Magazine