Honda Powersports Valkyrie 6 returns with a vengeance
Way back in 1996 Honda introduced the Valkyrie to a very crowded cruiser class dominated by Harley Davidson. While those that owned the Valkyrie loved it, the Hog crowd shunned it as being a bit too refined. Stripped to the bone and sharing engines with Goldwing, Valkyrie returns to the market for 2014.
Watch out Harley Davidson.
How much more can I say about about a motorcycle that weighs in at 700lbs and produces the power of a fully dressed Honda Goldwing. Awe inspiring. What Honda Powersports has done here is strip down the Wing to fighting weight; added minimized form fitting wind deflection and personalized the ride with a customizable solo saddle.
Practical, probably not, but who cares? The bike makes a bold statement.
Brought to you by the company that manufactures the best selling small car in North America, The Valkyrie is "fat" in every respect. Reminiscent of a "Boss Hoss" without the bulk of the V8, The Valkyrie invokes dreams of blasting across the Mojave Desert at triple digits without overheating.
I made such a run last century with Drag Racer and fellow motorcycle enthusiast George Brooks of Redway Ca. While we both owned and rode Harley Davidson at that time, George had looked for a trouble-free motorcycle stout enough to haul his custom motorcycle camping trailer. I had been with him down in Laughlin, Nv. when he blew his custom FLHTC motor towing his luggage trailer.
It couldn't take the combination of load drag and excessive desert heat. It was a damned expensive weekend for Geo.
With custom Haynes Exhaust, Geo's 1998 Valkyrie of the day, produced well over 150 h.p. and 125 ft. lbs of torque. Towing the trailer was effortless. Crossing the desert that day in cool weather we averaged 95 mph without mechanical failure. Of-course my FLHTC was not as happy as the Honda. We would trade off rides from time to time on the 2700 mile week ride from Eureka, Ca, northeast through Arizona to the Grand Canyon.
South through Phoenix across to Palm Springs, crossing north true Los Angeles, Bakersfield, Sacramento… well you get it, my butt was sore after 8, 12 hour days in the saddle. The Honda didn't require so much as a drop of oil…
While I didn't trade in my Harley for a Honda the following week, from that day forward I was ever impressed by the engineering balancing act that is Honda Powersports.
Taking a look at the new generation's specification we find that the bike will share the same powerplant as the Goldwing. Same concept, bigger engine.
Stay up with me here… Take a car displacement sized engine ( 1833 c.c.) and place it in a 67.2" wheelbase, low center of gravity frame engineered to handle. Water Cool it, and connect it to the back tire with a 5 speed transaxle and final shaft drivel. Take a look at the photo and use your imagination. Throw on a factory travel bag or two and go for it. With a fuel capacity of 6 .1 gallons and a suspected mpg surpassing the 40 mark, you'll welcome a break stop after 200 miles or so.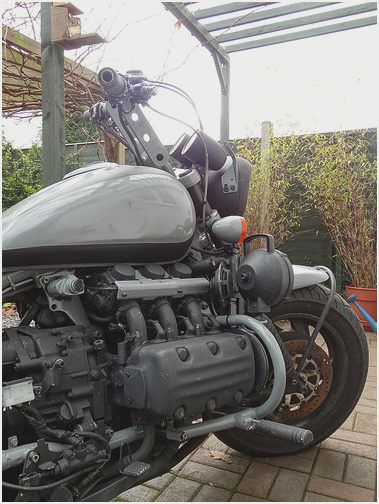 If it's ride and handling characteristic is akin to the Goldwing, you'll find this latest addition to the Honda cruiser fleet to be mechanically bullet proof and a pleasure to ride.
While the futuristic style of the Valkyrie ( Darth Vader meets Transformer Man) will not appeal to all Honda fans, as with the original, this beast will have a cult following. Personally, I have an idea or two that would round out the style a bit. Once again, this Honda departure is color sensitive.
A black or dark silver metallic or gunmetal grey would bring it back to earth a bit.
I find the overall styling of the Valkyrie to be encroaching on Ducati,Triumph and Victory design cues.
I'm not fond of the chunky surplus look of the rear fender. It's screaming to be covered with a quality saddle bag. As to the lack of wind deflector? I'll leave that up to Honda.
As to the remainder of personal opinion generated design critique? I'll leave that up to die-hard Honda fans to generate.
For those interested, you can read the specification chart here. Perhaps one of my readers could educate me as to what 3-D – mapping is. ABS braking, I got it, I like it.
While Honda isn't offering an estimated retail price at this time, I suspect it will land short of $16,000. We'll see where it goes. In the mean-time, If you see one on the road in the western United States before the end of the year, contact me at Torque News, I'd like read your personal review of the Valkyrie.
HowStuffWorks "1986, 1987, 1988, 1989 Honda Accord"
Electric motorcycles and scooters
2008 Honda DN-01 motorcycle review @ Top Speed
2007 CRF230F Review – CRF 150/230 F/L – ThumperTalk
About Honda Metropolitan Scooters eHow