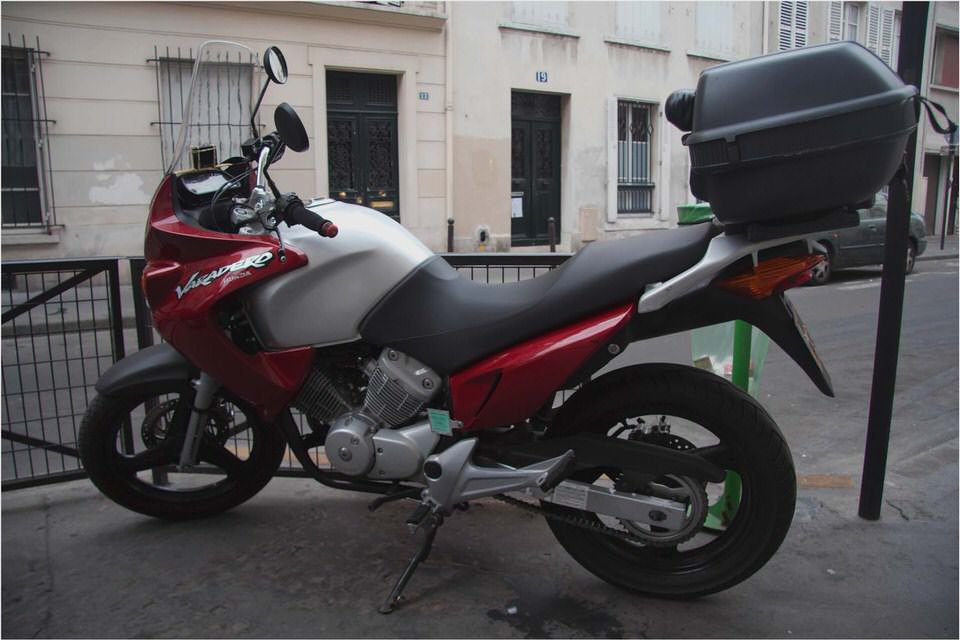 Honda Varadero XL125
Advantages: Big, Stylish, Comfortable
Disadvantages: Some design faults, Possibly a 6-speed gearbox
Firstly I apologise for the long opinion! To make it easier for you, the readers, I have split this opinion up into five parts. These parts are as follows:
1. How I know of this motorbike.
2. Specifications, accessories and price of the motorbike.
3. My boyfriend?s opinion of the motorbike. a rider?s opinion.
4. My own opinion of the motorbike. a pillions opinion.
5. Other learner legal bikes Honda offer, both manual and automatic.
1. I have never actually ridden this motorbike, although from July to December 2002 I was a regular pillion on one. My boyfriend gained his full bike licence in May 2002. He owned a Yamaha TW125 and that was our mode of transport until the Varadero came along.
Ever since Honda released the XL125V Varadero in August 2001 my boyfriend wanted one. When he took the TW for a service at the local Yamaha Dealer, to his amazement there was a Varadero at the front of the shop. It was for sale.
He couldn?t believe his luck. The next day he took me to see it. I?d never paid much attention to the bike and had only seen one picture of it previously. We pulled up outside the shop on the TW.
We got off the bike and went over to the selection of motorbikes for sale out the front. He pointed it out to me. I couldn?t believe what I was seeing.
I?m not an expert on motorbikes, quite the latter in fact, but this bike was the mutts? nuts! Lined up the Fazers and the R6?s, it looked amazing. I couldn?t believe it was only a 125. The V-Twin engine looked huge and the fairing was stylish. It looked more like a 500cc motorbike.
The only give away was a little hole at the end of the meaty exhaust. Honda cunningly left out any signs that would give away the real cc.
My boyfriend took it for a spin and came back with they biggest grin on his face. He went straight home and began begging to his parents. The Varadero was an ?02? reg, just a few months old. The colour was black and silver and it came with smart wat
er (a solution hidden somewhere on the bike that can be tracked back to the owner). It also came with a flashing LED light at the back to deter thieves. The previous owner was an adult who learnt on the Varadero and then bought himself a Fazer. He part exchanged the Varadero, hence the reason for it being at the Yamaha dealer.
It was in perfect condition, never dropped and no scratches. So my boyfriend bought it and came straight round my house to take me out. My boyfriend paid Ј2,895.00 from the dealer.
It had 900 miles on the clock and he managed to bring that up to 4813.
The first time I went on it I felt like royalty. It was a huge change from the TW. For starters it was huge and the seat was a lot higher and larger. My part of the seat was raised even more.
Have no fear though, I still managed to swing my leg over and get on comfortably from the ground so I?m sure anyone else will be able to!
Everyone we passed in the street would look at us. It made me feel good and I?m sure it made my boyfriend feel good too. It?s just a shame the bike was so quiet, a little bit more noise would have helped make more of an impression.
Unfortunately, due to extremely high insurance, my boyfriend had to sell his bike. The insurance was third part, fire and theft, but being a young boy on a new, expensive motorbike the insurance was extortionate.
2. Surprisingly this motorbike is learner legal. It is defiantly the biggest bike in the learner legal class. With or without the ?L? plates you will feel like you own the road. Anyone wanting to find out more on this motorbike or purchase an aftermarket exhaust etc to give it a bit more oomph may have trouble.
Reason being is that this bike is so modern; there are few websites about it, except for foreign sites. Also, as of yet there are few aftermarket parts to get. Hopefully this will all change as the bike becomes more popular. Here are the specifications of the bike:
ENGINE:
pe – Liquid cooled 4-stroke 4-valve SOHC 90 degrees V-twin
Displacement. 125cm3
Bore and Stroke. 42 x 45mm
Compression Ratio. 11.8. 1
Carburetion. 22mm VP-type x 2
Max. Power Output. 11kW/11,080min ?1(95/1/EC)
Ground Clearance. 190mm
Fuel Capacity. 17.5 litres (including 2 litre reserve)
Dry Weight. 149kg
WHEEL, SUSPENSION AND BRAKES
Wheels Front. Hollow-section triple-spoke cast aluminium
Wheels Rear. Hollow-section triple-spoke aluminium
Tyres Front. 100/90-18 (56P)
Tyres Rear. 130/80-17 (65P)
Brakes Rear. 220mm Hydraulic disc with single-piston calliper
Below is a simple list of a few accessories the Honda offer for the Varadero. Be warned, some of the accessories are expensive and items such as the back box are split up, so make sure when ordering, you order all of the parts, a motorbike shop should know what to order.
Magnetic Tankbag
Back box
Mini clock
Handle bar bridge
Heated handle grips
Mainstand
Tall windscreen
Above are just a few items; there are many more accessories for this motorbike. Check out www.honda.co.uk for the prices and full details including the part number. The specifications I have used were taken from the Honda website
so they should be accurate.
Honda has recently bought the price of the Varadero down. Originally the new motorbike cost around Ј3,500.00, with a choice of fours colours, Black, Silver Shield Metallic, Blue and Candy Red. They now offer the Varadero for Ј2,999.00 with a choice of the Black, Silver Shield Metallic and the Blue.
3. In this part of the opinion, my boyfriend lists the good and bad parts about the Varadero from a rider?s perspective.
LOOKS
Can?t really fault the looks, it looks big and the headlights make the bike look aggressive. The headlights are also very effective as they have a system of well-placed mirrors to enhance the lights. Hand guards would have been a good idea as standard, just like the larger version of the motorbike (XL1000V Varadero). That way the big would look even bigger from the front and your hands can be kept dry and protected from the wind.
The digital dashboard is a brilliant design. It is clear and easy to use. It is also perfect for a quick glance down from the road. The time and mileage are on a digital display.
It also has a clear rev meter which is ideal and useful as it is sometimes difficult to judge what revs the engine is doing as it is a twin and so quiet.
HANDLING
Both two up and alone the handling on the bike is brilliant. The front shocks could do with being adjustable like the rear. The reason being is because when riding two up the front end is very bouncy.
ENGINE
Alone on the bike the engine isn?t bad, quick enough, but needed a lot of ?thrashing? to get any thrill from it. Two up, the engine coped well considering the weight of the bike and us, especially seeing as it is only 15bhp. But to keep up to speed it requires a lot of gearbox work due to its lack of torque.
You can?t rely on the bike to pull itself back up to speed if the speed drops, you have to go down a gear or two and start again. The engine managed really well, it can?t reall
y be faulted. It managed to pull us down the A3 at 70 even though it was restricted still and was over loaded. It would have been nice to have a 6-speed gearbox instead of the 5-speed.
That way it could have gone faster if needed.
DESIGN FAULTS
The front end is prone to a lot of stuff thrown up from the road, including the exhaust from the front cylinder. Also in bad weather the front cylinder itself and the radiator are prone to abuse from stones and mud etc. his could have all been avoided if Honda made a larger front mudguard. The current one is too small.
The oil drain bolt is on the side of the sump, so when draining the oil it doesn?t go straight into the tray you?ve put underneath. Instead it comes out, hits the undercrowl and goes all over the floor.
Checking or changing the spark plug on the front cylinder requires the removal of the fairing, unless you have very small hands!
The rear shock is prone to muck from the road and in a few years it will need replacing as it rusts away.
Changing the headlight bulb is annoying, as you have to take off the panel underneath the dashboard and get your hands into a really tight space.
The windscreen is ok, it works sometimes at directing the wind over your helmet but buying the taller windscreen would probably benefit more, especially if you are tall or will be using the motorbike for long journeys.
CLEANING
The motorbike isn?t particularly easy to clean, this is mainly because there are so many inaccessible parts or hard to reach areas. It is a time consuming job, as you need to work hard to clean the difficult areas as best as possible.
PRACTICAL
Yes it is very practical, for a 125, it looks the business and goes well. It can also do around 200 miles on Ј10 worth of petrol if ridden sensibly. It is very comfy and it is a 4-stroke so the maintenance is low.
FILTERING
Filtering through traffic isn?t too
bad as the indicators are part of the bike, instead of standing out like most bike indicators. This means it is ideal for filtering through traffic without knocking them and when parking in the city or any tight space you haven?t got the indicators to worry about. Filtering two up on this bike is still possible, you just need to be aware that you have someone on the back and their knees stick out more then anything else on the bike.
AFFORDABILITY
The bike itself is expensive, but it is very cheap to run in terms of petrol etc. The parts and accessories for the bike are expensive, but that is just the way things are these days.
SPEED
People claim to have had this bike up to 75mph and leave it there. Although the bike can handle it, you are revving the engine a lot so personally I have never done that. The most I have had out of it is 70mph, both alone and two up.
A comfortable cruising speed is probably around 60. 65mph, either two up or alone.
LEARNER BIKE
It is a good bike for someone who has passed their CBT, but is still learning. However it isn?t really ideal for someone learning to ride a manual motorbike from scratch. I would only recommend this bike to someone who is fairly confident that they aren?t going to drop the bike or fall off, as the fairing will make it an expensive hobby to keep repairing!
However the turning circle, clutch and gearbox are fine, they make it easy for a beginner. The clutch is so light its great to use and ideal for when in traffic and needing to change gear a lot.
Overall the bike is brilliant. You could easily do a very long journey on it. The bike is great; it?s just let down by a few silly things. The design faults, however annoying, can be ignored and also out weighed by the good factors!
I would defiantly recommend this bike to other people, experienced riders or beginners!
4. Personally I thought that the bike was brilliant. I know I never rode it but t
hese are my views about the bike. Without a doubt the bike has stunning looks, it looks better with the undercrowl, as it makes the bike look bigger. The undercrowl costs around Ј80 and the purpose is to help protect the engine from any stones etc thrown up from the road. As a pillion I found my seat was comfortable.
My handles could be found at the side of the bike. It?s all personal preference but I found these handles to be positioned perfectly, they weren?t behind me, which isn?t too comfortable. Another option is to hold on to the rider.
I didn?t find this comfortable, as I would have to keep my arms in an unnatural position; also I worry that I might put my boyfriend off! Also holding on to the handles means I can keep in my seat when braking hard, so I don?t lean into my boyfriend.
5. Honda offer a wide range of manual and automatic learner legal motorbikes to suit everyone's needs. These bikes are as follows:
MANUAL
Shadow VT125C – A cruiser style motorbike with the same engine as the Varadero.
Varadero XL125V – What this opinion is about!
NSR 125 – A gorgeous and fast sports bike, ideal for someone who has passed their test as it can easily be de-restricted.
XR125L – A brilliant looking 4-stroke scrambler bike, ideal for a learner as they are tough and have nothing much to break.
CG125 – An old classic, easy to learn on and cheap to run!
City Fly 125 – Has the same engine as the CG but with a little bit more power, easy to learn on.
AUTOMATIC
SFX50 – A plain looking moped.
SH50 – An old style looking moped.
Sky SGX50 – A retro looking moped.
X8R-S – A super sport looking moped.
X8R-X – A cross sport looking moped.
Dylan 25 – A scooter with a sporty design.
Check out www.honda.co.uk for pictures, specifications and more on these bike. Many other people offer learner legal motorbikes such as Yamaha, Kawasaki, and April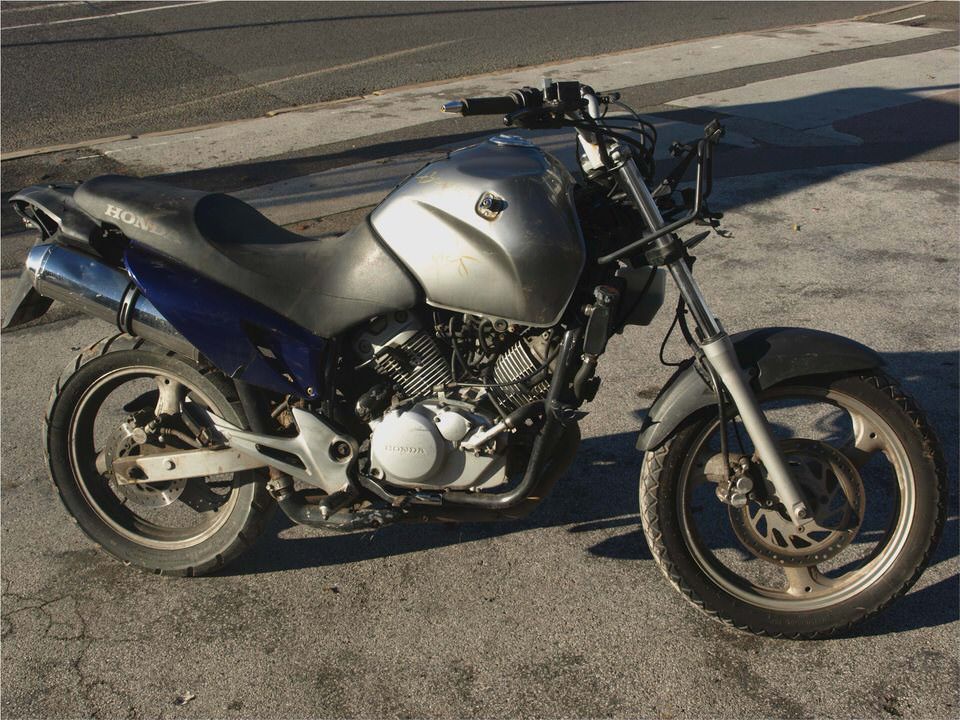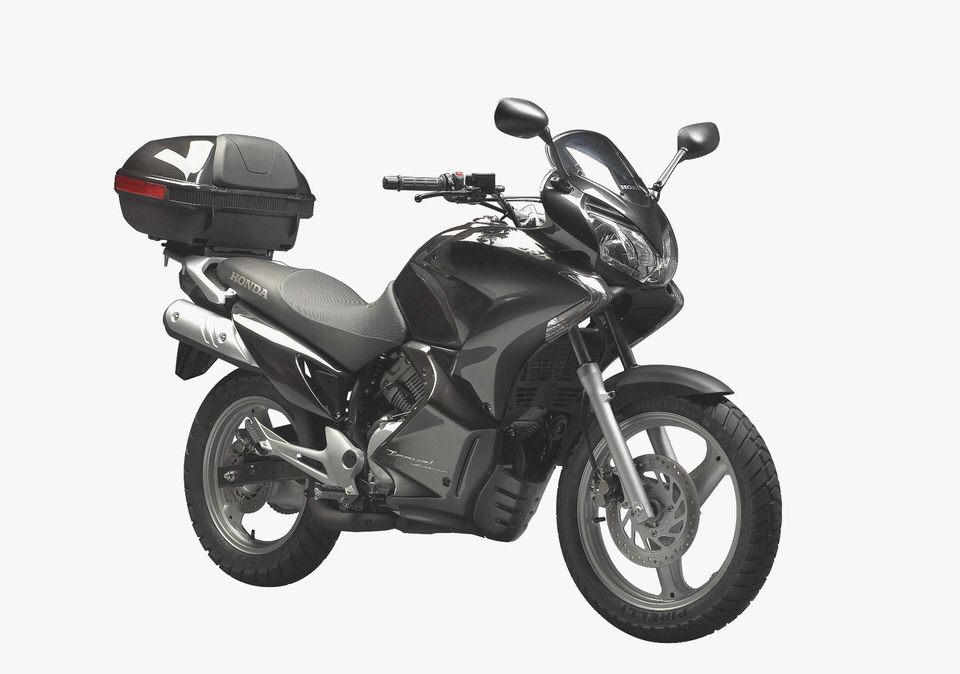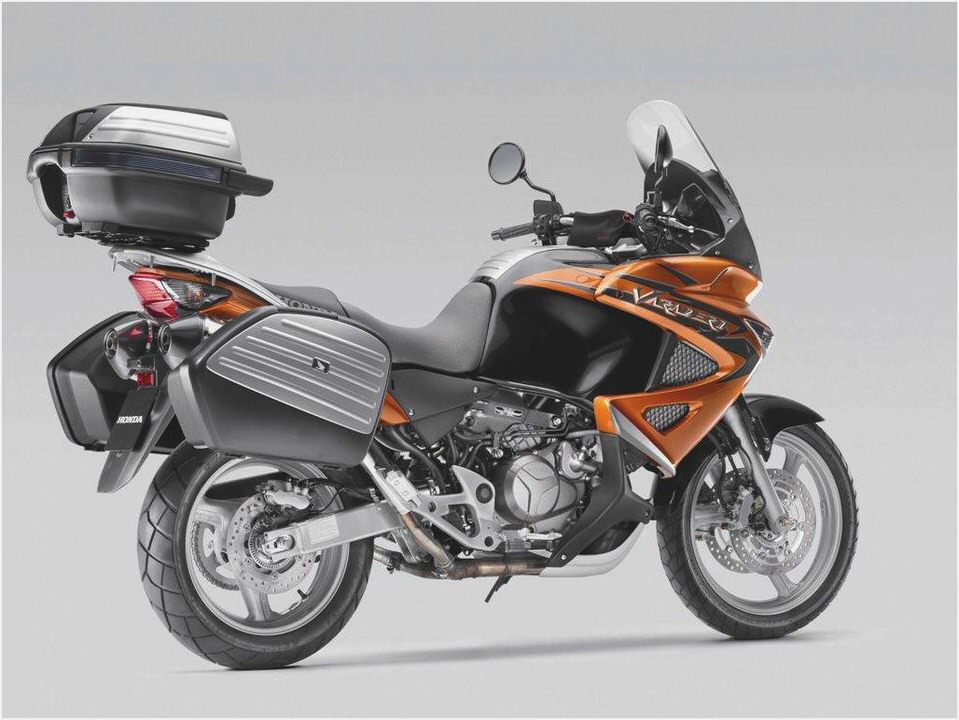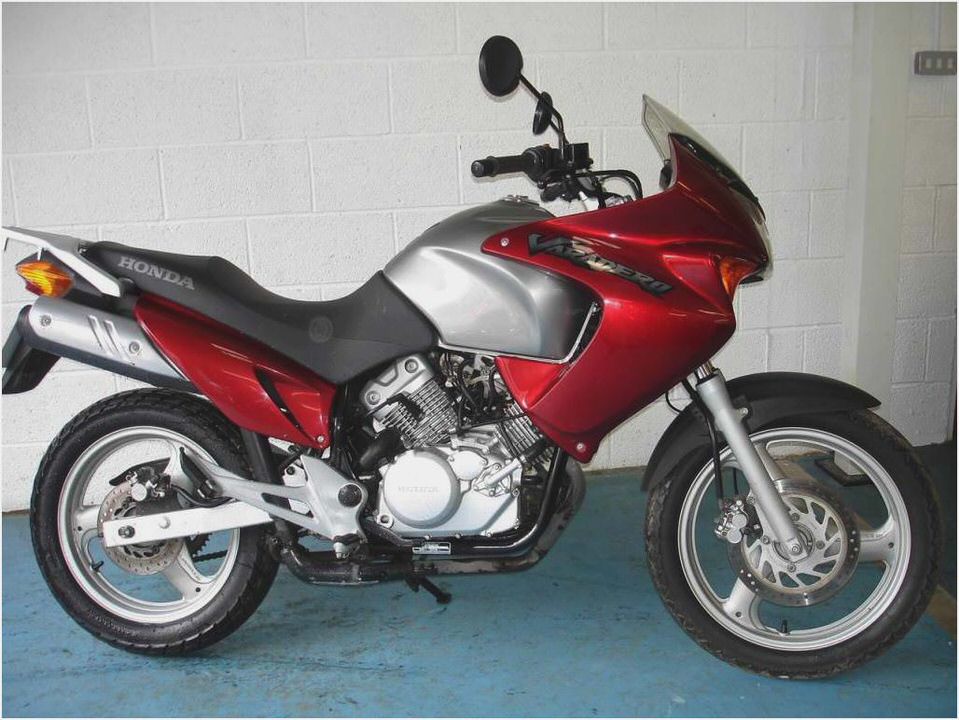 Honda CB750 cafe racer Bike EXIF
1977 Honda Gl1000 Specifications eHow
R6 vs CBR 600 RR
Honda trials EVs in Japan and California –
2013 Honda CBR600RR First Ride – Motorcycle USA