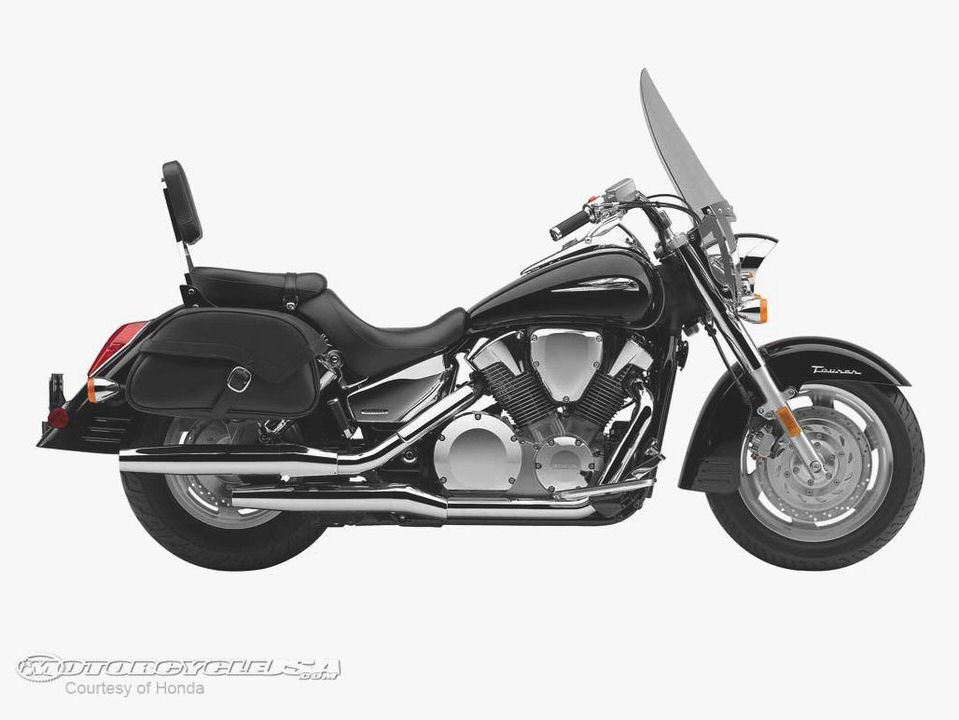 "What did I do to deserve is?" were the words staring back at me from my monitor. I was frantically typing a reply email to our Senior Editor, who had informed me that I was to ride a cruiser and submit an article by deadline. My email would go unanswered. Wanchena had taken off on his BMW and wouldn't be back for over a week. My fate was sealed.
So, what's wrong with riding a cruiser? For most riders, nothing. My first motorcycle was a first-generation Virago, and I have also owned a Sportster. But my riding style now favors Sport Touring and Dual Sport motorcycles—bikes with more upright riding positions and heaps o'ground clearance.
The last cruiser I rode was a friend's Harley Softail and I ended up grinding the floor-boards to a nice bevel. I was not looking forward to that experience again.
Gus dropped off the VTX and I gave it the once over. Ahhh, nothing like black and chrome to keep a rider busy cleaning instead of riding. OK, to be fair, not all riders subscribe to my philosophy of "polishing cuts into my ridin' time" and some riders actually prefer a bike that doesn't attract flies when it's parked. Maybe a little one on one time with a garden hose and a chamois isn't such a bad thing.
Continuing my study of the 'X's lines, I start to appreciate its form. I like certain bits, and dislike others. All in all, Honda's designers did a good job. I particularly like the taillight and the dash.
The pipes flow nicely, as do the tank, seat and rear fender. Cruisers are largely about looks—and this one has a great look. But the big question now is: does function follow form?
Only one way to find out.
I grab my riding gear, opting for jeans and leather jacket instead of my usual riding suit. I straddle the bike. Wow, this thing is really wide! The tank alone appears twice the width of my BMW's. I reach between the cylinders (not recommended for ungloved hands) to find the choke, then switch on the ignition, which is found under my left thigh.
I hit the starter button and the V-Twin rumbles to life. I sit in the driveway for a moment and take it all in. The engine falls into a nice, slightly lopey idle and doesn't shake the hell out of the bike like my old Ironhead did.
There is a slight reach to the bars, which makes me wonder if this might be an issue for riders with shorter frames. However, those riders won't have a problem sitting at stoplights since the VTX boasts a27.5"seat height. But enough discussion about ergonomics—It's time to ride.
I reach for the shifter and my moment of dread has arrived. I hate forward controls! Not wanting to sound like a bike bigot (although it may be too late for me) but I am perfectly happy with my feet below, or slightly behind me, while riding. Where my feet lie, so should the controls for my motorcycle.
I click the bike into gear and putt down the alley, all the while making a mental connection of the riding position—feet forward and legs slightly spread—to what a visit to the gynecologist might feel like.
On the road, I twist the throttle and something magical happens: I instantly fall in love with the motor. All 1312cc's of it. It seems as if no matter what gear you're in, there is always power. The thing begs to be short shifted.
The transmission shifts buttery smooth from gears 2 thru 5. Oddly, there is a slight clunk when going into first, and from first to second. Regardless, once underway the Honda is a joy to ride, despite one nagging issue. Remember my preference for riding positions? Well, there's a good reason for my not liking this one: feet forward and all the weight on my tailbone means bad things happen when you encounter bumps.
The suspension isn't bad at all, but it's not enough to stop the transfer of energy (that occurs on rough roads) from going directly to the base of your spine. However, the big plus to having the foot pegs up and in front of you means that ground clearance is increased. No floorboards a-scrapin' on this bike!
While I had the VTX, I tried to subject it to a variety of riding conditions. While I didn't take any long trips, I did commute daily on different types of roads. On the freeway, it runs with traffic easily. Once again, "any gear at any speed" pretty much applies.
Passing cars is effortless. Just twist n' go. Whack open the throttle, and your ears are met with the sweet aural mixture of intake roar and the pleasing exhaust note that only a V-twin can deliver. The Honda rates high on the Commuting Fun Factor. However, exceeding the posted speed limit reveals another evil of the "feet in the stirrups" riding position.
With arms 'n legs forward, your upper body begins to resemble a sail on a three-mast schooner. Faster yet, and you may be struggling to hold on. Too bad, because the 52 degree V-twin wants to keep going.
Back it down and things return to normal.
Of course the one thing cruisers do best is cruise. I had the chance to take it out on a nice evening and meet up with some friends for dinner. Afterwards, I decided to take a local parkway home. Along the way, I met up with another metric-cruiser rider. "Nice night for a ride, huh?" the rider said to me. I looked around then realized he was indeed talking to me.
Normally, cruiser riders never speak to the guy in the Power Rangers suit aboard his krusty-but-trusty K bike. We exchanged pleasantries and went on our way. It's no surprise that this bike is very much at home cruising around town, and seems to take great pleasure in drawing attention to itself.
Too soon, my time with the 'X had come to an end. It's been a week since she went back to Moto Primo, and I already miss her. Sure we had a Love-Hate relationship: I Loved the motor and Hated the riding position.
It's as simple as that. Still, I look back on some of the things that I think make the VTX a great bike. Maintenance-free shaft drive. That wonderful, smooth lump of a motor.
The fact that you could actually lean the thing in corners without parts immediately dragging. The wonderful headlight has great low AND high beam patterns, even if the housing itself looks like it was designed by the same guy that created the L'eggs Pantyhose packaging. And the disc brakes are topnotch.
Still, with Honda reliability, and an optional 5-year limited-warranty, the VTX 1300 is proof that chrome will get you home.
by Gus Breiland
Sometimes the planets align and reward knuckle draggin' Neanderthals like me with a weekend of riding, family and riding. With the boss away, orders to play with the 2006 Honda VTX 1300 came down from headquarters and I humbly obeyed.
My family had rented a cabin up by Lutsen, which is an excuse to ride in my favorite part of the state. On someone else's bike, Motoprimo's Honda VTX 1300, a long weekend is even better. Or, as I like to say, "Work, work, work. That Victor is a slave driver." I picked up the bike the morning of my long weekend to ride home, pick up my gear and head north. The day was beautiful and the weekend was only going to be more of the same.
My first impressions of the VTX were mixed. Visually, something wasn't right. I figured it was me. I have owned dual sports, standards and scooters, but not cruisers. Functionally, the VTX is a wonderful machine.
The 1312cc, 52 degree V-twin has plenty of torque for smooth acceleration up to good power distribution and cruising stability. Taking off out of Motoprimo's lot, I thought the bike was well balanced and ready to ride.
Even with forward controls and the cruiser riding position, the bike corners excellent and is relatively comfortable for commuting distances. This was apparent from the start. The short distance from Motoprimo Lakeville to Gus South Minneapolis had me considering leaving the test bike at home and taking my daily ride north.
The bike has a good power plant and is laid out okay, but I was stuck in this prone position and that might have consequences.
Faithful readers will understand that MMM strives to give a broad brush approach to bikes and their riders while poking fun at the 1percenters and their choice of ride a little more often than the 'stich crowd, scooter riders and off ramp passin' Ducati riders. More times than not any number of MMM staff testers have stated, "I just don't get it" when it comes to cruisers and unfortunately, here we go again.
"I just don't get it". It, being the cruiser riding position. I am stuck, weight on my tailbone, suspension that is compromised for low seat height and styling, forward controls that put your entire load on the tailbone and limit movement to other positions. After 26 miles on the road, pointed north with Lake Superior on my mind, Jihad to ponder the bike I was on and the line "I just don't get it."
Let's get back to the function of the bike for a bit. I don't want to give the impression that I hated the VTX 1300. I didn't. It may not be my bike of choice, but that is why I do this.
If I wanted to review only bikes that I liked there would be a lot of simple, used, functional motorcycles in the paper and very few words, either pros or cons since you would be able to replace the name of the bike with X, Y or Z and still get the same result.
When I was in the "need to get there mode", the bike and I didn't get along. Covering fast miles in this riding position make me feel like a giant windsock. I feel like a catchers mitt for the air, trying to pull my hands off the bars and forcing my butt into the seat.
Up to 60 miles per hour, this isn't of any concern but on the freeway at 70 plus miles per hour, the rider can become fatigued in head winds fighting to keep the bars in hand. Because of the low profile of the bike and relatively unencumbered front end, the bike causes little buffeting around the helmet which translates into a quiet ride, both noise and head position.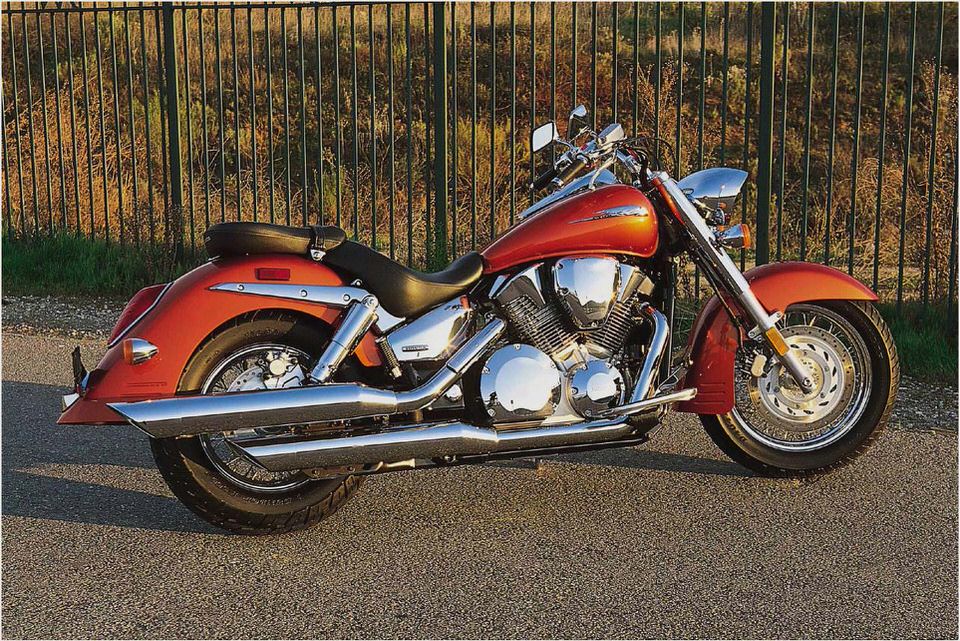 Highway 1 from Lutsen to Ely was my proving grounds this month and the VTX 1300 was magnificent. I wasconcerned that I was going to have to slow down for this twisting up and down road. That I would have to compromise my crappy riding abilities so that even the RVs would be shaking their fists and fingers out of their window as they passed me on the outside.
The VTX performed flawlessly as I swept through the North Country and was most likely wanting more and wondering why it was stuck with me as its pilot.
After a few miles on Hwy 1, I forgot about the seating position and just rode. It was enjoyable and my "I don't get it" attitude took a back seat to "Woo Hoo" if only for a short time. Once I was back in mileage mode, I was back to wondering how I was going to stand on the pegs if I had to hit one more seam/bump in the road.
Being the negative Nelly that I am, I want to hold my tongue for a moment before I get into the stock appearance of the VTX. Aftermarket bits do the Honda well. In my travels on the VTX to Grand Marais and Tower I had noticed 2 different 1300's that were debadged, spoke rimmed customized bikes. They were modified well and the lines flowed better than the stock bike. The VTX takes on a different appearance from Black to Orange to Gray.
Depending on your eye, we all like a certain color or modification. I liked it in Orange. Man, did that pop. With no tank badges, spoked rims and a few other bits here and there.
The stock bike, however, is odd. Honda took their design tips from multiple bikes and somehow made the VTX without Chi. It doesn't flow. It is the mutt of the current Japanese cruisers in my opinion.
There are a couple of styling points that didn't make sense to me. On one hand, I liked the vintage bathroom scale look of the gas tank. But its profile and overall mass for 4.8 gallons reminded me of a Boss Hoss and once I think Hoss, it's over.
While the bike is on its' side stand it is impossible not to spill gas all over the bathroom scale…impossible I say! The bathroom scale has the standard blinky and idiot lights and a single button that controls the odometer and 2 tripmeters.
My biggest annoyance with the visuals of the bike sat in front of me in the cockpit. The giant chrome headlight, high polish chrome bars, chrome bezel on the bathroom scale and brightly polished everything that is not painted within the eye line of the rider is disrupted quite noticeably by this giant piece of brushed aluminum that is the triple tree. This piece needs to be chrome and it interrupts all of the good that is the headlight, etc.
The headlight; now there is a thing of beauty. More times than not I found myself watching the clouds pass overhead in its shiny curves. It was so cool to see either side of the headlight case colored green with trees while the bright blue sky and fluffy white clouds cascaded off of the curvature of the shroud.
This shroud is the home to a very nice headlight and high beam. Thankfully, almost all motorcycle manufactures are starting to put actual working illumination on their bikes. Gone are the days of Lucas, the prince of darkness and his oppressed minion Cagiva Mussolini.
The 1312cc motor is carbureted with an on/off/reserve petcock. An under thigh ignition switch on one side and an air box in the thigh on the right side are standard cruiser head scratches for this reviewer. Why my leg has to hit the air box on any cruiser is beyond me and as it forces my right leg to be out past my natural hip to femur geometry which lead to fatigue and discomfort.
The heavy cast aluminum rims on our bike needed to be replaced with spokes, as the cast rims look heavy and are not finished properly. They are just like the bike, which is in a constant battle with its styling cues from rims to tank, tank to headlight, headlight to taillight, the battle of sharp lines to soft flowing lines with no real winner.
I found that the bike was easily pushable on flat ground. Plenty of bar width…huge in fact, to help push the bike into or out of parking spots, but if you had to push it up an incline, the weight of the bike and low profile leave much to be desired.
The Honda VTX 1300 is a good motorcycle for the rider who wants to spend their days enjoying the scenery, forgetting to work. The Honda VTX 1300 is not for the mileage hound looking to crank out a minimum of 600+miles each day. My longest day in the saddle was 300+miles and I was reminded with every bump in the road why I don't get the forward controls position.
The foot forward prone position had this rider searching for alternate riding position more times than not. Fortunately, I am still flexible enough to swing my legs back and hook the heels of my riding boots onto the passenger pegs. Not a great solution, but it worked.
Personally, I think Honda has put this smooth motor and transmission into a burlap bag and paper hat. This ugly duckling has the potential to be transformed into a swan, but it will take a little aftermarket money to make that transformation. While it is a good bike, I think it is too big to be a commuter, and not comfortable enough for longer trips.
The wheelbase is quite long and low speed; sharp cornering will have clearance issues at the pegs.
As with any major manufacturer, Honda has a solid line of aftermarket bits for making the bike your own. From leather saddlebags to accessory lights, the VTX will give you plenty of opportunities to change its appearance. We want to thank Motoprimo Lakeville for the generous use of their 2006 Honda VTX 1300.
You can find them on the web at www.motoprimo.com or Minneapolis, MN at 2610East 32nd St or Lakeville at 16640 Kenrick Ave.
Gay Neighbor's First Reaction®: "I'd be your bitch on that bike."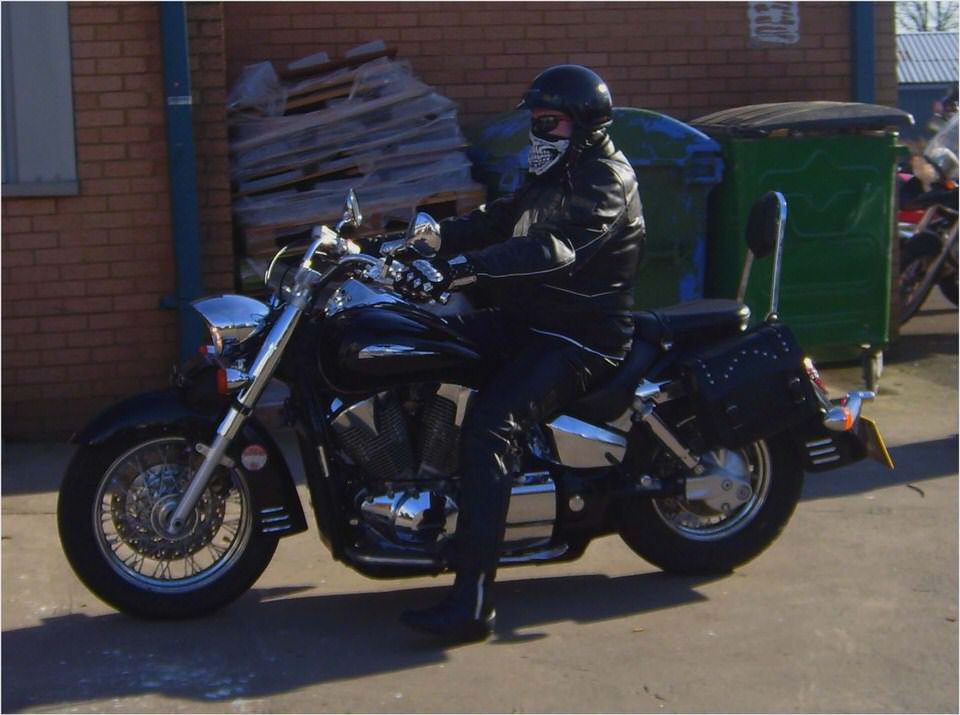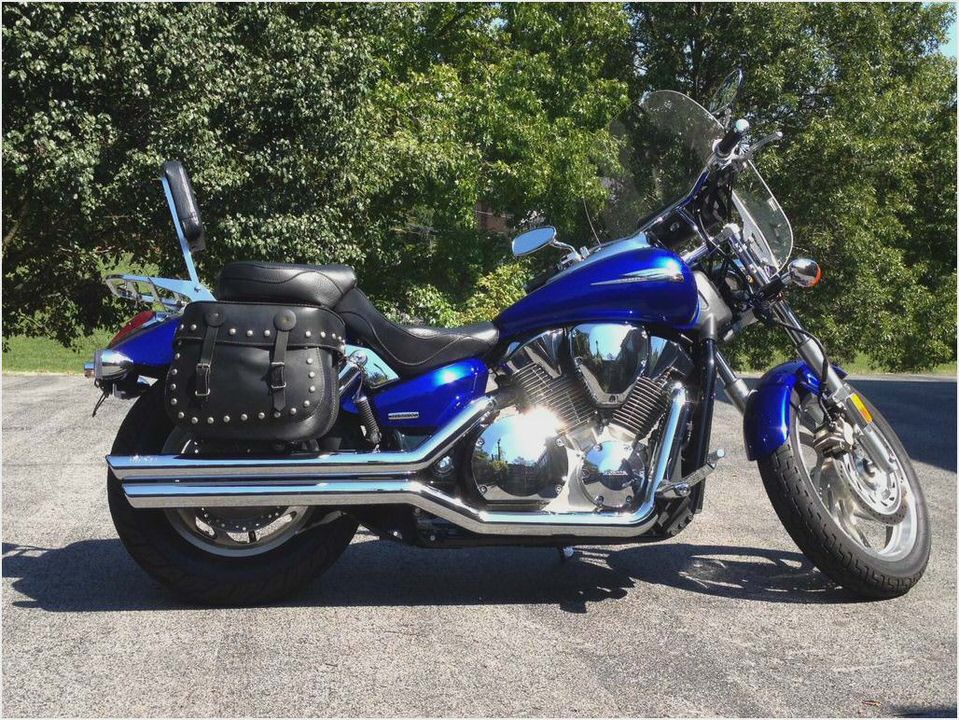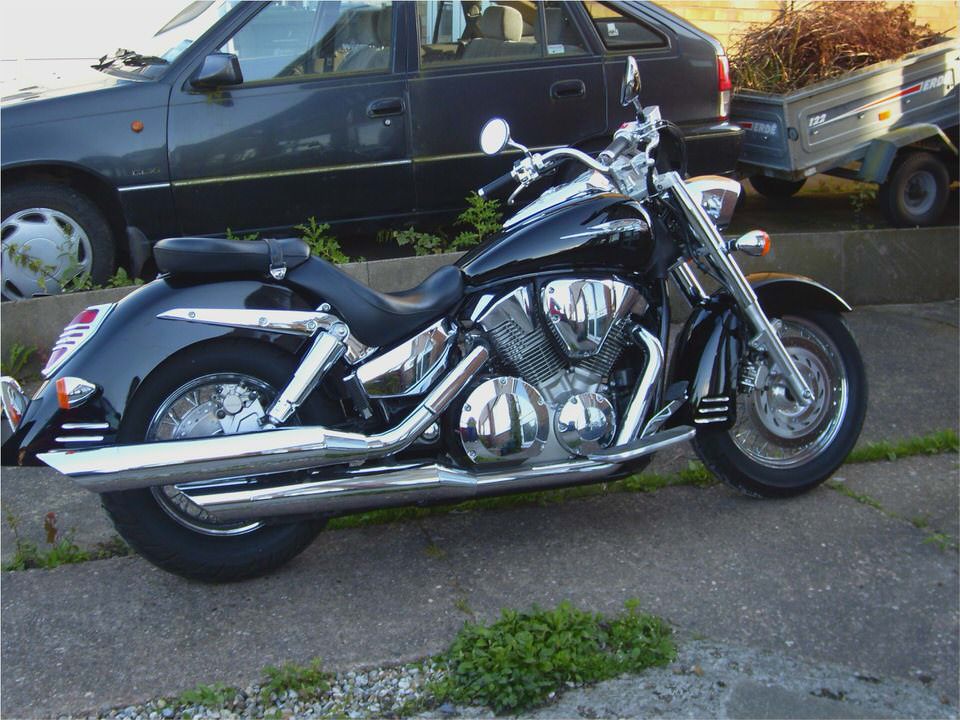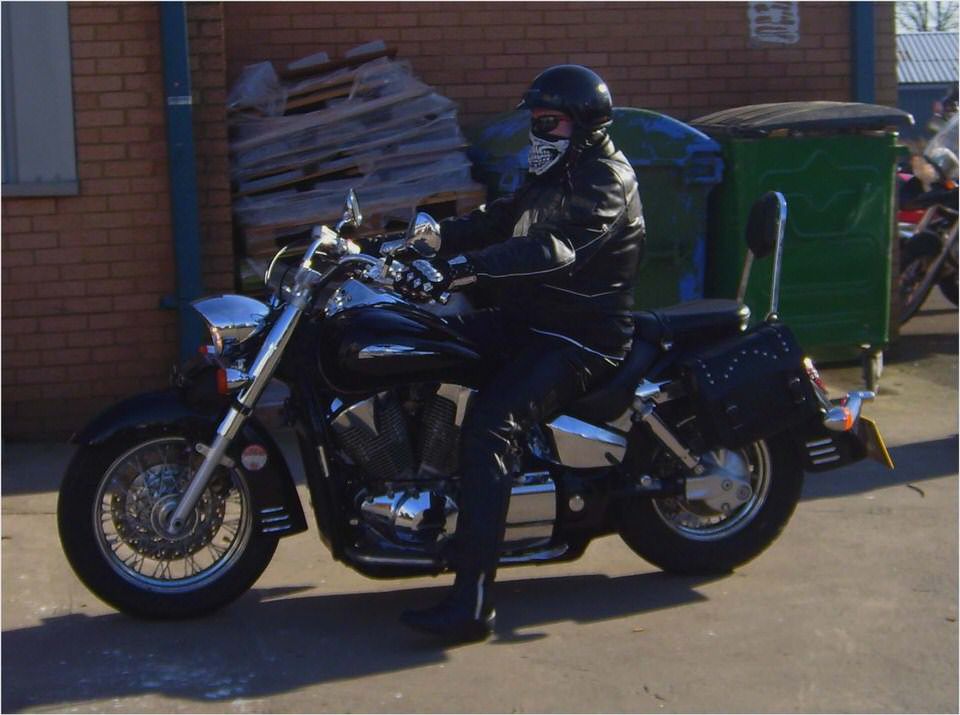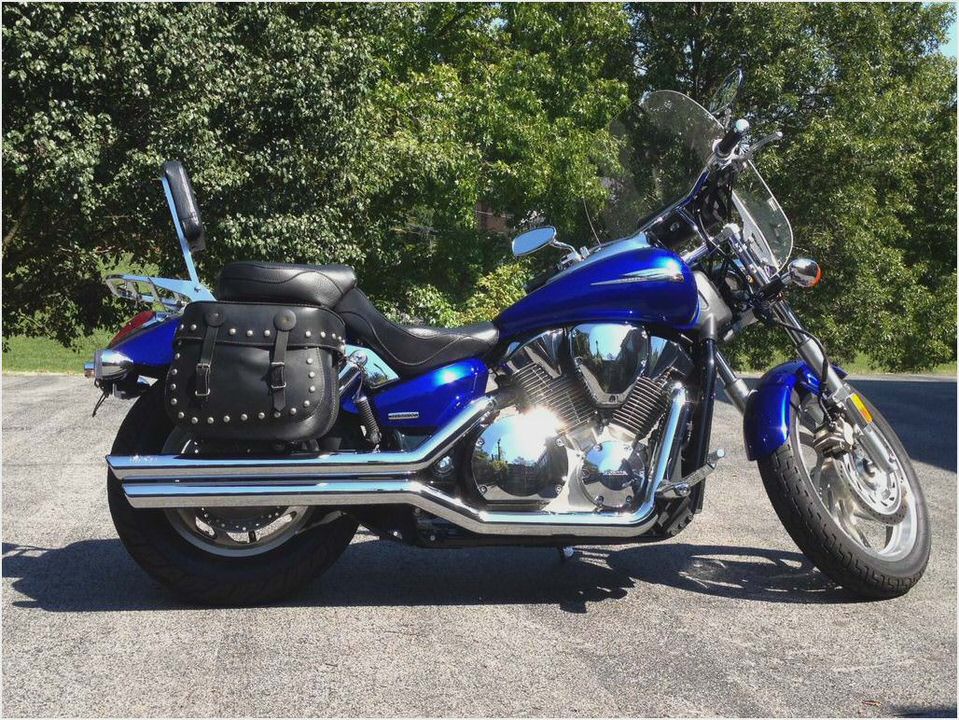 2012 Honda GL1800 Gold Wing First Ride – Motorcyclist Magazine
2010 Honda Shadow RS Road Test Rider Magazine Honda RS Reviews
2014 Honda NC700X Motorcycle Review Long Term Street Bike Test – Ultimate…
First ride: Honda NSS300 Forza review – Road Tests: First Rides – Visordown
MMC: HM Plant Honda CBR1000RR – Motorcycle News – Motorcycle Sport Forum