User reviews
6 of 6 people found the following review helpful
A Ural was probably the most uncharacteristic bike that I might have bought, had I asked my friends for their opinions. Nevertheless, it made perfect sense to me at the time and still does, although perhaps I might have done things a little differently.
Firstly, the why:
I ride all year and have been used to having bikes as my main means of getting around since my first one. When I moved to Estonia, with its somewhat more aggressive winter season it became clear that my riding would suffer. Likewise, our plan to get a dog once we got here and our desire to keep travelling by bike also demanded a radical rethink.
In addition, as our trip to South America on a GS taught me: I am not a natural off-roader, especially two-up so it also makes that safer.
Ultimately, despite using it all year, I bought this bike as a trip bike, chosen to take us (my wife, our dogs) to Siberia and hopefully to Africa also.
Hence the idea of a sidecar was born. Winter riding is far more manageable than on two wheels, and travelling with a dog (now dogs) is also possible.
The exact model is a Ural Sportman ("Patrol" in the States) 750 from 2007. I'm no expert on the Ural evolution but in the early 2000s (I think), the motor was increased from 650 to 750. Then in about 2005 the factory started sourcing in foreign components to raise the reliability of their bikes (which had been legendary in its absense).
This includes on my bike a Nippon denso alternator, Herzog gearbox, Japanese electrics, German pistons, Keihin CVK carbs, KN filter, Brembo 4 pot caliper and 320mm disc front brake and a ducati ignition module. The general consensus is that these bikes are now on a par with the BMW airheads in terms of reliability which is pretty good. It came with a sidecar screen (removed and stored), a spare wheel and rear rack ) both removed. It also benefits from a an electric start and a kickstart.
Presently the former is not working, but the latter is so easy to use I've not felt the need to deal with the problem. Procrastination at its best.
The ride:
Riding an outift, other than the controls, bears no resemblance to riding a solo bike so, despite 18 years in the saddle, I was a novice and I felt it. Suspension is either hard or harder, but the rubber tractor seats are surprisingly comfortable. Handling a sidecar, certainly a Ural, is strange and does mean that your average speed will drop significantly.
Like all Urals this bike benefits from a reverse gear but, in addition (and a major reason for me choosing this bike, rather than building an outfit myself) it has a engagable sidecar drive axle, effectively making this a 2WD machine when the terrain requires it. This makes a huge difference in difficult conditions
Performance:
Don't expect much from this 2 valve 750 boxer twin. It develops about 35 bhp which it uses to shift the 350kg dry weight of the Ural. However, it does have good levels of torque considering and that makes the difference. The biggest disappointment for me is the fuel economy. The absolute most I have achieved is 45mpg or 10km to the litre or 10litres to the 100km, but this is by no means typical.
35-40mpg is more like it, particularly in town. Luckily, to manage the optimum, a cruising speed of 45 mph is ideal and this happens to be the most comfortable speed for me. This might seem horribly slow on a solo but with a sidecar it is a very comfortable speed and in the words of Ted Simon and Grant Johnson: the slower you ride the more you see.
Maintenance:
These are very easy bikes to work on. However, that is only half the issue. I have fortunately been spared any major failures, but they can go wrong and if something goes awry it is best if you have some mechanical understanding.
Fixing may be straight forward, but diagnosis is not always easy (especially for me). The only actual failure that was not down to my abuse ( aggressive off-roading in sand killed a clutch, a failed fording attempt drowned it, a disc lock bent a disc. I know, I know. ) was a knackered hall sensor on the pick-up coil. All it really needs regularly is an oil and filter change, valves checked and carb balancing. The only downside is that the oil needs changing every 1500 miles.
When your touring that can seem very frequent.
Off-roading:
Despite the pictures and image, this bike is no natural off-roader. Unsurfaced roads, fine, forest trails fine, but more technical stuff and it suffers. Ground clearance is good, but let down by narrow 19" tyres and abyssmally placed exhaust cans.
Similarly, the first gear is too tall. Yes, it only takes you to about 18 mph, but when you think the bike only reaches 60mph, it starts to look tall. Getting moving in loose conditions requires a few revs and some clutch clipping: that has already cost me a clutch.
The ideal is to use the engines low down torque and just keep the engine going: it keeps chugging along long after you'd have expected it to stall. Knobbly tyres on the wheels help enormously.
Touring:
For various reasons (money/time) our touring has been limited so far but one thing is immediately obvious: luggage capacity is low. The sidecar has a boot, that looks big, but really is about 1 and a half times the size of a decent motorcycle pannier: so not much. However, at a steady 45 mph, a 250 miles day is feasible and you'll have had time to enjoy the scenery.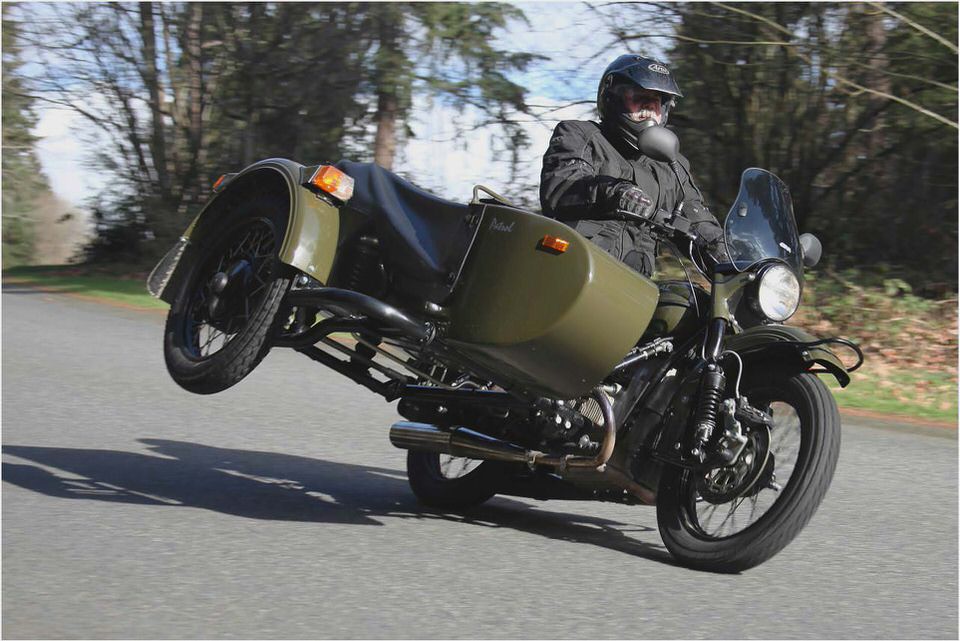 Modifications:
Not strictly part of a review but, as these are all things I felt I needed to do to make this bike the tourer I want it to be so perhaps relevant all the same.
On the bike:
• Carbs rejetted as they are lean from the factory.
• Removed airbox (dreadful design) and replaced with individual foam filters mounted on DIY intake pipes
• Deeper oil sump.
• Power socket
• Battery switch
• Sheepskin seat covers
• 2 -1 high profile exhaust system (design stage)
• Two power sockets
• 20 litre jerry can holder made
• Folding spade holder made
• Wooden base for the dogs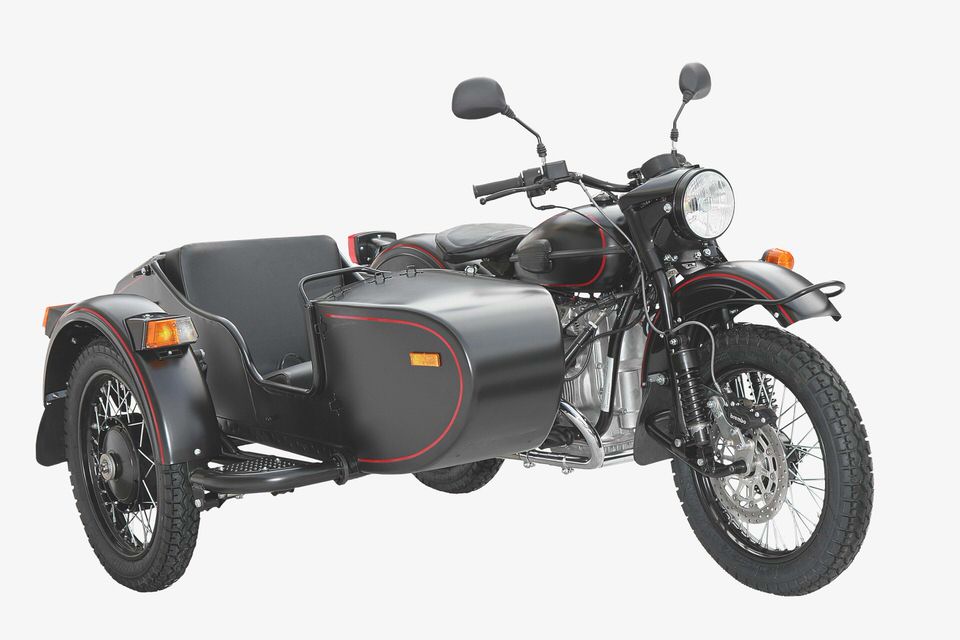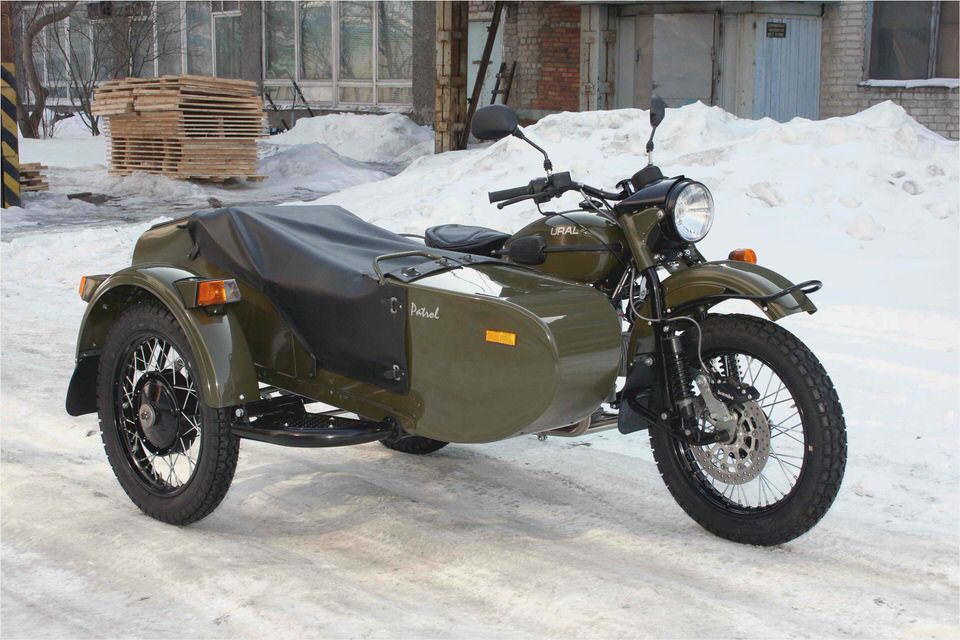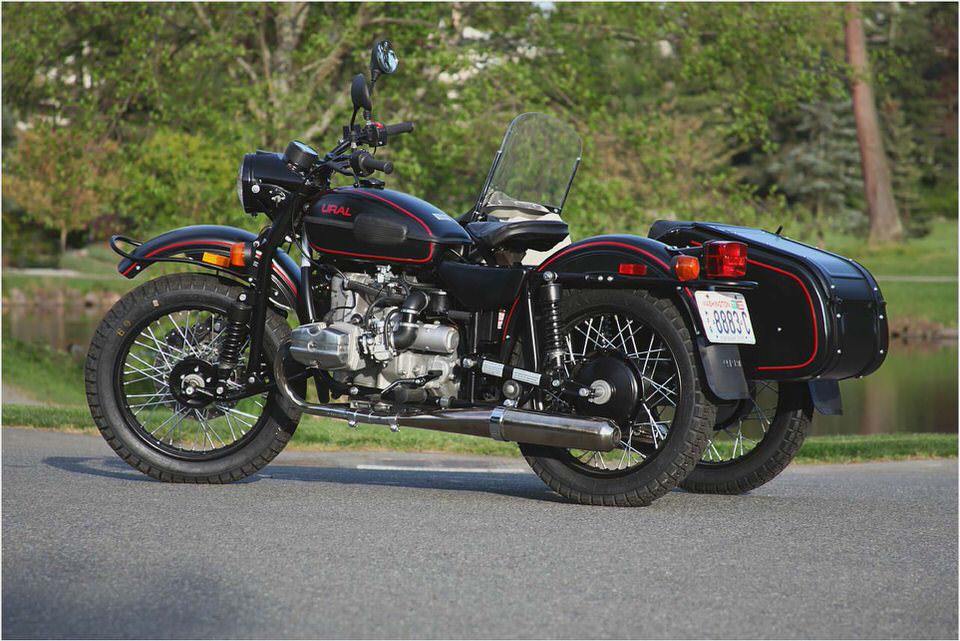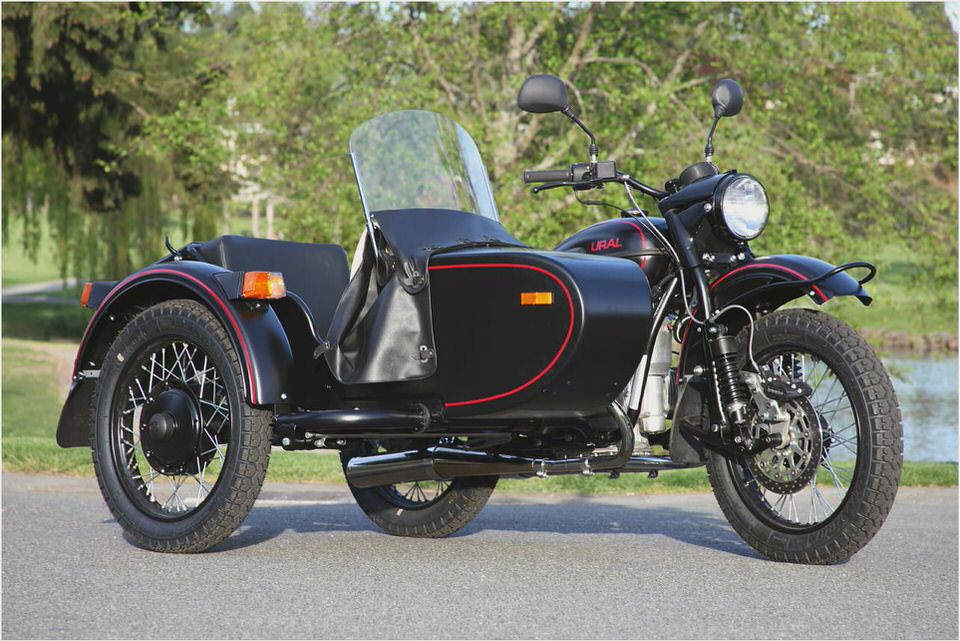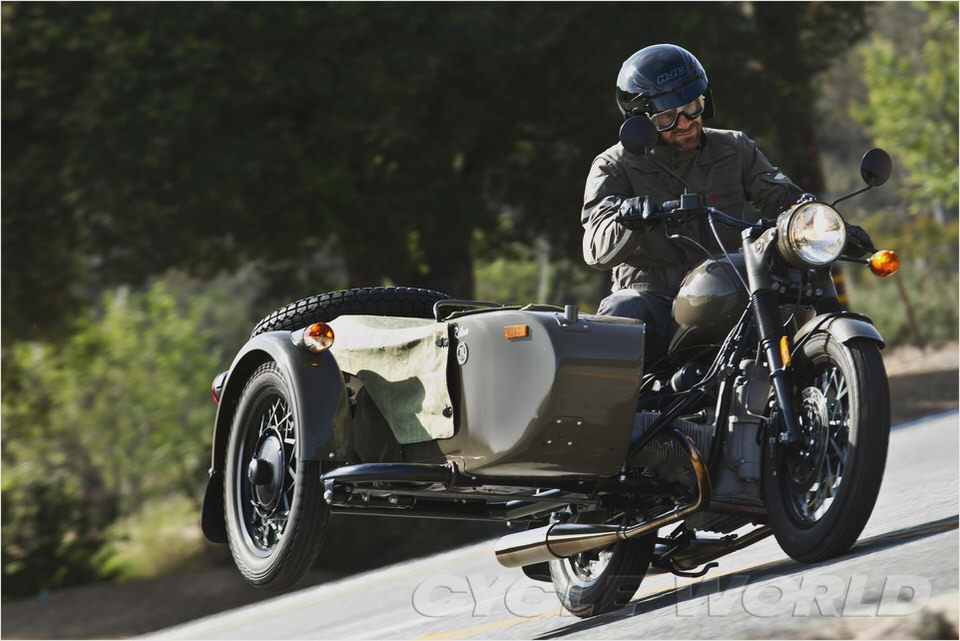 2010 Ural sT Solo Motorcycle Review – Riding Impressions of the Ural sT…
Two ' Er, Make that Three-Wheel Tuesday Review: 2010 Ural Patrol…
Luxe Travel Report Barcelona by Sidecar
Ural Gear-Up review
2014 Ural Solo sT Review Motorcycle 2013