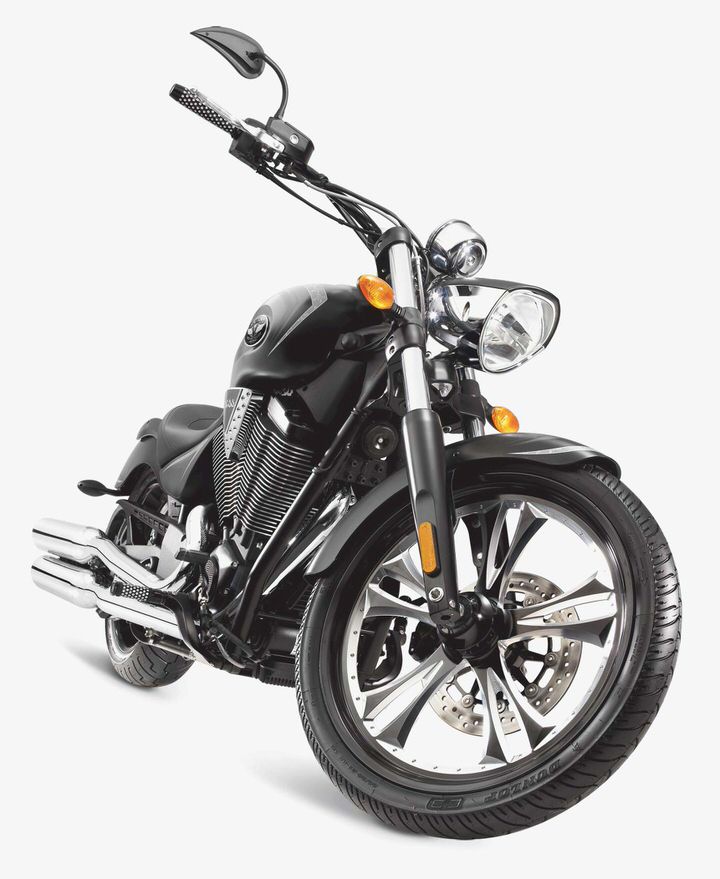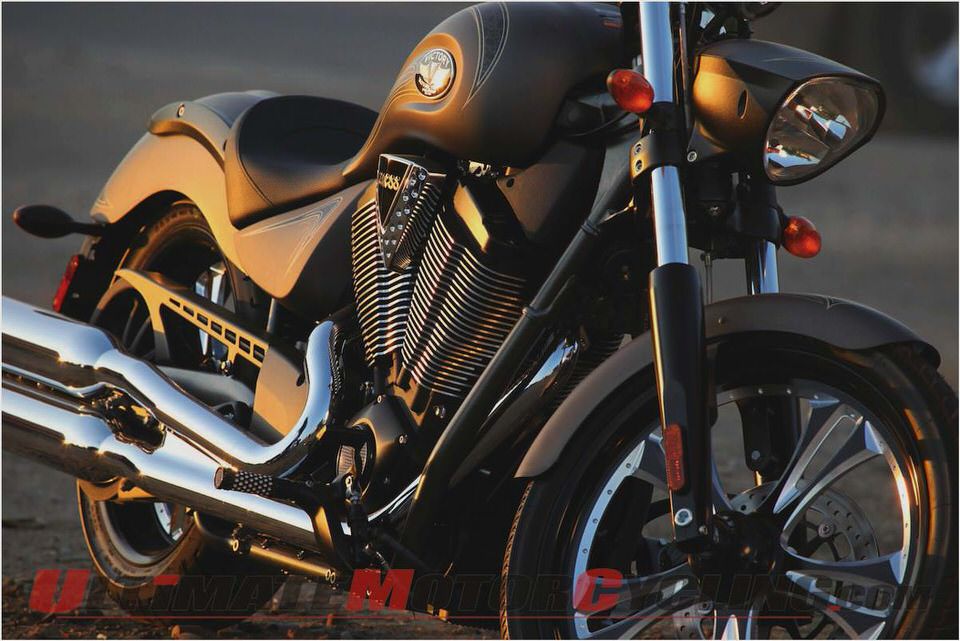 Cyril Huze Blog – World's Number One Source For Custom Motorcycle News
Judging The New Victory Judge Model And Zach Ness Custom Version
The challenge. Not only to road test the 2013 Victory Judge model  but also its first custom version. the NessCafe  built by Zach Ness. Launched by Polaris with the slogan "The New American Muscle Bike" I wanted to know how much muscle the factory model really got and how much extra excitement  Zach's custom version could bring to  me.
Meeting was set during Daytona Bike Week at the Victory Motorcycles display on International Speedway. There I got a full briefing on the Judge model from Victory executives Robert and Manny Pandya, then met with Lloyd Greer from Lloyds Motor Works , the motor guru who fully rebuilt the stock engine to turn NessCafe into a true Cafe Racer champion. The Judge is the first non-tourer model released by Polaris since 2006, a descendant of the Vegas, and an important step for Victory to impose its brand in the cruisers segment.
The Judge share several traits and parts with the Vegas, but a first glance it's a much more compact bike ((64.8″ wheelbase) with strong sport-influenced styling. Although overall look is modern, in black (my choice), with very few chrome parts, racing side panels waiting to be customized with the number of your choice or whatever, 16″ five-spoke wheel (130 mm front, 140 mm rear) and Dunlop Elite II tires with raised white lettering, it will not scare away all those infatuated with the retro look. I smiled when I observed that on the Judge the headlight nacelle looks like belonging to the bike (wink at the Victory designers), and became very impatient to straddle the bike when it was mentioned to me that the low center of gravity and the 106″ 50-degree Freedom engine (1731 cc) serving 113 ft-lbs of torque would help me escape the Daytona traffic and find freedom of the road much faster that what I could expect…
With the promise from Zach Ness that we will switch bikes before returning to the Victory display, we both cranked our bikes for a few miles of cruising beyond Daytona city limits, then for many more miles of sport riding to test our bikes respective passing power… First impression on any model is riding comfort and position. Seat is low (just under 26″ to the ground) and very comfortable, Being 6 foot tall with long arms, bars position put me more in a cruising that in a sport position, but those shorter than me can expect a slightly forward and more sporty stance.
Although the 2-into-1 exhaust styling from Cobra would not be my first choice, cruising is done with the music of a quite pleasant growl, something remarkable for an EPA sound emissions approved system. Clutch is firm but doesn't require hand strength. Shifting clunk is somewhat loud (you will not miss a gear) but mid-mounted controls setup makes shifting the 6-speed transmission extremely easy, smooth and precise.
While confronted with long traffic red lights and contrary to what I experience with many other factory bikes, I never failed to find neutral.
When it was time to test throttle response I found acceleration quite outstanding for a 660-pound bike. Playing catch up with Zach Ness racing NessCafe on the open road, I had to flex the Judge muscles and it was not too difficult to re-join him, up to the point where he was not exceeding a slow speed for him of 90 mph (beyond is another story, more later.) And when Zach stopped to find another open space direction I had the opportunity to test the Judge brakes.
Separately or together, the Judge setup, a rear 300mm disk/2-piston rear caliper and a single 300 mm/4-piston front caliper handle their tasks correctly, without hesitation. And doing so, I applaud the fact that only a front left single disc necessary, it makes the Judge front end look much more appealing. That day, riding only on very smooth Florida roads I was unable to evaluate the bike behavior on uneven tracks.
Then came the time for an half an hour break for both bikes beauty shots. While our photographer was crawling on the ground to find the best possible shooting angles, I realized that even when placed side by side with an ultra custom as cool as Zach's NessCafe, the factory Judge still looks very good. A compliment to Victory designer Mike Song.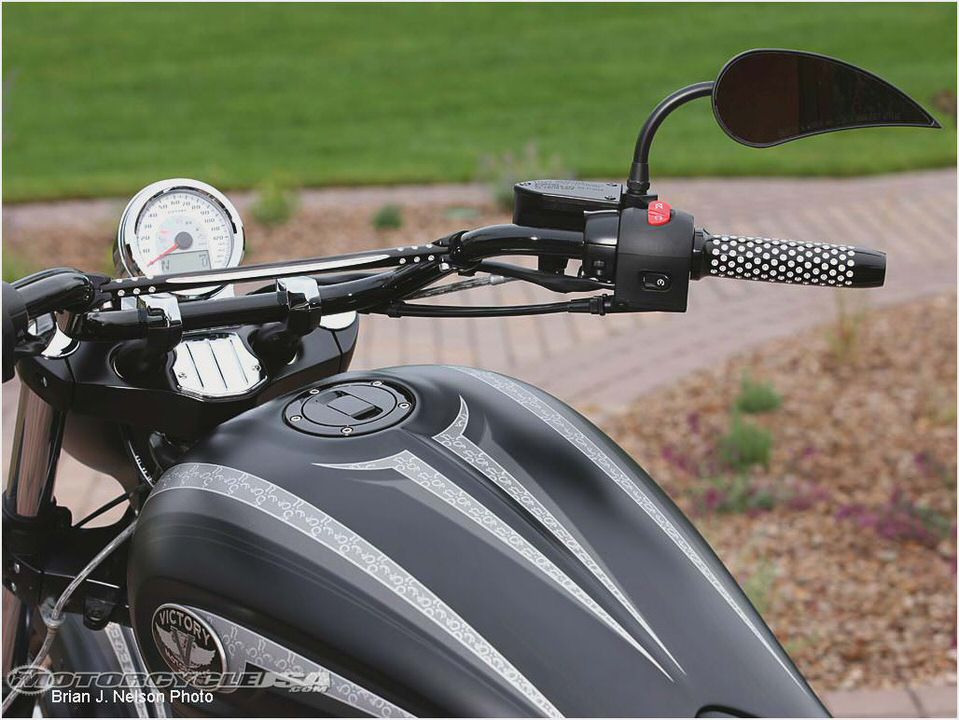 After admiring the fab job done by Zach, especially the task consisting in cutting the frame in half and in completely re-designing the rear section (in which the battery, ECU, power commander, and fuse box are located). I checked the one-off Ohlins fully adjustable TTX rear shock seth. Zach reminded me the motor mods done by Lloyd Motors.
It includes crank weight reduced by 10 lbs, cams, raised compression, heads port and polishing, custom built ECU, power commander, Lloyds Torque Tube intake, and nickel plated rocker boxes.
It was time for me to handle the factory Judge keys to Zach and to borrow his NessCafe to see how it feels to go from an an American Muscle Bike to an ultra powered American Cafe Racer. Well, I found myself in exactly the same riding position Zach had when he rode his bike front of mine (we are the same size). Leaning low just above the bars, with a pure Ton-Up Boy attitude thanks to mid controls moved 5″ backward.
Seat comfort is minimum but who cares. It's all about speed and handling. Twisting the throttle is exhilarating and tucked against the gas tank I had in mind the vision I had 1 hour sooner while following Zach, a red dot getting smaller and smaller to those following me.
In the wind, I smiled.
While adjusting our speed to ride back together to the Daytona Victory display, another thought crossed my mind: how many custom builders that I know will now want to use the Judge as the canvas of their next new Cafe Racer creation? Maybe 2013 will also be the year when the Daytona Rat's Hole Bike Show will be forced to create a new competing "Custom Victory Class". The Victory Judge lists at MSRP $13,999 in black (red and orange are an extra $400), and at this price, with such styling and performance, should attract many new followers to the brand. Victory Motorcycles.   (thanks to Zach Ness, the Pandya Bros and Horst Roesler for his awesome photography)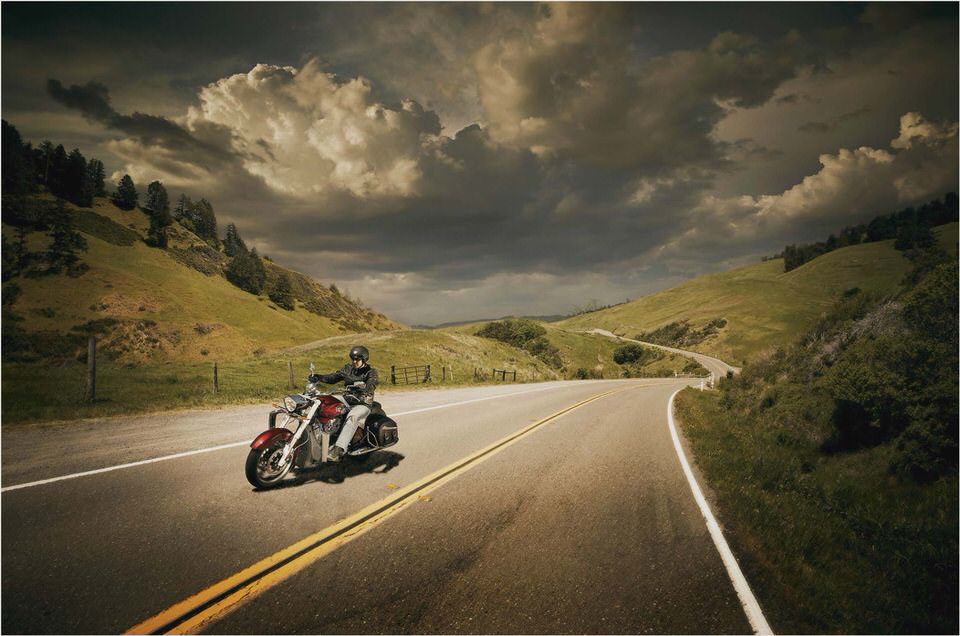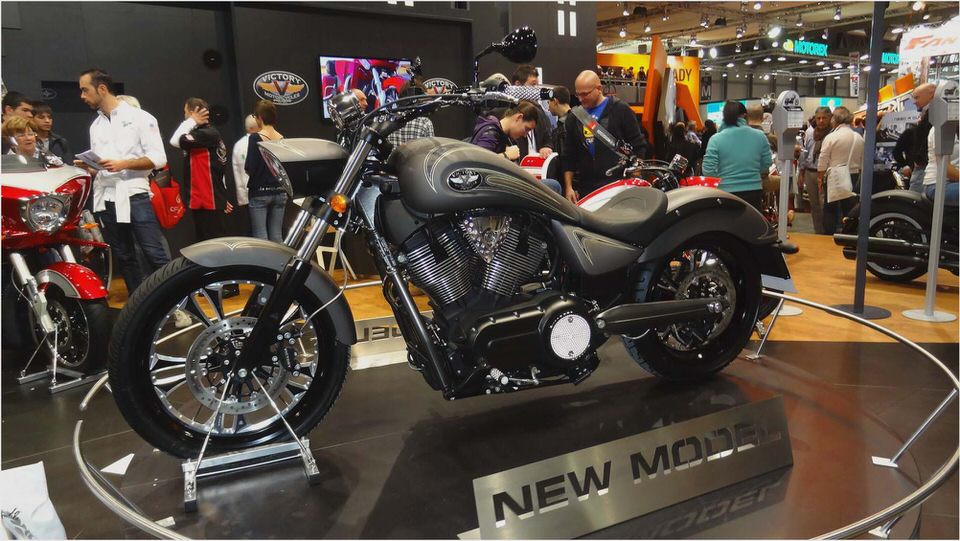 Complete test – Victory Vision Bikes Catalog
2006 Victory Kingpin Deluxe Road Test Rider Magazine Reviews
Road Test: Victory Hammer – Road Tests: First Rides – Visordown
First Ride 2007 Victory Hammer S –
2010 Victory Hammer motorcycle review @ Top Speed