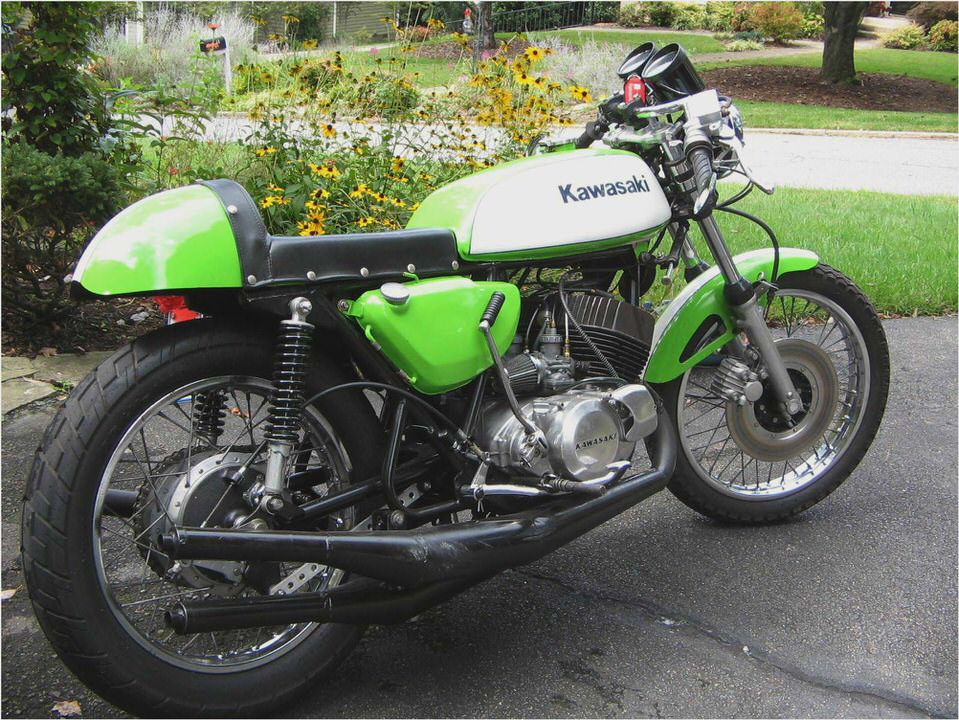 Kawasaki H1 Mach III 500
Can you get the sound of the Hi/KH for your phone like the Honda?
The memories of country highway flights I can still hear the sound of what I describe as an airplane engine between my feet. My triple that I restored in 1976 was a lime green 1972 h1. The styling was balanced and oh how I took slack from those who were into modification. For me stock was the whole reason to restore.
Polish that chrome and a hand lettered tank right from the factory was remarkable. And why modify when you can wake the beast and toy with any bike at that time. Your article had me digging thru the collection of my restoration pictures reliving the days of dumping unburned fuel right out the back with out a care and a power band that has not been seen since those days.
Garry Davidson
Ah, the old Kaw triples! I had a 500 back in 1972 that was ungodly quick, supposedly designed and rushed into production in order try and steal the "fastest production motorcycle" away from what I believe was the Royal Enfield Interceptor at the time, which it did. It had a fatal flaw, however.
While it was truly a stoplight rocket, handling was suspect, in that when it was taken into a high-speed sweeper at about eighty, it felt like the rear end was about to step out on you, even to the point of squealing the rubber.
Since the speed was so addictive, I knew that eventually it would probably kill me because I couldn't keep my hands off of the throttle. I traded it for a GMC Handi-van and moved to Colorado. Later I heard that in order to handle the vicious torque from the fast-revving two stroke triple, Kawasaki had actually offset the rear wheel and sprockets about a half inch to keep it tracking straight.
Worked for the problem, but as indicated made it very squirrely in the curves.
Kawasaki actually made several versions of the triple in 350 and 400cc sizes (H3 H4), and I walked by a sweet used 350 setting in a motorcycle shop window for weeks before I had to go in and try it one more time. It was set up as a beautiful cafe racer with a full faring swooping down from a bullet nose down over the engine and done up in bright red.
It had low bars kind of like clip-ons, and with that ever practical seat tailpiece (you could keep tools and a can of soda in it!) it truly looked like a racer. Expecting the worst I took it out on the back roads and wrung it out on the turns, looking for the flaw but could not find it, They had fixed the offset issue, and the little 350 was every bit as quick as the old 500 was, up until about 90 or so.
Needless to say I bought it. I put on a set of Denco pipes and it did sound like three chainsaws in a mating ritual when I racked it up. My biggest surprise was when I hauled it back to Indiana from Colorado in the van. Being used to riding at 6-to-8000 ft above sea level, it about came over backwards on me when I fired it up in South Bend, about 800 ft asl.
It was so quick I could hardly grab gears fast enough, and I immediately went out hunting for Harleys. Took them well until about eighty or so, and then of course they rolled on by me, but what fun. Later in Houston it was a daily runner as well.
Thanks for the old memories.
http://www.seasidevintagecycles.com Ken
Memorable Motorcycles Kawasaki H1 – Motorcycle USA
Kawasaki 454LTD, Vulcan 500, Ninja 250 Repair Manual 1985-2007
Kawasaki Versys 650 ABS Review New Motorcycles New Zealand
2006 Kawasaki KFX 400 Specifications eHow
2011 Kawasaki Ninja ZX-10R Drawing – Motorcycle USA