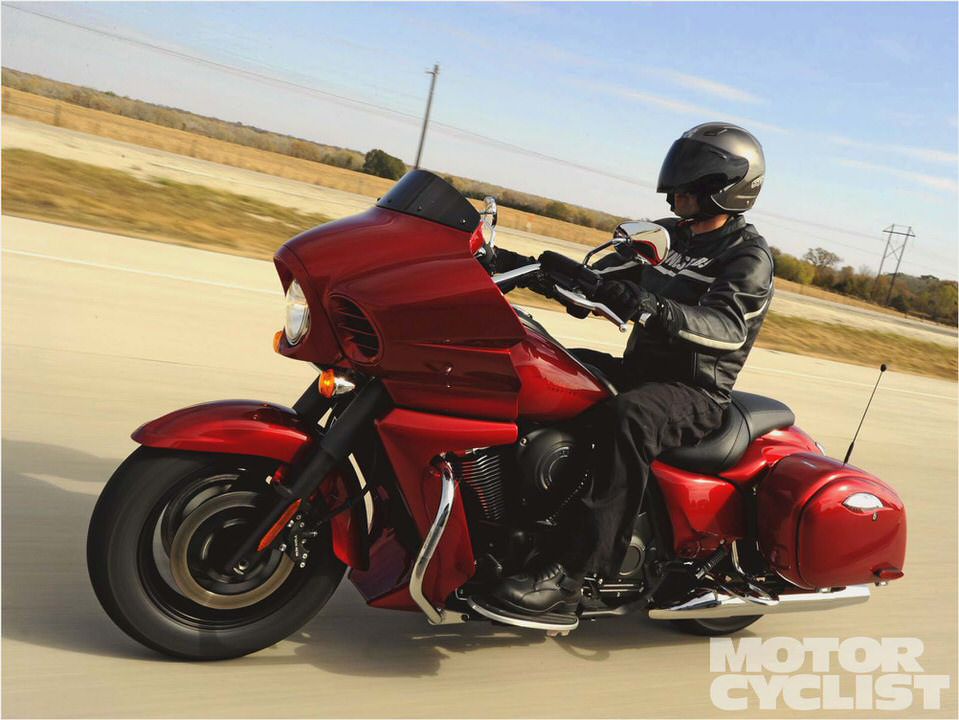 Kawasaki Vulcan Vaquero | First Ride
2011 Vulcan 1700 Vaquero
The new 2011 Kawasaki Vulcan 1700 Vaquero motorcycle is the latest addition to the very successful Vulcan 1700 line introduced in 2009. Running the gamut from standard cruiser to full dresser, the Vulcan 1700 platform has proven itself to be quite versatile.
The 2011 Vulcan Vaquero is Kawasaki's first attempt to target the market long-dominated by the Harley-Davidson Street Glide–an urban bad-boy that is ready for touring, thanks to saddlebags and a large frame-mounted fairing with a small wind deflector.
The Vaquero utilizes a fairing based on that used by the full-dress Voyager, with a slightly different instrument panel (including wild-in-the-dark red lighting) with a six-inch-tall dark smoke wind deflector (instead of a full windshield).
Inside, you still get a fully analog sweep tachometer and speedometer, plus a needle coolant temperature gauge–all are large and round. The radio/stereo unit tries to capture a '60s look, but it won't fool anyone thanks to an LCD display.
This allows you to control an Audio system that has FM, AM, and WX bands, plus compatibility with optional Apple iPod, XM tuner or CB radio units. Not the least bit retro is a large LCD console with switchable readouts that include a gear position indicator, fuel gauge, clock, odometer, dual tripmeters, remaining range and average fuel consumption.
All of these features, of course, are controlled by an array of fairly intuitive buttons and switches on the handlebars, though thumbs in winter gloves will find the switches to be a bit close to each other.
In practice, the Kawasaki Vaquero's fairing works exceptionally well. In addition to being a great mounting point for all the electrics and displays, the fairing keeps the wind off your body without any ill effects in crosswinds or at high speed. The short wind deflector stays out of your main line of sight, so the feel of riding into the wind remains.
An accessory windscreen with a 12-inch rise is low enough that the rider still looks over it, rather than through. The advantage is that it directs more wind away from the rider's face, which is especially noticeable for riders wearing open face helmets. Other Kawasaki-branded accessory shields measure 6.5-, 14-, 16- and 18-inches.
The 2011 Kawasaki Vaquero does have a few updates to improve engine performance and character. The Vaquero gets a new second piston ring that is designed to improve durability. Also, the clutch is now a non-damper type, so the rider has a bit more feel for the motor.
Other changes include a new 1st gear ratio (now 44:15 rather than 40:13), which raises the gearing a few percentage points and makes shifting into first quieter (Kawasaki's excellent neutral-finder at stops remains).
Third and fourth gears have taller teeth, so there's a greater contact patch, smoothing out power transfer and quieting the shift between those two gears.
The muffler has been changed, with a taper tip that is designed to improve appearance and cut the sound down a bit at cruising speed (the Nomad will also get this muffler).
For 2011, all Vulcan 1700s get a new intake manifold that has increased volume and is claimed to improve idle and makes for more linear throttle response. No one of these items makes a huge difference, but they are all part of a system of changes that are intended to give the Vaquero a unique personality.
Weight has also been cut a bit for the Vaquero. Kawasaki has removed the lower guide from the lower primary chain, as well as replaced the old 28mm Kevlar final drive belt with a 26mm carbon-fiber-reinforced belt that is claimed to be lighter and 40% stronger.
Ergonomics for the Vaquero have been opened up a bit from the Voyager, as the seat is pushed back a touch and the floorboards moved up just over an inch. The feet-forward look is in line with the Low Image Kawasaki promotes for the bike, and the seat height is a respectably low 28.7 inches.
The floorboards are excellent, gripping your boots confidently. Also, the air intake does not get in an argument with your knee–the airbox cavity is spread out over both sides of the blacked out motor.
When it comes to ride quality, there is no doubt this is a Kawasaki. Known for performance, even in its cruisers, Kawasaki gives the Vaquero a relatively short 65.6-inch wheelbase and firmer-than-usual suspension. Up front, there are 45mm forks that provide a good feel of the road, and 5.5 inches of travel takes care of rough pavement.
The twin shocks are air-adjustable (manually) so the rider can customize ride height to his riding style and the cargo he intends to carry. There are also four choices of rebound damping speeds. Touchdowns are rare in corners, as the suspension keeps wallowing at bay.
Those interested in maximum comfort and complete separation from road irregularities will not be as pleased with the suspension as those who prefer road feel and sporty capabilities when called up. A fat 130 front tire plants itself self-assuredly, and a 170 rear is narrow enough to keep the bike nimble.
The wheels are lightweight 9-spoke cast aluminum units, further assisting the Vaquero in the ability to change direction. However, don't get the idea that the Vaquero is not stable.
You can switch on the standard cruise control and ride through an entire 5.3-gallon tank in a straight line without undue effort or nervousness. This 836-pound (wet, claimed) bike is a solid cruiser.
The Kawasaki Vaquero's engine performance is very much like a metric cruiser. It revs up quickly (despite being slightly undersquare) and the SOHC 52-degree V-twin motor doesn't quite have the torquey feel of a bike from Milwaukee. Maximum torque of 108 ft/lbs is achieved at 2750 rpm.
Oddly, the bike feels like it is slightly lugging when you twist on the power in the 2000s.
It's not until you hit 3000 rpm that the engine really feels like it smoothes out under acceleration, eventually redlining at 6000 rpm. When tooling along down the highway, the lower rpm feel is good, but shift down if you want to speed up or pass. The power pulse on the single-pin-crankshaft Vaquero is not all that rich–it's that managed vibration feel that the Japanese seem to prefer.
Overdrive on the six-speed transmission is extremely high, and the overall gearing is a bit on the long side. In 4th at 3000 rpm (the sweet spot), you're doing 60 mph. OD is almost for 80+ mph situations–this made better sense on the full-dresser Voyager than it does on the windier Vaquero.
The EFI is excellent, though a bit notchy at the lowest rpm–just remember to keep the Vaquero's revs up. Braking is strong and predictable (and ABS-free), with most of the slowing power concentrated in the twin 300mm discs with dual four-piston calipers.
For touring, the seat is comfortable, and Kawasaki offers an accessory gel seat that is wider for the passenger. An accessory backrest for the passenger is coming immediately, with a driver backrest in the works.
The side-loading bags are locking, and accessory liners can simplify overnight travel. Under the seat, there are dual helmet holders. There is a handlebar GPS mount available that is optimized for Garmin units.
Those large round louvers in the front of the fairing can be switched out for accessory lighting.
The 2011 Kawasaki Vulcan 1700 Vaquero is a solid entry into the boulevard-cruiser cum local-tourer marketplace. Riders concerned with performance and handling above style and feel will be drawn to the choices made by the Kawasaki engineers.
The Vaquero is undoubtedly strong and stylish, and that will certainly be a potent combination that will lure the prospective buyer.
2011 Kawasaki Vulcan 1700 Vaquero | Motorcycle Specs
Engine: Four-stroke, liquid-cooled, SOHC, four valve per cylinder, 52° V-twin
Displacement: 1,700cc / 103.7 cu. in.
Bore x stroke: 102 x 104mm
Compression ratio: 9.5:1
Maximum torque: 108 lb-ft @ 2,750 rpm
Cooling: Liquid, plus cooling fins
Induction: Digital fuel injection, dual 42mm throttle bodies
Ignition: TCBI with Digital Advance
Transmission: Six-speed with overdrive and positive neutral finder
Final drive: Belt
Frame: Steel, double-cradle with box-section single-tube backbone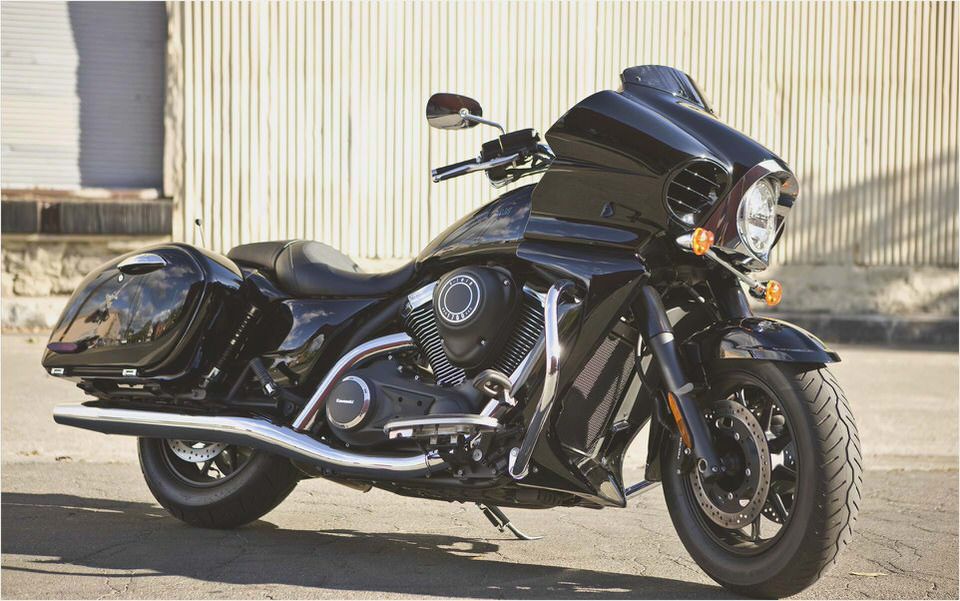 Rake / trail: 30 degrees / 7.0 in.
Front suspension / wheel travel: 45mm hydraulic fork / 5.5 in.
Rear suspension / wheel travel: Swingarm with twin air-assisted shocks, 4-way rebound damping / 3.1 in.
Front tire: 130/90-16
Rear tire: 170/70-16
Front brakes: Dual 300mm discs, dual twin-piston calipers
Rear brakes: Single 300mm disc, twin-piston caliper
Overall length: 98.8 in.
Overall width: 38.2 in.
Overall height: 50.8 in.
Ground clearance: 5.7 in.
Seat height: 28.7 in.
Wheelbase: 65.6 in.
Curb weight: 836 lbs.
Fuel capacity: 5.3 gal.
Colors: Ebony, Candy Fire Red
MSRP standard / two-tone: $16,499
Warranty: 24 Months
RIDING STYLE
Helmet: Arai XC-Ram Flame
Eyewear: TAG Heuer Speedway
Jacket: River Road Mesa
Gloves: River Road Taos Cold Weather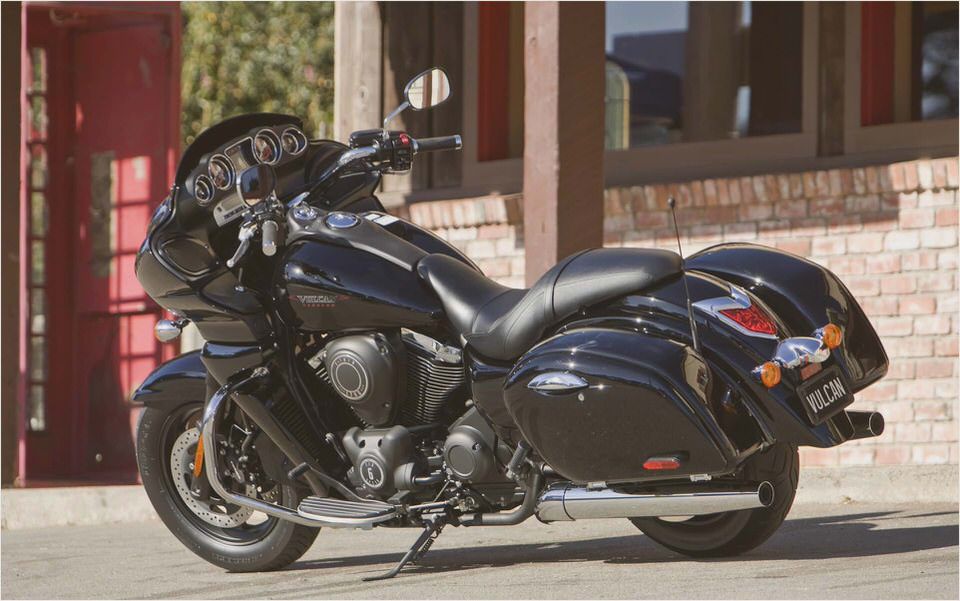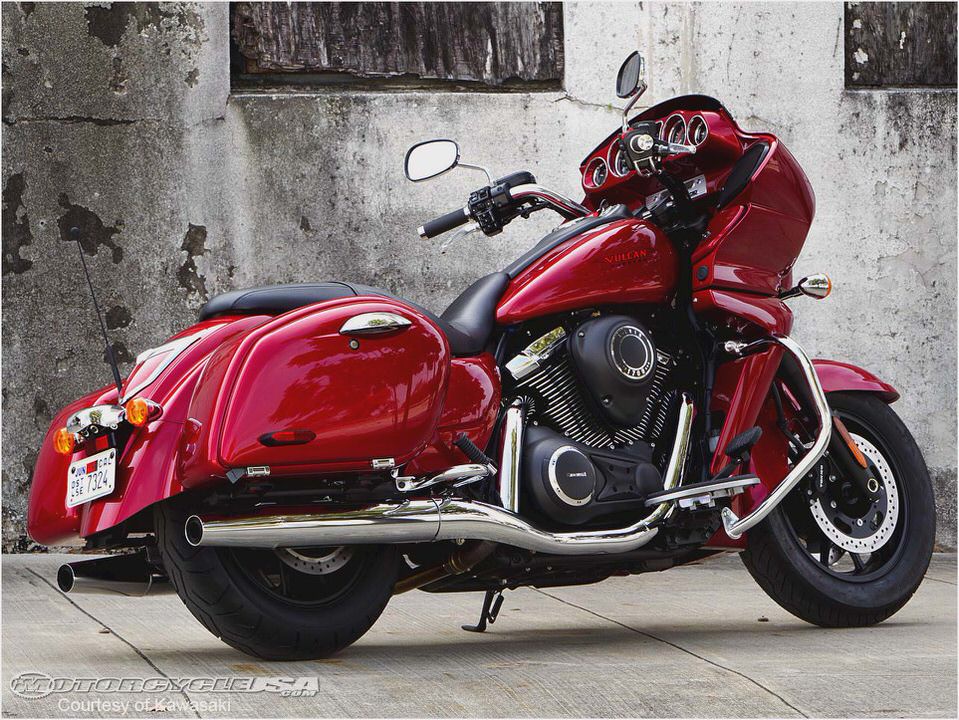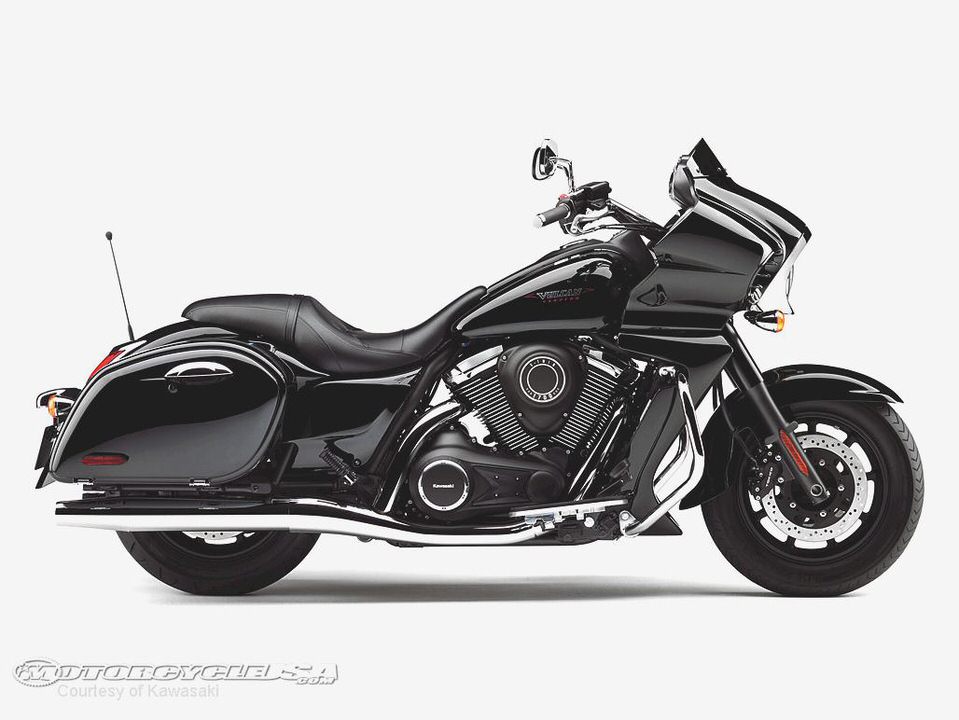 First Ride: 2014 Kawasaki Z1000 ABS – Cycle News
1974 Kawasaki H2 Mach IV 750… "the widowmaker"
Kawasaki 250 Klx
UK Bike Forum Kawasaki Zr-7 review
2012 Kawasaki Vulcan 1700 Nomad Performance Concept and Review 2013-2014