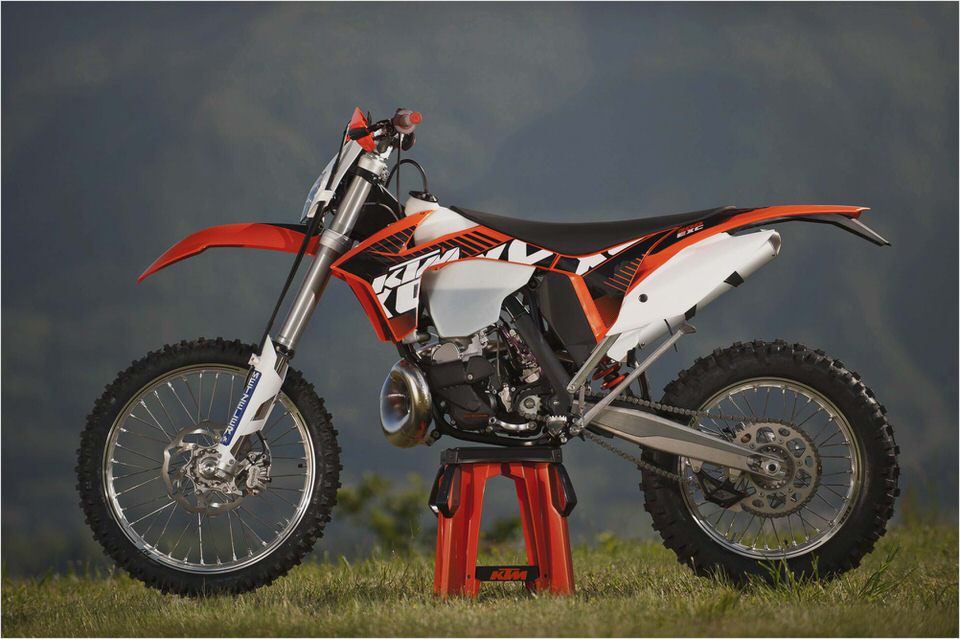 KTM 300 MXC Dirt Bike Refresh
Dec. 29, 2010 By Matt Allred
Good used dirt bikes, perhaps the one in your garage, may be the best investment for 2011. Laying out more cash for a new bike may be financially unwise. My advice is to keep the old, make it new and give yourself some financial freedom.
A good stable dirt bike, such as a KTM 300 MXC, model year 2003, is worth keeping because it has ample giddy up and delivers a satisfactory ride. Generally, there is no shame in busting through the backcounty on an eight-year-old bike. The dirt bike featured here is my own; I am its third owner. But, before getting specific with my KTM refresh, let me explain the other off-road world I operate in.
For a gazillion years and counting, I have evaluated and written about mountain snowmobiles. Currently, I am doing such for this publication's sister website, Snowmobile.com.
Mountain snowmobilers are a strange brood. The latest model year mountain snowmobile is, for psych purposes, crucial for peer acceptance; no one wants to be the blockhead taking on the steep-n-deep aboard a snowmobile that may be, gasp, three model years old. Simply, if I were to show up at a trail head strapped to a 2003 X, Y or Z, eyeballs would roll and riders would scatter, regardless of how well my 2003 X, Y or Z performed. There is a winter law in the Rockies: ride current.
For those on non-currents, forgiveness is extended to riders who throttle two-, maybe three year-old snowmobiles. Beyond that, respect wanes.
However, after the snow melts, my KTM receives healthy doses of respect on the mountainous single track trails. Dudes will cue up and say, "Dude, nice bike." On any given day, I may spend half my time straddling other dirt bikes, as others ride mine. But, I never tempt riding a 2003 mountain snowmobile.
In mid-November, winter walloped the northern Rockies with voracity. Snow tumbled down and I swapped my beloved KTM for five mountain sleds. As the snow piled up, I battled the pros and cons of selling my KTM to purchase a newer model-year bike. During my labor-intensive self-talk, a one word question clunked in my skull: "Why?" In true bean counter fashion, I knew I couldn't replace my KTM with a two- or three-year old bike without laying out more cash.
Also, the economy and its stench filled my nostrils. So, the idea sprang to make this a project bike, and so a refresh was born, and so too was this story.
As with any project, I took the time to establish a budget. Any refresh can bounce a checking account. Before whipping through a refresh project, conduct a cost-benefit analysis. For me, my cost-benefit analysis was this. In May 2008 I bought the bike for $3K (in mint condition), three years later, November 2010, my KTM's cash value dipped down to between $1,800 and $2,000.
Given that, I limited my project to $500.00. Beyond that, cost-benefit goes negative; I might as well sell the bike and roll my butt onto a newer bike. Now, being us dirt bike riders are smart guys and gals, you and I know I can't recover my $500.00, but I could recover at least half – increase the KTM's value by $250.
Of course the pride and fun factor increases beyond that, but this is an unrealized appreciation.
Plans
With a $500 budget, my refresh was limited to installing new plastic, graphics and rubber; and giving a good cleaning and tune up. To help me perform this, I solicited the help of two trusted speed shops, Jones Eastern Idaho Power Sports, and Starting Line Products (SLP), both located in Idaho Falls, ID.
Matt Jones, owner of Jones Eastern Idaho Power Sports, has a long motorbike, ATV, watercraft and snowmobile tuning résumé. He has worked in the Sunbelt and Snowbelt states that lie in and next to the Rocky Mountains. Jones' vast experience is what I needed to install the plastic and rubber, and inspect and adjust the KTM's drive train.
Starting Line Products (http://www.startinglineproducts.com/ ) is a forward-thinking aftermarket company that specializes in performance products for snowmobiles, ATVs, UTVs and dirt bikes. Within SLP's doors is a tuner, technical advisor and race coordinator, Dustin Pancheri (pronounced pan•kerry) who is a KTM wise guy. Also, his professor-like acumen for two-stroke motors is vast; he understands a motor's limitations when trying to build power on mile- to two-mile high air; and he knows how to squeeze that last ounce of oomph from a motor when amping it up in thin air.
Doing It
Like you would do, I searched the Internet for new plastic and graphics for the KTM 300 MXC, having some success. I wanted to take it from an all-orange bike to an all-black bike. My luck ratio was 50/50, the oh-three KTM's attire was to consist of an even mix of black and orange plastic; between my research and that of Jones' wife, we able to locate some Acerbis bolt-ons.
The color scheme balanced out with black down the middle, orange on the sides.
Also, before bolting on the new plastic, I hunted down new graphics to adorn the bike; FX graphics for a cost of $56.00 was slapped on the Acerbis panels.
The side number plates (orange), radiator shrouds (orange), front number plate (black) and fenders (black) came to a total cost of $151.00. Parts were purchased from the Motorcycle Superstore (motorcycle-superstore.com) and Western Power Sports – WPS (wps-inc.com).
The front and rear Michelin tires were missing a few lugs and displayed the scars of wrestling with sharp-edged lava rocks – they lost the battle. Jones pulled the tire and rim combos from the bike, unplugged the tires from their rims and installed new Pirelli MT All-Terrain MXs. Cost $120.00.
With the rims void of its rubber, spokes and rim integrity were checked over; all proved well. Prior to reinstalling the tires and rims to the bike, mounting holes / brackets were cleaned, as well as the chain tensioner.
After Jones reinstalled the wheel sets, he inspected the O-ring drive chain and found it to be in good condition. He also set the chain tension to a proper setting and assured the rear wheel tracked true, to avoid chewing up the sprocket from misalignment.
To give the bike a wee-bit more sex appeal, a front brake disc cover and mounting bracket were added; this is cheap protection for the front stopper. Cost, $60.00.
To compliment the new plastic, and to protect my hands and hand controls from brutal ground slams, Jones installed some Acerbis Rally Pro-X Strong handguards, orange in color. Now, this was a huge must-do for me, as this past summer, while scouring down a steep descent on flour-like dirt, my KTM washed on a sharp left turn. When bike and rider hit the ground, the hydraulic clutch lever and the hydraulic clutch's reservoir's inner-components were laying on the trail.
Riding pal says, "Hey Allred, brush guards would have prevented that." Lesson learned. Cost, $90.00.
After Jones completed his work, I loaded up the bike and drove to SLP to meet with Pancheri. While at SLP, Pancheri and I chose to install SLP's carburetor power pack kit.
The Power Pack from Starting Line Products gives off-road motorcycles improved throttle response, fuel economy and smoother power delivery. It consists of a system of venturi dividers which increase air velocity for better fuel atomization. In greater detail, the Power Pack, per SLP's literature, should give my KTM: Faster throttle response; improved low-end and midrange horsepower; smoother low-end to midrange power transition; allowance to pull a higher gear when coming out of a corner; allowance for the engine to pull through the RPM range quicker; reduction in low-end hesitation; easy engine tuning; reduced fuel consumption.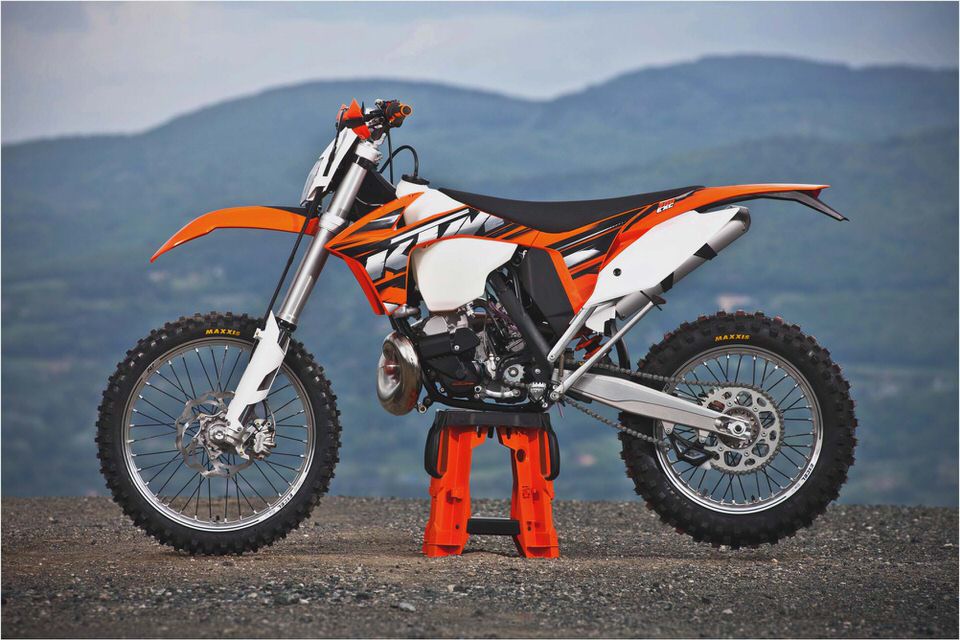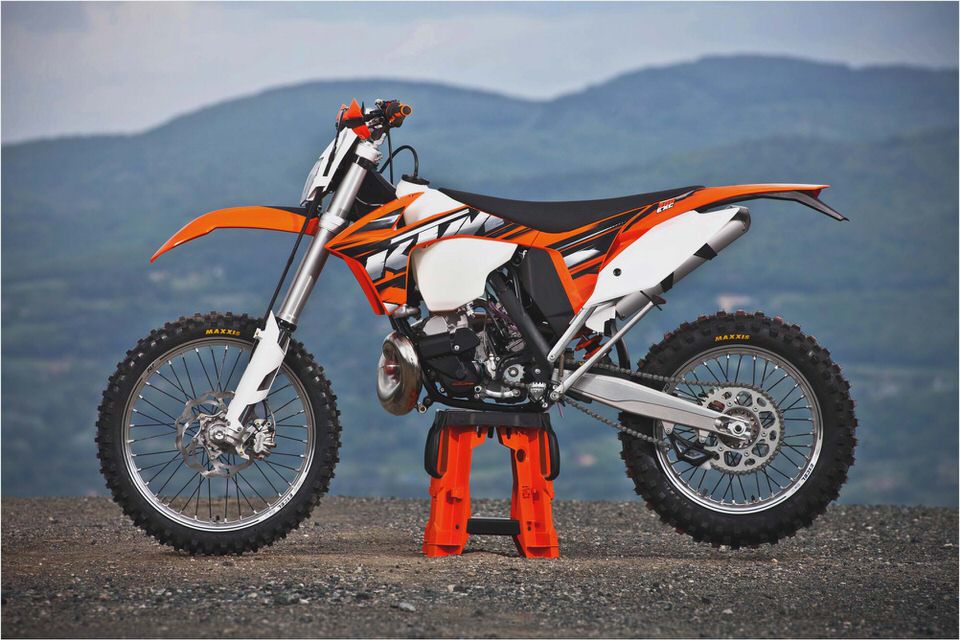 Pancheri, wearing latex surgical gloves, pulled the new panels from the bike that housed the intake system, and pulled the carb from the motor and disassembled it. As the carb sat dissected on Pancheri's workbench, he cleaned and inspected it, making needed repairs. With the carb in excellent working order, he installed the Power Pak behind the slide.
According to Pancheri, air as it is flows under the carb's slide, moving from a large area, to a smaller area and back to a larger area, reduces in speed due to expansion. The Power Pak channels the air and ushers the needed oxygen to the motor's crankcase in a directed fashion. On SLP's website is a diagram.
Cost for the Power Pak, $45.00.
After installing the Power Pack, Pancheri ensured the needle jet and its clip were properly set for this application and altitude. Following this, the pipe was pulled from the motor and extreme high-temp RTV gasket goop – black – was applied to the pipe and header, to fully the pipe to the motor's header.
After reinstalling the carb, Pancheri lit up the bike and began tuning the motor for a proper idle speed. Then, with the motor warm, he twisted the throttle and hammered the gear box to test low-end, mid-range and high-end throttle response. Air and fuel adjustments after three passes around the SLP complex.
The day this occurred, Pancheri tuned the bike to perform in the day's moisture-rich and dang cold November air. This Spring, when the air warms and the humidity drops, Pancheri and I will adjust the fuel and air mixture for proper summertime atomization. Given that, we may install a different needle, an N3CH, which is often used on Yamaha YZ 250's for this area.
I believe this is the direction the KTM will go. Pancheri stated to me, "The needle cleans up the 1/4 throttle area which gives the bike better throttle response off the bottom to mid. Makes it easier to puck up the front tire in a hurry if you need to; also improves bottom end grunt out of a corner. Seams to work better with mid- to high-altitude riders, but also works well for the low-elevation guys."
After these two smart guys worked on my bike, I returned it to my garage where I removed the air filter, bathed it in hot water and soap and gave it a good inspection to ensure it was sound. Once dried, I added new air cleaner oil to its surface. My final refresh job was adding chain wax, a lubricant, to the O-ring chain.
In Summation
What is presented here is a simple winter-time project that you can do yourself. Money is money, and if a sweet dirt bike has your affection, keeping it sweet is not a bad thing. Adding new plastic, graphics and rubber, as well as cleaning up intake system inefficiencies are good things.
A little bit of money was spent, yes, but the model-year 2003 bike will perform admirably, and will show no shame on the mountain, even though its build sheet broadcasts a December 2002 date.
As winter covers my riding areas with snow, which is not a bad thing, my KTM sits warm in my garage. My cash outlay totaled $522.00; 22 bucks beyond my budget. Yes, I overshot my target, but overall, not bad.
As my bike sat in the garage next to my Harley and Polaris Sportsman ATV, my riding pals gave the ol' orange crush KTM a standing ovation. Yes, this winter I'll be stylin' as I wade through the steep-n-deep on new 2011s. And it turn, when Summer comes, I'll be stylin' on my eight-year-old bike.
So, examine your bike's needs, and too, what tickles your fun button. I performed this refresh to improve its thin air fuel and oxygen atomization (improve motor performance), to make it sexy looking, to protect its hand controls, to give it aggressive bite for the steep ascents and descents, to clean and adjust the drive train, to clean crucial pivot and mounting points, and to seal up a leaky exhaust/header pipe connection. My bike and I am happy.
I made my choices, and stuck with my budget.
Go forth and be happy too.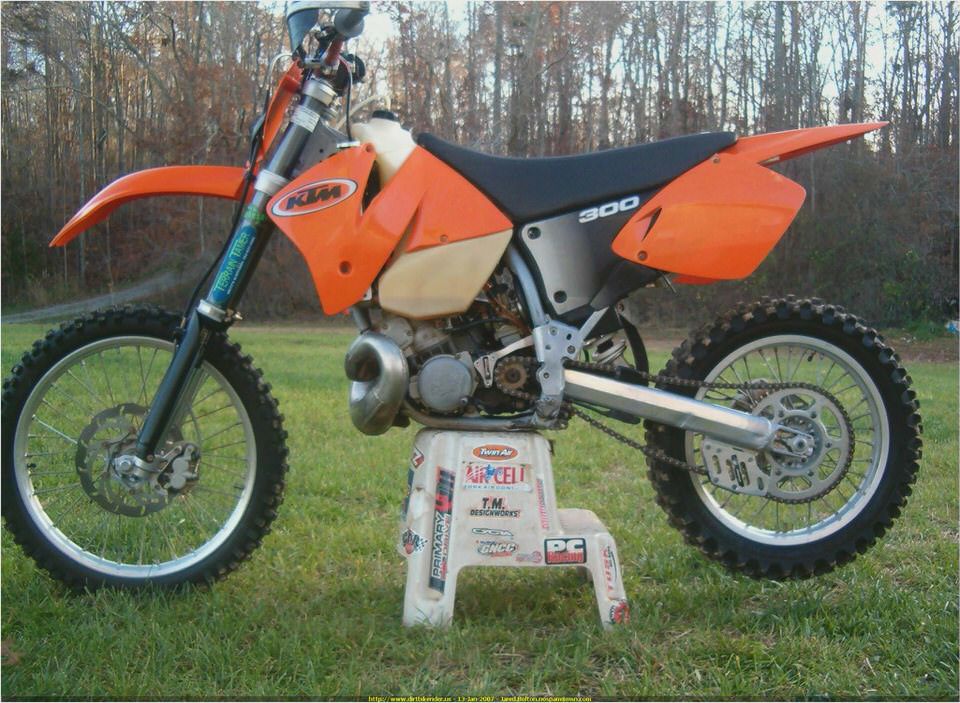 2013 KTM 690 R Enduro question – Page 3 – LC4 400/610/640/690/950/990…
Small-Bore Motocross: KTM 150 SX vs. KTM 250 SX-F – Dirt Rider Magazine
KTM 690 Duke Track B4Bike
KTM 1290 Super Duke R review Trade Motorcycles Australia
How To: Setup your 2009 KTM 450 SX-F