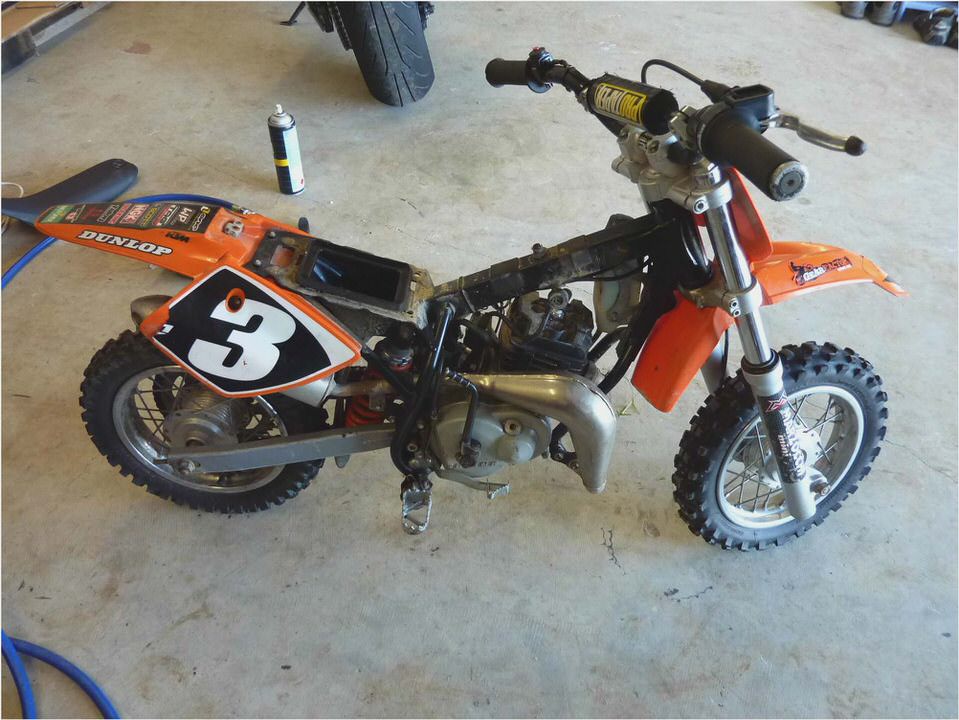 KTM 50cc Mini Dirt Bike
KTM 50 – Senior Adventure Mini Dirt Bike
A Brief Background of KTM Dirt Bikes
Founded in 1934, KTM or Kraftfahrzeug Trunkenpolz Mattighofen is an Austrian company which specializes in manufacturing motorcycles, bicycles and mopeds. The brand is popular for making off-road motorcycles although for the past few years, they have started venturing out into producing street motorcycles and road bikes.
If you're a beginner who is looking forward to engaging in motocross as a sport, then you should definitely go for a trusted brand like KTM. What sets KTM dirt bikes and dirt bikes in general from the traditional motorcycles is that they can handle rough, uneven terrains which the handler deals with at high speeds. When you browse through the collection of dirt bikes that KTM has, you'll be glad to know that they have something for every skill level.
So whether you're a beginner, intermediate or expert motocross driver, there should be a KTM dirt bike model that is suited for you.
Which among the KTM Dirt Bikes is Suitable for Racing?
An example of a KTM motocross bike that you can go for is the KTM 50 SX. Also known as the KTM Senior Adventure bike, it's the successor of a model with the same name. Re-released in 2008, the KTM 50 SX bike is still in production.
The target buyer of this line of KTM dirt bikes is the average kid who already has the motorcycle riding skills – and would like to venture out into dirt biking.
Although the KTM 50 SX bike might look relatively harmless due to its small size as compared to other fuller-sized bikes, it is actually not something that beginners can handle during their first try. Children who are between 6 and 10, and who have had plenty of experience in dirt biking are the ones who can purchase the KTM 50 Senior Adventure bike.
A Final Word about Dirt Bikes
As compared to dirt bikes which have a similar user age range, KTM dirt bikes have the edge in the sense that they are extremely comfortable to ride with the padded seats. The engine is a single cylinder, 2-stroke, air-cooled 49cc motor with approximately 6 HP in power. Weighing less than 39 pounds, this KTM dirt bike can hold up to two liters of fuel.
If you have a kid who's already an experienced motorcycle driver and would like to get into the adventure sport of motocross, the KTM 50 SX Senior Adventure dirt bike is definitely something that you can give as a gift. Not only will you get the best value for your money, but you can also rest assured that your kid is able to handle such a vehicle since it is specifically designed for young thrill seekers.
KTM 1190 RC8 R Review 2013
KTM Duke 200 Ownership Review by Aditya
BlakeBlog: First Impressions: 2008 KTM 690 Enduro
Ride Report: 2013 KTM Duke 690 Ktm DERESTRICTED
KTM LC4 620/640 625 SXC