KTM 690 Duke Track
Austrian Premium motorcycle manufacturer KTM Sportmotorcycle AG is producing a very limited edition track version of its new 690 Duke, the 690 Duke 'Track'. It is based on the machines competing in the 2012 KTM-sponsored European Junior Cup (EJC).
KTM 690 Duke Track
The Duke 690 'Track' is known as the most powerful production single cylinder motorbike. The machine is not capable to be driven on road since it is overloaded by KTM PowerParts, bespoke items and modifications have been done to some standard parts to feel only to be a circuit weapon. Thus the machine is drivable only on certified race tracks. Due to some interesting alteration procedures, the bike has lost 10 kg.
The road motor-machine, the Duke 690 weighs 150kg. Meanwhile, power has been added by 9 hp and these all result in moulding out an unbeatable race bike on the track. In order to increase the power further more, a full titanium Akrapovic exhaust, modifications to the airbox and PowerParts camshaft with a bespoke fuel map have been utilized.
KTM 690 Duke Track
The normal version, the Duke 690 is powered by a 690 cc, Single-cylinder, 4-stroke, spark-ignition engine, liquid-cooled engine. Wedded with a 6-speed transmission, the two-wheeler is capable to produce maximum power of 69 hp. While the limited model, the 690 Duke 'Track' fires out dazing power of 79 hp with the same engine provided in the 690 Duke.
This means from 69 hp to 78 hp, and 150 kg to 140 kg. These measurements are more than enough to prove that the limited edition can go like a bullet on track.
As mentioned earlier, this edition is strictly forbidden on road. The 690 Duke Track has no headlights, no turn signals, no plate, and even the bike is not licensed for road use.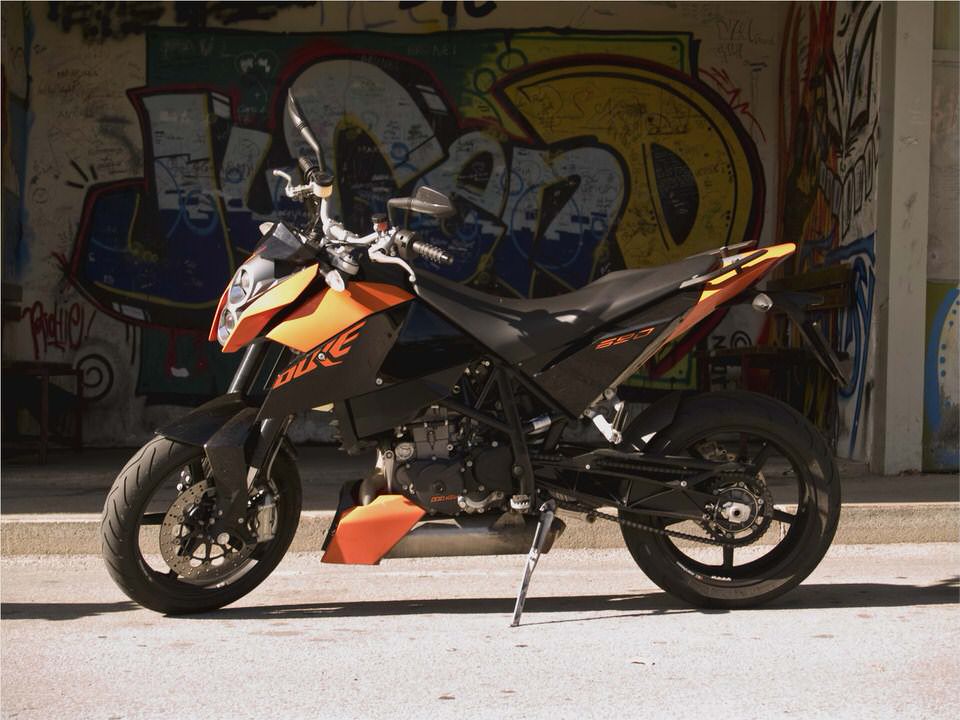 KTM hasn't done anything on its rigid lattice frame. But the machine is equipped with a new fully adjustable WP suspension and a forged Marchesini wheels to improve the ride quality at the highly competitive track. It is also equipped with a higher saddle, remote control and a Renthal handlebars, which are more suitable on circuit rides. However, Antilock Braking System (ABS) is no more seen in the machine.
Instead of that a master cylinder, and a caliper four-piston Brembo front disc attached to a thicker do the job without compromising rider's confidence.
KTM 690 Duke 'Track' is not that greedy. Utilizing the benefit of electronic throttle control, the machine gives back a decent journey of 100 km in 7 liters.
KTM 690 Duke Track
Unfortunately, KTM rolls out only 200 special editions on road. The machine is expected to be priced under € 10,000.
KTM 1290 Super Duke R review Trade Motorcycles Australia
How To: Setup your 2009 KTM 450 SX-F
KTM Duke 690: Begging to be ridden hard – Star Motoring – Car news, reviews…
Ktm-parts.com: FMF Pipes KTM 125-380
2007 Polaris KTM Powered Outlaw 525 ATVConnection.com