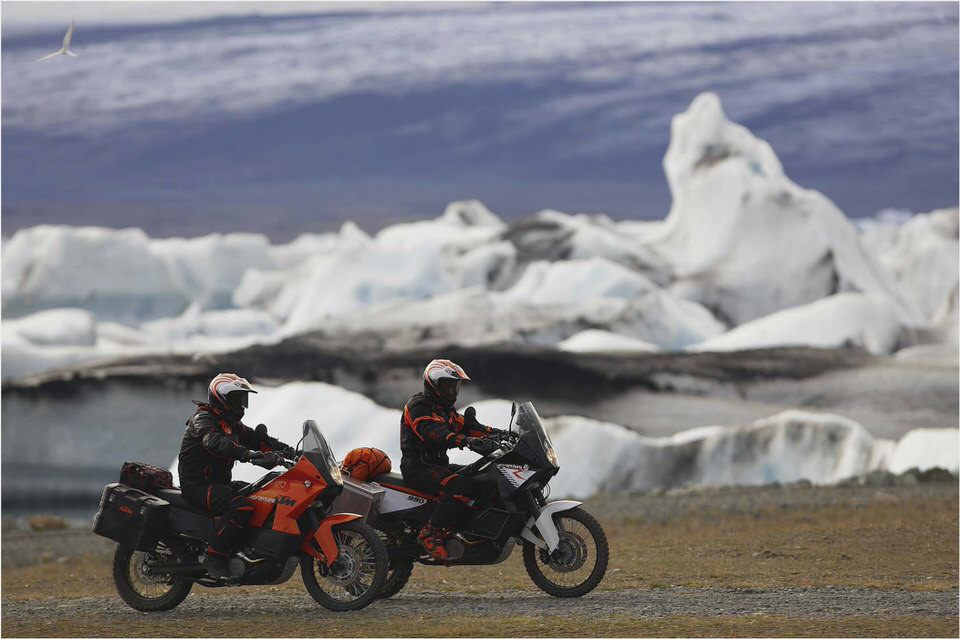 KTM 990 SM T ABS
Pictures: Francesc Montero, Ula Serra
We know about the SM T already, so although it`s a great bike, the addition of ABS is hardly headline news is it?
No, it`s not, but there is a philosophical significance as far as KTM is concerned, and the handful of other changes to the SM T two years after it was first introduced are worth mentioning too. It`s also a bike that deserves a revisit, as it sits in the most interesting and innovative class in motorcycling right now: adventure bikes.
It sits there very well indeed too – read the full review of the 2009 KTM 990 SM T here – in summary offering a sharp handling chassis, light weight and a vivacious, characterful engine that`s utterly compelling as a sports bike, combined with long distance and high speed comfort that make it well suited to touring. There`s only one black mark, and that`s the poor fuel range, a serious handicap where most rivals can cover 200 miles or more in one hit: even taking it easy the KTM`s low level light is winking at you after 130 miles.
That might well be behind KTM`s veiled disappointment at the sales figures. 5,100 SM Ts have been sold in the last two years, which KTM says is pretty good seeing as it`s only been making proper road-only bikes for that long. It`s mostly pulled in customers from other brands too, which is a bonus. But KTM also says we`re getting this second presentation for the breathed on 2011 model because they feel the model still has a lot of potential.
That`s certainly true, but without a much better fuel range it won`t be fully realised.
Aside from the ABS, the latest 990 SM T has suspension and bodywork revisions and a small engine change. A modification in the cylinder head means the valves no longer need to be looked at during the first 600 mile (1000km) service, and they go out of adjustment less often after that too – valve servicing is now only every 10,000 miles (15,000km), the interim services at half that mostly being just to change the oil and filters.
The oil level in the front forks is lower to give more progression during heavy braking, while the rear spring is firmer than before. I noted the especially plush ride in my review two years ago, but KTM says that the suspension could be a little too soft when the bike was loaded and two-up, though with the firmer set up it still has a remarkably compliant ride.
The bike also has new bodywork at the front, and of course different paint schemes, the inevitable orange with black or white as alternatives. These are glossy if not especially deeply so.
The ABS is bigger news for KTM than you might expect. In the past the company has eschewed electronic rider aids, apparently for polluting the purity of the rider experience. But KTM`s Tomas Knuffelt says that`s never meant they wouldn`t use them at all: "We have never wanted to include electronic aids such as ABS and traction control where they have interfered with or not improved the performance.
ABS generally increased the minimum braking distance you can achieve and spoiled the experience for sporting riders. I think this attitude damaged us, especially in countries like Germany, but that`s the KTM way and we won`t change it. We will not add electronics just for marketing purposes, they have to genuinely improve the bike for the rider.
"The new ABS system on the 990 SM T is better than on any rivals` bikes, and even expert riders find it very difficult to beat. It is also very light. We have used the very latest Bosch 9th generation hydraulic pump, which no one else yet uses, and the total extra weight of the whole system adds only 1kg (2.2lb) to the bike, which is not noticeable.
Other systems add at least 3kg (6.6lb), which starts to affect the handling. You can switch our system off too."
While the system uses Bosch components with Brembo brakes, the software development is all KTM`s. This not only measures wheel deceleration via sensors on each wheel (which record 48 electronic blips per revolution) it also takes into account brake line pressure and the difference in front and rear wheel speeds. This allows compensation for rear wheel lift – if it`s detected the front brake is released momentarily to bring the back wheel down again – and also for the tyres to be held at the very edge of traction in a variety of conditions, even as you`re turning into a corner on the brakes, which other manufacturers say you shouldn`t do.
It does indeed work very well. The bike takes an astonishing amount of lever pressure before the system finally cuts in, by which time even in the wet the rear wheel is just starting to lift. Bumpy roads do upset the system to a degree but not as much as most others, but the bottom line of the ABS not interfering even with hard riding certainly worked for me.
Another factor well worth mentioning is the price: at £9,595 it`s been reduced by £400, despite the addition of ABS (which is not an option but a standard feature). When the bike is no less exciting than a Ducati Multistrada to ride and not a great deal less capable as an all-rounder, that starts to look like great value. If only the fuel tank was bigger.
Faster and Faster: KTM 690 Duke R riding impression
KTM: 2011 KTM 250 EXC-F Sixdays Enduro Motorcycle
560 SMR questions
Bajaj KTM 990 Supermoto,Bike Overview,Bajaj KTM Supermoto,Bajaj KTM
The KTM Duke 390 Ownership Experience Thread – Page 139 – Team-BHP