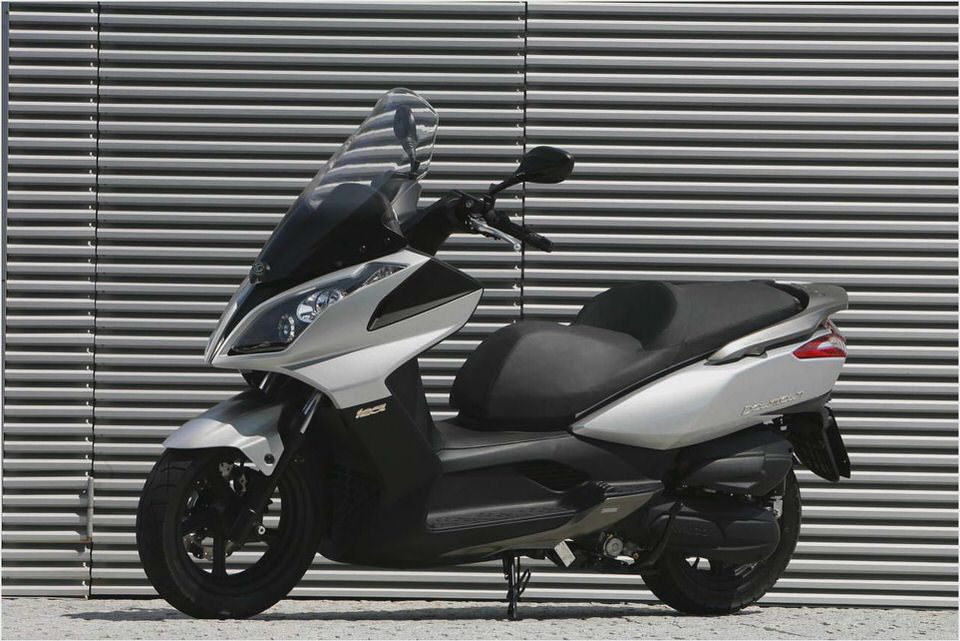 If this is a sign of things to come then Bring it On Kymco. We tackle the all new Downtown 300i.
Summary
Kymco's rise to fame on European markets in no fluke. Heavily influenced by meeting the needs of Europe, Kymco has given the brand a solid platform across its model range. And one that's aimed squarely at some of the largest scooter markets in the world i.e Italy and France.
Enter the Downtown 300i, a scooter where the slate has been cleared and a fresh new approach has been taken. A scooter where best practice has come together to create a machine at the top of its game.
Kymco have been getting closer to reaching European levels of quality, with the Downtown they may just be there. We check out what makes the Downtown such a revelation for the Taiwanese brand.
Features
It has to be said that Kymco have added what I would term a host of premium features to this scooter.
Lets start at the lighting arrangement up-front. The twin headlamps represent a style and presence on the road that's fresh and vibrant. The use of halogen globes mixed with a circular set of LED's is all new, it looks smart and works just the same.
Low beam uses the two lower direct beam globes with high-beam switching to the two halogens above.
The style of the front end sloping downwards reminds me of an eagle's beak. Though its also practical and well thought out, helping with aerodynamic efficiency. Another smart feature is the fully adjustable screen. By sliding the front Kymco badge aside you reveal an adjustment to play around with the screens angle.
Smart, yes me thinks so.
Back behind the screen we have an all new dash. A central digital panel giving temp, fuel, multiple odometres along with a bank of engine warning lights. One large analogue dial on the left for the speedo and one on the right highlighting revolutions.
Switchgear is top quality and its all laid out as per normal. When the blinkers are activated you do have that nice audible warning feature that lets you know when they're in use. Using the headlight flasher, all four lights are engaged at once.
The 5 in 1 multi function ignition is pretty handy. You open the seat by turning the key to the left. The ignition has an anti tampering device for added security.
One thing the Downtown doesn't have is an immobiliser. The fuel is located low and central and you access the tank via a flap that opens manually. You then use the ignition key to open the filler cap.
The fuel tank holds 12.5 litres of fuel.
Storage is a massive tick in favour of the Downtown. Kymco have cut out the front section of the seat which allows you to stand a 2nd full-face helmet upright. My Shoei fits, leaving space for another full-face helmet at the rear. So the Downtown is a true two full-face helmet scooter.
You can also add a bunch of smaller items you may wish to carry, you have plenty of room. Once opened the seat remains upright by using its own gas strut. The underseat storage area has a light for those darker occasions.
Extra storage is available up-front via the bag hook and the rear rack is top box ready. A weather sealed glove compartment on the dash contains a 12 volt charger, its nice and deep, very handy.
The seating position is cruiser style. You have a couple of positions to rest your feet depending on what makes you comfortable. You sit low at 770 mm whilst the bars angle back separate from the dash. Some will like the seating position, some wont, but after a few K's you do get acquainted, the longer in the saddle the better it feels.
The pillion has a raised broad seat with footrests moulded into the body. Its all pretty comfortable.
Suspension is pretty compliant with the rear end having plenty of adjustment (5 settings). Standard settings are the order of the day. If your thinking the Downtown looks too large, get on and experience how nimble a scooter in this format can be.
The Downtown could easily be used by a first up learner through to that more experienced rider.
The motor is a gem. A pearl that has been nurtured from a grain of sand. The all new Kymco designed motor and transmission package feels extremely willing. The 300 cc engine is 4 valve, liquid cooled and fuel injected.
Figures suggest power is 24.1 Kw, its up there when it comes to numbers. Real world will see the Downtown on par or even a fraction quicker then most in its class. Top speed on our new test vehicle was a true 140 km/h.
The Downtown features a huge 260 mm wave disc up front. Impressive feel and stopping power. The rear helps out with a 240 mm disc of its own. And how about the adjustable brake levers. Nice.
The Downtown has a great side stand, not spring loaded, and a centre stand when required.
On the Road
Firstly just let me say that the Downtown is by far Kymco's most dynamic machine to date.
At low revs on start up you initially feel some vibration through the bars. But once the Downtown has been running for a short period and you give it a few handfuls of throttle this dissipates. The engine and transmission will push the Downtown forward at such a surprisingly brisk rate.
Between 80 – 110 km/h its sensational. The Downtown is a true freeway option and will maintain higher speeds easily.
Across Sydney and the surrounds we had plenty of instances to test this out. We even took the Downtown and Piaggio's new X7 300 for a quick trip across the Blue Mountains. Its all just effortless and power like this is addictive, fun even.
You may wonder why we now have this new 300 cc category, we already have plenty of 250 cc scooters on the market. Well wonder no more, this class presents the best of both worlds. Nimble handling, ample performance around town with a true ability to hold freeway speeds out on the open road.
Especially in a format that offers ample weather and wind protection up front, it all just makes sense.
Because your low to the ground the Downtown is very balanced, its an easy scooter to ride. Through a set of corners its fun, keeps its chosen line and remains very stable. If your after a bit of back road scratching then pump up the rear shocks first.
On the standard setting when pushed hard the Downtown will do a little grounding through right hand hairpin corners. But I repeat this was when I was pushing the Downtown particularly hard. A point to remember is that a longer wheelbase scooter is always going to provide a greater level of all-round comfort.
Longer, lower and generally more balanced, the Downtown follows these principals.
After a while you become confident with filtering through tight city traffic, it may all seem a little large at first if your not familiar, but this is more to do with the frontal style and the long wheelbase.
The brakes as I mentioned are sensational with plenty of stopping power. I just love the added adjustment of those levers. You can adjust the level of braking you want via the 4 position knob.
The scooter just pulled up, the harder I tried the quicker it stopped.
Early figures would suggest an economy rate of around 30 km per litre. Given the treatment we gave the Downtown on test, this makes it even more remarkable.
Summary
The Scooterman Says,
This Mid Sized Cruiser really grew on me. I've always been sceptical of this class of scooter but the Downtown 300i has changed my thinking.
Its an assertive scooter that rumbles and growls and is in your face. Its loud and has the grunt to take on all the other 300's.
The Downtown is a full 300cc and its fuel injected engine throbs with plenty of power and excellent low down torque. Would love to hear it with a loud exhaust. Really ideal for the freeway and touring, maxed out to 140k/h and as the engine wears in should get even faster. Not brilliant for filtering but will beat just about anything off the lights.
0-80k/h is awesome. It eats up big hills and has plenty of acceleration for overtakingand it is very economical, we got 300ks for 10litres. 30ks/l!
The suspension felt a bit hard but will probably loosen up with some ks under it.
Well behaved through the twisties despite its size and its 14/13"wheels. With its bullet proof rep, massive under seat storage, nice loud horn and indicators, funky sports bike styling, and comfortable to ride, this Downtown 300i is a serious contender.
If this is the direction with Kymco's larger capacity scooters then we certainly have a great deal to look forward too. Especially when we see a scooter like the Myroad that's expected towards the end of 2010.
Kymco have really put a great deal of thought into the Downtown. Features like the underseat storage, the willingness of the engine or even the adjustable front screen, there is plenty to like here.
Live with the Downtown on regular day to day basis and watch your feelings of affection grow. Its a scooter that provides an all-round sheer convenience factor that's hard to beat.
The only questionable area would be that you actually like this style of scooter. Believe me, in accepting the longer wheelbase cruiser shape and style you open up your scootering into a whole new world of possibilities.
My belief is that this class, the 300cc category, gives you the rider a chance to have a scooter that for-fills a number of roles. Often your choosing a scooter that's good here and not always great there.
Touring, commuting or scratching, the Downtown 300i will comply with every wish.
Fine effort Kymco. See more @ www.kymco.com.au. Warranty is 4 years from date of purchase.
Kymco Downtown 200i / 300i Motor Scooter Guide
Kymco ZX 50 Motor Scooter Guide
Kymco Xciting 500i – Tripper's Bike Reviews
First Look, KYMCO's Side by Side UXV 500
Xciting