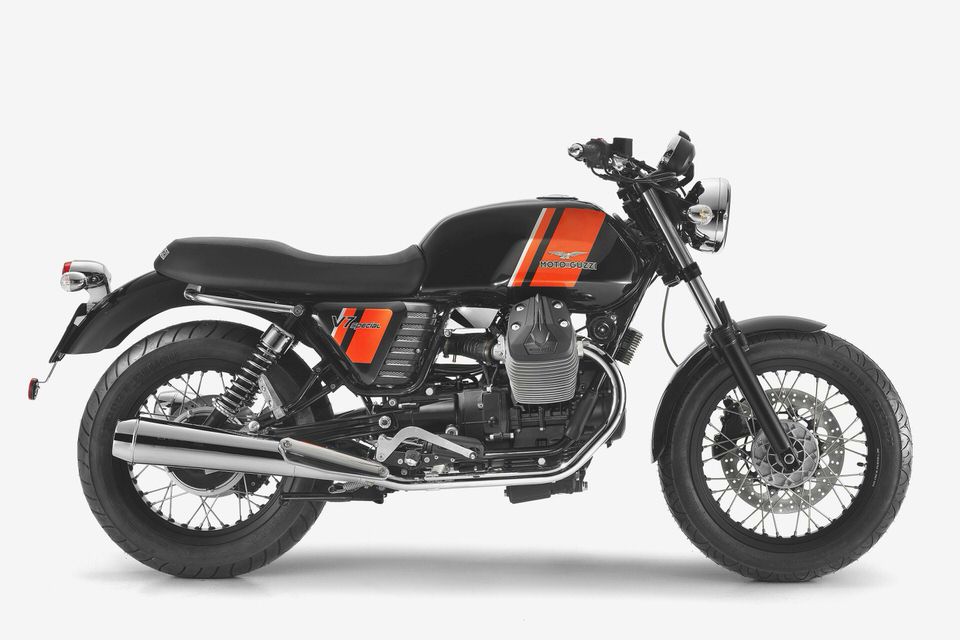 Bravo Breva – aquila, dammi ali per volare
Apart from our respective cars, my partner and I are motorbike enthusiasts and own two. One is a Classic Vincent Comet which was a basket case and rebuilt by my partner, consequently his pride and joy. The other, our touring bike the Moto Guzzi Spada III. As we have aged we found the Spada III's bulk and weight a struggle to get from the rear garden to the road (a long and sloping hike) and I couldn't handle it at all.
We also found we were not doing enough miles for this excellent long distance tourer. So with regret, because we had no complaint whatsoever about the SPIII, we decided to go for a smaller, lighter bike of the same marque. We also had the desire to still belong to the excellent Moto Guzzi Club GB.
So after much deliberation we plumped for a Moto Guzzi Breva 750.
After looking at the Brevas for sale at Twiggers of Loughborough we settled on an April 04 Metallic Red with 9,000 miles on the clock. The other half fancied a black one but changed his mind when he saw the Metallic Red. As far as I know this colour is not an option on the 2007 models, which come in Guzzi Black, Corsa Red, Pearly White and Pearly Azzure.
It had previously had only one owner who originally bought from, and had it serviced by, Twiggers.
The bike came as standard with a small smoked screen but after the Spada, I thought a larger screen would be better. Twiggers fitted this for me. However, after riding home I found the noise just too excessive and called Twiggers to inform them. No problem, they would willingly exchange this for the screen Moto Guzzi fit to the tourer model.
This was an ideal compromise.
The bike was in excellent condition and, although on paper the Breva is not top in the power stakes, it goes very well with bags of torque. On the way home it pulled like a train from just over 2000 revs and handled like a dream.
We have had the bike a month now and I, personally, love it more every time I ride it. I am getting about 50mpg which should give 200 miles per tank full. The better half is delighted as this means the moths don't fly so often when we open our wallets.
Ever ready for the Moto Guzzi V-Twin Rally, I have also bought semi-rigid panniers which lock onto the Guzzi rack. Not as nice looking as the hard luggage panniers but at Ј130.00 against Ј400+, good enough to carry all we need for the long weekend. They also have a zip-out extension and a hidden lock (no, I am not telling you where it is!).
Those friends from the Vincent Club, which we also attend, who originally laughed when we told them what we had bought. using words like 'ho ho ho' 'unreliable' and worst of all 'girly bike', have now to a man/woman admitted they were wrong. They have also admired its stylish Italian good looks. Two have been for a ride and one of them has gone back for more by buying a Guzzi.
Initially, I didn't want to get rid of the Spada III, but I couldn't manage it. I can't say I have no regrets but can honestly say this Breva is an excellent bike. My husband's long legs fitted the Spada III better (he is over 6′) but he says the Breva is just about OK.
From the initial ride home and having used it for the month, I would seriously recommend it. Even our friends who have a 750 monster say they cannot believe how good it is.
So, like the name Breva suggests, it goes like 'a wind that blows the clouds away'.
The Air Force spread eagle was chosen to adorn the Moto Guzzi nameplate in memory of Giovanni Ravelli. Carlo Guzzi met him and another Pilot Officer, Giorgio Parodi when they were members of Italy's fledgling Air Force. Ravelli was already a famous name in the world of motorcycling at that time.
Ravelli died tragically in a flying accident just a few days after the end of the War. These three young men were each to have a task in the making and promotion of the first Guzzi prototype which was initialled GP (Guzzi and Parodi).
I could not do justice to all historical aspects of Moto Guzzi. Suffice to say this can all be found on their Official Guzzi Italian website which has museum pictures, wonderful detail and photos of historical models, personages connected with the early production of this marque and much, much more.
I can also recommend Mario Colombo's 80 Years of Moto Guzzi Motorcycles which covers the planning of the earliest bike in 1920's and includes Guzzis up to publication of the reprint in 2000 which is the copy I have. This includes wonderful photographs of Racing Bikes and Record Breakers, Military and Police Motorcycles and Military Motorcycle Trucks as well as the Grand Prix Era. Absolutely wonderful.
The price we paid for this 04 model was a pleasing Ј3,100.00 + the screen and semi-rigid panniers were Ј130.00 and Ј135.00 respectively.
P.S. If my Italian is correct the heading means eagle, give me wings to fly.
Some of the Technical Stuff for this Moto Guzzi Breva 750
Electrical components – V700, V7 Special, Ambassador, 850 GT, 850 GT California…
Moto Guzzi Griso 1100 review – Naked – Motorcycles – Visordown
Sputafuoco by Venier – Paperblog
Moto Guzzi Parts – Motorcycle Parts
Moto Guzzi Quota 1000 – Motorbikes Reviews, News & Advice – bikepoint.com.au