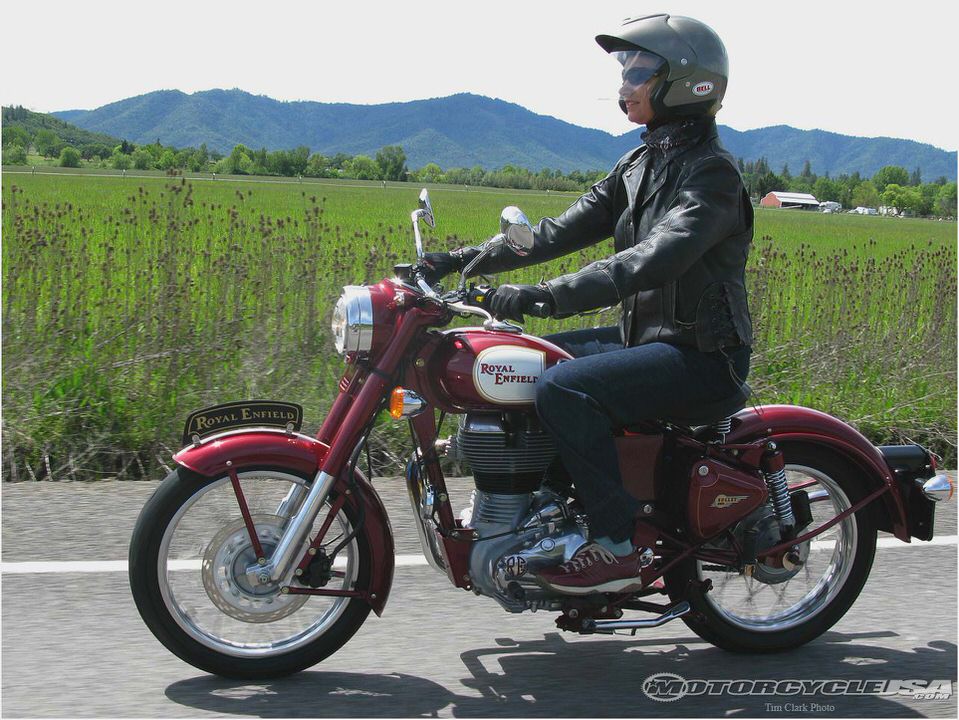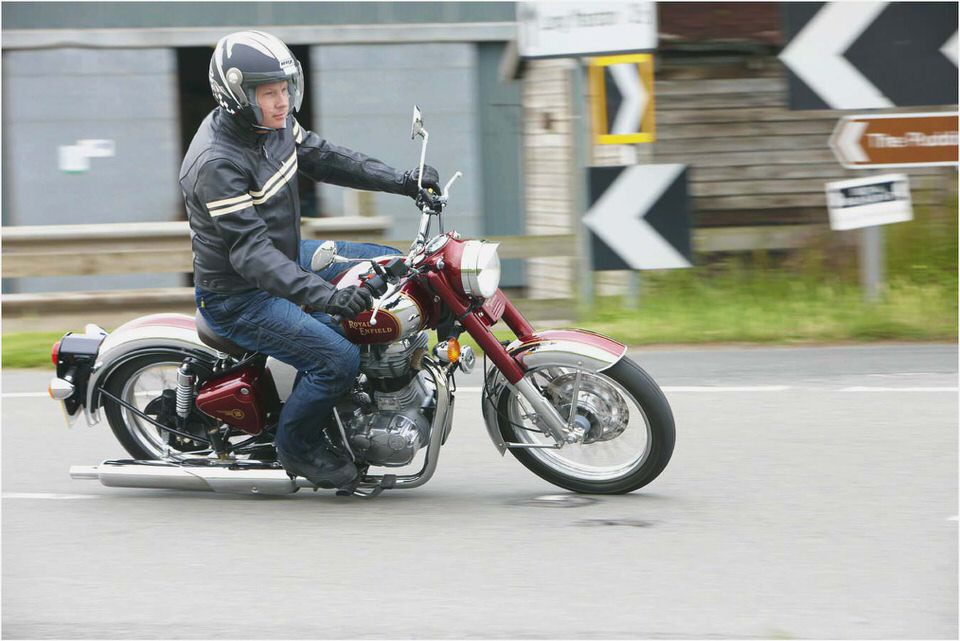 MD Double-Take: 2012 Royal Enfield Classic C5
John Joss Perspective
Half a century ago, prestigious British motorcycle manufacturers churned out bikes of every kind by the thousands for eager world markets. The apogee came, probably, in the 1950s, when Dick Klamfoth was winning Daytona 200s, still partly on the beach, riding Nortons.
Jog your memory: AJS. Ariel, BSA. Dot, Douglas, Greeves, Matchless, Métisse, Norton, Royal Enfield, Scott, Triumph, Velocette, Villiers, Vincent-HRD and more—two- and four-stroke Singles, Twins and Fours, air- and water-cooled, for racing, touring, trials, scrambles and utility, police or military work.
Back then, I tested many models of these marques.
Armies of customers kept the factories humming. The British motorcycle industry ruled the world, introducing technology advances, e.g. telescopic (vs. 'girder') front forks, and rear suspension (vs. 'rigid'). Then, in Europe, former motorcyclists found that they could afford cars, motorcycle markets shrank and the Japanese ripped the complacent British industry a new one.
Three names remain: Triumph (under new management), Norton (custom machines in entirely new forms) and. Royal Enfield, founded in 1890, licensed by Queen Victoria, the name under which the Enfield Cycle Company made motorcycles, bicycles, lawnmowers, stationary engines and firearms. The logo? A cannon. Enfield's motto enshrined the 500-cc ohv one-lung Bullet.
Introduced in 1931, it entered major production after WWII and still leads the 2013 line.
Royal Enfield has built Bullets in Chennai, India, under license, since 1956. Today, they're everywhere, now California certified.
How did Royal Enfield endure? First, it is perhaps one of the simplest and most technically 'honest' machines extant: a basic motorcycle, form following function, built to a price, embodying new technology only in rational matters such as metallurgy, EFI, brakes and electric starter. Second, it is built in India, where these basic virtues apply, where simple, inexpensive and serviceable suits the customers.
Third, it works as designed, with rare economy. In any language, on any continent, at any time, these are recipes for success.
All the basics are there. It's. it's a motorcycle, prepped perfectly by Fremont Honda-Kawasaki. The familiar 1950s styling cues are intact; controls fall readily to hand and foot; the instruments convey all the essential data.
The only significant changes: EFI vs. the Amal carburetor, a disc front brake vs. the old drum, the gearshift moved from right to left foot and vice-versa for the rear (drum) brake, the electric starter, the modern Avon rubber. Missing: its unique '50s feature: a 'neutral-finder' lever actuated by boot heel, selecting neutral from any gear but first. Fit and finish are excellent.
Suddenly it's 1950, and no bad thing. The solo, coil-sprung seat provides an acceptably comfortable, nostalgic perch (a pillion is optional; passenger pegs are standard). The riding position suits my average five-foot-nine-inch height.
The big 499cc jug fires instantly, the cable-operated clutch engages smoothly, the gears mesh as they should, though heavy winter boots occasionally deter shifting.
With just under 28 claimed horsepower from that 84 x 90mm cylinder, progress is…stately. But it's liberating. Torque chimes in low down.
Without expecting dazzling performance, one returns to one's riding roots, able to concentrate on motorcycling's basic joys.
Ride quality is pleasant on smooth surfaces, the handling light and precise, but at these prices ( Bullets start at $5999—the Classic C5 we tested is $6695 for the California model — ed .) you don't get top-level suspenders. On rough roads, ride deteriorates to choppy, verging on uncomfortable, but remains acceptable considering the power output. You could tweak fork springs and valving vs. personal preferences but it's unnecessary at the bike's rates of progress.
That big cylinder doesn't want to rev much beyond 5000 rpm, but in traffic it handles cagers easily. Vibration? It's a single. Freeway cruising is pleasant.
This is no speedster: an indicated 60-65 is its comfort zone, an estimated  4000-ish rpm. You could thrash it to go faster, but why? The RSPCM (Royal Society for the Prevention of Cruelty to Motorcycles) would object and yank your license.
Indeed, don't rush the twisties—or anywhere—despite the sporting 54" wheelbase. Calm down. Rushing is not its thing. The hydraulic front 280mm, twin-pot brake matches the non-rushing task.
Dial in your meditative 'Ommmmmm' and accept the power, handling and brakes for what they are: just right.  Enjoy the economy, almost scooteroid: an astounding, measured 72 mpg, riding moderately, vs. Royal Enfield's 85 MPG claims ("your mileage may vary)."
Look for the 2013 'café racer' Bullet, with pipe reportedly worth five (count'em!) hp. Recall Rolls-Royce's apocryphal response when asked about its cars' power: "Sufficient." The Bullet delivers enough of everything, priced to please beginners without stressing returning riders, while capturing the platonic essence of 'motorcycle.'
Relax. Smile. Ommmmmmm.
Gabe Ets-Hokin Perspective
Testing high-performance motorcycles is easy. Does it deliver the motor, handling, braking and suspension performance the manufacturer promises? How much better is it than the competition?
Easy to answer these questions—you just need a scale, dynamometer, lap timer, radar gun…the usual tools of the trade.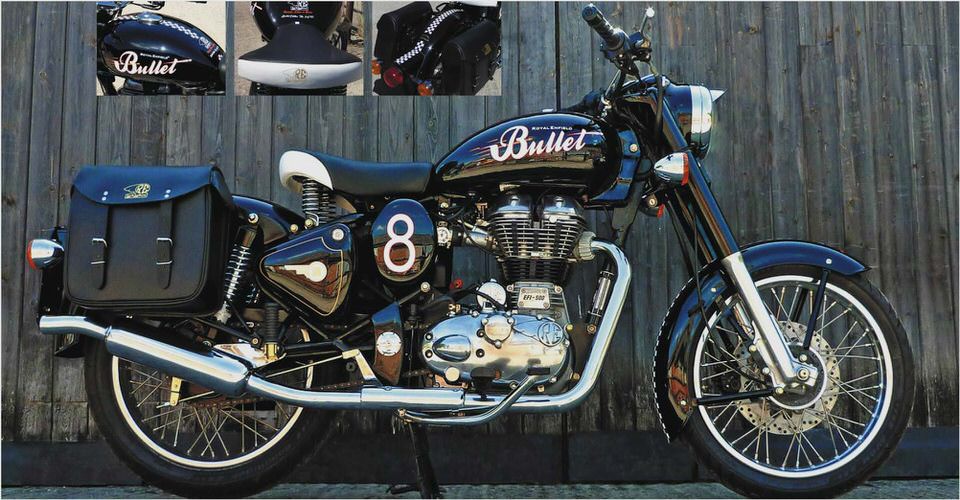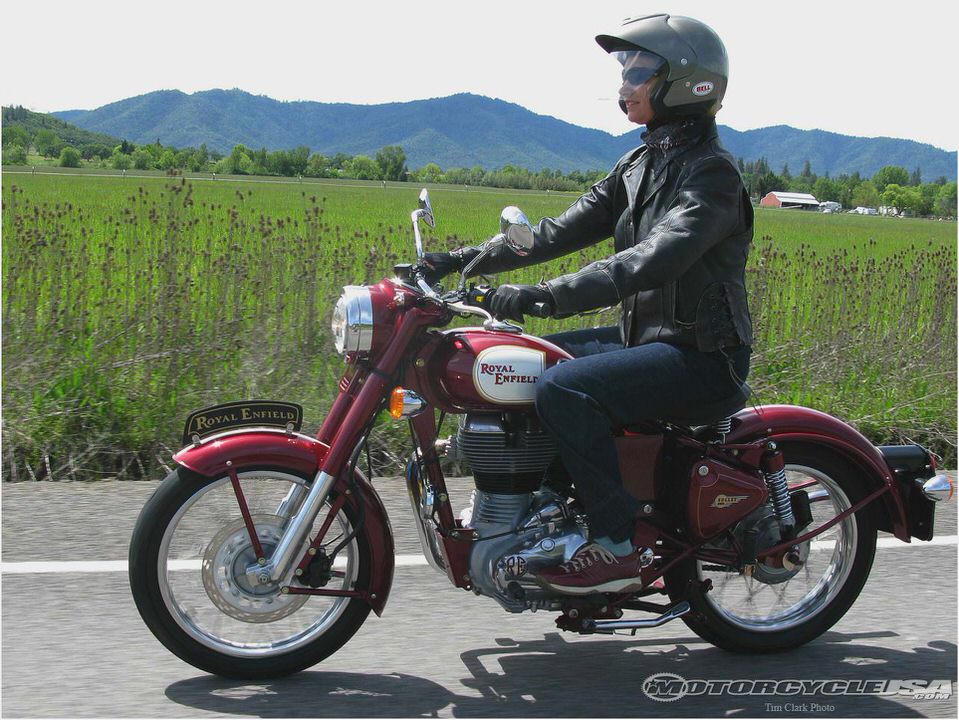 You could wield those implements of journalistic destruction on a 2013 Royal Enfield, too. You'd get some disappointing results. Engine output at the wheel is probably in the teens, wet weight is over 420 pounds and top speed is barely enough for California Interstate traffic.
But that would be a dumb article. A five-year-old can tell you this bike isn't about performance.
No, the C5 isn't up to today's performance standards. Hell, it probably isn't up to c. 1965 performance standards. But it is a cool vintage motorcycle you can ride every day; and forget about maintaining.
That's what I was expecting as I fired up Fremont Honda/Kawasaki's demo unit for a short test ride, but I wasn't expecting to like the bike so much.
The C5 boasts a heap of improvements over prior models. Enfield claims the unit-construction motor is all new, suspension is upgraded, and salesman Keys tells me the air-cooled, two-valve motor, Euro III compliant, may be one of the cleanest-burning mills anywhere. Build quality is good—not European or Japanese good, but you can tell the people who designed and built it cared about what they were doing.
It starts up easily, and the motor pulls through the rev range cleanly.
Around town, the Enfield is a joy to ride. Yeah, I said a joy. The bike is heavy, but the clutch pull is light, the controls snick and click the way they should, the brakes are acceptable, the seat is low (and the bike is narrow, making smaller riders feel confident) and the turning radius is tiny.
If you don't feel instantly confident paddling around your 'hood on this bike, you really should just buy a golf cart.
High-speed, divided highways are not so joyous, despite what Leftenant Joss had to say. It takes a good, long time to get to 70 mph, and over 60 you really feel the buzz from that hard-working little thumper. Cars, trucks and minivans start passing you, impatiently, on both sides, sometimes with occupants snapping photos of you with their iPhones—look at the stoic-looking old gent on his antique bike.
I wish I could explain that I'm not old, the bike isn't antique and I'm no stoic—it's just the old-fashioned handlebar and footpeg placement that makes me sit so upright. In any case, five or six exits is all it takes for the vibes to become tiresome, the too-squishy sprung saddle to start numbing your ass and the windblast irritating.
Luckily, there are fun two-lane roads linking almost anywhere to anywhere else, roads with little but local traffic. These roads have plenty of turns (sorry old chap—'bends') and the Classic is perfect for bumpy, twisty, 30-mph country lanes. You won't have fun pushing the front end, out-braking your buddy into corners or spinning up the back tire on slippery exits; it's just not that kind of ride.
But jounce along on your motorbike, enjoy the clean, cool air and mild farting of the exhaust, pretend you're wearing tweed and it's 1958.
Good times. I highly recommend a test ride. In the long run it's cheaper than Prozac.
Motorcycle Daily thanks stunt-double Bill Keys and the rest of the crew at Fremont Honda Kawasaki for making this test possible.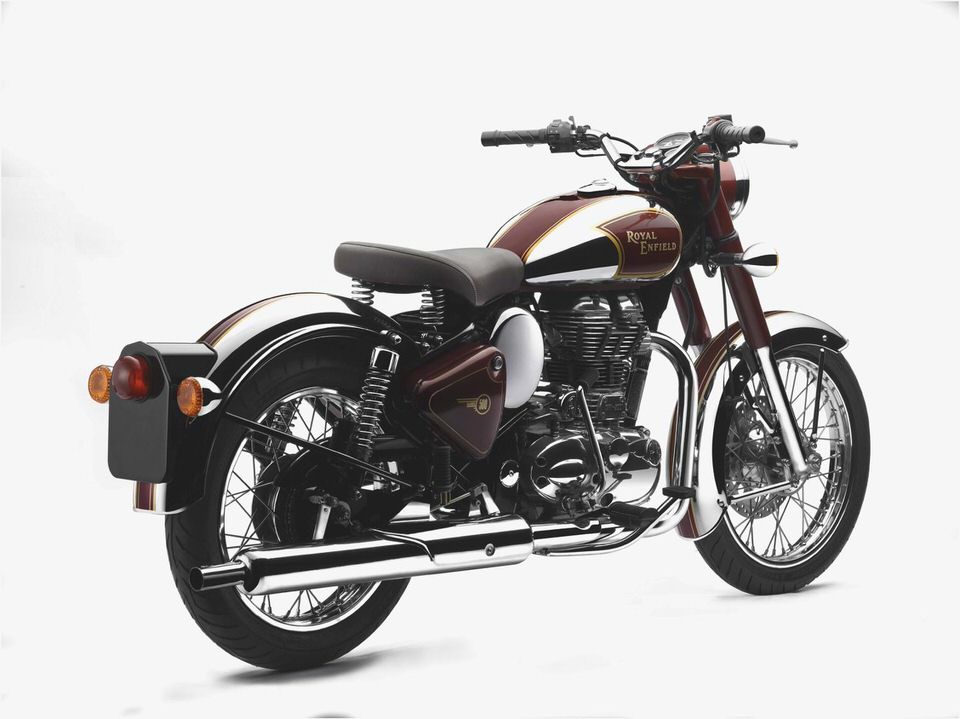 My new Royal Enfield Classic 500 EFi !! – Page 87 – BCMTouring
Royal Enfield India Motorcycle History – Ultimate MotorCycling
Enfield buying/renting – Itinerary Suggestions for March-June 2014 – India…
Royal Enfield Bullet 500 in India Royal Enfield Bullet 500 Price Royal…
Royal Enfield – wikipedia@pedia