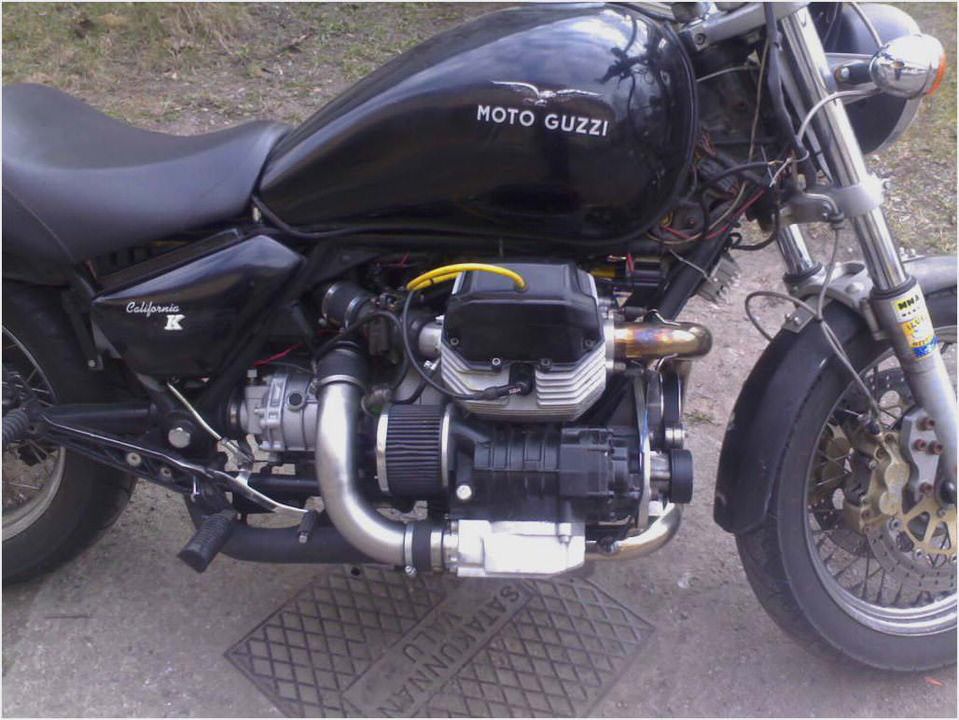 Moto Guzzi Classics | On Any Saturday | Wrenched
Mark Etheridge in his natural environment, amid a rat's nest of Moto Guzzi bikes and parts in his Moto Guzzi Classics shop in Long Beach, California.
Mark Etheridge in his natural environment, amid a rat's nest of Moto Guzzi bikes and parts
It was an afternoon we would always remember. Mark sat in the middle of the shop, his legs straddling a customer's damaged gas tank. He positioned his special dent-puller—a handy tool that spot-welds small, steel stakes onto the tank, which he then pulls with a slide-hammer.
He eyeballed its position, pulled the trigger, and … BAM! … the tank exploded, the cap hitting the shop's roof, 20 feet above us. Nick and I, previously standing 10 paces away, ran over to check Mark for damage, our ears ringing like clock-tower bells. No blood.
No pain. Silent, we shared quick glances, and then, as if on cue, erupted in uproarious laughter! Apparently, that which doesn't kill you only makes you laugh harder.
That day we all learned the importance of purging a gas tank of vapors before welding on it.
Saturday is Holy Day at Moto Guzzi Classics, an old-school motorcycle shop in Long Beach, California. It's an easy day. Weekend regulars like me show up to work on bike projects. Customers saunter in to pick up parts for their bikes.
Friends hang around to talk. But best of all, every Saturday shop owner Mark Etheridge buys pizza. If you time your arrival around 1:00 p.m. it will be sitting on the front counter, still warm.
The place isn't much to look at; it's a huge, steel Quonset hut. The "showroom" features a racebike or two, various café racers and a handful of Mark's highly regarded Eldorado and Ambassador restorations. A recently renovated (and sold) 1977 Lemans 850 sits near the front door, awaiting delivery to its new owner in Australia. Out back, parts bikes stand at attention under the Southern California sun. Milk crates full of handlebars and footpegs litter the landscape.
Old frames stand upright in a row, shoulder-to-shoulder like showgirls on a chorus line. Old wiring harnesses lay in piles like the entrails of some mythical, copper-bowelled beast. The place is a mess, but the fact is, Mark has the biggest pile of used Guzzi parts in the US of A.
Moto Guzzi Classics has been around for almost 30 years. Back then, Mark "flipped" old Guzzis, BMWs, Volkswagens and other stuff he found languishing in garages and backyards. The shop came later. At the center of it all is Mark himself—a charter member of the SoCal "good guys" network. Mentioning his name is a deal-greaser with the area's crankshaft balancers, welders and similar metal artisans.
There are lots of "Mark stories." The first time I met him, he sported bad facial sunburn, except for a raccoon's mask of lighter flesh around his eyes. He'd been MIG welding, and in a moment of laziness reached for his sunglasses instead of a welding mask. Then there was the time he tore a quarter-inch-deep chunk of flesh out of his hand after catching it in his slide-hammer.
Mark has also had the occasional run-in with the Signal Hill Police Department and Department of Motor Vehicles. Some "Mark stories" I've promised not to tell until he's long dead. His legend is ancillary, though.
More importantly, Mark knows Guzzis like few others.
The shop boasts a unique cast of characters. On this Saturday, regular Nick Barton was digging through weathered cardboard boxes, hoping to find a speedometer to replace the failed one on his Jackal. "Old Weird Bob," who may or may not live in the converted paint booth out back, was mopping up the grease-stained concrete floor. Bob #2, "eBay Bob," sat in front of the shop computer smoking cigars and posting auction items.
Partway through the day, another regular, Mike Acebo, rode up on his caféd CX100. He spent the next few hours at the shop, killing time between his electrical contracting jobs. Mike's dad died a few months ago; bikes and friends help the healing.
Newer motorcycle shops are cleaner, better-lit and staffed by well-dressed employees. Moto Guzzi Classics has none of that. But it does have an overwhelming abundance of one rare and precious commodity: character.
Moto Guzzi 1000S – Vintage Motorcycles Online
Husqvarna Team and Rider Reports Information Overload – 2014 GP…
2005 Moto Guzzi V11 Coppa Italia Motorcycle Review – Ultimate MotorCycling
How the Moto Guzzi Norge won me over RideApart
Moto Guzzi Stelvio 1200 8V NTX