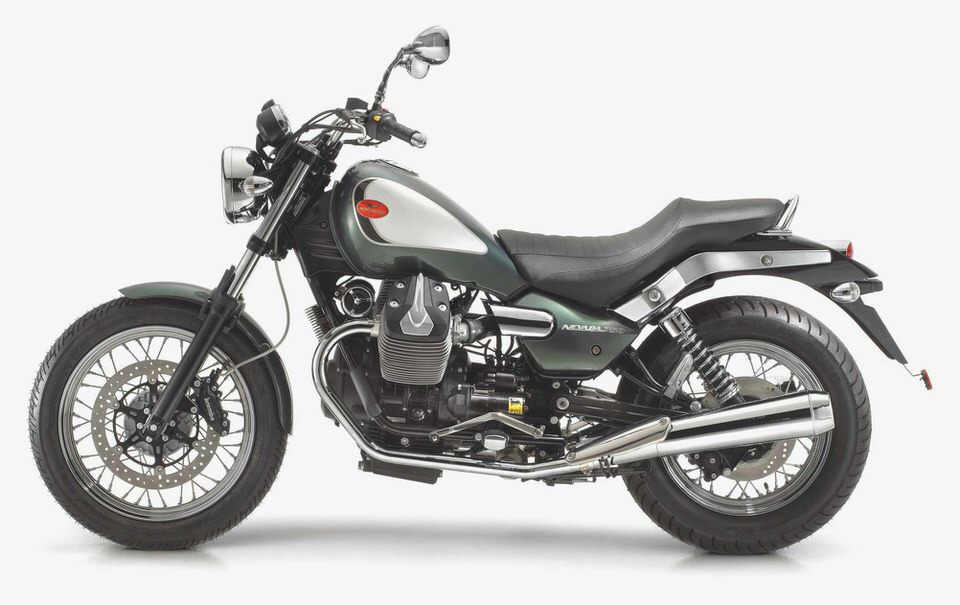 Letters. by MGNOC Members
TRUE STORY
So, there we were sitting in the parking lot in front of the venerable Moto Guzzi Stabilimente (I guess that is Italian for factory) on the shores of Lake Como. It was a fine early October day for riding. We were spending our last week in Italy touring the northern part of Italy on a rented bike.
Earlier that day, we picked up our touring bike, a BMW 1100RT, (they were all out of Guzzi's) and after negotiating our way out of Milan we reached the town of Mandello around 1:30. True to Italian custom, we were informed that the museum would not be open until 3:00. So we strolled around down by the lake, ate the lunch we had packed earlier that day, and just drank in the scenery along with a nice half liter of vino blanco.
I was several feet off the ground just being in the same country as the Moto Guzzi Mecca much less the scenic town where several of the bikes that I have owned had rolled off the assembly line. I have been riding Guzzis on and off since about 1980.
My latest ride is a beautiful black and silver '98 V11 EV, which I have had for a couple of years. My wife and I had been talking about going to Italy ever since we have been married, which is about 25 years (hey, I am a late bloomer), so this journey could be considered the trip of a lifetime. Of course, one of the high points of the trip would be this trip to the factory.
When we got back to the factory, we noticed about ten people milling around the parking lot. A few obvious European riders and a group that I pegged to be Americans. I figured that out when they started to speak to us in English. We still had a few minutes so we spent the time chatting about where we had been in Italy etc. etc.
The group of Americans consisted of a guy who looked to be in his forties, a younger woman, and an older couple.
All of them, except the guy, had an eastern U.S. accent. He then introduced his mom and dad and his younger sister who were from Pennsylvania, but he didn't give his name. He said he was from California.
Well, he and I started talkin bikes (what else) and our mutual love of Guzzi's. After about ten minutes of chatter we noticed that the factory was opening for the tour of the museum.
We crossed the street and headed for the entrance when it finally dawned on us to ask the obvious question which we had somehow forgotten. What Guzzi do you ride back in the states? I told him an EV and he told me a Quota.
Then he asked me what color mine was and I said, A black and silver one. Then I fondly told him that I had bought it sight unseen in California. He then asked me if I had bought the bike from an ad in the MGNOC newsletter and had it dropped off at my mother's house in Long Beach, California.
What the heck? Was this guy clairvoyant or what? The guy then introduced himself as Ray Brinker, from whom I had bought the EV two years ago, but had never met.
Because I was not able to drive down to California from Oregon after we struck the deal, he delivered the bike to my mom's house in Long Beach. I went down a few weeks later and picked up the bike and rode it home to Oregon and have been riding it ever since.
Well, we toured the museum together and he suggested that I send this strange, but true Guzzi lore to the MGNOC for all Guzzisti to enjoy. Well, Ray, here it is. Hope you are still getting as much of a kick out of your visit to Mandello that I am.
It just goes to show you, there is more to a Guzzi than just the machine, it's the people.
Happy Riding
JOEL P. SCOTT #10880
JUNCTION CITY, OREGON
KENTUCKY RALLY NEWS
Our second annual rain dance (well, it seemed that way!), Kentucky Rally was a success. It hadn't rained here for four weeks; then hurricane Isidore decided that the entire Southeaster U.S. needed some water. Oh well, the campground had a nice pavilion with a large fireplace.
That fireplace was key in keeping people upbeat in cool wet weather.
I have to give all the credit to a great group of core people. All I did was call a meeting and say, This is what we need to do, and they ran with it. John Barnes came up with some great rides. A nice ride through Kentucky horse country to a winery was very popular so next year we're riding to an old distillery! Ha Ha.
Jerry Hylton was the coffee mistier. As a former coffee distributor, he provided hot fresh coffee every morning. There is nothing like a good hot cup of coffee in the morning to get you going and forget the rain and cold of the previous night.
Also, the hot clean showers at this location were a big factor! Gerry Mees is my number two man with ideas and support. Being retired, he also hits more rallies than I can make and is a true Ambassador for the Kentucky Riders.
I can't do all of them justice in a letter but they make being the Kentucky Rep, easy.
Several other state reps attended including Jack and Joan Arnold from Ohio, Andy and Mary Thompson from Indiana, and Phil Turbridge from Ontario.
I'm working on a report on the rally for the newsletter. Next year's rally will be September 25-28. Mark it on your calendar and plan to attend.
MGNOC KENTUCKY STATE REP
MIKE GOZIA
CRESTWOOD, KENTUCKY
COLUMBUS DAY
The Stornello hasn't been running well. I haven't looked into it because I had a new girlfriend. So the Story sat under it's tarp in the garage.
I'm on call, but the phone is not going off. Usually I'm on the road by 9:30 or 10:00. Columbus day. Who'd of thought there wouldn't be any work today.
Christopher Columbus is not as popular as he used to be.
Who was Chirstopher Columbus? Was he as ruthless as all that? Did he come from the privileged class? Was he really bent on world domination? Probably not.
He was an Italian boy from a middle class family. He was a forward thinker. He believed the world was round, at a time when most of his peers still hugged the flat earth theory.
Chris stuck by his beliefs, couldn't get anybody in his country to back his venture, so he went to Spain. He went to the King and Queen of Spain and asked them for venture capital. That must have been an episode.
Imagine selling your crackpot idea to the bosses of the court of one of the most powerful nations on the planet.
Then Chris set out in leaky wooden boats across a stormy sea. And he drove those boats and his nearly mutinous crew until he found what he was looking for. Chris Columbus had a lot of nerve.
We could use a few guys like Christopher Columbus in every generation.
So anyway, the Stornello hasn't been running all that well. I don't know why, I've been pre-occupied. But it's Columbus Day and time to do something Italian.
Time to get the Story out from under it's tarp and investigate.
I'd already swapped out the carb. I had the points gap set as perfect as it gets, I'd timed it with the light, and still the bike stumbled every time I opened it up. It seemed like a carburation problem. But it wasn't.
Since the day job was leaving me alone I got out the special tool box and pulled the magneto. I found the problem. The key that holds the magneto had worn out.
Worse, the groove in the crank, that holds the key, was stripped. I jammed a bit of metal in there and jammed the Magneto back on. I fired the Story up and it ran great.
It's a temporary fix. But at least I've pinpointed the problem. Now I can proceed with a full-on repair. And it will be full-on, make no mistake.
It's just poetic justice that I solved the problem on Columbus day.
Think of it this way: Italy knows about foreign invaders. How many times was Rome sacked? Don't even mention Sicily. Yet Italian culture lives on.
It's the sound of a straight-pipe Stornello racing up and down the alley in Long Beach, California, on Columbus Day.
PETER JONES
LOS ANGELES, CALIFORNIA
MEMORIAL RIDE
I have been riding Moto Guzzi's since 1973. I purchased a brand new 850 Eldorado in June of that year, as I graduated from high school. My father, and his best friend, who both owned Guzzi's at that time talked me out of buying a new Kawasaki 900.
The first moment I was on the Eldorado, riding it home from the dealership in San Jose, California, I was glad I listened to my dad and his buddy.
I sold my first Guzzi five years later, and have been sorry for doing so ever since. I have owned five other Eldorado's since then and loved each and every one of them. At this moment I have a 1970 Ambassador.
It is a very good bike. I'm looking for another Eldorado to keep this time.
My father passed away Christmas of 1998. I inherited his Moto Guzzi V-700. It is registered as a 1969, but I believe it may be a 1967.
He purchased it brand new from the same dealer (Brooks Cyclery of San Jose, California) where I later bought my first Guzzi. In 1974 my father did a custom paint job on his Guzzi. He rode it until 1980 when he bought a new Gold Wing.
Because of the shifters of both bikes being on different sides, he would get confused when riding each one at other times. So he opted to park the Guzzi. It sat in his garage under a soft bed comforter from 1980 until 1999 when I picked it up.
I brought it home, put a new battery in it, cleaned the float bowls, dropped some oil in the cylinders. I turned it over by hand a few times, and fired it up! WOW! It sounded just as I remembered.
I always told my dad that his 700 was the best running, and sounding Moto Guzzi around!
I'm starting to ride my dad's Guzzi a little more. I remember before he passed away he had asked me to take the Guzzi and repaint it as it was when he had first bought the bike.
I'm having trouble with his request because as it sits now, I remember back when he was painting the Guzzi in our garage, the hard work, the smiles on his face as his work was starting to pay off, all of the parts hanging from wires in the garage making it difficult for any of us to get around in the garage. That was all a good time in our lives. Someday I may repaint the Guzzi?
While going through some of his things that I inherited, I found a couple of MGNOC patches, and a TIPS FOR GUZZIS book, A SELF HELP MANUAL FOR GUZZI OWNERS (June 1973 through March 1979). I have read this book from cover to cover at least five times. It's great reading!
I know he had several more, I remember him talking about them in the earlier years before he bought his Honda. He was a member of MGNOC and my mother was too, but I am not sure for how long. He was trying to get me to join in 1973 when I bought my first Guzzi, I can't remember if I ever did.
I am looking to put on a memorial ride for both of them. Possibly this summer or next. I am contacting the last club in Carson City, Nevada which they both rode with (Nevada wandering Wheels), to see if they would be interested in helping. I plan on having all of my father's motorcycles which he and my mother both rode on together from his 1966 Harley Davidson Sprint 250, his 1967-69 Moto Guzzi, and his 1981 Gold Wing on the memorial ride.
I'm also going to have life-size (if possible) posters of them and past friends who have ridden with us. We will have a barbecue and a wonderful ride through some of my dad's favorite roads in the Sierra Nevada Mountains.
Also, I know you have a wonderful club you have put together in all of these years. I remember my father mentioning your name (Frank) and the club many times. It's truly wonderful to start something like this and to stay with it for so long.
The MGNOC website is wonderful. I have followed along in the discussion forum for several months. Now it IS certainly time for me to join your organization.
MIKE MACHADO
MODESTO, CALIFORNIA
GUZZI
Thank you! Keep up the good work – as always we enjoy the Guzzi News, so does our Golden Retriever (Guzzi).
MIKE C. KRAMER
UPPER SANDUSKY, OHIO
UPDATE
Let me tell you what I've done and am doing to my '74 Eldorado LAPD. Last year the U-joint went out on it. So instead of just replacing the U-joint, I took the rear-end off of my T3FB and installed it on the Eldo, everything from the U-joint back.
This now gives me a rear disc brake, which is great and a much improved bike overall.
This year the transmission went out on the Eldo, so instead of repair or replacement, I've taken the motor and transmission from the T3 and put them in the Eldo. I expect this will take all winter to finish as I will have to rewire the bike now. But I will have an alternator, dual coils, dual points and many other improvements.
I'll let you know how it turns out.
DON MESSERLY #L-83
MARSHALL, MISSOURI
HELP FOR HIGH COST OF GAS
This is a response to Off Camber Corner by Kip Hollowell in the October, 2002 newsletter.
First of all Mr. Hollowell, thanks for the call-out to Stornello. Calling the Story Elegant is a brilliant choice of an adjective.
The irony is, I saved your column to read and I read it this morning, then I put down the MGNOC News and picked up the LA Times Business section and the first article that I laid eyes on made dire predictions of four dollar a gallon gas in California by this time next year.
Of course after this sensational prediction the writer went on to cover themselves by stating that would happen only if war with Iraq materialized, and if there were hitches in the switch-over from MTBE to Ethanol as a clean-air additive, and if California couldn't buy any Japanese oil which is currently a 180 day supply, and more big ifs.
Anyway, the point is, the price of gas is gonna go up, sooner rather than later. And that's where the big bikes are gonna lose their market.
The price of gas in Italy was what – $7 or $8 per gallon when Guzzi was selling every Stornello they could build? Gee, I wonder if the fact that a Stornello gets 100 mpg running a steady 45 mph has something to do?
So there you go, this fad for super-size bikes will recede soon enough. You'll be looking through the recycler and there'll be some guy begging anybody to haul away his Valkyrie. Meanwhile folks will be waiting a year to get 350's and 125′ s. All is not lost.
By the way, Precision Imprint has Stornello shirts available. I just got mine from the post office today.
PETE MOSS
LOS ANGLES, CALIFORNIA
NEWSLETTER HELPFUL
Frank, Just wanted to let you know I really enjoy the monthly newsletter. It has been very helpful in finding various parts for my '74 Eldorado.
I purchased the bike from a gentleman in Georgia and had it delivered by Griffen Moving, Allied Van Lines to Iowa. With a few minor repairs and adjustments (bike has sat for a couple years), I've since put on 600 trouble-free miles. Over the winter I plan to do a mild restoration and can hardly wait to ride next spring.
SCOTT JUNGE
ST. ANTHONY, IOWA
COLORADO NEWS
Frank, I was very happy to see Cycle World give Moto Guzzi Presentation in Readers Bikes, December 2002. Even though they didn't pick my 1975 850-T.
MGNOC Colorado State Rep, Jeff Pipkin with his 1975 850-T.
I've got about $3800 invested so far. This couldn't have been possible without the help of MGNOC members Tony Martins, Roger Pritzel, Graig Getzlaff and Lynn from Moto International who sold me her own 850 Sport transfers after there was a painting mishap with the first pair.
I talked with MGNOC New Mexico State Rep, Kevin Hamann this week. We'd like to pool our resources and have a possible Colorado/New Mexico rally. I've been scouting sites near Salida, Colorado.
We would like to hear from members in southern Colorado and northern New Mexico with ideas and of course offers to help.
MGNOC REP, JEFF PIPKIN
6219 W. 41st Avenue, Apt #4
WHEATRIDGE, COLORADO 80033-6607
303-467-1619 [Ed Note: The Salida area is great. Not so much congestion as there is to the north. State Highway 9 isn't so far away and it's a fun road to ride. Next to zero traffic when I've been on it.
Also, Buena Vista (22 miles north of Salida) is a nice area. Back in the 1980s we had three or four campouts there, but Salida is larger and provides more accommodations and Chinese food. Yummy. -FW]
RACING NEWS FROM STAFF WRITER ED MILICH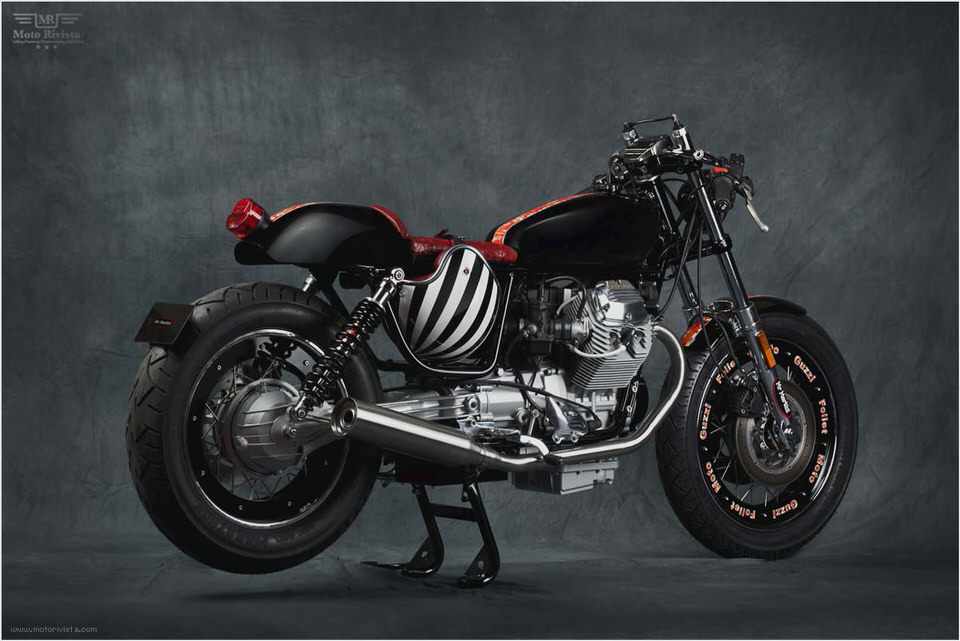 As you may or may not know, Guzzi racer Charlie Cole lost his race bike, tools, spares and trailer in a fire while traveling to the last ARHMA race of the season last year. It was a TOTAL LOSS from what I understand. His insurance didn't cover any of the items lost in the fire. Charlie has campaigned his Guzzi all over the place. He regularly responds to technical questions on the Guzzi (email) correspondence list.
He contributes to Guzzi technical resources such as Guzzitech.com. In general, he flies the Guzzi flag.
Charlie didn't ask for a lick of help after his fire. In fact, it took quite an effort to squeeze his address out of him so that I could send him a small donation to his race team. I had to convince him that this wasn't charity: it was merely giving him a good kick in the pants to get him back on the track ASAP. If any Guzzi race fans want to contribute to get Charlie going, please send your contribution to:
CHARLES COLE, 58 Wickatuck Drive, Sag Harbor, New York 11963
Ed Milich
CENTAURO
I went to Italy in 1967 and a Moto Guzzi caught my eye. It was a 125cc Sport Stornello. It was a great bike to learn on (I had never ridden before), and if you survive the way they drive in Italy you can drive anywhere in the world under any conditions (LOL).
A few months later, Moto Guzzi came out with their first shaft driven – V-twin motor. It was a beauty, so I got one and was off and running. I loved it, but to me the center of gravity (not sure if it was the beer, bike, me or maybe all three) was higher than my 850-T3 or my Centauro Sport. I dropped the V-700 every other day.
Your leg can smart while the (500 pound) bike and the exhaust pipe is laying on it!
Well, I put on over 130,000 miles and saw most of Europe. I left Italy in 1971 and I wish I had brought them back with me. I owe those two Guzzis so much.
Back in the Great USA I rode cycles that friends had, but in 1977 another Moto Guzzi (850-T3) caught my eye. So I added bags and a touring fairing and I was off and running again. It makes the greatest touring bike; she has taken me all over the Northeast. I would honestly say it's the best all around bike I have ever ridden or had. If you look at the classifieds here or in Europe, you will see them for sale with 15,000 to 150,000+ miles ($4000 and up).
How many bikes can say that after almost 30 years?
Except for having the oil changed and adjusting the carbs, the T3 is almost maintenance free. It corners great and even in 5th gear the back end will lift up when you come down on the throttle. I still have her.
In 2002, another Moto Guzzi caught my eye – the Centauro. I called Dave Brown at Sport Cycles in Avon, New York, and he delivered it to me. The 1998 Sport Centauro is a great bike. A CENTAUR is a half man or woman and half horse in Greek Mythology.
They named him or her right. It's fast if you need to pop a wheelie, it does that and it is a good touring bike too. It has its own quirks like all Guzzis.
But the V10 Centauro – all I can really say – is it is half man or woman and half horse! One cannot describe it if you have not ridden one.
Branchville Motorsports Ridgefield, Connecticut, will be doing the maintenance (thanks Alex, Phil, Evan and Francis). They have been piecing the T3 together. And thanks to Alice and Curtis at Harper's Moto Guzzi and M G Cycles for helping me with parts and advice.
At 63 (never did grow up), I am having the time of my life with the T3 and V10.
Take care and Be Safe.
JAMES R. PALMA MGNOC #L-663. AMA #538847. AOPA #00153047
ALBANY, NEW YORK
STARTER UPDATE
Update on that Valeo starter I was raving about last year. Over the past few months it has slowly started becoming unreliable. (I originally thought it was my 22 year old starter button that finally was giving out.) Last week the Valeo starter quit altogether, and I replaced it with the original 22 year old starter (which still works fine as long as the battery is in good shape). Unfortunately the electrical system is old, it's hard to keep the battery up riding in city traffic every day.
I don't think this kind of life from a starter is acceptable given Moto Guzzi's long standing reputation for reliability. I want to withdraw my resounding endorsement I sent to the newsletter last year. I also wonder if other members have experienced the same problem.
JOHN EASTMAN
LADNER, B.C. CANADA [Ed Note: John, for my part the Valeo starter motor has been reliable. The one on my '93 California III (that I sold to a friend) now has 83,000 miles on it and has never given a problem of any kind, period, and is still functioning perfectly. -FW]
MAUDE
Hey, Greg, main man of the TIPS Department. I got a big belly laugh when you mentioned that you named your Eldo after Maude! But considering that the general public thinks we bikers. er, motorcyclisti, have a deep and pervading death wish, don't you think that naming your bike Maude is just a bit outrë?
And anyhoo, considering our lifestyle, maybe Charon or Styx would be more appropriate.
Regarding your recommendation about headlight relays, which I heartily agree with, it should be noted that the light output from quartz halogen bulbs is a function of the voltage cubed, so any loss of voltage through small wires and high resistance fittings and switches can seriously reduce the amount of light that reaches down the highway. To check the actual line losses, have the engine running fast enough for the generator or alternator to be putting out normal voltage [usually about 14.25 volts].
Then compare the voltage across the battery terminals and across the headlight terminals. If there is a one volt difference [not unusual], the light output is reduced by a whopping 25%, while a half volt drop will cut the output by over ten percent!
The wiring on some bikes is so wimpy that I've had to run new, 16 gauge wiring directly from the battery [don't forget the in-line fuse] to the relay and from the light back to the battery [the iron in the frame is a lousy conductor and rust is an excellent insulator when dry]. Keep up the good work!
Reply to Loren Miner's Vuelve a la Vida question in the November issue at paragraph 6 about why his bike had two redlines.
Back in the good old days before we had high tech alloys, and machine tools that could spit out parts that are identical to the twentieth decimal place, the factory felt that it was probably okay to rev the engine up to 9 grand occasionally while going though the gears, but if you kept it up over 8 grand for any length of time, stuff would begin to come apart. If I disremember correctly, my Honda Hawk, while not having two redlines, did have some such disclaimer hidden deep in some of the literature.
But I don't think I ever got it up anywhere near either redline due to all of the vibration and horrendous noises the engine emitted as that magical number was approached. Somehow, I figgered my life was worth just a little more than that extra tenth of a second of acceleration.
MEL BROCKLEHURST
PINON HILLS, CALIFORNIA
IMPULSE BUY
One day last January, 2002, I dropped by the local Rice Burner Dealership for an oil filter, and a slow browse. Strolling the used bike floor upstairs, oil filter in hand, proved uneventful until I encountered a machine that looked out of place as Italian in Japan sounds.
It sat sparkling under the florescents, cylinders jutting from below its red and silver gas tank. 'Oh My!, I blurted to myself, That's a Guzzi. What's it doing here?
Further inspection excited me more. I felt the impulse rising. This bike looked immaculate sitting amongst such sorry company, all of which came from the Far East. Where's the salesman?
Tad wandered in about then, looking a little bored. What's the story on this Guzzi here?, I asked.
Well, he mumbled, I don't know too much about it, except that it's been here for over a year, and I think it has a wiring problem.
The bike had aftermarket dual headlights. Oh, really? What kind of wiring problem? I asked disinterestedly.
As I recall, the headlights, tach, and instrument lights don't work, I think.
Tad didn't have any first hand information, it seemed. I thought this all over, then decided that I wanted a demo ride. No can do. was Tad's response.
The battery was dead; probably sulfated. I'll wait if you'll get it charged, I said.
He perked up. Okay!
Outside, we got the Guzzi started. Within three minutes, all of the sales force were clustered around listening to the operatic bass tones coming out of those open mufflers. Apparently, no one remembered hearing this engine run. Wow!
Jeez! How big IS that thing?
The demo ride was just what I'd hoped for. The Guzzi died at every stop, and had to be jump started, until I gave up. They trucked it back to the dealership.
By this time, I understood why this machine hadn't sold. I fought hard to keep the smile off my face; a VERY low offer might succeed. Tad carried my offer backstage where it was accepted without quibble.
Half an hour later that Guzzi was mine.
Then, three hours after that, with the headlight circuit fixed, and the blown fuse and battery replaced, that motorcycle ran perfectly.
The transaction papers described my machine as a 1997 75th Anniversary Limited Edition, and I got it for WAY under book value (low book, that is). I love it!
DENNIS HOISINGTON #19252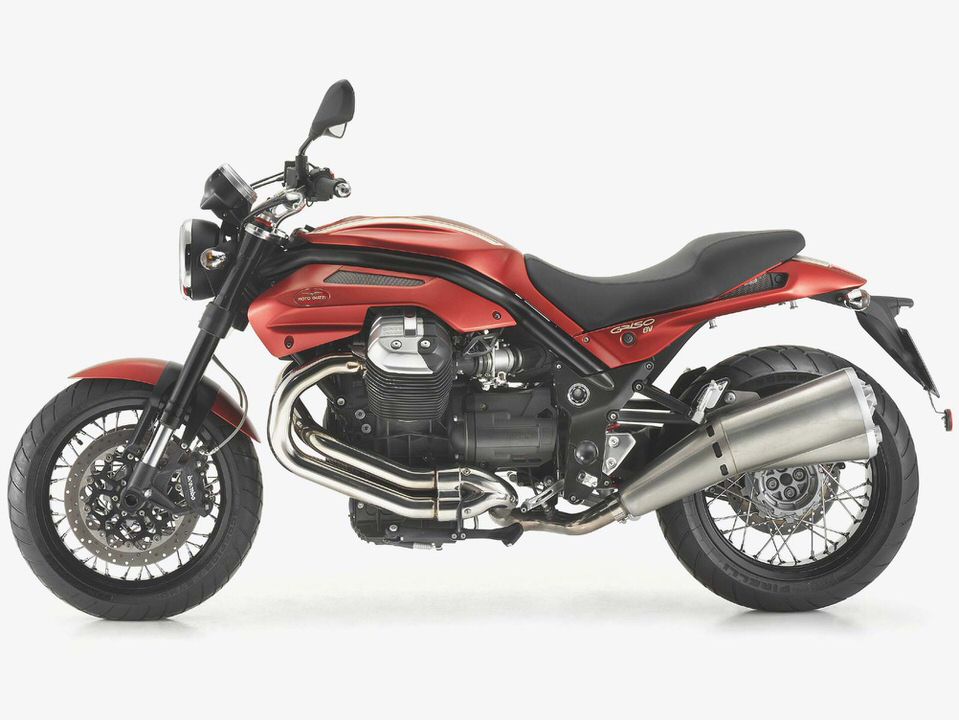 Aprilia and Moto Guzzi best buys – Motorbike Writer
MD First Ride: 2013 Moto Guzzi California 1400 …
2013 Moto Guzzi Norge GT 8V Moto International
Search Results – Squadra Guzzista
Moto Guzzi Breva 1100 – Cycle Torque Magazine