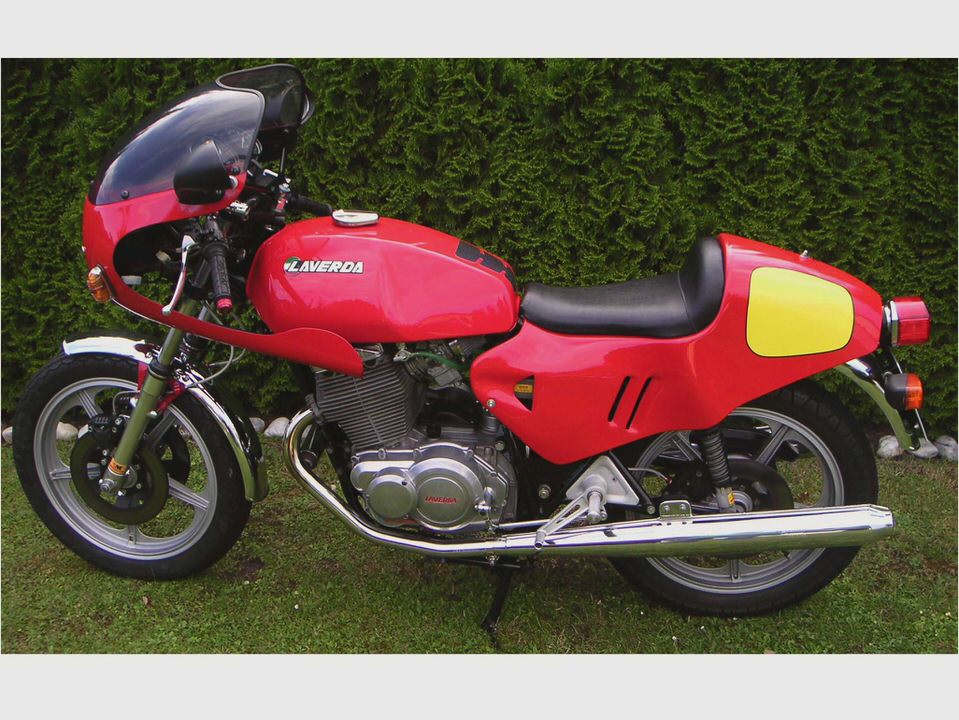 SFC's in both the earliest and latest models
Many years ago in a interview with Motociclismo Massimo stated The advertising value of races, be they great or small, is immense and at the technical level the expereince of racing can certainly lead to an improvement in production bikes. I maintain however that the most immediate and pratical effect can be derived from endurance racing and our sporting efforts are always in that field.
At the point in time 1969 the entire concept of what a motorcycles performance could be was being redefined by Honda's introduction of the CB750 / 4cylinder. It was at this point that the european motorcycle industry scrambled to respond. But it would almost 3 years before the majority of the Italian motorcycle industry could deliver a 750cc engine designs to motorcycle consumers.
Laverda had only just introduced a 650cc twin, but Massimo knew it was still not enough power.
Laverda's debut of the big 750 twin came in June 1969 in a 24 hour race on a 2 mile street circuit in the town of Oss in southern Holland. Massimo took 3 race machines and one for testing. The Laverda's ran faster in pratice than the Honda's, Ducatis and Guzzi.
So as not to attract attention Massimo and his good friend Brettoni entered the race under assumed names. When it was all over and even with a holed piston Massimo Brettoni finished 4th overall behind the winning Honda, and grabbed a class victory. These machines were the fore runners of what would become Laverda's famous 750 production legend the SFC.
Compair the differences between models.
Massimo's passion for racing, pushed constant efforts for development of the 750 as a racing package. Gave his team riders the zest to always reach for the top step on the podium. Up until this time Laverda only had been know for racing small engines. Laverda's list of victories and podiums during the early 1970's was truly a accomplishment that grows larger when viewed in the framework of time.
All Laverda's are still known for being tougher than nails, and almost indestructable. Many 750's and 3cyl 1000cc motors have been pushed past 100,000 miles and never required a rebuild !
Unlike todays endless racing calendar that never seems to end. In the late 1960's and 1970's endurance races were few. Also there was no world championship of superbikes, or endurance racing. Many of the races that Laverda's 750's won do not exist today.
The Modena 500Km, Monza 500km, 24Hrs of Oss, 500km of Vallelunga. Or really legendary international events that saw Laverda victories. Such as the Montjuich 24hrs.
Where in 1971, Laverda's finished 1st. 3rd and 4th.
The SFC's abilities and development history
When we look at the SFC model history there are three distinct models. What is more important is that there were only 549 built over a period of about 5 years. Laverda produced over 19,000 750 twins In a modern world where 500 race bikes is small, for a single production year.
The SFC could be had by anyone will to show up with the cash. Massimo wanted everyone racing. If you had the desire Laverda would make it possible.
Today's Ducati 999R 749R's, now offering that same type of possibility to modern day racers. Only difference being that even early SFC's in many cases sell for more than both the Ducati 749R and even Ducati's 999R's $32,000+ USD price tag. Ducati's rise to dominace in late 1980's, produced more world superbike championships than any other motorcycle company in Japan or Europe.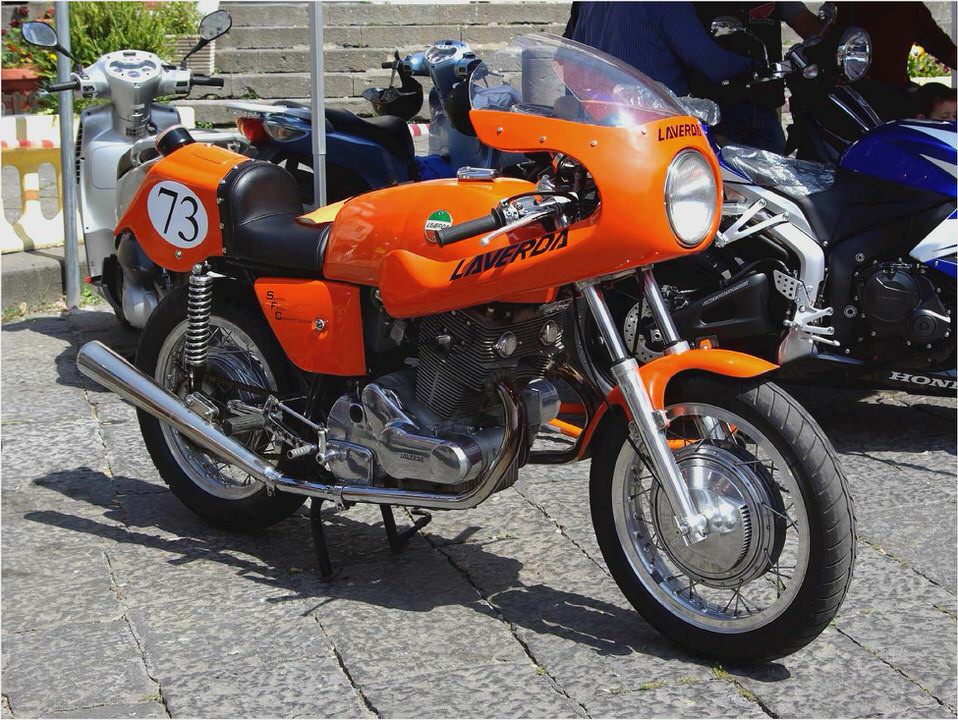 Also supported world sales growth, because it followed in the path of offering race bred product as well as race ready products to consumers.
Laverda's 750SFC is actually more famous, and more sought after than many other famous bikes of that period. The best example of this fact is we look at the much over rated MV Agusta 750. The MV Agusta 750 ( chain drive ) in its only race in 1972, lost to a little know Italian 750 V-twin. That was Paul Smart, and the Ducati 750SS !
MV Agusta was so embarssed that it never raced the 750 again. SFC's exhibited the amazing ability to be race ready right out of the box. No special parts were required to be installed.
Just gas and oil. Prices on SFC's continue to raise. The 2 most sought after Italian motorcycles by Japanese collectors in particular are Laverda's SFC 750 Ducati 750SS (round case only) The SFC being much faster on the track in it's original production from.
SFC-1. the birth of a legend
The SFC first generation engine was really the first race version of the original SF, but the SFC was a real production racing animal from the ground up. But inside the engine very different. There are very few parts that are interchangeable with the GT, S and SF road models. The early SFC's came standard with a special piston, giving a compression ratio of 9.8 to1.
Also very visible to be seen on historically correct SFC's are the Spanish made Amal 36mm Carbs.
Early SFC 1 model / w Amal Carbs Drum Brakes
The SFC-1 ( above) is currently listed for Sale at Cycletrader.com
1980 Laverda Jota Series 1 for Sale Classic Sport Bikes For Sale
Laverda Jota 1000. Low mileage. Nice honest condition. 3C Project eBay
Laverda 500
Two 1974 Laverda 750 SF's For Sale Classic Sport Bikes…
Laverda RGS1000 Executive