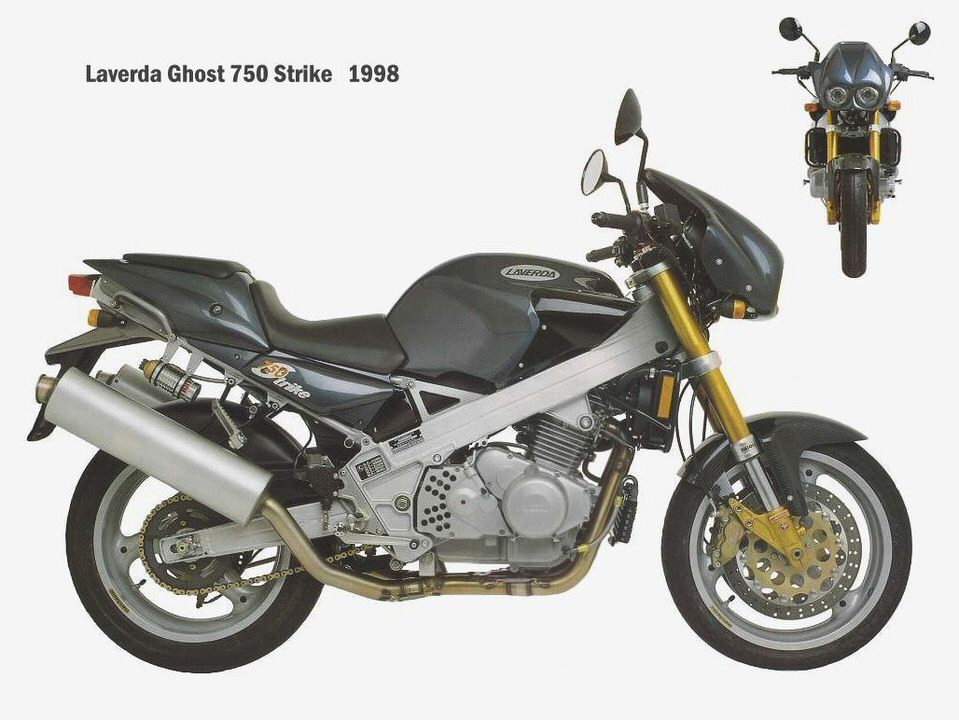 Spotted: 1998 Laverda Ghost Strike
I've spent the past few weeks thinking hard about my next bike. I might have seen it a few times already: the Yamaha MT-03′s distinctively brutal features, the divisively dashing Triumph Street Triple, and the roaring Ducati Monster are slowly luring me into the market for an interesting naked middleweight to spend next summer with.
The choice I face is an editorial for another time; it has been pushed back by something rather fascinating I spotted a few days ago. At the time, I thought my mainstream options were all attractively radical, and I was right: even the 45BHP MT-03 is a long way over on the excitometer compared to my sensible little GPZ 500. I thought it would be very exotic to have something more modern, with nice handling and interesting looks and some extra torque for good measure.
And then I saw the Laverda Ghost Strike, and realized that by comparison, anything I'd looked at previously was, quite frankly, common.
Moto Laverda was an Italian manufacturer founded in 1947, though the brand name was born in the late 19th Century, and until its dissolution in 2004 it had lived a roller coaster of a life, striving to carve out a niche in the high performance market. In the end, it's last prototypical effort at a trade show in 2003 had generated little interest, and spelled the final days of a slow demise; after its purchase by Aprilia in 2000, the Laverda brand was relegated primarily to selling cheap imported scooters from Asia, with the rest of the company absorbed by its new owner.
Aprilia had bought Laverda's chief competitor, Motto Guzzi, at the same time, and clearly felt that if a choice had to be made, Guzzi was the more promising name. They were right, and when Piaggio picked up Aprilia in 2004, they closed up shop on Laverda completely, only holding on to the brand name in case an enterprising investor wanted to give it another shot.
A decade before this slightly sad final chapter, Laverda had been swept up in an extremely volatile period during the ascent of successful Japanese manufacturers. It was saved from the brink of ruin in 1993 by an Italian textile millionaire, Francesco Tognon, whose backing resulted in a series of high-quality, high-performance twin-cylinder machines.
The new line received an initially wary reception, which warmed as the years and models progressed, and by the time the late 90s came around the new Ghost Strike 750cc twins were garnering positive reviews. They were not record-breaking, nor could they compete with the larger manufacturers long-term, but as a result there are a few very interesting and quite rare specimens floating around the used market to this day. The 1999 model I found for sale is one such specimen.
The Ghost Strike produces a respectable 85BHP and a whopping 75Nm of torque. The bike sports Paioli suspension; both the rear shock and the upside-down front forks are manufactured by the company, which has a history of supplying pretty much every major Italian motorcycle firm, as well as others such as Triumph and Matchless. It is generally agreed that the suspension on the Strike is fantastic, and at 210kg, the curb weight is not overwhelming.
 The wheels are hollow-spoked and manufactured by Marchesini, and augmented by a full set of Brembo brakes.
The bike can boast a long list of quality suppliers. The engine is the company's own, however; an entirely new unit from Laverda's rebirth in the early 90s, which evolved over the years to improve smoothness and power. It also sounds fantastic.
By all accounts – and typically for a twin – maintenance is relatively simple on the Ghost Strike. The dual-exhaust system can be replaced by a two-into-one if necessary, and rumor has it that in general parts are still quite readily available, probably due to the prevalence of dealers and service centres that specialise in Italian motorcycles, as well as Laverda's tendency to source parts eternally. Remember, however, that future availability is never a given when the manufacturer has closed its doors, and any buyer should be aware of the risk.
Vanity points
The Ghost Strike has the most unbearably cool name in its niche. It makes the Ducati Monster sound like the unexpected fourth child named after a grandparent because nothing else came to mind. Belied by the aggressive name, however, the styling is fairly simple and smooth – even classy – but it lacks the stylistic brutality of many modern naked bikes, such as the Monster.
It is discreetly eye-catching, unlike the huge front brake disc that hints at the bike's potential.
But is it the best?
A late-90s Ghost Strike 750 for sale is a rare discovery, and part of me would like to buy it on the spot for sheer value – both financial and historical. The specimen I found was going for £2,250, with less than 10,000 miles on the clock and an aftermarket exhaust.
I'm painfully aware, however, that even if I could afford the bike and the insurance, finding parts is not always going to be easy, and there are naked bikes out there that will do just as well and that will handle whatever miles and weather I throw at them with aplomb. In the same vein, there's an enthusiast out there for whom the odd sunny Saturday on their stunning Italian classic will be more than worth the price and potential fuss.
And if I were that enthusiast, with the resources to give the Ghost Strike the care it deserved? Instead of a "Spotted" feature, I'd be writing a first-glance review, and then I'd be off for a blast because the Sun has just come out.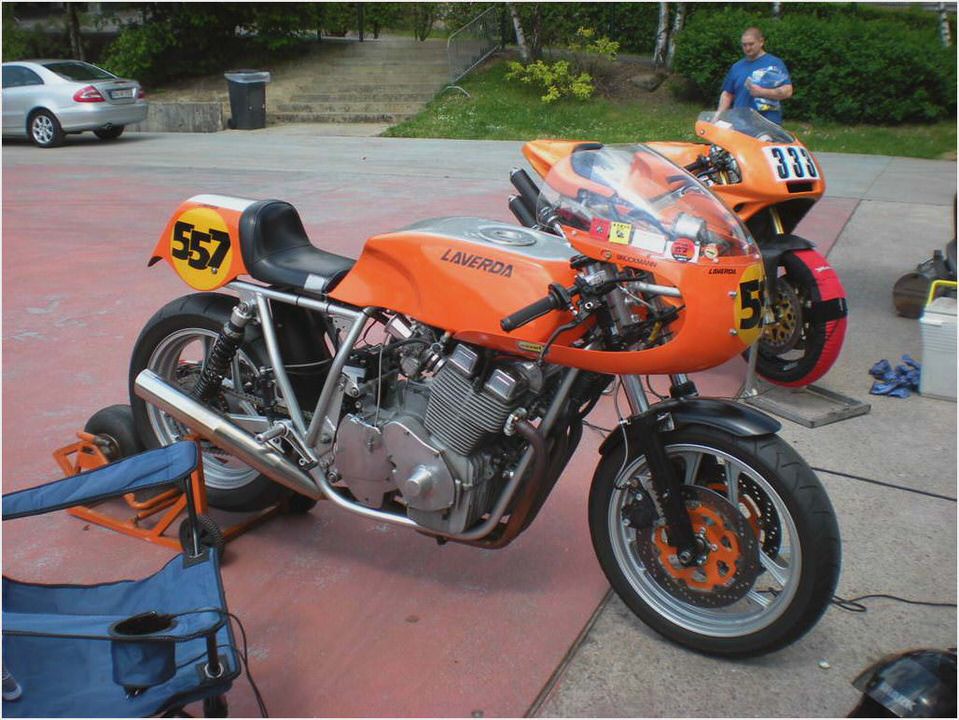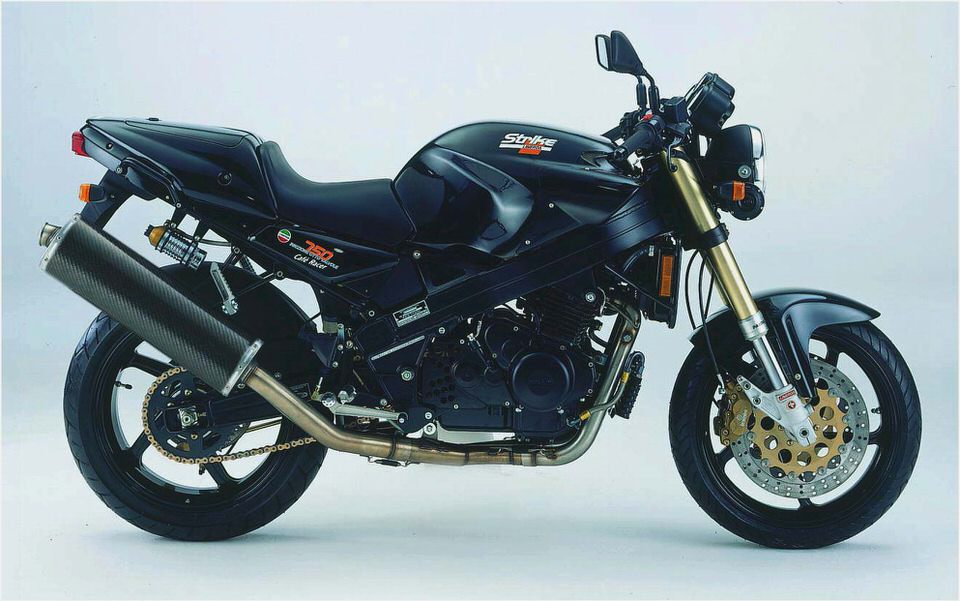 1974 Laverda 750 SFC – Classic Italian Motorcycles – Motorcycle Classics
Vintage Moto Laverda Motorcycle Photos
1978 Laverda Jota 1200 America for Sale Classic Sport Bikes For Sale
Laverda 750 Sport Formula
Italia Connections' Laverda's page