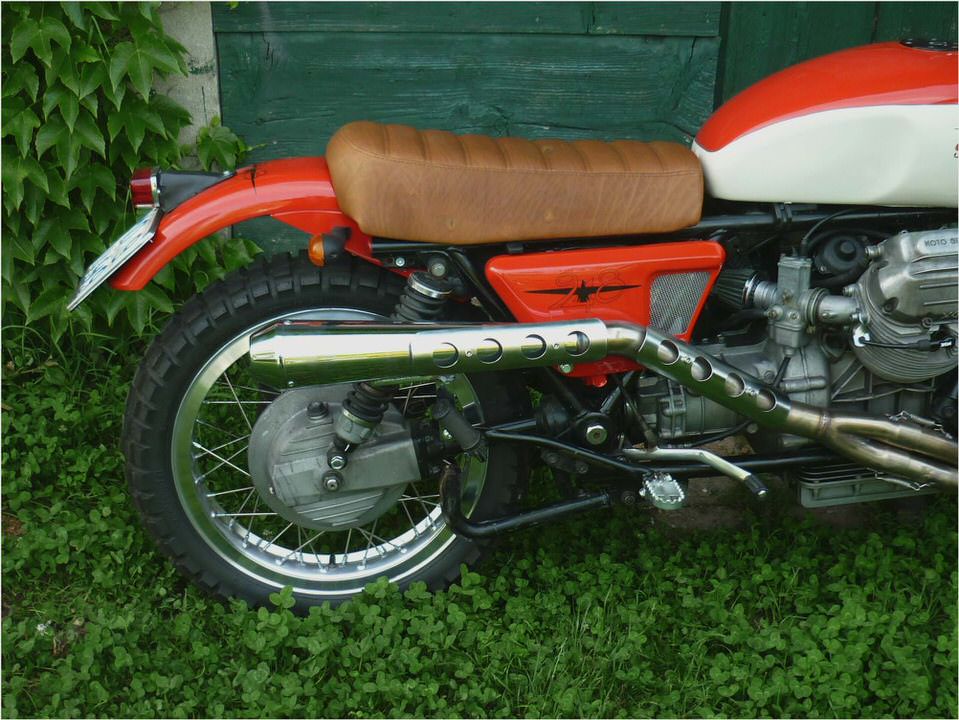 Moto Guzzi V7 Classic review
The modern Guzzi V7 owes a lot in basic design and layout to the 1960s V7 with its transverse V-twin engine and shaft drive.
Mark Hinchliffe road tests and reviews the Moto Guzzi V7 Classic.
THROWING your leg over the Moto Guzzi V7 Classic throws you back to simpler times – long before Facebook, email and plasma screens. Motorcycles were simple machines with an engine, wheels, handlebars and nothing else.
Manufacturers have now found that nostalgia never ages and companies with long histories are plundering their back-catalogue for inspiration. The modern Guzzi V7 owes a lot in basic design and layout to the 1960s V7 with its transverse V-twin engine and shaft drive, but that's where it stops.
At $13,990 the V7 sits between its main modern classic rivals, Triumph Bonneville ($12,490-$13,990) and Ducati GT 1000 ($17,990-$18,990). Its value is in its maintenance-free shaft drive and attention to build quality and details such as a lockable petrol cap and braided lines. Plus Moto Guzzi has thrown in for a limited time a free centre stand, rear chrome rack and windscreen normally valued at $1700.
Like the 1960s V7, the modern model is a naked shaft-drive bike with a bench seat, wide bars and a 90-degree V-twin engine. Unlike the original V7, it has Brembo disc brakes, Weber-Marelli electronic fuel injection and Marzocchi forks. So while it may look like a well-restored classic, it goes, turns and stops like a modern bike.
The 744cc, four-valve V-twin only pumps out 35.5kW of power, but torque is a healthy 54.7Nm.
Spoked wheels, big rear fender, single front disc, twin shocks, single headlight and twin clock-shaped instruments are the hallmark of classic uncluttered design. Add to that the shaped tank, the deep chrome and the excellent build quality and you have a beautiful bike.
Modern touches include the small LCD screens in each instrument clock, the Moto Guzzi logo that lights up on the instruments, the Brembos, braided lines and smooth EFI. While Triumph kept the traditional carbie shape for its EFI unit, Guzzi at least retains a manually operated fast-idle lever on the handlebar that looks like a traditional choke.
All Guzzis have that torque effect of slightly rocking sideways with the throttle. It is less pronounced now, easy to get used to and a quirky characteristic that no true Guzzi fan would be without. The EFI is very smooth from idle, making tight maneuvres, commuting and roundabouts a breeze.
Despite a single disc up front there is plenty of stopping power and a lot of progressive feel through the braided lines to the lever. Its suspension seems better sorted than both the Trumpy and Duc, and the 18-inch front wheel retains the tradition of the 19-inch Bonnie while almost reaching the nimble turn-in of the GT's 17-inch wheel. The narrow 130 rear tyre also helps with turn-in.
Touring is easy with the comfortable riding position, stress-free engine, no-fuss five-speed transmission, 19.5-litre fuel tank giving almost 400km of highway range, no-maintenance shaft drive and the addition of the free windscreen and rear rack.
However, the free centre stand is a strange inclusion on a shafty. It adds needless weight. The low seat height and light weight make this bike suitable for shorter riders, although the clutch is a little heavy for some. A big surprise is that my knees don't hit the cylinder heads like on the old V7 or Le Mans models. However, you do still feel the heat off those heads.
Pillions will love the comfortable seat and long reach to the set footpegs thanks to low mufflers.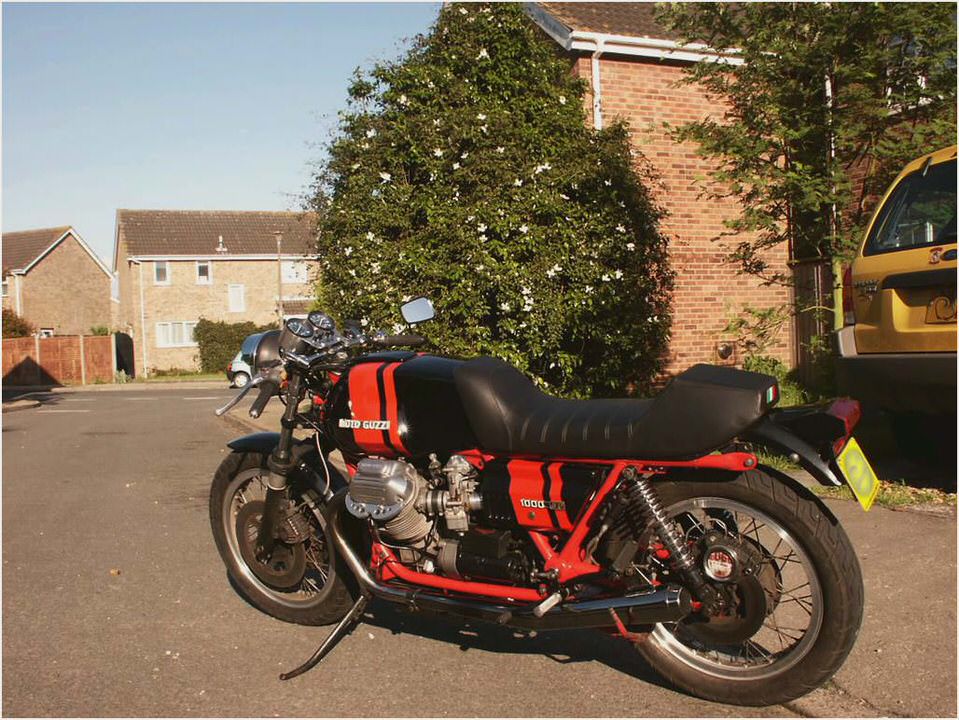 It looks gorgeous, has great build quality, will commute, handle and tour. A perfect package for those who like simpler motoring.
Moto Guzzi V7 Classic
Price: $13,990
Engine: 744cc, 4-valve, fuel-injected V-twin
Power: 35.5kW @ 6800rpm
Torque: 54.7Nm @ 3600rpm
Transmission: 5-speed, shaft drive
Dimensions (mm) . 1449 (wheelbase), 805 (seat), 182 (clearance)
Brake: 320mm disc (front), 260mm disc (rear)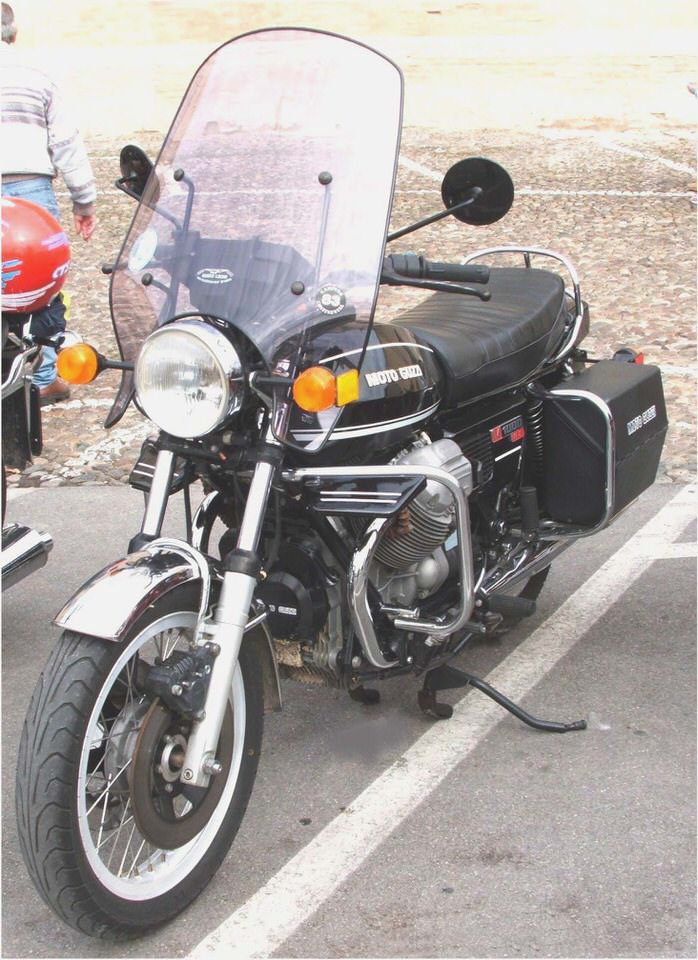 Moto Guzzi Breva V1100 review – Naked – Motorcycles – Visordown
Moto Guzzi V11 Le Mans
A-Z of historic classic vintage veteran motorcycles motorbikes Moto Guzzi Monza
1 Tiger Test Ride: Guzzi Stelvio 1200 4V
2010 Moto Guzzi V7 Cafe Classic Road Test Rider Magazine Reviews