KLR250 dual-purpose motorcycle is designed with variety in mind. On or off the highway, the smallest KLR comes through in a pinch. On city streets, it's comfortable and capable. And when riders venture off the pavement, the bike's long-travel suspension and ample ground clearance more than accommodate the gnarliest of unexplored paths.
Powering this do-it-all motorcycle is a four-stroke, single-cylinder liquid-cooled engine with dual overhead cams operating four valves for superior performance. Double engine counterbalancers keep the powerplant running smoothly from idle to redline, and an automatic cam chain tensioner keeps timing spot-on without maintenance.
The KLR250's frame is made of the same high-tech, high-tensile steel used in Kawasaki's world-class KX motocross machines. A detachable, lightweight aluminum rear subframe simplifies maintenance by providing access to the airbox, carburetor and rear shock.
For optimum bump absorption, the KLR250 has more than nine inches of travel at both ends via an air adjustable front fork and Kawasaki's UNI-TRAK rear suspension system. The latter features adjustable spring preload and rebound damping. Helping to maintain good traction on pavement or dirt roads, the KLR250 wheels are shod with universal tires, while a single front disc brake and rear drum brake help to ensure smooth, powerful stops.
With off-road prowess and a powerful engine, the Kawasaki KLR250 gives dual-purpose enthusiasts a variety of uses.
KLR250 Super Sherpa: With its maneuverability, low seat height, electric start function and ease of operation, the lightweight Kawasaki Super Sherpa motorcycle is fun, easy to ride and appeals to a wide range of riders. It's built to tackle a broad spectrum of terrain, and can be enjoyed on-or-off-road by novice riders who are developing their riding skills. The smart styling, responsive handling and brisk power of the 250cc four-stroke engine agree with more experienced riders as well.
Kawasaki engineers tuned the air-cooled, dual overhead cam, four-valve single-cylinder engine to produce a wide range of power, so the Super Sherpa is as good for around-town commuting as it is for trail riding. Fins on the cam covers and specially designed air passageways help ensure efficient engine cooling, and narrow valve angles and a short connecting rod help reduce the overall size of the Super Sherpa engine so that it fits neatly into the compact, lightweight high-tensile steel frame.
Suspension duties are handled by a rigid 36mm front fork with 9.1 inches of front wheel travel, and Kawasaki's UNI-TRAK system for 7.3 inches of travel in the rear. Powerful single disc brakes at the front and rear wheels provide sure stopping power with responsive feel, while universal tires promote excellent traction on the street or dirt.
Other Super Sherpa features include a quiet stainless-steel exhaust system with spark arrestor, rear grab rails that improve passenger comfort as well as provide cargo tie-down and lifting points, and a 2.4-gallon fuel tank that maintains the machine's slim profile while giving it extensive cruising range.
– Air-cooled 249cc, single cylinder DOHC 4-valve. 4-stroke engine develops strong performance in an economical package.
– Electric start and handlebar located choke lever make starting easy.
– Class-leading 4-valve cylinder head delivers better engine breathing, larger valve swept area and a compact combustion chamber over 2-valve competitors.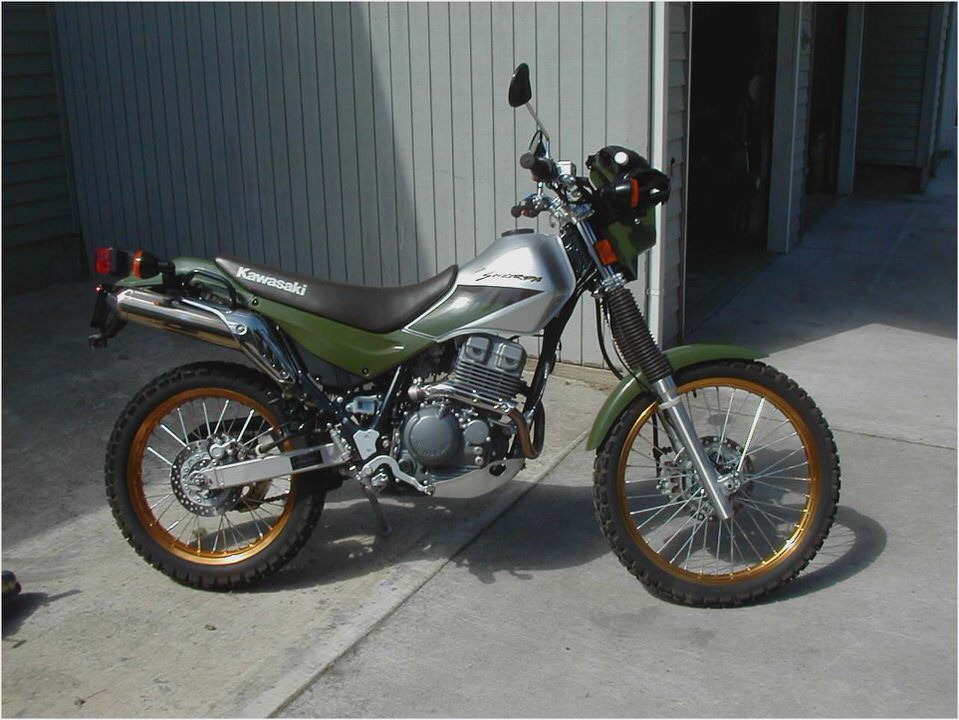 – Electronic Capacitor Discharge Ignition plus a responsive single 34mm CV carburetor that meters the fuel more precisely for sharp throttle response.
– Features street-legal equipment including headlight, tail light and turn indicators.
– Over 9 inches (229 mm) of smooth progressive wheel travel from the leading-axle long-travel front fork for light off-highway duties.
– With over 10.5 inches (267 mm) of ground clearance, over 7 inches (178 mm) of rear wheel travel from the UNI-TRAK® suspension and a seat height under 33 inches, the Super Sherpa is compact and agile.
– Stainless steel exhaust system is rust and corrosion resistant. It comes standard with a special heat shield guard.
– The dual seat carries two adults while frame-mounted passenger's footpegs reduce vibration.
– Multi-function digital instruments feature speedometer, clock and dual tripmeters.
The Kawasaki KLR250 dual-purpose motorcycle is designed to carry its passengers on any motorcycle excursion, on or off the highway. Its comfort and performance are excellent for riding on city streets, while long travel suspension and high ground clearance allow it to continue when the pavement ends for exploring paths less traveled. With off-road prowess and a powerful engine, the Kawasaki KLR250 gives dual-purpose enthusiasts the freedom to choose where they want to ride. – Kawasaki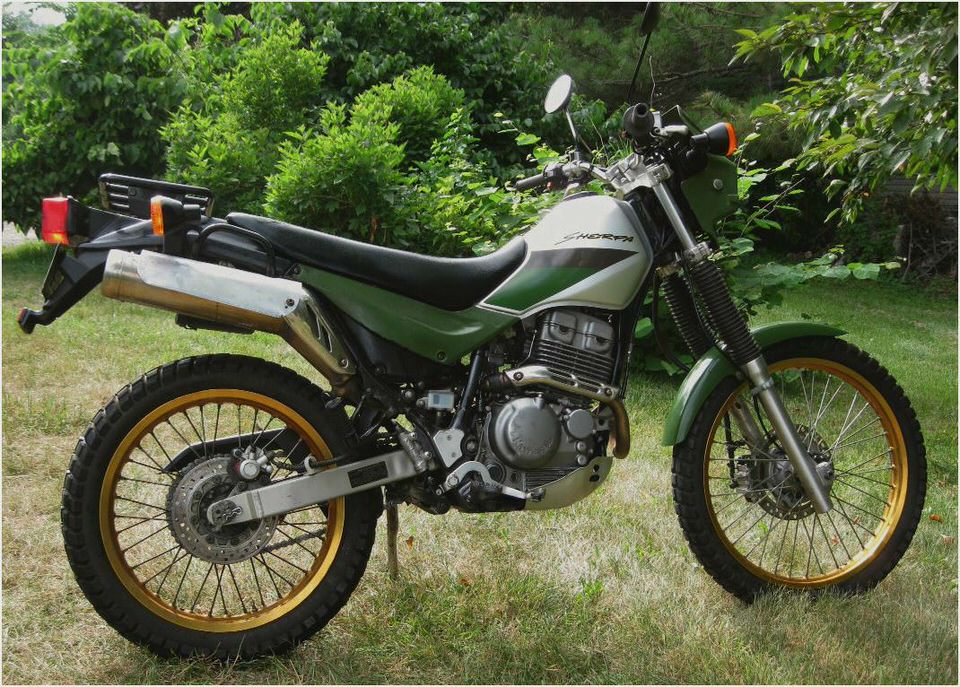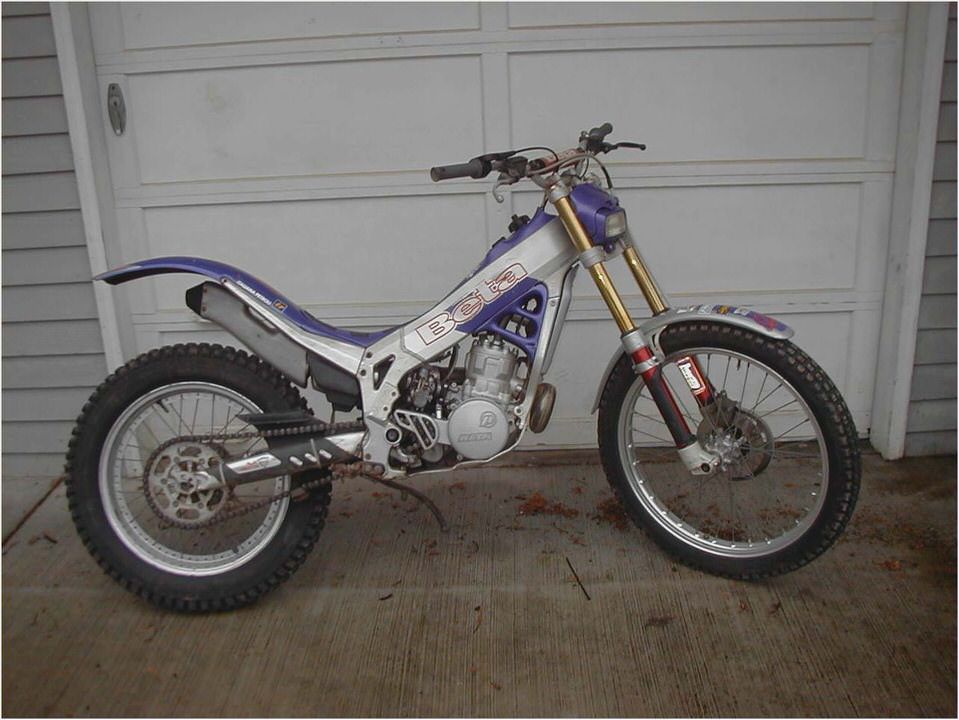 1989 Kawasaki GTR 1000 Troubleshooting, Repair, Maintenance & Tune Ups – Fixya
2002 Kawasaki ZX-9R – Road Test & Review – Motorcyclist Online
Kawasaki ER-6n 2012: The Edge of Reason
2012 Kawasaki KLX140L Review – Ultimate MotorCycling
HowStuffWorks "1972 Kawasaki H2 750 Mach IV"