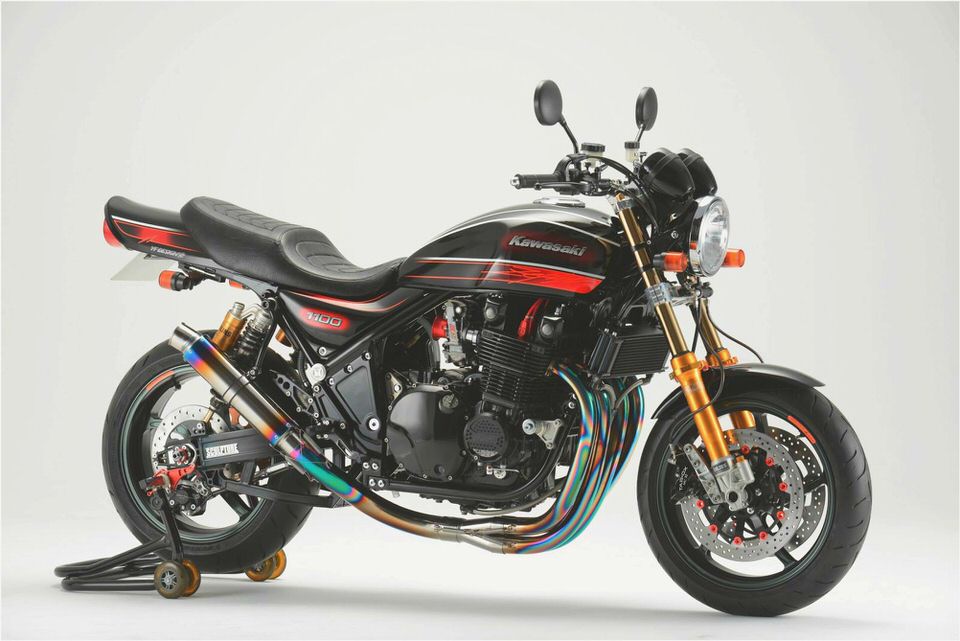 The Kawasaki ZRX1200:
Got an Itch That Only Horsepower Can Scratch?
Then you-ve come to the right place. This hard-hitting hotrod pumps out enough ponies to satisfy even the most hopeless excitement addict.
Powering this muscular brute is a potent DOHC engine running electroplated alloy cylinders, forged pistons mated to carburised rods, and large-bore 37mm TPS equipped carbs fitted with trick high-flow slides. A standard oil cooler keeps all that tarmac-buckling horsepower cool. And thanks to an environmentally friendly Air Induction System, this gutsy power plant is as clean as it is mean.
The engine may be mean but the chassis is lean. The rigid frame runs a high-rigidity aluminum swingarm, a sturdy front fork, reservoir equipped Öhlins rear shocks, lightweight wheels, awesome brakes, and heaps of other low-bodyfat bits that add up to sensational handling and superb ride quality.
The ZRX1200. The musclebike that performs like a sports bike.
Notes: ZRX1100, ZRX1200R, ZRX1200S:
In the bike-eat-bike world of Musclebikes, more muscle is always better, and how you get it isn't important. And more muscle is just what the new ZRX gets for the 2001 model year, with an increase in bore and stroke increasing its displacement from 1,052 cm3 to 1,164 cm3. The bigger pistons reciprocate in a new, all-aluminium cylinder with plated bores.
Other engine improvements include new cam profiles, improved shift feel and clutch operation, a new crank and a new, all-stainless exhaust system. The new engine pumps out more power across the rev range, with noticeably more punch in the midrange.
In terms of styling, the big news is a new model added to the lineup, the ZRX1200S, equipped with a half cowl to create a new class of road beast: the Muscle Tourer. It joins the existing bikini-cowled ZRX1200R and the naked ZRX1200, giving Kawasaki a comprehensive, 3-bike lineup of musclebikes, with a machine for every taste.
Chassis improvements start with a larger, stiffer aluminum swingarm; the triangulated construction featuring bracing grooved for added rigidity. Additionally, a relocated swingarm pivot, a wider rear wheel and wider rear tire, a reduction in fork offset and a host of detail changes all serve to enhance the performance, handling and operability of this popular tarmac-tearer.
More power, better power, improved operability and a new half-cowled version (for those who want some finesse with their muscle) – the new ZRX is the perfect bike for all those riders who can't live without a regular dose of hard-hitting horsepower.
ZRX1200R – Today they call it World Superbike, but back when the whole show got started it was Eddie Lawson on his bikini-faired Green Monster who power-slid this machine's legendary styling into the record books.
ZRX1200S – The added wind protection and the sleek, sporty look of the S model's half cowl, for perfect touring.
Environmentally sensitive riders will welcome use of the Kawasaki Low Exhaust Emission (KLEEN) system with catalyser.
MAIN FEATURES ENGINE Frame / Suspension Brake Styling Colour
f you didn't know any better, you'd be excused from thinking that bumping up the big ZRX's displacement to 1200 wasn't such a big deal. Just bore it out a bit, stroke it a few mil and slap on some new decals, right? Wrong!
The new aluminum cylinder with its bigger bores is wider, necessitating wider cases, a longer crank, a wider head and valve cover, and a whole slew of other new components. The first time you whack open the throttle on the new bike you'll see that it was well worth the work.
Engine Features
-Powerful, liquid-cooled, DOHC, In-line 16-valve Four now displaces 1,164 cm3 via an increase in bore and stroke from 76 x 58 to 79 x 59.4 mm.
– New, plated, all-aluminium cylinder weighs approximately 1.0 kg less than the earlier steel-liner cylinder while offering improved heat dispersion and longer wear.
– New cylinder head has oil return holes added between the cylinders for quicker, more efficient return of oil.
– Cam drive sprockets moved 3 mm outboard to compensate for the wider cylinder. Engine cases, cylinder head and cylinder head cover are correspondingly wider, as well. Overall engine width increased by about 5 mm.
– New cam timing complements the increase in displacement and contributes to increased power and torque across the rpm range.
– New concave pistons give a highly efficient bi-convex shape to the combustion chamber.
– New crankshaft with inertia and balancing to suit the increase in displacement and the larger pistons.
– Four Keihin CVK36 carbs equipped with K-TRIC deliver sharp throttle response at all rpm.
– Digital electronic ignition delivers hot sparks at the ideal timing
– New, double coned disc springs (diaphragm-type) in clutch housing enhance clutch action and make for smoother low-rpm operation and easier shifting of the 5-speed transmission.
– New, all stainless steel exhaust system (replaces earlier hot-dip aluminium-coated steel unit) reduces corrosion. Balance tubes eliminated from header pipes; muffler angle changed to be parallel to bike centerline.
– Engine side covers and cylinder head cover finished in bronze colour for improved appearance.
Frame / Suspension
-Wheelbase increased by approximately 12 mm due to fitting of a 3-teeth smaller, 42-tooth rear sprocket – use of smaller sprocket possible due to increased torque and power of the new engine.
– New, braced aluminum swingarm is larger and stiffer, contributing to the ZRX's superbly balanced handling qualities.
– Swingarm pivot is stronger, and its location is now 5 mm lower for improved rear suspension action, high traction and reduced chain whip during hard acceleration. This change delivers superb traction over a wide range of riding conditions.
– Rear shocks now mount 15 mm further forward for improved suspension action and increased wheel travel. Shock length remains unchanged, as does their full adjustability.
– Front fork steering offset reduced from 30 mm to 28 mm.
– Frame gusset added behind steering head increases frame stiffness.
Brake / Wheel / Tire Features
-Gigantic 6-piston Tokico calipers bite into semi-floating, radially-drilled 310 mm stainless steel disc rotors. Braking performance is unsurpassed, with excellent feel at the lever.
– Compact, lightweight 250 mm rear disc brake offers impressive braking performance.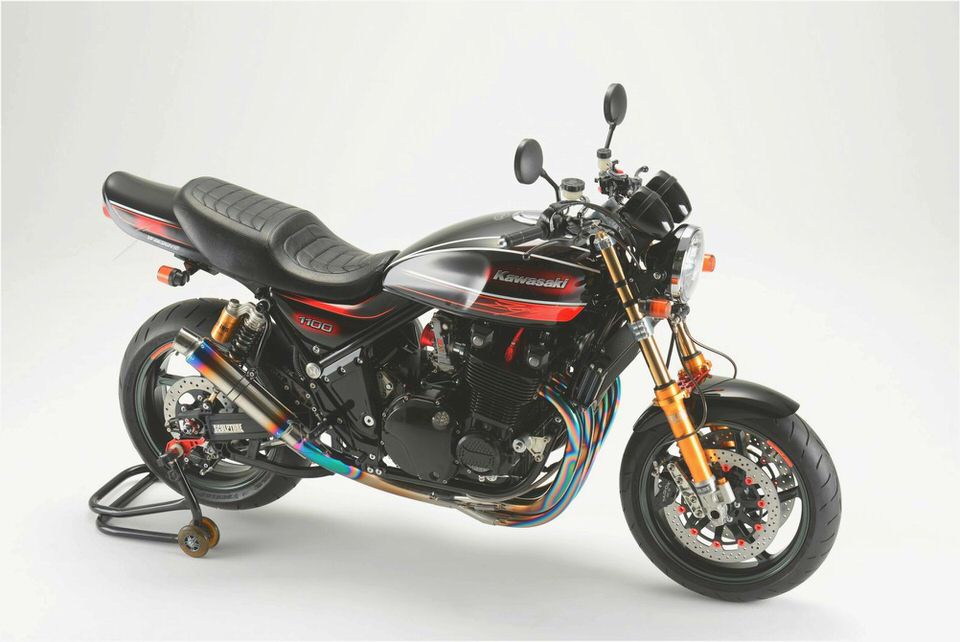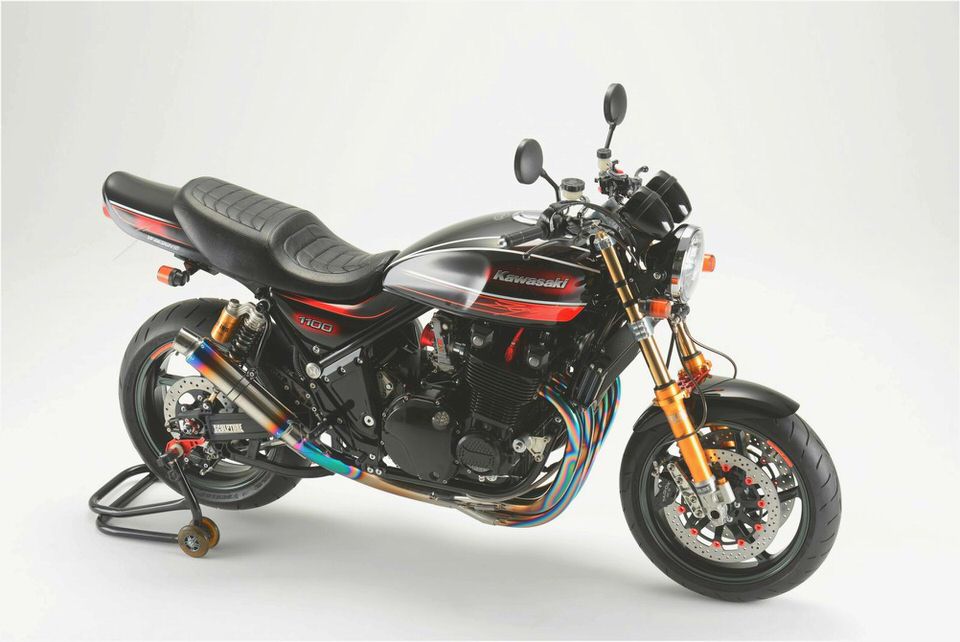 – Rear wheel width is increased from 5.0 to 5.5 inches and wider rear tire (170/60 ZR17 changed to 180/55 ZR17) is fitted for brilliant road-holding ability.
– Driveline lash reduced via use of a ZX-12R-type rear-wheel damper. Ride quality is greatly improved as a result. Styling Ergonomic Features
ZRX1200S equipped with half cowl fitted with ZX-12R-type dual reflector headlights. Excellent wind and weather protection make the ideal mount for high-speed riding and touring applications. The cowling's 3-piece construction allows left or right side to be removed independently for ease of maintenance.
New aerodynamic mirrors.
A new seat with super-comfy ZX-12R-type seat foam improves ride comfort.
Practical Improvements
-ZRX1200S has new, easy-to-read meters. Complete instrumentation includes speedometer, odometer, tripmeter, fuel and water temperature gauges, an oil warning lamp and indicator lamps.
– Bungee hooks at top of rear shocks are now fitted as standard equipment, making it easier than ever to carry luggage.
– Inner fork tube guards added to front forks and guards added to inner tubes of rear shocks help prevent rocks from marring the operating surfaces.
– New ZX-9R/6R fuel cap with dual sealing prongs improves fuel cap sealing.
-New ZX-12R-type in-tank fuel gauge sensor.
-New ignition switch is more tamper resistant.
-Larger capacity MF battery (same size) gives more cranking power for easier starting.
Colour(s)
Candy Lime Green / Vivid Purple Mica (ZRX1200R)
Metallic Phantom Silver / Black Pearl (ZRX1200S)
Firecracker Red / Metallic Phantom Silver (ZRX1200S)
UMG Says (Zephyr 1100): 1100 ZEPHYR, 1098cc DOHC four, 90hp 140mph 35mpg 540lb. Hefty, thirsty but raunchy looking with bags of performance and reasonable handling up to the ton. Engines have run reliably to 30-35,000 miles, so far, with nothing more than the odd gasket leak and camchain rattle.
Relatively low prices for amount of power make them good buys, especially if you don-t mind sorting the cosmetic decay that afflicts the chassis after a couple of winters.
UMG Says (Ninja ZX-1100, ZZR1100): 1052cc w/c DOHC four, 125hp 170mph 40mpg 510lb. Ruthlessly fast four that will lose licenses rapidly. Early models, high milers, have rough gearboxes, transmission snatch.
If you-re used to 500lb bikes the handling-s okay until the rear shock goes off after 2 or 3 years. A few have done 100k! Cosmetics are a good guide to how the bike-s been treated.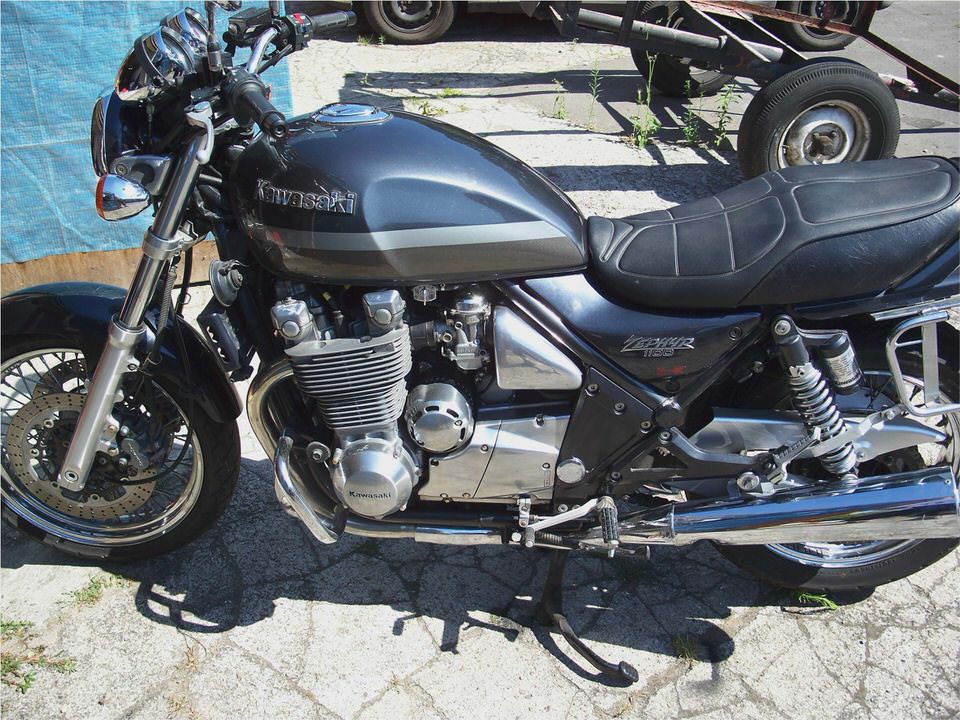 2002 Kawasaki Vulcan 1500 Mean Streak: MD Ride Review …
Kawasaki Ninja 650R 2012 Price in India & Specifications
Kawasaki 1000 Versys Review DIY Reviews!
Kawasaki Z1000 – Wikipedia, the free encyclopedia
2000 Kawasaki Drifter 800 –